Grey hair is trending: Discover 22 ways to rock the look
Thought grey hair was something to shy away from? Think again!
Over the past few years, there's been a pretty major shift in attitudes towards grey hair. With A-listers like Lady Gaga and Rihanna showing off silver strands, and more and more grey-haired models cropping up on the catwalks, the colour has become something that many women now actively aspire to have.
And guess what? The latest incarnation of the hue has no age limit, meaning both grey hair newbies and naturally grey gals can get on board with the trend. Be it white blonde tones or deeper, granite-inspired shades, the colour possibilities are numerous, fabulous to behold and all in one place – take a look!
Grey hair shades to have on your radar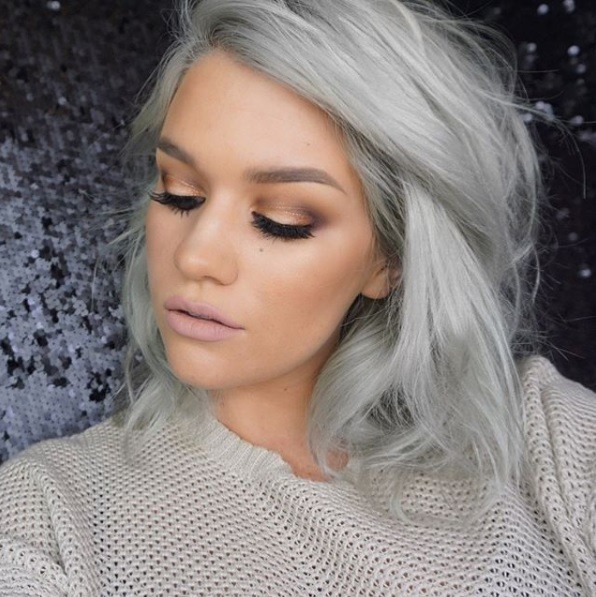 1. White grey lob
Love to keep up with the latest hair trends? Well, why not tackle two of this season's hottest looks in one, by chopping your locks into a coveted lob length (a la Bella Hadid) and adding a shimmering silver tint? Credit: @ssssamanthaa
2. Slate grey dip-dye
Add depth and dimension to dark locks by lightening the tips of your hair with a dip-dye. Putting your hair up into a half-up hairstyle, like the Instagrammer above, is also a great way to really show off the dual tones! Credit: @dianaaji
3. Charcoal balayage
If you're searching for something a little more natural-looking than the classic ombre, balayage is an ideal alternative. You'll still get the graduated dark to light effect, but it'll be a much more subtle transition. Credit: @layney_elizabeth
4. Sleek and straight
Prefer to wear your hair straight? Dark ash-grey hues work just as well on straightened strands for an office-friendly, minimalist style. Credit: @hairandstyle_jennna
5. Blue steel braid
Fan of coloured hair? Create an oil-slick effect through your mane with this blue tinted hue. In regular light it looks like an ashy graphite but whenever the light hits it, it'll transform into a magical duo-chrome blue! Credit: @beauticole_
6. Silver A-line bob
Fine hair? Stacked A-line bobs are a great way to fake your way to thicker tresses. Plus, adding an allover silver tint will give it a fashion-forward finish — bonus! Credit: @shenanigans.galore
7. Box braids
Blessed with natural hair? Don't let the FOMO get you down! Grey hair has been gaining traction within the natural hair community on Instagram and we're all over it! Credit: @allyxxcatt
8. French bob
Cheek-length French bobs are a fashionable twist on the classic bob haircut. Take this bold cut one step further by dying your hair a light silver hue for a model-worthy hairdo.
9. Marble highlights
Marble lovers, listen up: this latest beauty craze is one you need to get onboard with. Marble hair, inspired by the natural stone, combines streaks of lighter strands running through a darker base hue. Credit: @chamiimonsta
10. Grey balayage ponytail
Going grey doesn't mean restricting your styling options. In fact, a flattering grey balayage is a great way to spruce up a basic ponytail and any regrowth will only add to the cool contrast! Credit: @noemicara
11. Modern day grey
As if you needed any further proof that grey hair has been revamped with a fashion twist, take a look at this street styler's contemporary take on the hue. Très chic, non?!
12. Wavy silver lob
Already gone grey? Elevate your look by using a curling wand to add a few loose waves through your hair. It'll add body and movement to limp locks, while also bringing out the shimmering silver tones in your 'do. Credit: @mojkahair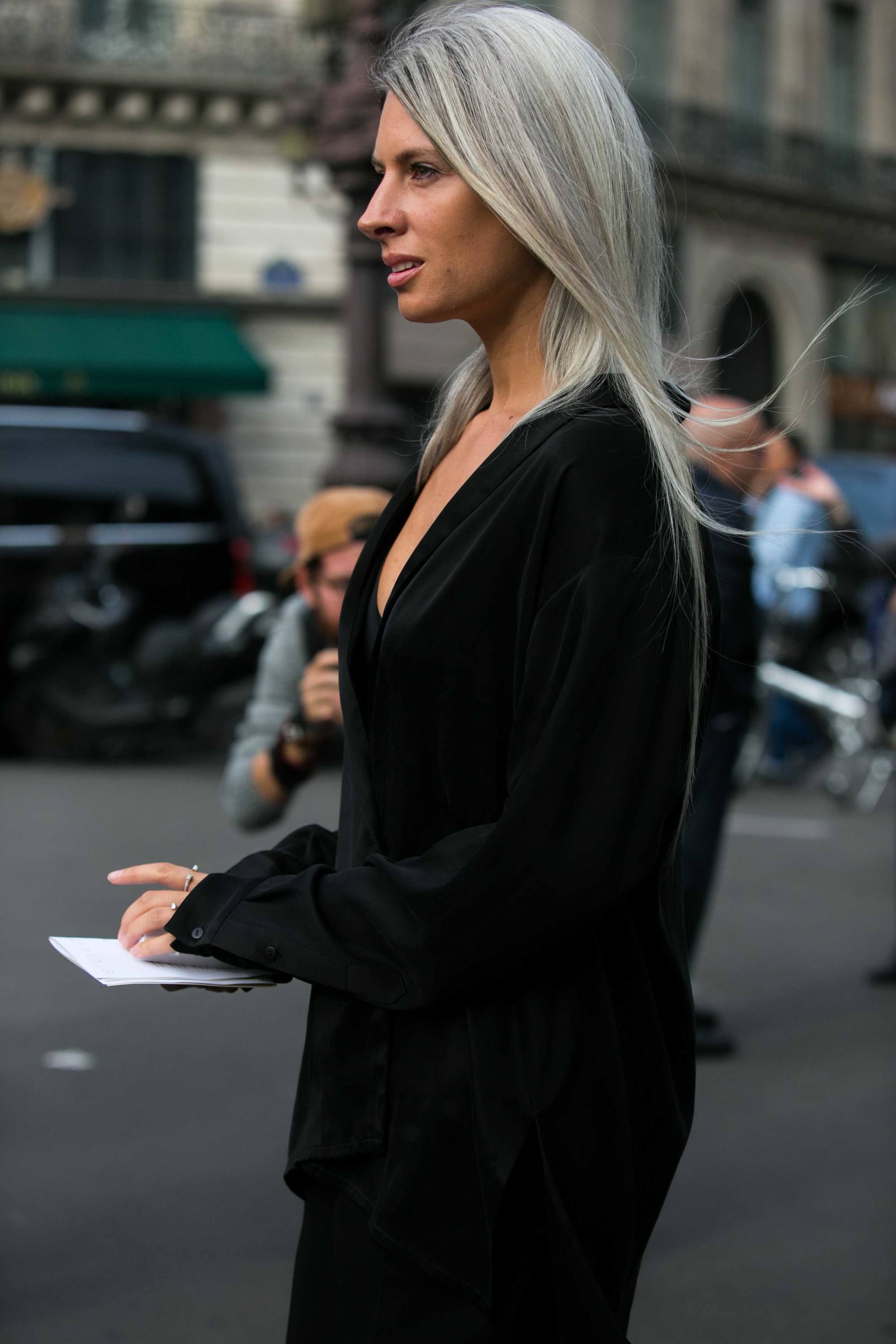 13. Lustrous lengths
There's a common misconception that once you go grey, it's time to go for the chop. We disagree. Whether you're 16 or 60, flowing grey tresses can look super fashionable at any age!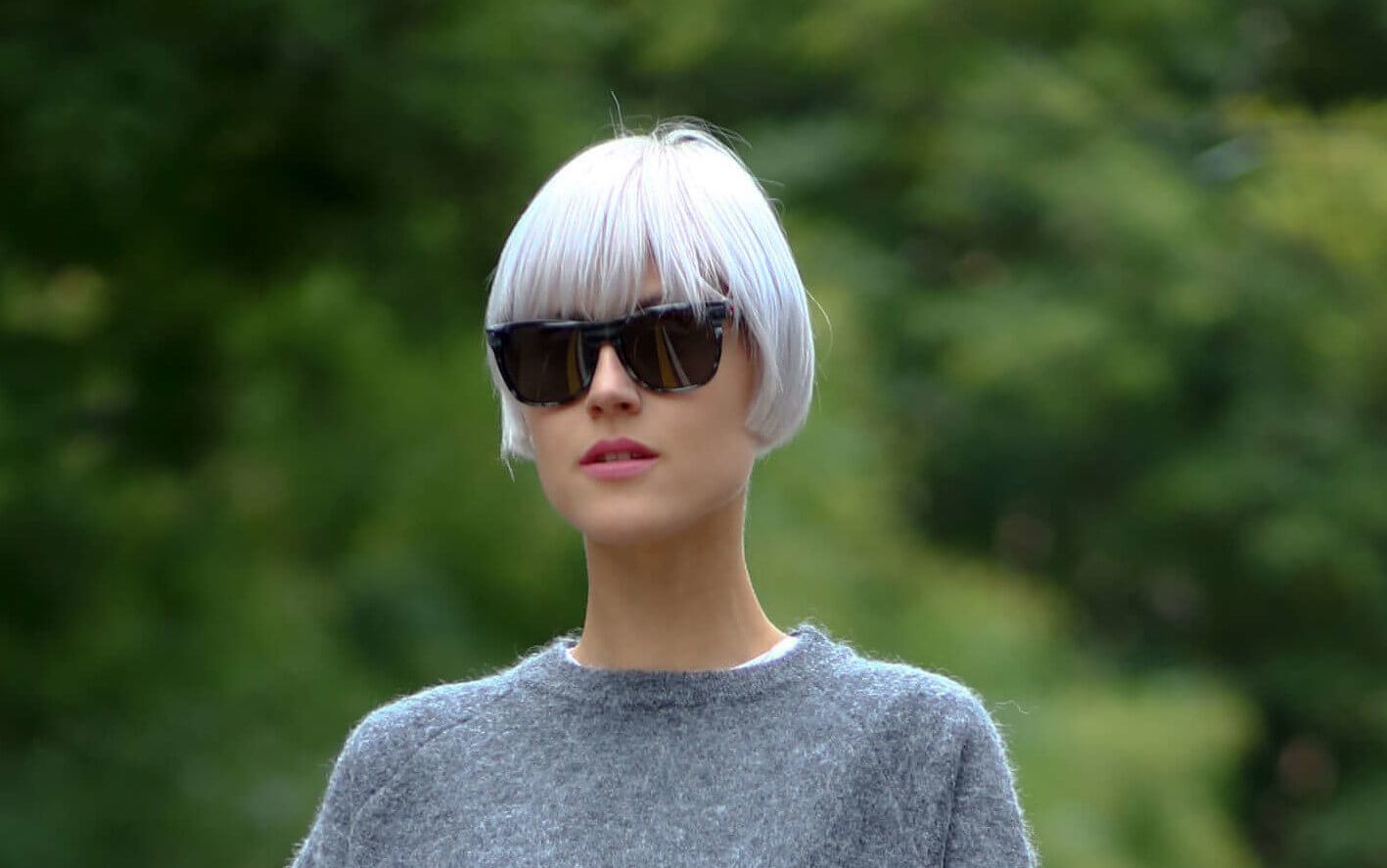 14. Snow-white bob
Let's be honest, sometimes all you want is a style that allows you to jump out of bed in the morning and go. And that's exactly where the bob comes in. Super low-maintenance, but no less stylish, opt for a snow white hue and you'll always look on-trend without even having to try.
15. Salt and pepper
Those with tanned or deep complexions might find ultra light shades wash them out. In this instance, we recommend opting for darker salt and pepper-inspired hues, for a more flattering fit.
16. Lavender-toned lengths
If grey is too tame for you, get experimental and play around with lilac-toned pewter shades a la Kelly Osbourne and Ellie Goulding! Be brave and you might just be pleasantly surprised! 
17. Smokey waves
We know, beachy waves might not seem like anything revolutionary. However, a quick glimpse at the pic above and there's no denying that adding a sultry smokey hue gives this well-loved style a whole new lease of life! Credit: @hotonbeauty
18. Grey asymmetric pixie cut
Stars like Katy Perry and Zoe Kravitz are pioneering the pixie cut, but why stop there? The grey asymmetric pixie cut is the cutest crop around and the colour is much easier to pull off than bolder hues. Credit: @hairbyedwin
19. Mermaid curls
Mermaid hair is all the rage on Instagram and it's not hard to see why! Revamp your look with a siren-style makeover today. Curls and ombre? You'll have people falling at your feet! Credit: @jades_mane
20. Pearly bangs
Thinking about changing your hair but stuck for ideas? We loved this model's bright hue and soft bangs combo on the runway, but we reckon they'd look just as great in real life, too.
21. Coordinating colours
Is your wardrobe a monochrome dream? Go matchy-matchy with your mane and outfit this season, like this seriously stylish Instagram beauty. Credit: @hilisaa
22. Silver-tipped undercut
Looking for a way to make your short hair stand out? Don't settle for anything less than perfection! This majestic undercut design is just what you need to add some excitement to your cut and the lightened silver tips are the perfect finishing touch. Credit: @itstoian
Editor's tip: Tempted to go grey? No matter which colour you've set your heart on, be sure to trade in your usual wash and care system for a specialist colour protect range, like the Dove Colour Care Shampoo and Conditioner.
We also recommend using a purple shampoo, such as the TIGI Bed Head Dumb Blonde Purple Toning Shampoo, once a week to neutralise any brassiness and brighten up the silver tones.
If grey hair is a bit too 'out-there' for you, don't worry, here at All Things Hair we've got something for everyone. So for a more understated way to rock colour this spring, the nude hair trend will be right up your alley!
Prev Article
Next Article
Gallery
Need inspo for your next salon visit? These celeb bob haircuts will inspire you to get a chop
Celebrity bobbed hair with all the flair!
See article