Box Braids for Natural Hair: 54 of the best for 2023
Hair trends come and go, but box braids are eternal. No matter your hair length, get inspired by the many stunning box braids you can try with your natural hair. They're great for natural tresses that need a break from heat styling. And they are a fun way to change up your look if you're bored. The reason they're so popular is that they require less attention than natural hair and they allow you to get creative with colour and styles without any commitment.
You're probably seeing it everywhere: your favourite Instagram stars and celebrities wearing box braids on their natural hair. And if you're a braid virgin, you might be wondering whether box braids are good for natural hair and how you can properly look after them. Luckily for you, we're here to help!
Decisions, Decisions…
Size matters when it comes to box braids with natural hair. From thick, chunky styles to dainty, small braids, it's important to consider the size and shape of your desired finish. The looks are easily adaptable to any length of hair, but let yourself be guided by your stylist about how your desired style will work on your natural hair.
Box Braid Care
If you're wondering if box braids are good for natural hair, the short answer is: it all depends on the state of your natural hair. While they certainly make a great protective hairstyle and also help you retain length, they are better suited to those who don't have issues with severe dryness, thinning or scalp conditions.
Ready to find out if box braids are your next best style, how to take care of them and see all the braided looks we can't get enough of? Scroll down to see our favourite looks for 2023.
Fulani Braids
Fulani braids are ceremonial braids that come from the Fula people in West Africa. They feature a specific pattern of braids tightly woven to the scalp, then falling into long loose braids.
Thick Box Braids
If you like a classic thick braid look, you'll love this elegant take on box braids.
Chunky Decorative Box Braids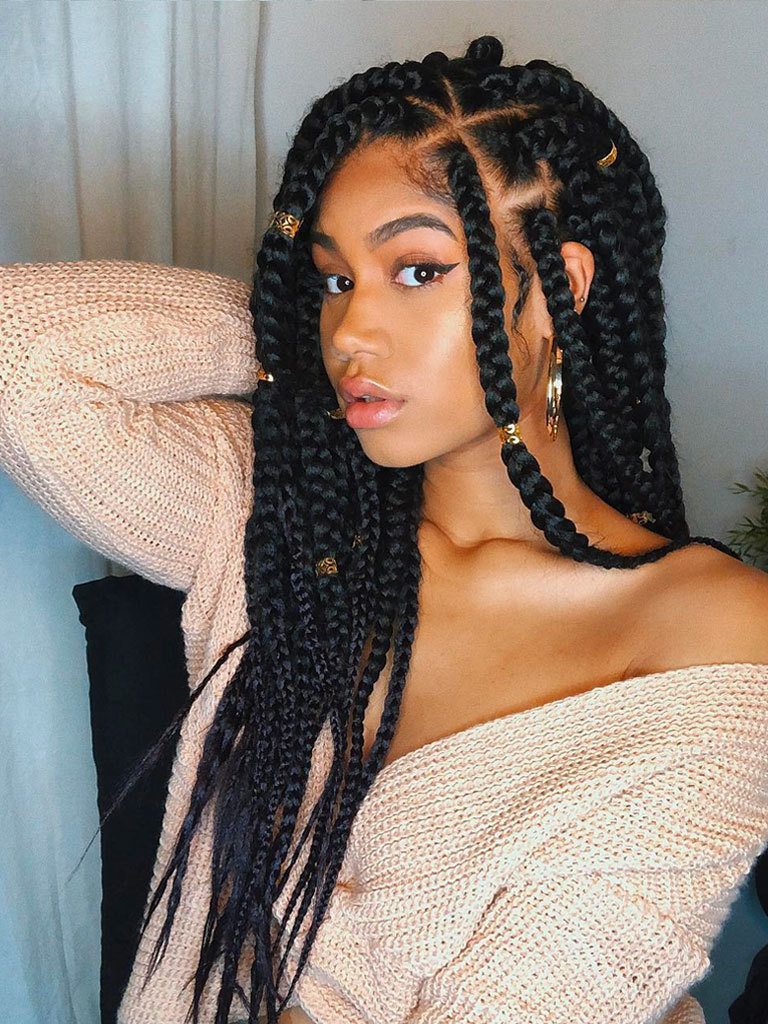 Size matters when it comes to box braids with natural hair. From thick, chunky styles to dainty, small braids, it's important to consider the size and shape of your desired finish. Always take care of your box braid with a moisturising treatment like SheaMoisture Jamaican Black Castor Oil Strengthen & Restore Hair Treatment Masque.
Twisted Box Braids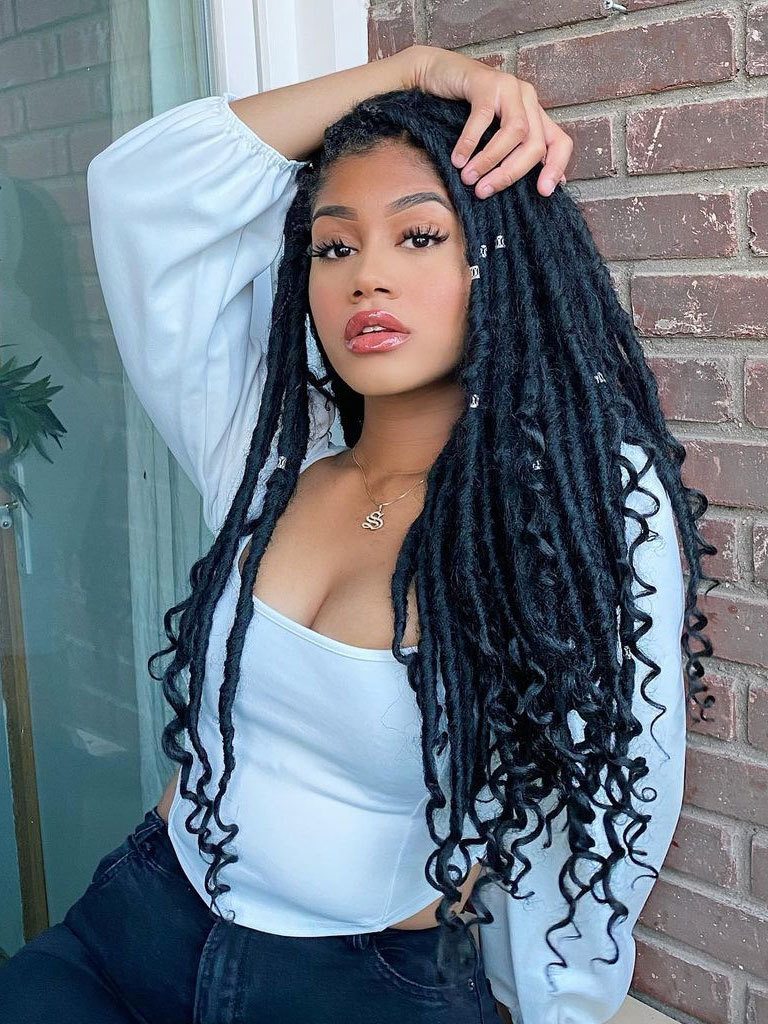 This twist on the chunky box braid is so gorgeous and glossy, and we love the random loose curls in between, plus the subtle bling added by the cuffs.
Knotless Box Braids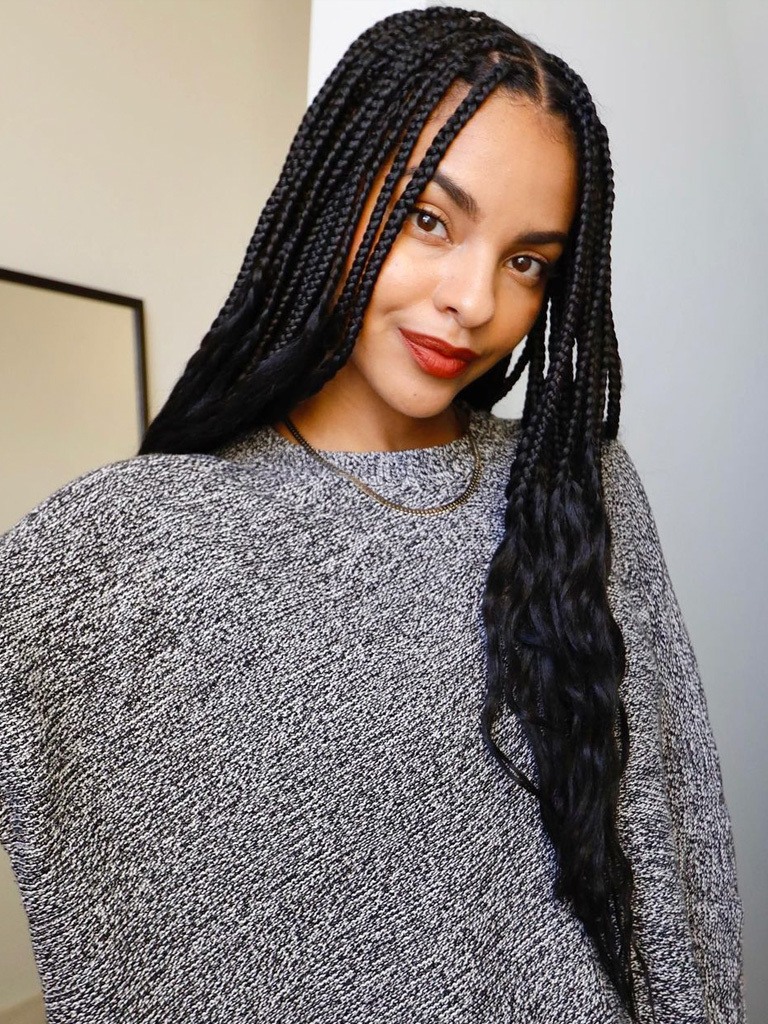 With knotless braids (aka feed-in braids), the braid is started with your own natural hair and then continued with the braiding hair, for a seamless effect.
Knotless box braids are more protective of your natural hair as they don't cause the scalp tension that happens with the immediate addition of hair extensions in standard box braids. Overtime, this tugging and weight can lead to traction alopecia.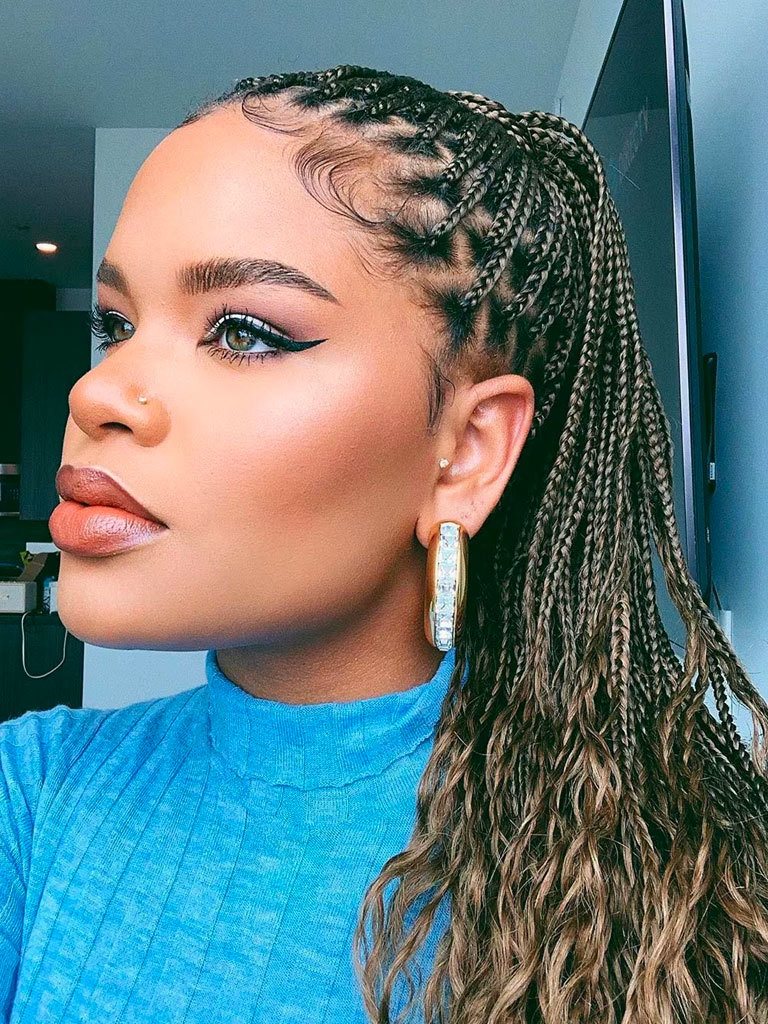 Knotless braiding is great for those with finer natural hair, as it is light-weight and spread out more than regular box braids. For a complete care of your natural hair, try SheaMoisture Miracle Hair Styler Leave-In Treatment, that will give your strands the noursihment and nutrients it needs to stay healthy
Mini Box Braids on Natural Hair
Small and dainty braids are ideal for hair that is more on the fine side. Why? Because choosing a chunky braid for fine hair could be too heavy, make your hair look sparse and, most importantly, cause damage to your hair, ruining your overall style.
Curly Box Braids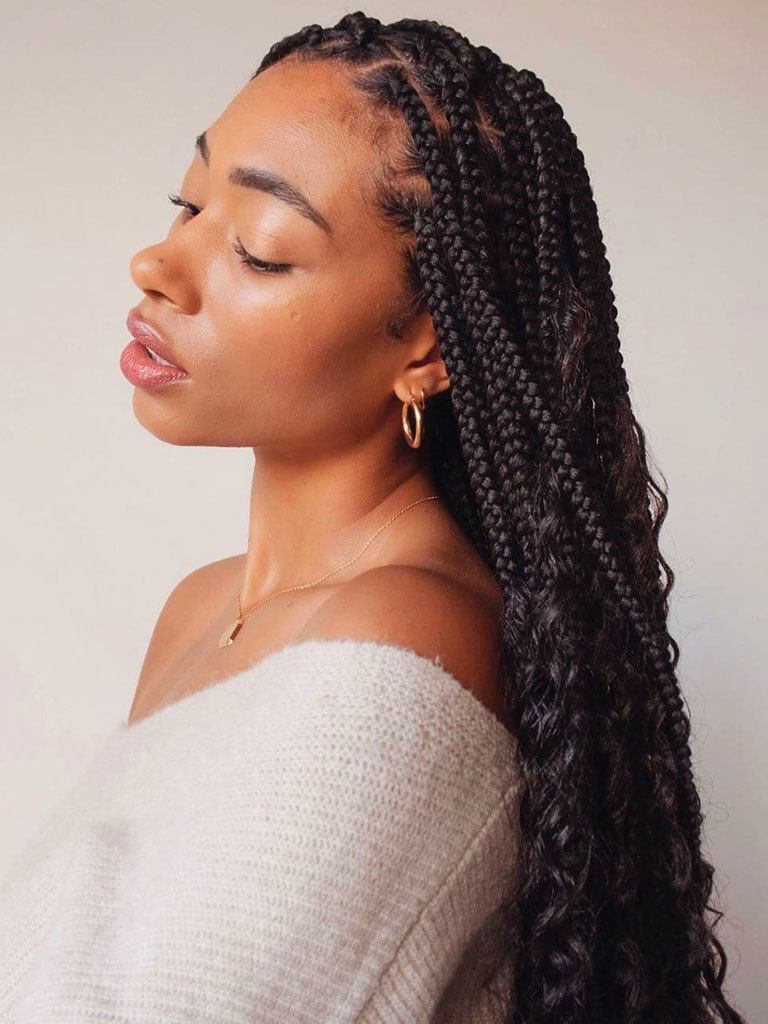 While many women who choose box braids for natural hair will stick to the popular straight finish, you can choose to break the stereotype and opt for a curly finish instead. From all over curly braids to wavy ends, the world is your oyster!
Braided Bob on Short Natural Hair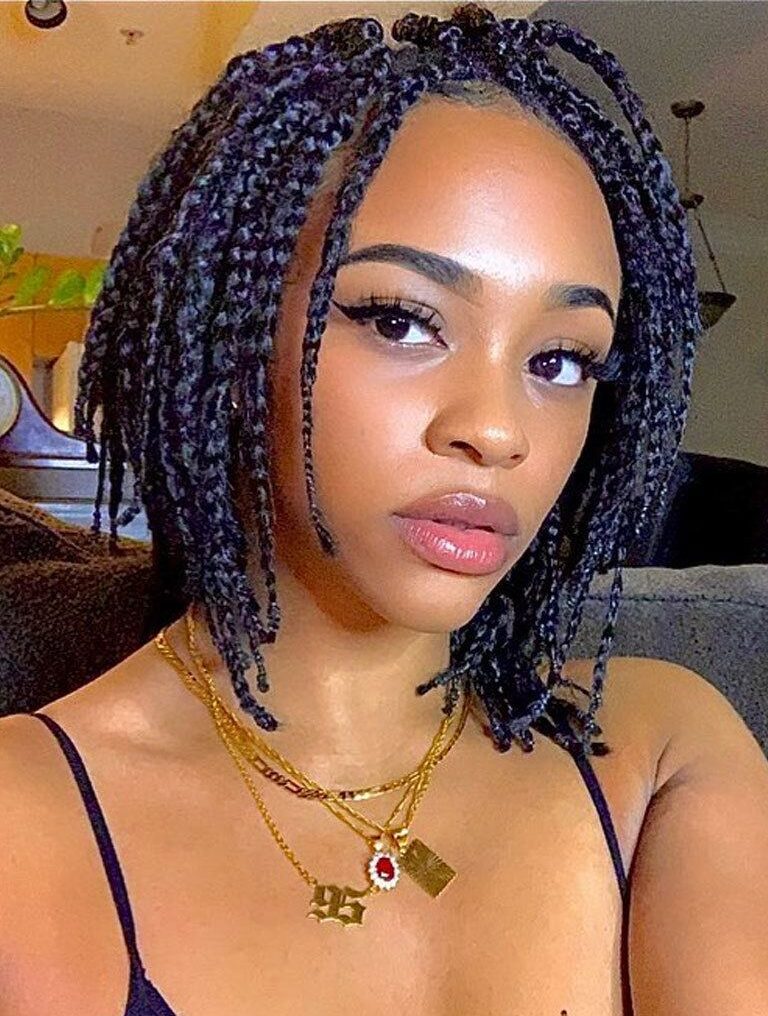 Bobs are the timeless haircut many opt for when looking for chic and sophisticated styles, so why not team yours with a set of box braids?
The key to giving bob box braids a modern touch is to playing around with fun hues and accessories like beads and ribbon.
Lob Box Braids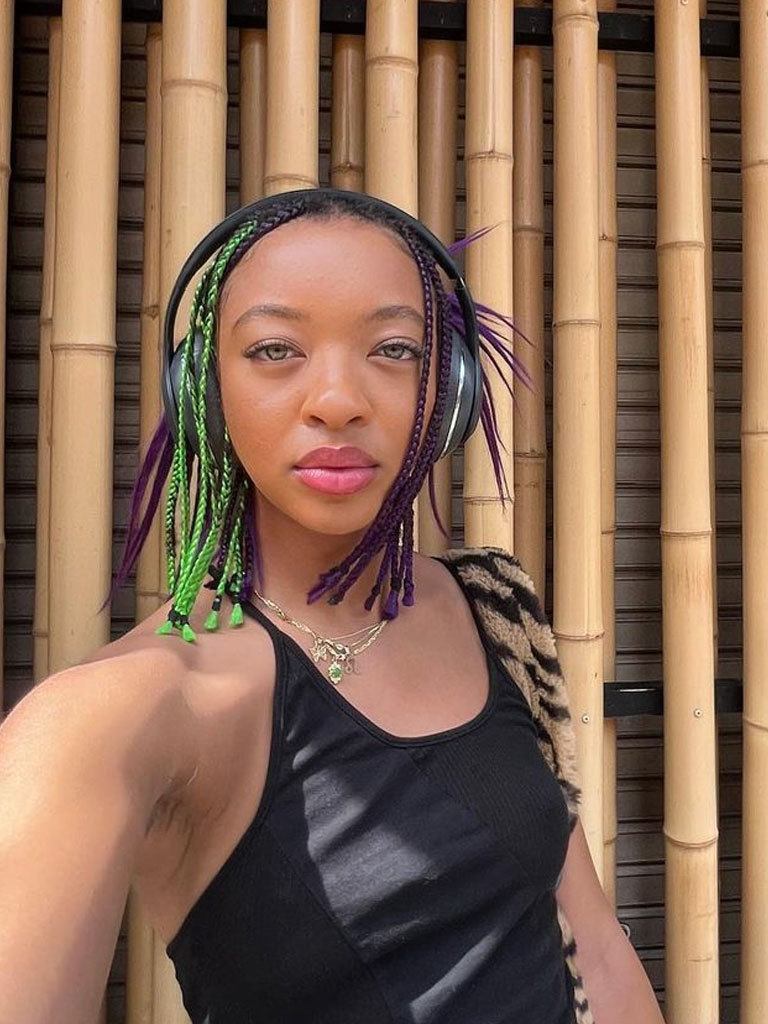 If you're a fan of medium hairstyles, why not up the fun factor of a lob length? Mix up colour and textures. Medium box braids are a great alternative to long box braids and just as stylish!
Box Braids with Shaved Sides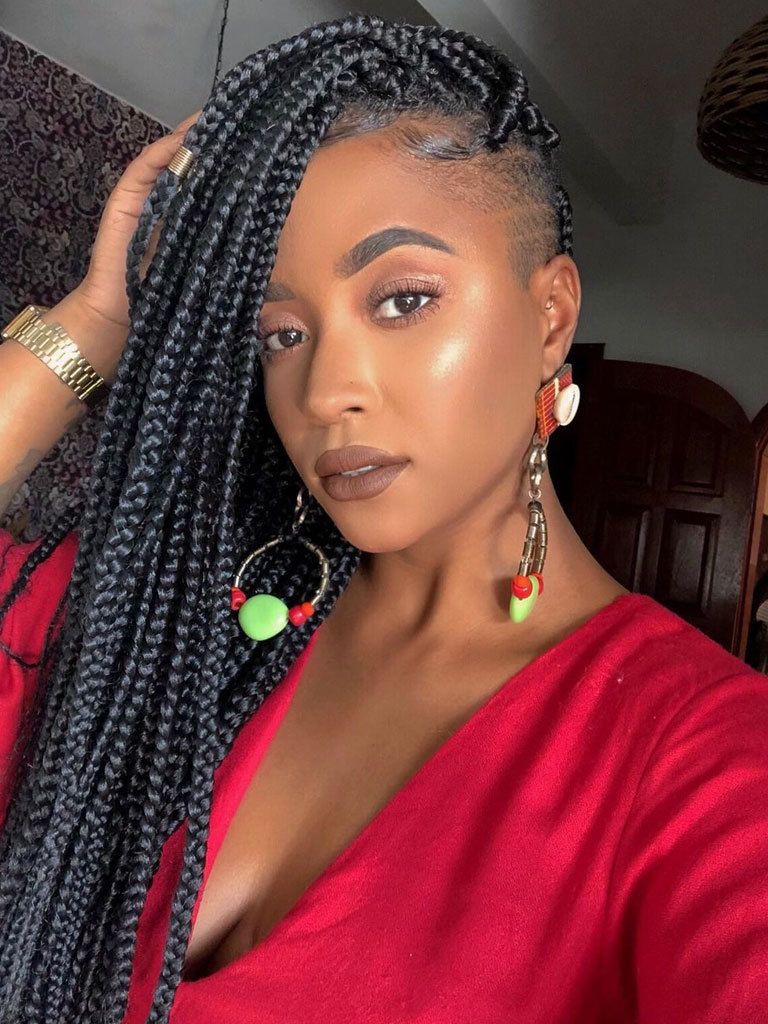 There's nothing wrong with adding a little edge to your look! So, if you fancy taking the plunge, take a look at our favourite shaved box braids hairstyles, here.
Mohawk Braids
If you're over your usual updos and want to know how to style long box braids in a brand new way, give this mohawk a try and see how heads turn.
Creative Cornrows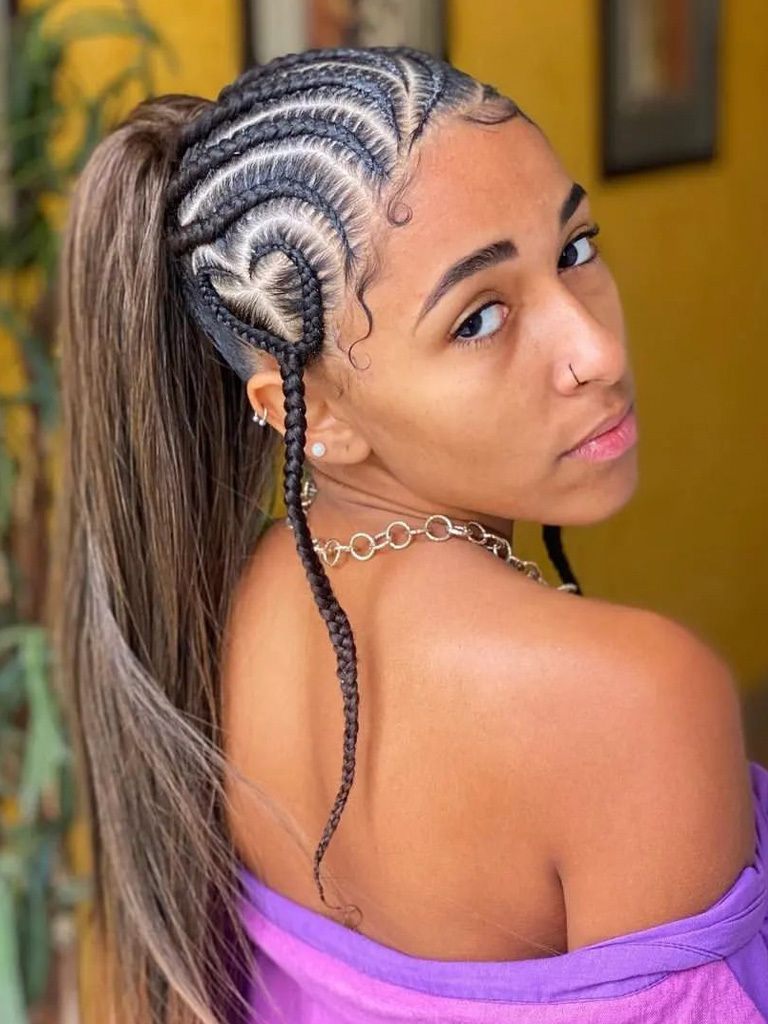 We are in awe of the artistry and creativity displayed in creating different braid styles. You're only limited by your imagination. If you're trying this style and want to keep your strands tame, we recommend TRESemmé Freeze Hold Hairspray.
Triangle Box Braids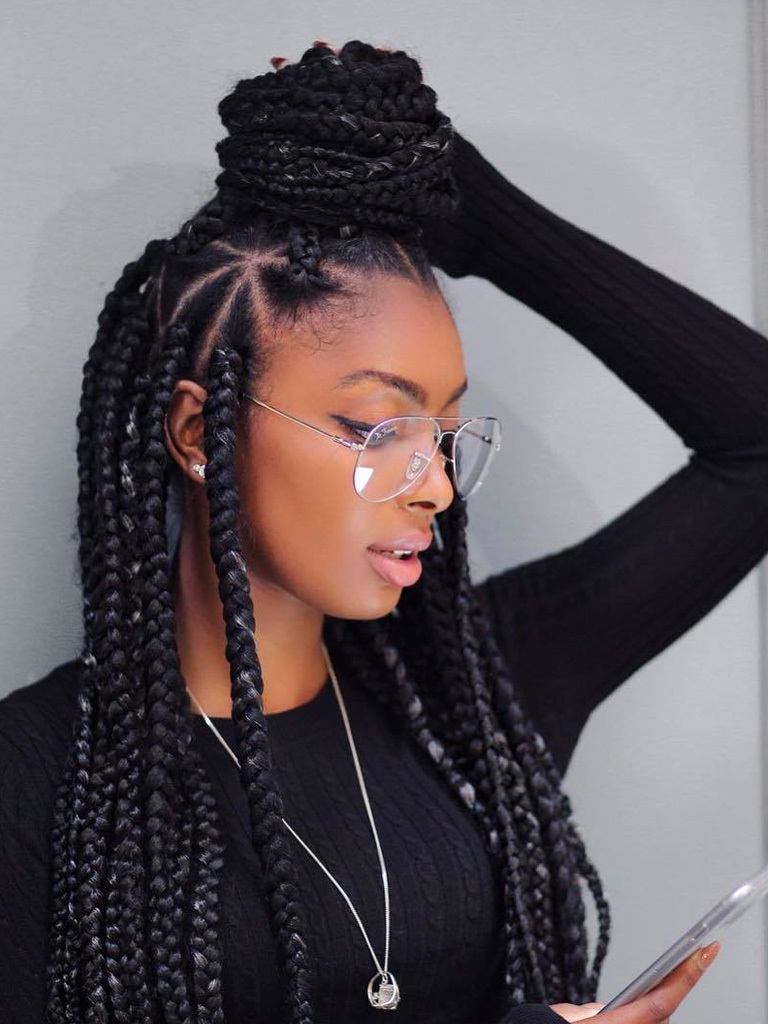 The final piece of your box braids puzzle is the pattern. The most popular braiding pattern is of course box (square) shaped, but there are alternatives.
We love the triangle pattern we've seen popping up on all our social feeds and best of all it looks picturesque no matter what size, length and colour you choose.
'80s Big Hair Braids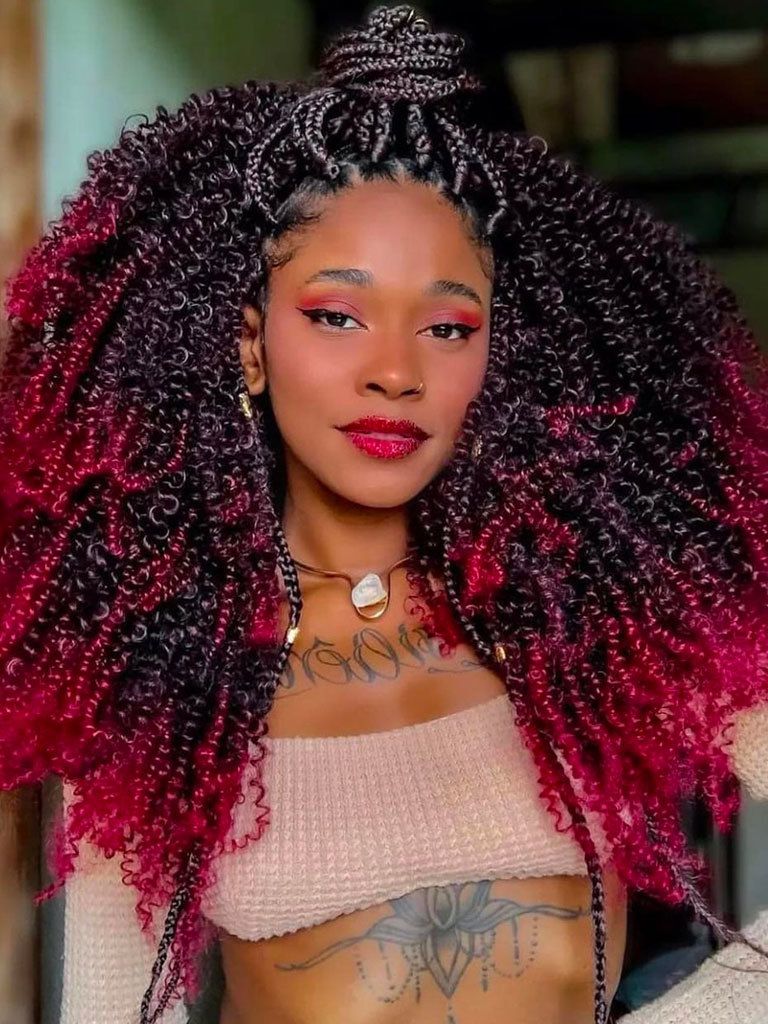 The '80s (and Whitney Houston) taught us 'the bigger the better'. And we love this showstopper look in all its bountiful, bouncy beauty.
'90s Box Braids
'90s hairstyles are also on the rise, so you'll be spot-on on-trend with this gorgeous box braid high pony look, especially when you break out your scrunchies.
Half-up Loose Bun
Another '90s variation, the half-up bun trend isn't going anywhere, so if you're stumped on how to style long box braids, give it a try by dividing your hair into two (top and bottom) and twisting the top section into a bun.
Simple Half-up Pony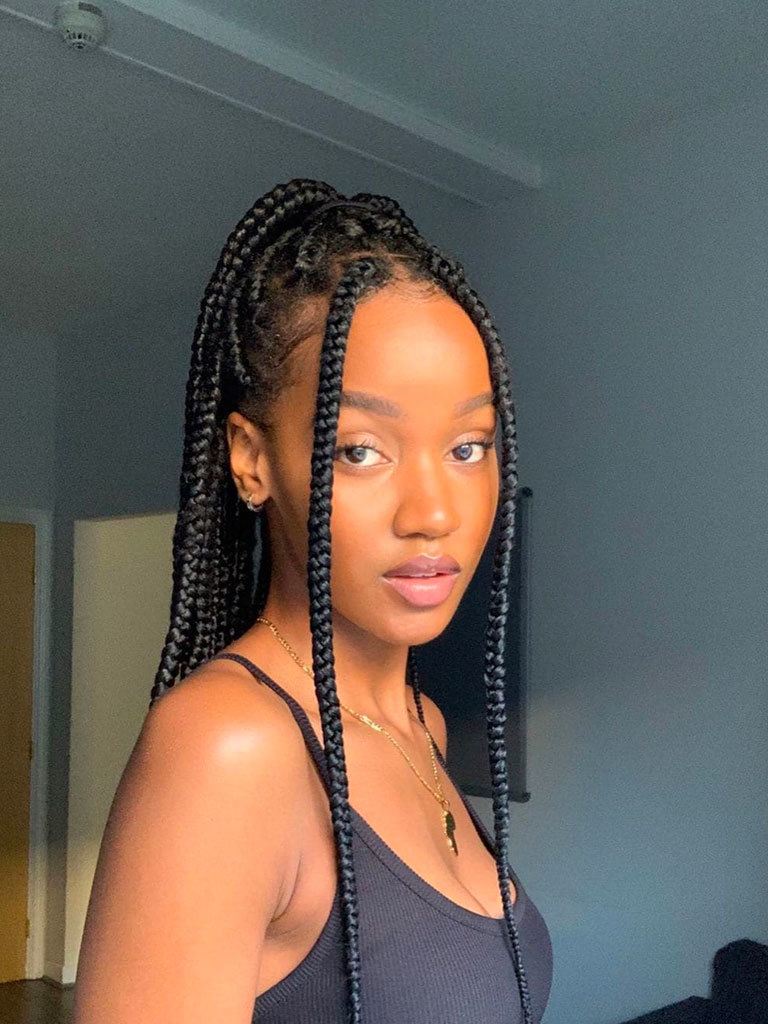 Everyday looks call for something that's quick and easy but still makes you look put together – and this half-up hairdo does just that. This half-up pony is one we find ourselves going back to time and time again. Sorry, not sorry.
Pigtails
In case you missed the news, bunchies are back and cuter than ever! Do your best Baby Spice impression with these adorable pigtails – we love how this beauty has laid down her baby hairs.
Crown Braid with Pigtails
This look skillfully blends feed-in braids with larger plaits to create the crown detail, then deftly morphs into plaited pigtails. Just beautiful.
Space Buns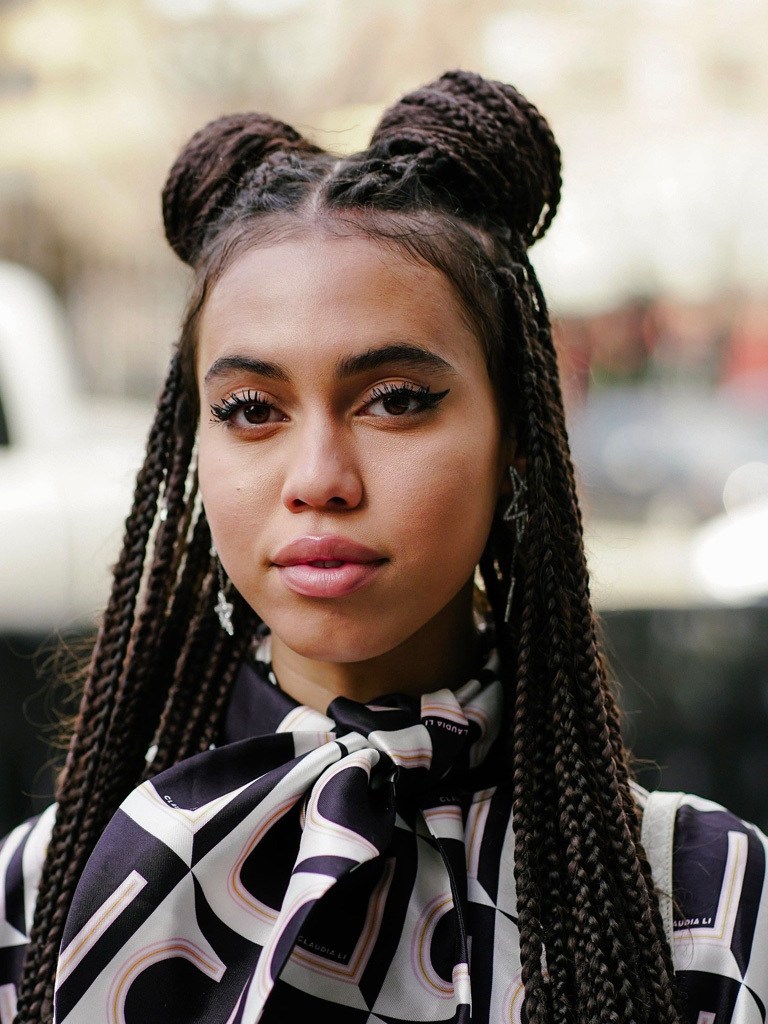 Space buns are for life, not just for festivals! After all, double the buns = double the fun, making this the perfect way to show off your bubbly personality through your hair.
Who said you can't rock long box braids styles and still slay the latest hair trends, right? 
Mini Space Buns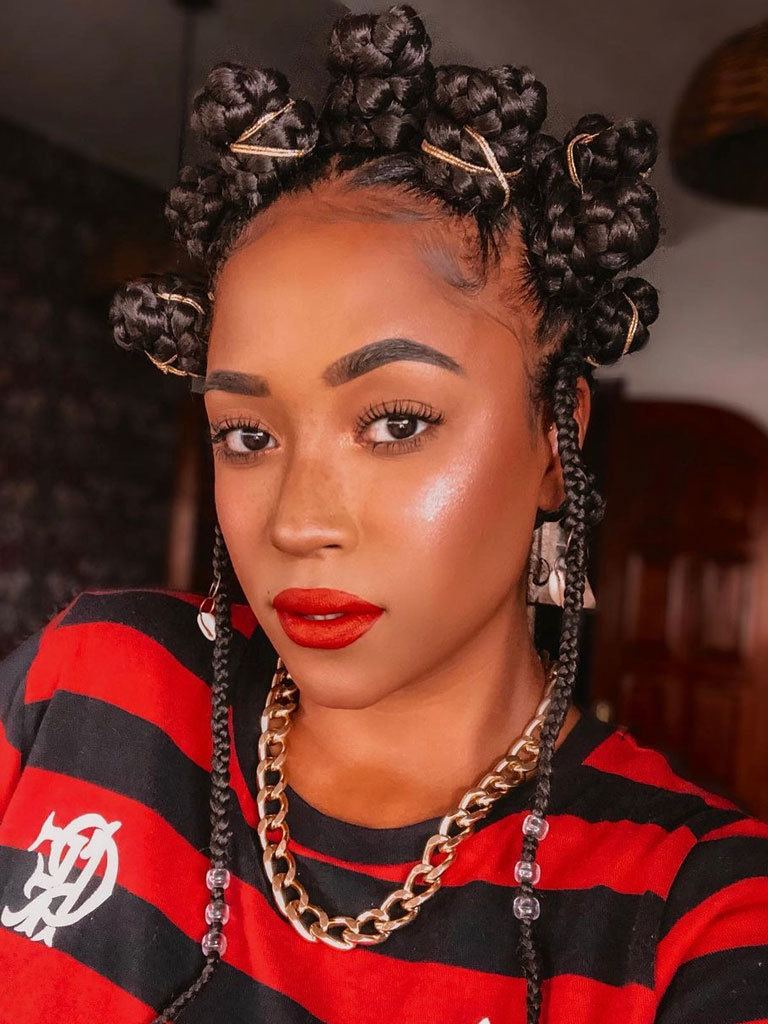 In case you haven't guessed, we love buns at All Things Hair. That's why we couldn't miss any opportunity to include another multi-bun look to our box braid hairstyles rundown.
Braided Braid
Who needs hair accessories when your hair can be an accessory? After fashioning your box braids in a ponytail, simply braid it for a chic and unique look that's bound to get everyone talking.
Just imagine how cool this box braid hairstyle would look like with a fancy fishtail plait? Or perhaps a four-strand braid?
Braided Bow
Who needs accessories when you can make your own hair bow with your hair? Get the look in a cinch with our bow hair tutorial!
Undone Ponytail
Got a more casual event to attend and don't need your locks to look pristine? Say no more. Opting for a messy, undone box braids ponytail (just like this Instagrammer has) will make you look like a street style star in no time.
Cool High Ponytail
No roster of box braid hairstyles would be complete without the high ponytail. And just because this style is a classic, it doesn't mean it should be overlooked (in fact, this 'do is the basis of so many hairstyles!).
Knotless Braid and Loose Pony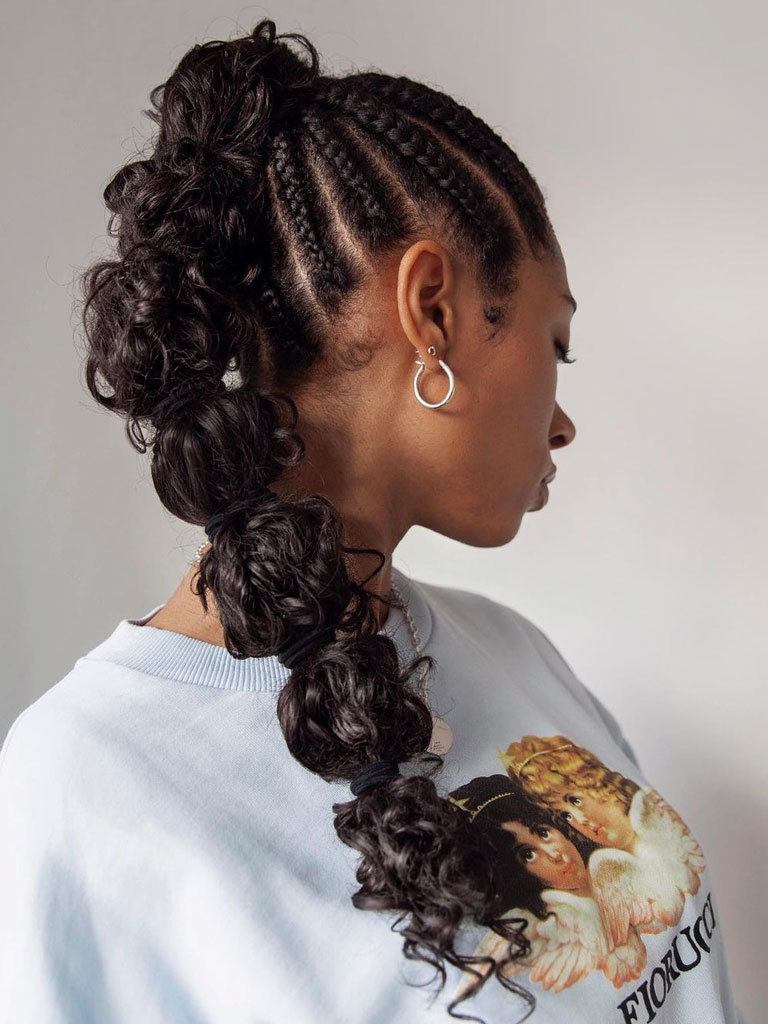 This gorgeous style with contrasting textures is a big hit with us. We just love the geometric neatness of the feed-in braids against the soft bunched curls of the high pony.
Fishtail Braid
Who says having box braids means you can't rock those envy-inducing braids we see all over Pinterest? This dreamy side-swept fishtail braid is the stuff of any Pinner's dreams and looks totally mermaid-worthy. 
This understated fishtail is simply beautiful.
Warm-toned Braids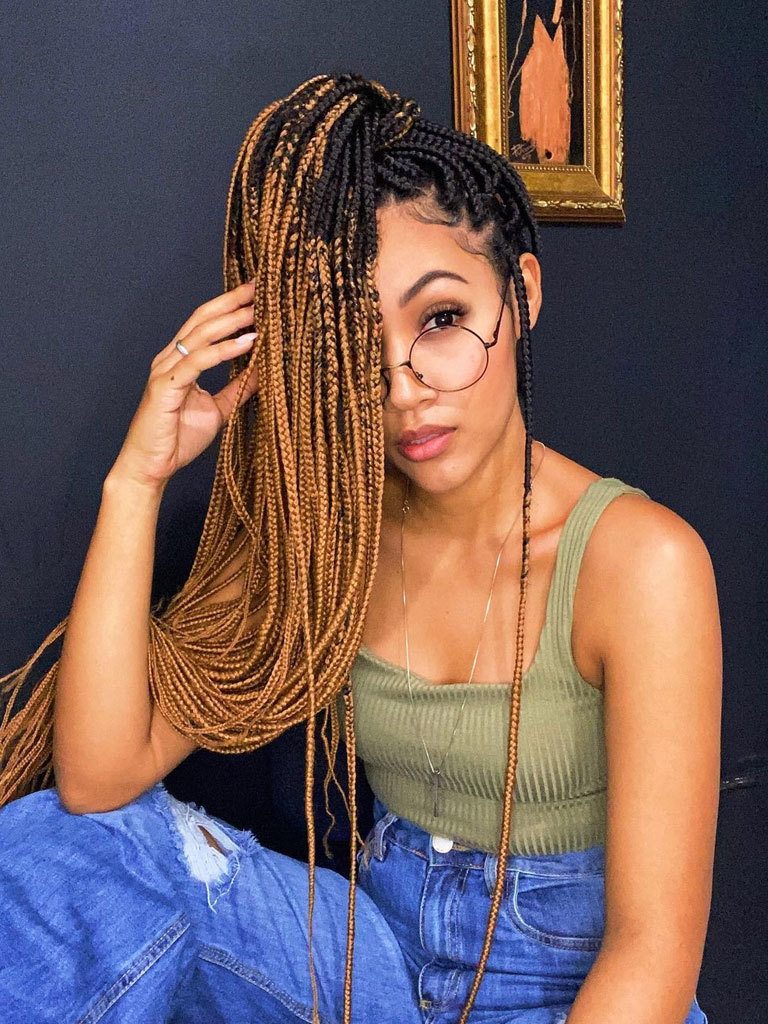 Feeling the urge for some colour? The warm tone palette is it this year. Ginger tones are the last word, but you can ease into it starting with a honey blonde or caramel before taking the full plunge. Alternatively, choose multiple tones to soften the look.
Ginger Braids
These multi-tonal orange twist braids are so pretty and modern.
Dyed Box Braids
Box braids are a great way to test out new shades without the full commitment. So, that green, pink or rainbow hue you've been dreaming of? You can finally try it with the help of coloured braiding extensions.
Multicoloured Braids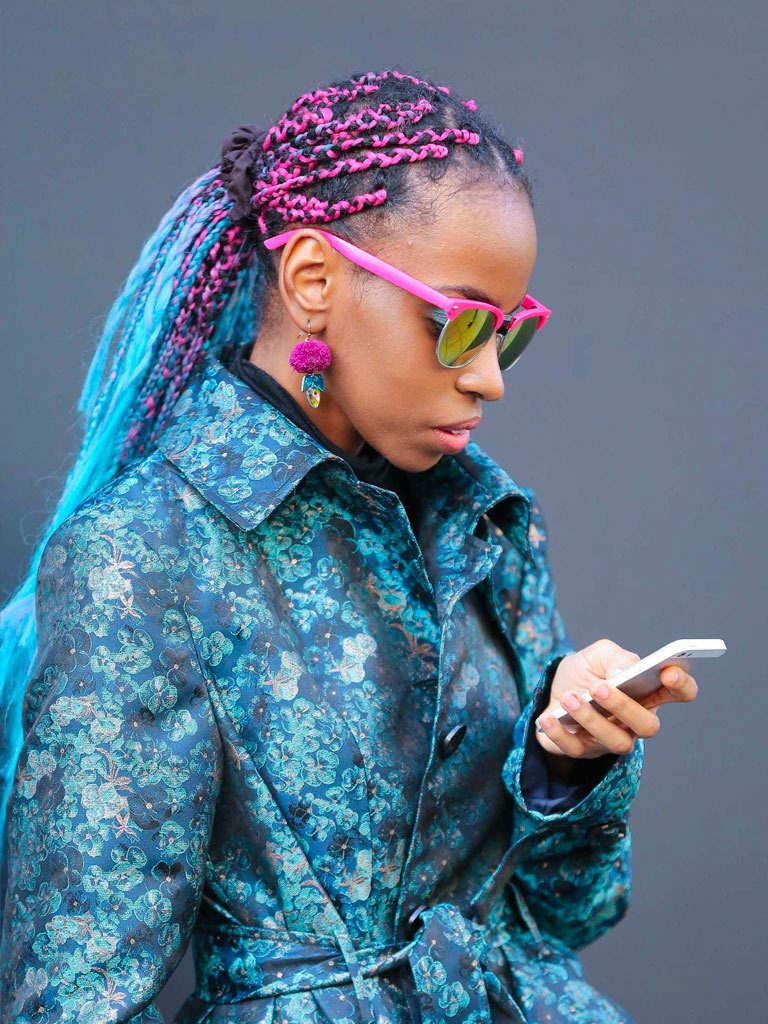 Sure, these pink and blue coloured braids might not be for the faint of heart – but we say if you're going to do colour, why not go all out? Plus, with such head-turning hues, you can afford to keep your actual style super simple – just a basic low pony will do.
Blue Braids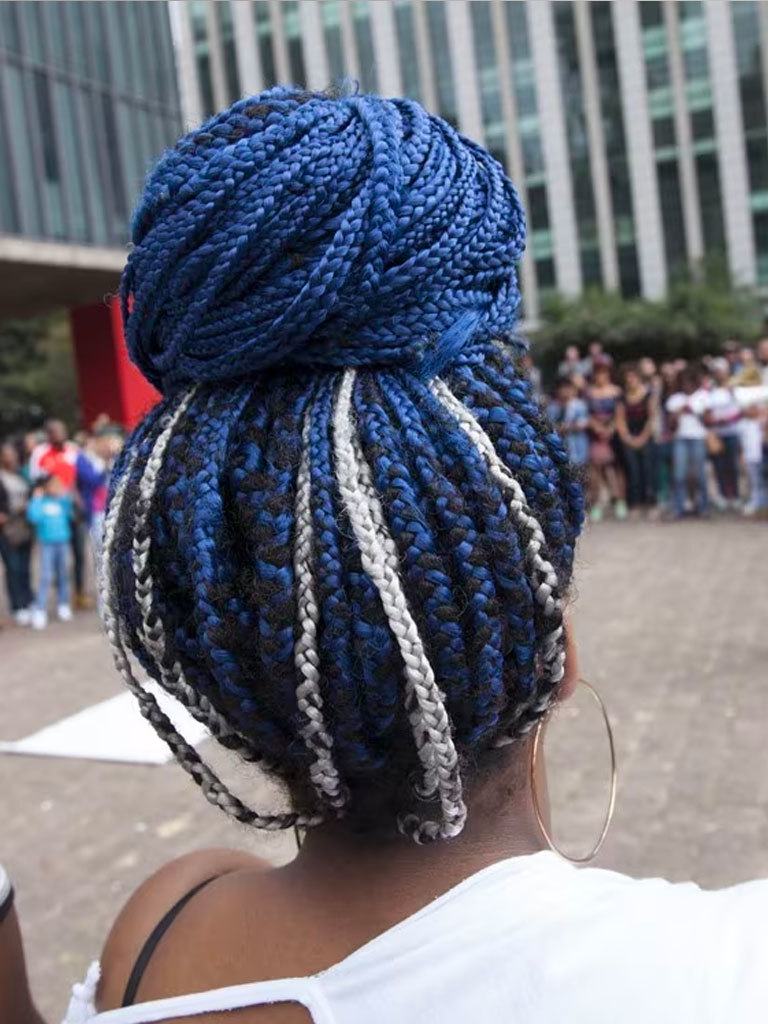 If you prefer cooler tones, these blue braids interspersed with white are a winner for the season. 
Grey Box Braids Side Ponytail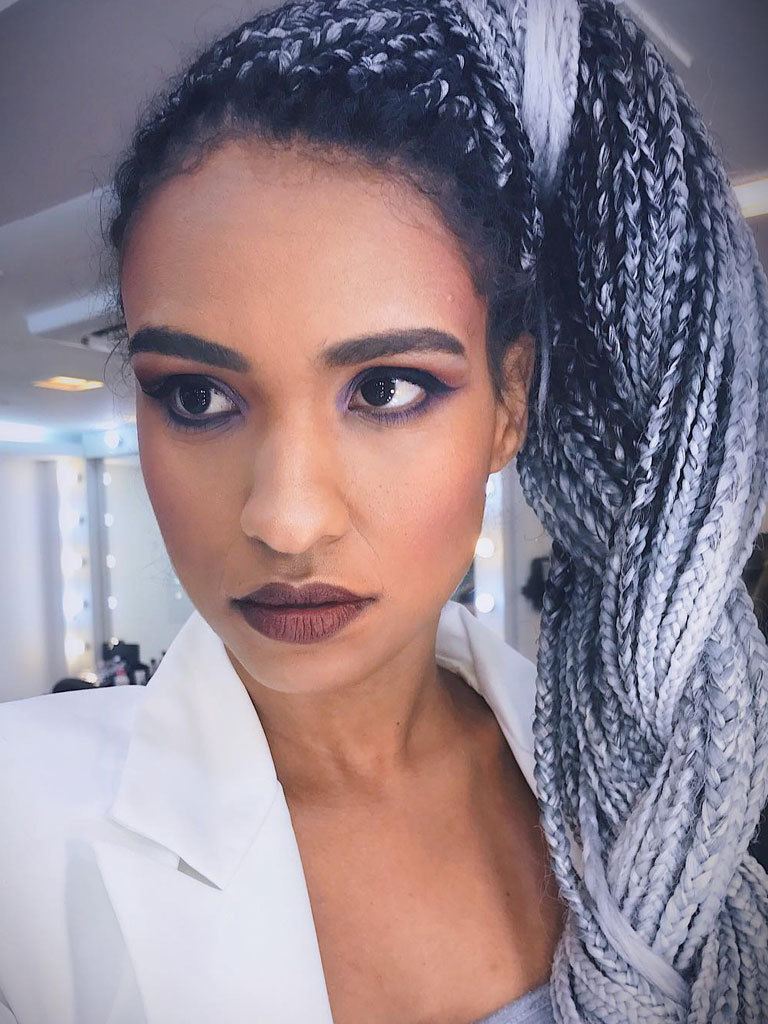 The '80s vibes are everywhere right now, so why not carry the throwback vibes on into your hair with a sweet side braided ponytail?
Super fun but also a practical way to keep your long box braids in check for the gym, it's a great all-rounder.
Loose Box Braids With Ombre Hair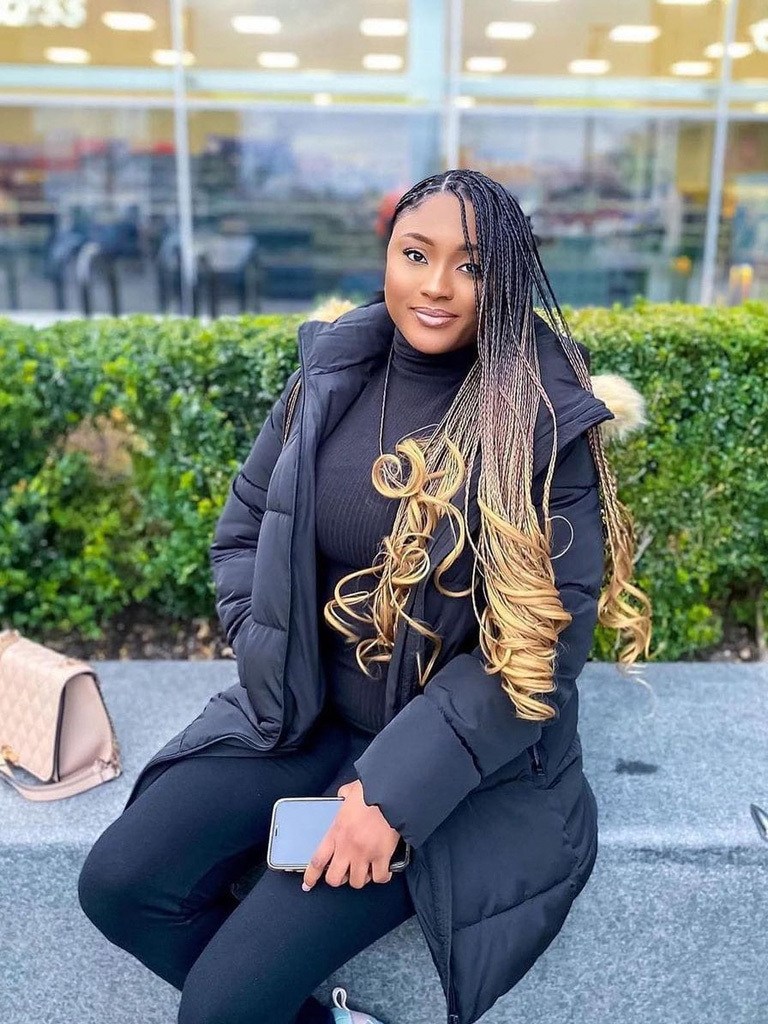 Most box braids are worn straight but if you're after something a bit different, wavy and curly box braids are another super covetable option. You can either curl the braids themselves with a curling iron (if they're made of real hair) or by braiding them into larger braids first and dipping them into hot water.
Or, instead of having your hair in long box braids all the way to the tips, you can leave the ends loose and curl them like this lovely lass.
Headband Braid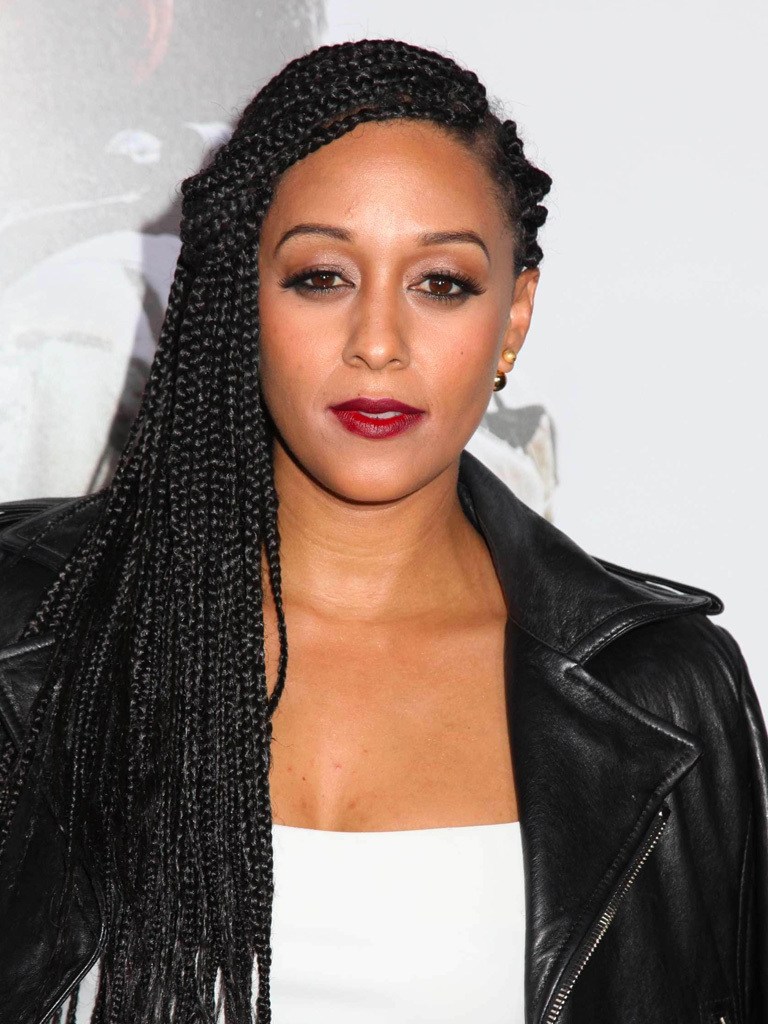 Have you spent ages searching how to style long box braids yet find that all of the looks you're coming across are too complicated? This simple headband is super simple. Sweep it to the side and twist the end to create a headband.
For a slightly fancier look, take the front section of your hair and twist it, tucking it into the back of your head using a clip. And that's it — perfectly polished princess hair without the stress, phew!
Braided Top Knot
Ah, the high messy bun… Can you ever go wrong? We think knot! Take heed of this #braidsgang member's honey blonde long box twist braids in multiple thicknesses which she's worked into an effortless top knot bun.
Box Braid With Undercut
If standard long box braids styles aren't exciting enough for you and you're looking for something a bit more out there, try adding a punky edge to your look with a shaved undercut.
Rapunzel Braids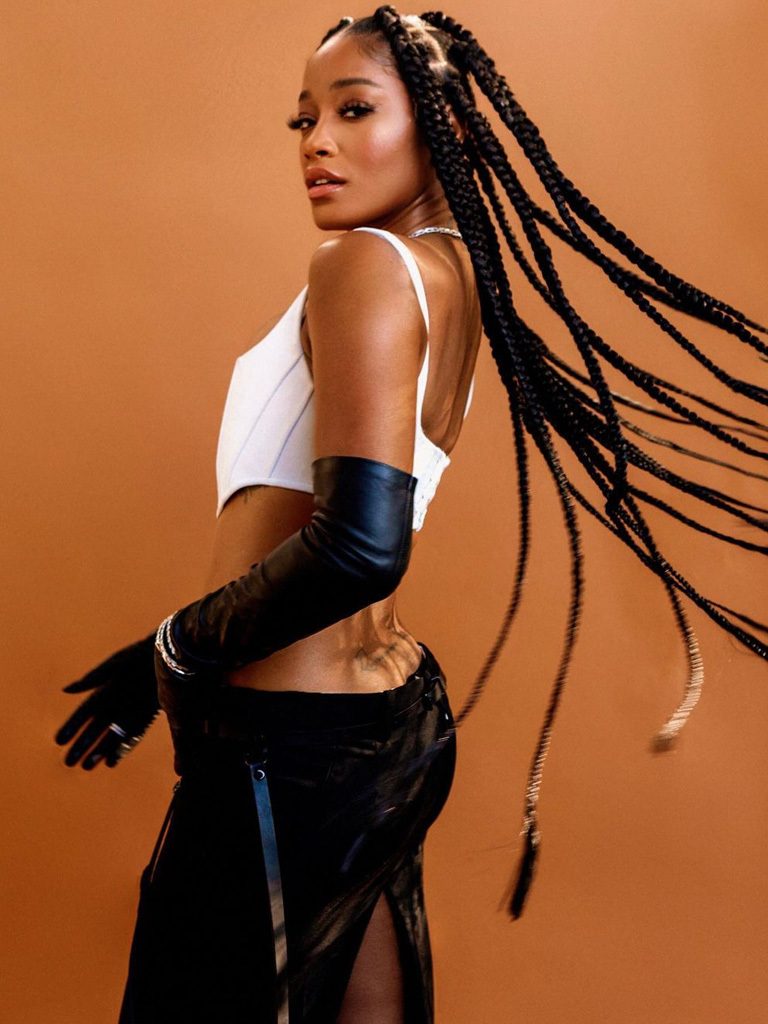 The benefit of braids is they give you the chance to wear your hair super long without having to wait years for it to grow, so why not really make the most of it with waist or even hip-length locks? Keke Palmer, Beyoncé and Solange are all fans of statement lengths, which should be incentive enough to try them!
Retro Pompadour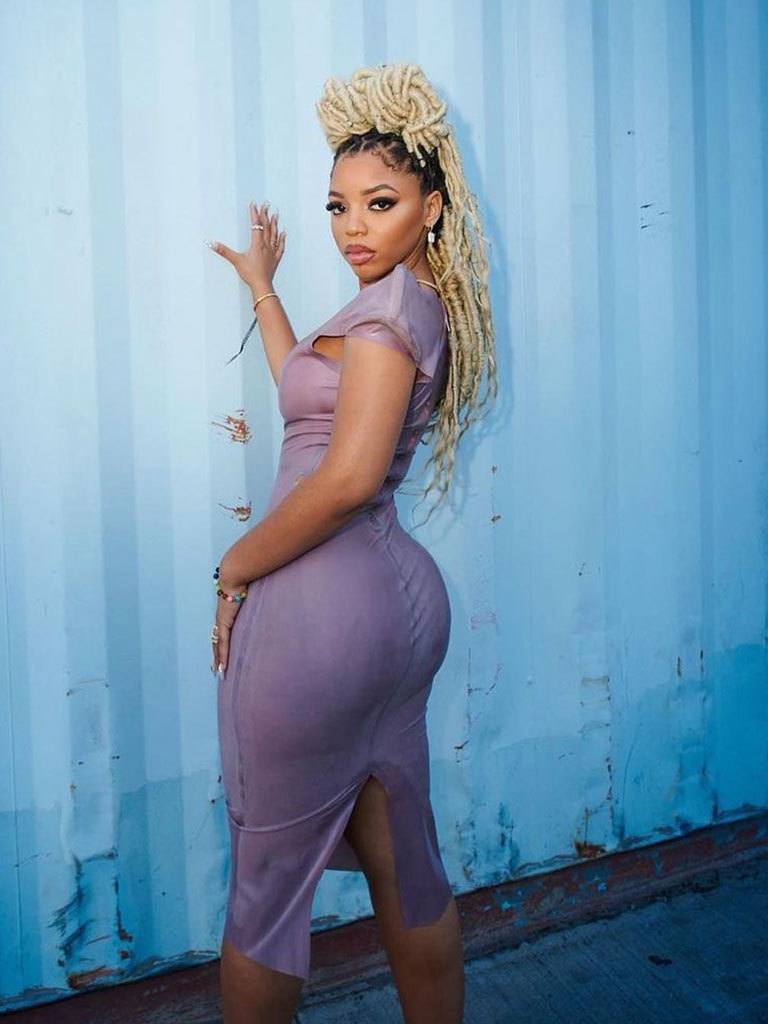 If vintage hairstyles are your jam, first, us too! And second, the pompadour is surely the 'do for you. Loved by stars like Chlöe Bailey, seen here, Janelle Monae and Keke Palmer, this classically androgynous style has had a feminine reincarnation on the red carpet.
As hairstyles for long box braids go, this is the perfect way to dress up your mane for a special occasion or night out. It may take a little practice if you're a beginner, but we think you'll agree it's well worth the effort.
Braided Pompadour
Looking for unusual styles for box braids? Then ladies, meet the braided pompadour!
To create the look, simply gather your box braids into a high ponytail and secure with a hairband. Section your ponytail into 3 equal parts and create 3 braids by weaving each section into a standard plait.
Now create your quiff by taking the farthest braid and pinning it to the opposite side of your head, sweeping it across your hairline and behind your ear. Pin it at the back of your head with bobby pins. Take the middle braid, and secure it snugly behind the first one, before repeating the process with the last braid – and you're done!
Pin it at the back of your head with bobby pins. Take the middle braid, and secure it snugly behind the first one, before repeating the process with the last braid – and you're done!
Accessorised Box Braids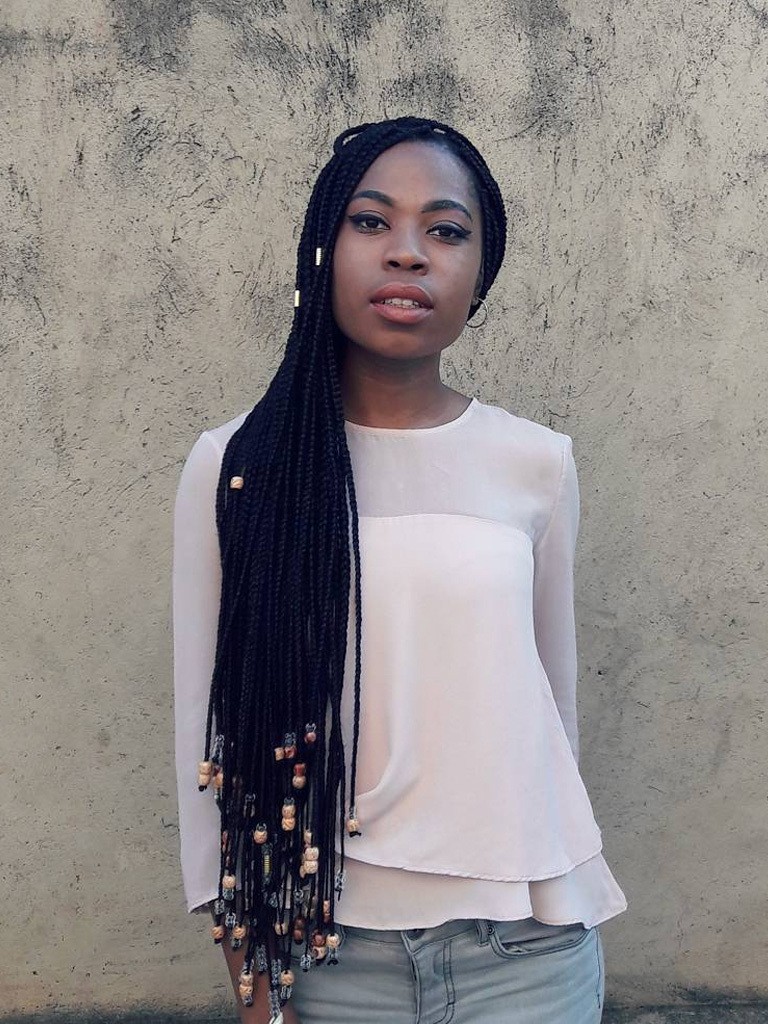 When you want to make your braids outstanding, bring out the decorative elements. Glass, wood and ceramic beads come into their own, and why not add a golden cuff or two?
Hair Wraps
Headbands of all kinds are having a moment right now and this is the best news for girls with long box braids.
Headbands and hair wraps can be used in a variety of different ways like wrapped around a bun as seen here. Once you get one, you'll honestly wonder what you ever did before!
Head Wrap
Looking for an easy way to add a bohemian touch to your hairstyles for box braids? Why not try a headscarf? It's a really easy way to jazz up box braid hairstyles – and all you have to do is pick out a pretty scarf or piece of fabric to achieve the look.
Half-up Crown
Whether you're rocking a dress or bomber jacket to a party, know that this box braid hairstyle looks good with almost any outfit. Why? Because the combination of the playful plait with the sophisticated, loose, flowing box braids underneath make for a hairdo that's super versatile, not to mention utterly stunning.
Low Pony Bun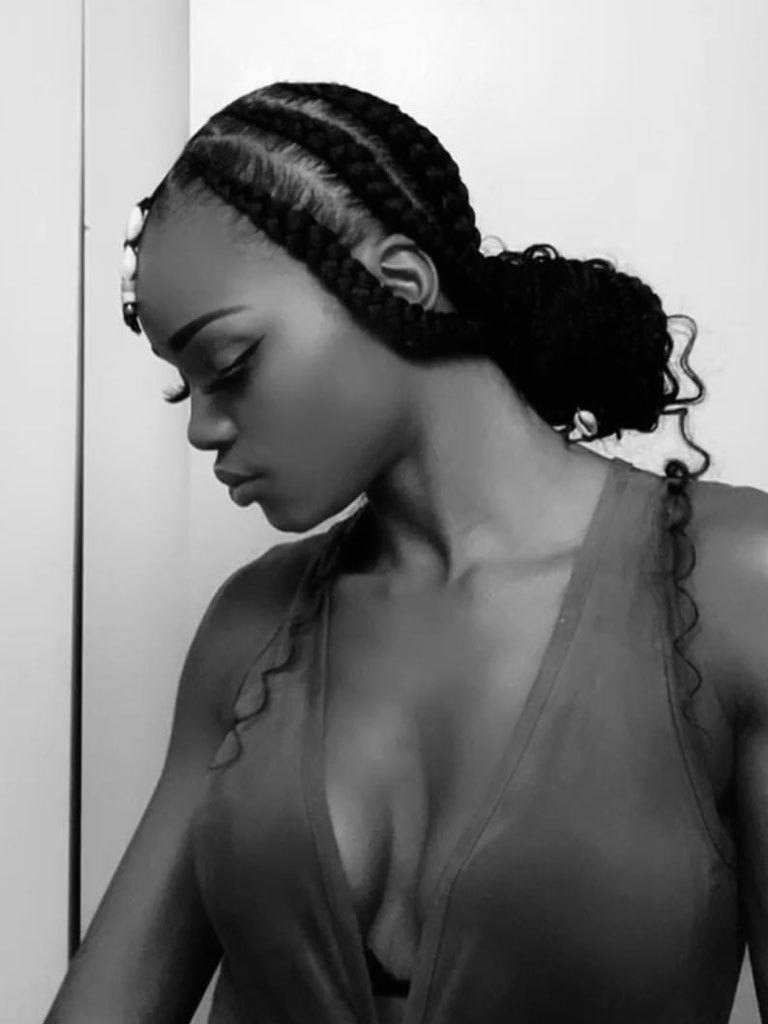 This trendsetter kicks things up a notch by turning her mane into a romantic masterpiece. We just love how the thick feed-in braids and curly ends have been worked into a low ponytail bun.
High Bun
A high bun is a fail-safe way to bring some elegance to your daily hair routine. Professional enough to wear to work but also glam enough for a night out with the girls, its versatility is what makes us love it so much.
All you need to do is put your braids into a high ponytail and secure with a large hairband. Then, twist it to create your bun, gently wrapping it around itself and using bobby pins to hold it in place. Easy-peasy!
Elegant Half Updo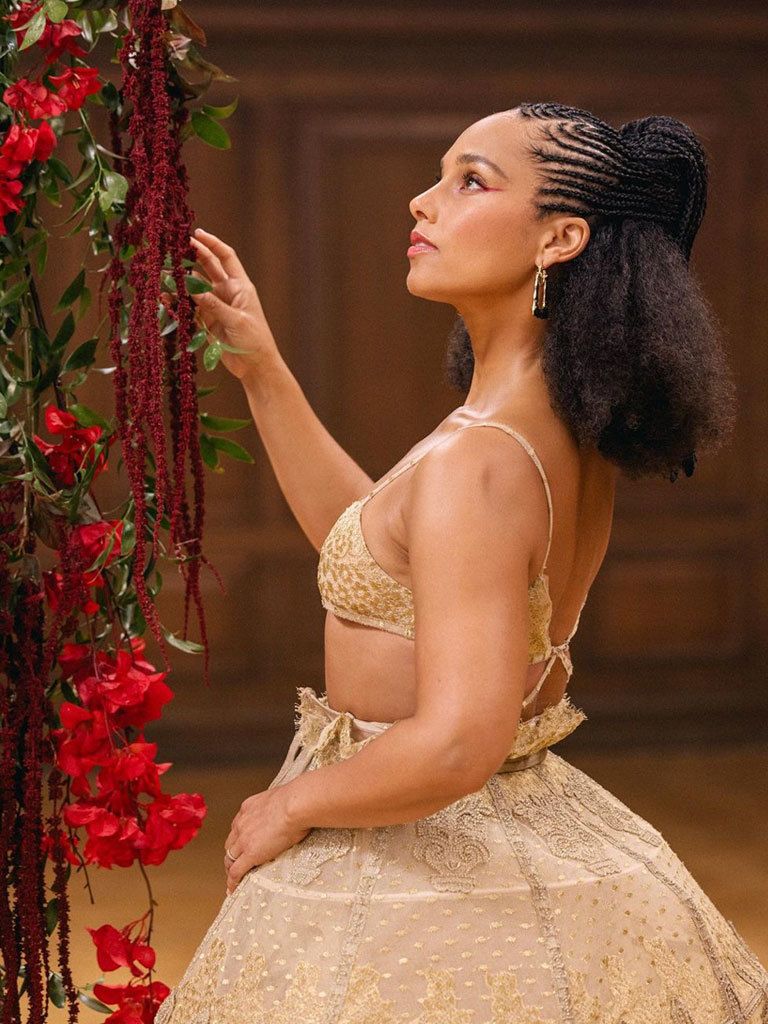 This glamorous look combines the beauty of feed-in braiding with an upstyle and the modern touch of natural hair. We're sure Queen Charlotte would approve.
Cute Updo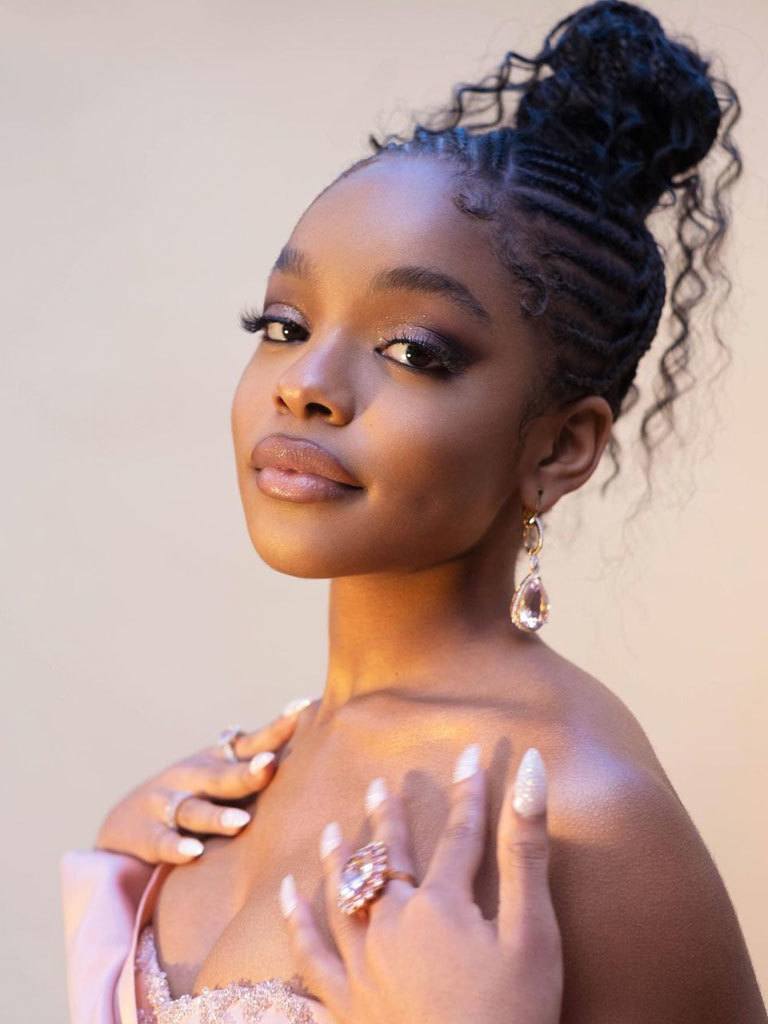 If having your hair up is more your thing, this exquisitely elegant look with intricate knotless feed-in braids and topknot with tendrils is spot on. Marsai Martin's never looked more lovely.
Braided Buns
This gorgeous '90s-inspired look is practical, creative, and great for the gym and formal events alike. So, if you're looking to make a stylish impact with your box braids, consider pairing them with a set of cute space buns!
From Day…
… To Night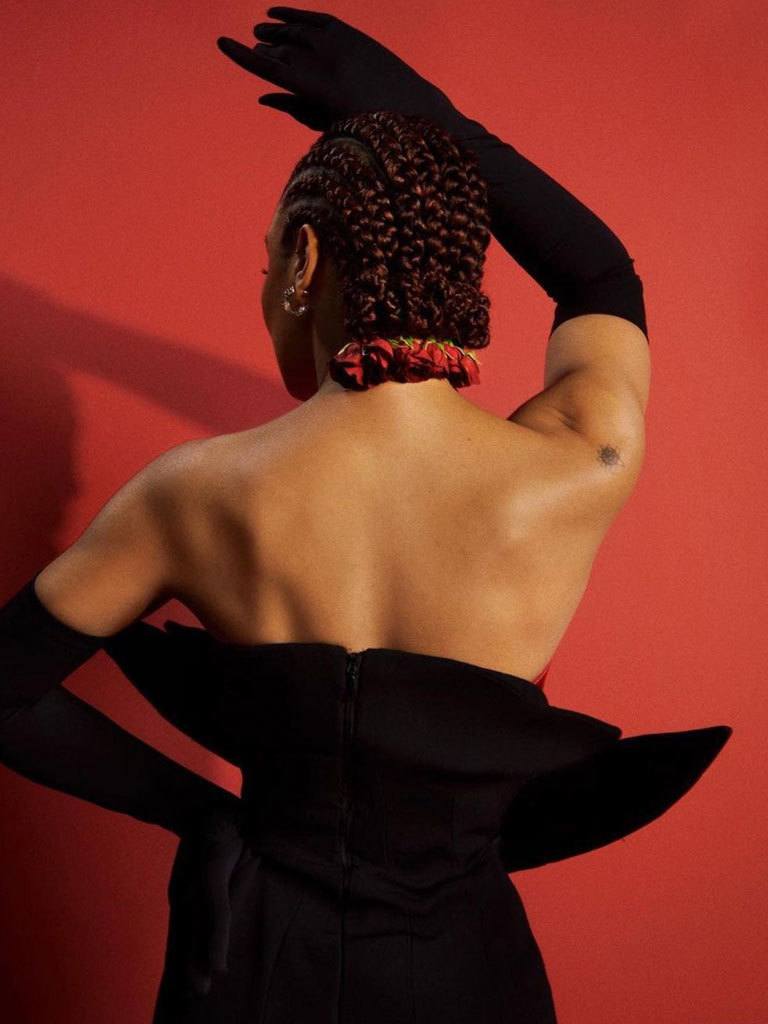 Celebrity hairstylist Lacy Redway maximised this look with her play on red roses.
FAQs
Prev Article
Next Article
Article
What is hair mousse and why is it making a comeback? We spill the tea on this mane essential!
Has wondering 'Is mousse bad for your hair?' stopped you from trying it out? Well, we've got a few reasons why your mane game will be changed forever with this must-have product...
See article