22 Celebs Who Rocked Blue Hair and You Can Too
Vivid hair colours are popping up everywhere, and we have to admit that we're kind of enamoured with the trend, especially blue hair in all shades and hues.
Blue hair isn't a new thing, in fact, with everyone from Katy Perry to Kylie Jenner having rocked a spectrum of blue hues, there's certainly no shortage of A-list inspiration. Loving the trend but not sure you're committed enough to take the plunge? If you're still umming and ahhing over whether a blue hair colour is right for you, discover some of our favourite celeb-approved styles, below. Plus, keep reading for some of our top tips for blue hair maintenance.
Billie Eilish's Blue Space Buns
Seriously, who pulls off coloured hair better than Billie Eilish? Billie might be rocking more traditionally-coloured hair these days but we'll always love her grungy, grown-out blue locks.
Bella Thorne's E-Girl Streaks
Bella Thorne channelled the TikTok E-Girl hair trend with these contrasting blue streaks. If you use temporary dyes, colour will fade quite quickly, so try TRESemmé Revitalise Colour Shampoo and Conditioner to keep your hue vibrant for up to 12 weeks!
Hilary Duff's Cotton Candy Blue Hair
Hilary Duff's rocked this cool, cotton candy blue shade and has us seriously tempted to give it a try.
Lady Gaga's Cinderella Look
Lady Gaga was the star of the 76th annual Golden Globes, stepping out onto the red carpet with stunning pastel blue hair. The hue really popped against her bright white platinum strands underneath and the Disney-worthy updo only added to the princess factor.
Kylie Jenner's Icy Blue
If pastels are more your vibe, take note of Kylie Jenner's icy blue hue. This wasn't the first time she's rocked a blue hair colour (you can scroll down to see another of our favourite true blue looks from the youngest member of the Kardashian/Jenner clan!). And it looks so good on her that we doubt it'll be the last!
Editor's tips: Keep your coloured hair strong and healthy by adding Dove Intensive Repair Shampoo to your hair care staples – it will hydrate your strands from within while protecting them from future damage.
Halsey's Ocean Pixie
What could be better than a regular pixie cut? Erm, an ocean blue-inspired pixie cut of dreams, of course! We're totally obsessed with Halsey's under-the-sea blue hair colour and it works wonderfully against her porcelain complexion.
Katy Perry's Smurfette Bob
Who could ever forget the time Katy Perry rocked a Smurfette-inspired blue hair colour? This pristine asymmetric bob contrasted with the bright, fun hue and added an extra burst of colour to her candy pink ensemble.
Ke$ha's Pastel Half-up Half-Down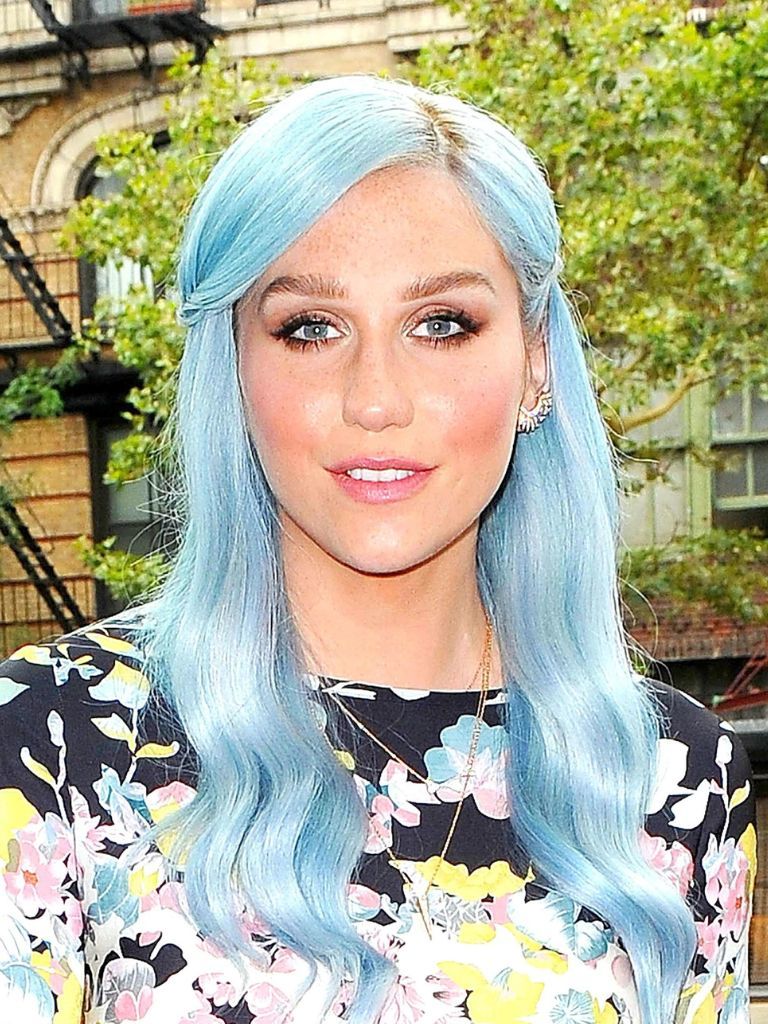 On the hunt for a girly take on blue hair? Ke$ha's pastel blue shade and cascading waves make for a Princess-worthy style that gets two thumbs up from us at All Things Hair HQ!
Nicole Richie's Dark Blue Hair
Nicole Richie's dark blue hair is one of our favourite looks, as it shows just how easily coloured hair can be transformed from something fun and playful to a style that looks polished and preppy.
Grace Chatto's Rapunzel Locks
Are you a natural blonde looking to try out blue hair? Follow in the footsteps of Clean Bandit's Grace Chatto and ask your stylist for a cool, silver-toned blue.
Not only will it compliment fair features, but it won't require nearly as much upkeep as bolder hues as it begins to fade.
Demi Lovato's Sweeping Bangs
Wondering how Demi Lovato managed to make dark blue hair look so effortless? The secret lies in her sweeping Tinkerbell-esque bangs, as feathered fringes are a great way to balance out bolder styles and add a feminine edge.
Sky Ferreira's 2-Tone Hair Colour
What's better than blue hair? Two shades of blue, of course. If you're hoping to really turn heads with your style, look no further than Sky Ferreira's colourful dual-tone creation. Combining lighter aqua shades with deeper indigo blue highlights, pyou'll be the source of some pretty major hair envy among your friends!
Busy Philipps' Blue Braids
Thought pigtails were a style best left in the playground? Well, think again! Dawson's Creek star Busy Philipps once unveiled ombré double plaits on the red carpet and all we can think is why haven't we tried it yet?!
Jade Thirlwall's Ombré
Thought you couldn't go blue if your hair is naturally dark? Little Mix-er Jade Thirlwall's pretty ombré look combines a variety of blue and green tones which complement her trademark dark locks perfectly.
Jordin Sparks' Peekaboo Highlights
Want to give blue hair a go, but need to find a look that's work-appropriate? Jordin Sparks' jet black hair and peekaboo electric blue highlights are more subtle, so can easily be concealed for your 9-5.
Keke Palmer's Denim Lob
Our love for denim reached an all-time high when the denim hair trend took off. Keke Palmer rocked this dark blue hair palette on the red carpet.
Selena Gomez' Pops of Colour
If you're tempted to try out a pop of colour, yet don't feel ready for a full-on hue, you might want to take a leaf out of Selena Gomez's book. When she added cool purple and blue highlights to her brunette locks, we were all in awe of the extra touch of brightness it added to her dark locks.
And the best part of all, those highlights were added in using extensions, giving her a great temporary hair makeover – totally genius, right?
Lilah Parsons' Dip-Dyed Ends
Want to give your style a seasonal update without doing anything too drastic? British model and TV presenter Lilah Parsons shook up her long brunette hair and bardot bangs by adding a muted blue hair colour to her ends.
Steph Lecor's Undercut
If you think these blue hair colour ideas are all a bit tame and are after something more 'out there', we've got just the thing.
American singer Steph Lecor paired her periwinkle blue 'do with an edgy shaved undercut! The result? A daring look that's both striking and stylish.
Editor's tip: If you like straightening your coloured hair then the TRESemmé Heat Defence Spray is a styling must. This multi-tasker not only protects your strands from heat damage but is also formulated with keratin and marula oil for extra smoothness and shine. 

Rita Ora's Majestic Braided Ponytail
Braids? Check! Blue hair? Check! Rita Ora's ticked off multiple trends in one with this gorgeous braided ponytail and we're still utterly obsessed.
Lily Allen's Navy Bob
Consider yourself a bit of a beauty junkie? Why not take your make-up look to the next level by matching your eyeliner to your hair, like Lily Allen? You'll be a true blue beauty queen in no time!
Kylie Jenner's Pastel Blue Mane
She may be the youngest out of her sisters but Kylie's mane game has always been seriously strong! This pastel blue hue had us swooning and we love how the intentional grown-out roots add a toughness to this style.
Prev Article
Next Article
Gallery
We're falling hard for these celebs' fall hair colours
From strawberry blonde to chocolate cinnamon, change up your look for the season ahead with these A-list inspired fall hair colours.
See article