10 Stunning French Plait Hairstyles for Any Occasion
Pretty, functional and versatile, it's no wonder our fascination with the French plait is never-ending. And now with so many new, exciting variations, as well as fail-safe classics that run the gamut from boho chic to ethereal elegance, there are more options than ever to suit all sorts of taste buds, ages and occasions.
The great thing is, once you've mastered the French braid, the possibilities are endless! So if you're looking for a hairstyle refresh, now's the perfect time to get those French braiding skills up to scratch. And to give you a head start, we've rounded up some of the prettiest examples below.
1 . Half-up French side plait hybrid
This charming half-up, half-down French side braid is a lot easier to replicate than it looks, we promise. Create a deep side part, from where you'll begin your classic French plait, right along the hairline, until you reach the top of your ear.
Then carry on braiding as a standard three-strand plait until you come to the end of your hair. Finish your styling with TRESemmé Freeze Hold Hairspray for a strong hold up to 24 hours.
2. The French-fishtail braid hybrid
Here at All Things Hair HQ, we love side braids so much (can you tell?). When it comes to French braid styles, this French-fishtail hybrid is one of our personal favourites and, the good news: it's not as tricky as it looks.
Simply begin with a deep part on the right, from where you'll start weaving a regular French plait until just past your ear, and temporarily secure with a clip. Then from your right temple, create another French plait, this time following the line of your neck, until you reach where the first braid ends. Then combine the two and then fishtail braid your hair all the way down to the end.
3. Waterfall French braid
A famed classic among those who favour an unashamedly feminine look for weddings to formals and everything else in between, the waterfall braid works best on naturally wavy or curly textures.
Tip: If you have straight hair, try creating this look on the second day after washing, or roughly style your tresses beforehand with the TRESemmé Curl Definition Mousse for extra oomph.
4. Upside down French braided top knot
A more modern and unconventional take on the French plait, we first spotted the upside-down braided top knot on the red carpet and immediately made a mental note. Braiding upside down may feel a little uncomfortable at first, but trust us, practice does make perfect.
It's just a matter of flipping your head over and braiding from the nape of your neck – rather than the other way around. Do this until you reach just below the crown, and from there you can create your bun, before securing it with an elastic band and bobby pins.
5. Double French braid AKA pigtails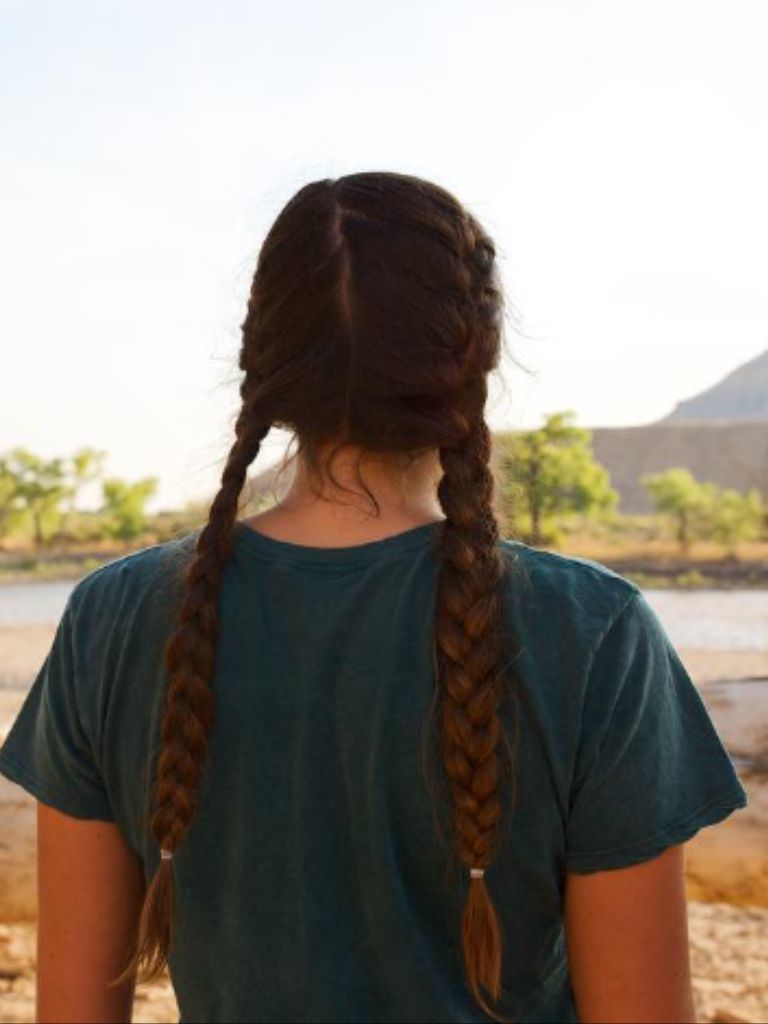 Thought that pigtails were just for school kids? Well, you might want to reevaluate this way of thinking after seeing these pretty, French-plaited pigtails (AKA boxer braids). To get this super cute hairstyle, use the tip of a comb to divide your hair into two even sections. If you're not a braiding master, use a sectioning clip to help ease the plaiting process.
Create a French braid on one side, secure the end with a hairband, and repeat on the other side. That's all there is to it – a pretty and practical style done in minutes!
6. The classic French braid 2.0
Proof that good classics never go out of style, this traditional French plait has just adopted some volume and texture for that extra bit of pizzazz, that's all.
For extra lift, prep by doing a bit of backcombing at the top, securing it with TRESemmé Extra Hold Hairspray, and then, using your fingers, gently tease out the weaves to lend the braid that effortless, perfectly undone attitude.
7. French plait pony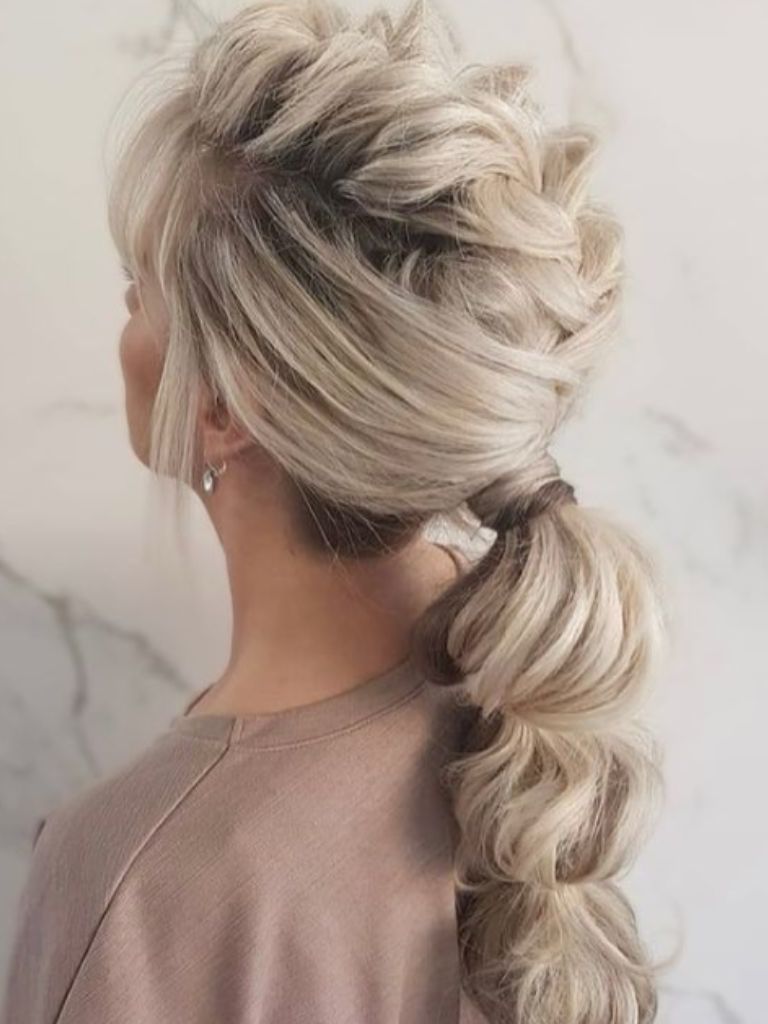 Another testament that a classic French braid is not a one trick pony (pun intended), to us, this simple and utterly elegant updo is the epitome of casually polished: the perfect choice for just about any summer occasion.
8. Half-up 'do
Can't decide if you want to wear your hair up or down? Well, with this half-up, half-down 'do you can have the best of both worlds! Start by French braiding the top half of your hair, but once you reach around ear height, switch to a classic three-strand plait, leaving part of your tresses down.
9. Braided bun
Braids and buns? This is a winning combination if we ever did see one! Start by creating two French braided pigtails, securing the ends of your plaits with small, clear elastic hairbands. Then, twist the ends of the braids together and gently wrap them up to create a bun.
10. The reverse French milkmaid braid
We all know the milkmaid braid is a firm fave with celebrities (isn't that right, Sienna?), but very few people have tried its close cousin: the reverse French milkmaid braid. This underrated braid is super easy to do and looks perfect at parties, or even a casual brunch with the gals.
All you have to do is create two French braided pigtails, cross the ends of your plaits to form a 'U' shape and secure them with some bobby pins. And that's all it takes – we doubt there's a prettier plait in all the land!
Are you as obsessed with French braids as we are? Then learn how to braid like a total pro with our step-by-step guides over at our Braids page. This styling hub really is a plaiting paradise!
Prev Article
Next Article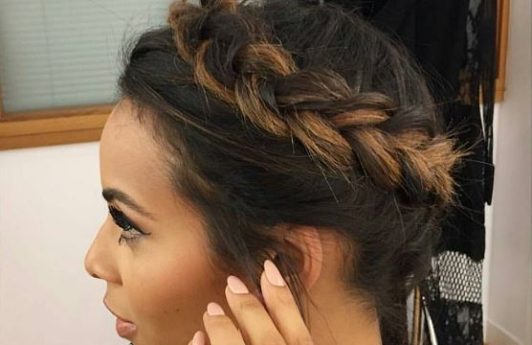 Article
Rochelle Humes rocks a halo braid and it's super cute!
This braid is seriously party-worthy.
See article