50 of the Coolest Ash Blonde Hair Colour Ideas for 2023
Ash blonde hair is a cool-toned shade of blonde. And, if you're looking for a new way to rock lighter locks, you'll be glad to know that this hair colour is still a firm favourite in 2023.
In contrast to warmer, golden blonde shades, ashy blonde embraces grey, silver and icy white hues. You can incorporate root shadows, balayage and highlights to create darker or lighter looks. And it's perfect for all of you cool-skin-toned babes out there, helping to counterbalance redness.
To help you make the right ash-blonde hair decision, we've gathered the best looks that we could get our hands on. From light ash blonde to dark ash blonde hair colours, get inspired by these gorgeous hues, below.
True Ash Blonde
You don't have to be a street-style star to pull off ashy blonde hair. But, if you do want to get snapped by a fashion photographer, we suggest you give this classic, cool shade a whirl, stat.
Creamy Ash Blonde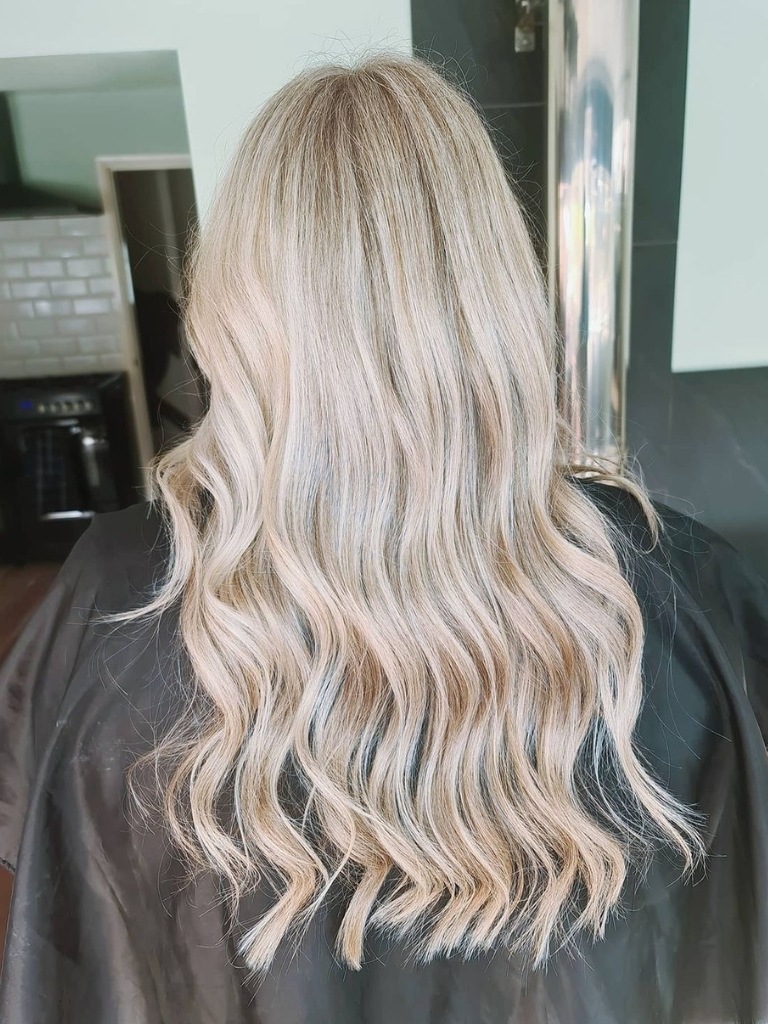 This shade is a great one if you're looking to freshen up and brighten your blonde. Ask your colourist to blend the light creamy shade with darker lowlights to help give it more dimension, for a more natural result.
Editor's tip: As beautiful as it is, ash blonde hair does require quite a lot of maintenance to prevent it from becoming warm and brassy. The TRESemmé Revitalise Colour Shampoo is formulated to keep your blonde bright and beautiful, so it's great to use in between salon visits.
Rapunzel Ashy Blonde Hair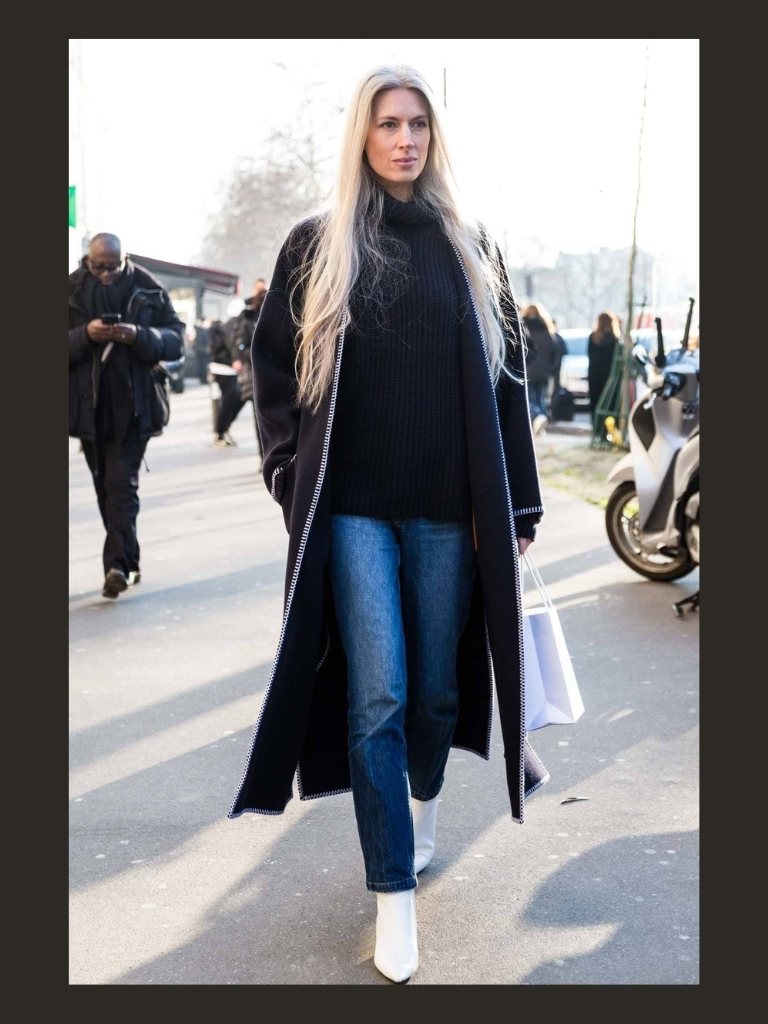 Want to take your long hair to the next level? Getting a mixture of ash and pearly blonde tones, like this street styler, will give you an ethereal winter goddess vibe and make all your outfits pop.
Ashy Balayage
This true ash blonde lies just between blonde and silver, giving the look an almost metallic effect which is just stunning. A dye like this can be very demanding on your hair, so keep it protected and hydrated with SheaMoisture Manuka Honey & Mafura Oil Intensive Hydration Shampoo, specially designed for dry and damaged hair.
Ash Blonde Hair with Bangs
Bangs are having a major revival. And, whether you're questioning if you should get them or wondering how they'll look on ash blonde tresses, let this mega-babe show you how it's done.
Dark Ash Blonde with Honey Tones
For a sweeter, girl-next-door take on this colour, you can't go wrong with this beauty's dark ash-blonde hair, which has warming honey tones to it.
Dark Ash Ends
If you've got dark blonde hair and want to take your hue to the next shade, try going for ash blonde highlights (specifically at the ends) to create dimension.
Ice Blonde Balayage
Who says you have to keep the Ice Queen vibes just for winter? We think this ash-toned blonde colour would look great all year round!
Editor's tip: Feeling inspired? Before you go blonde, make sure to invest in a colour-specific shampoo and conditioner like the TRESemmé Nourish Coconut Shampoo and Conditioner.
This duo will help nourish and enhance the vibrancy and shine of your strands to keep your hair looking bright and healthy.
Ponytail with Ash Melt
With ash blonde hair, everyone's invited to the party (yes, we're talking to you brunettes out there!). Just look at how this street styler shows off her dark to ash blonde melt: in a low ponytail, complete with pearl accessories.
Ash Blonde with Lilac
Thinking about getting a bit more experimental with your colour? Sticking to an icy ash blonde base and incorporating lilac babylights throughout, like this, is a subtle yet fun way to do it.
Sleek Medium Ash Hair
A fashion-forward twist on typical dirty blonde, this ashy variation will look stunning on every skin tone.
Ash White Hair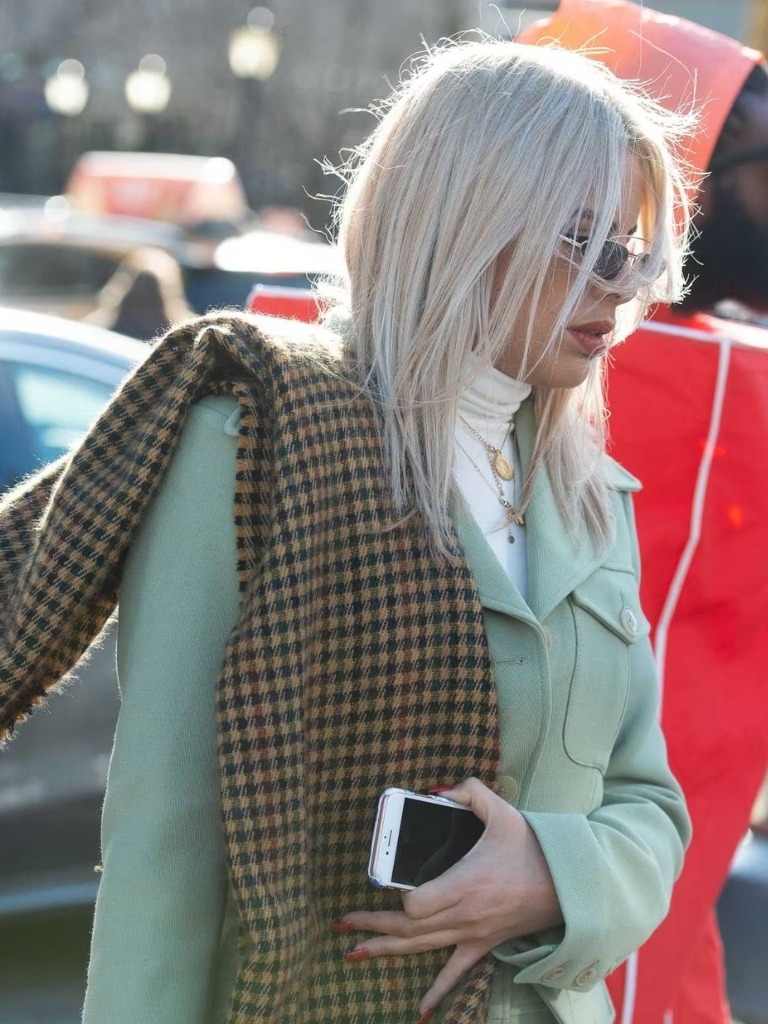 Give yourself the ultimate makeover with this statement ashy white-blonde hue. The mix of warm bleach blonde and cool ash tones in this shade make it perfect for year-round wear.
Ashy White Bob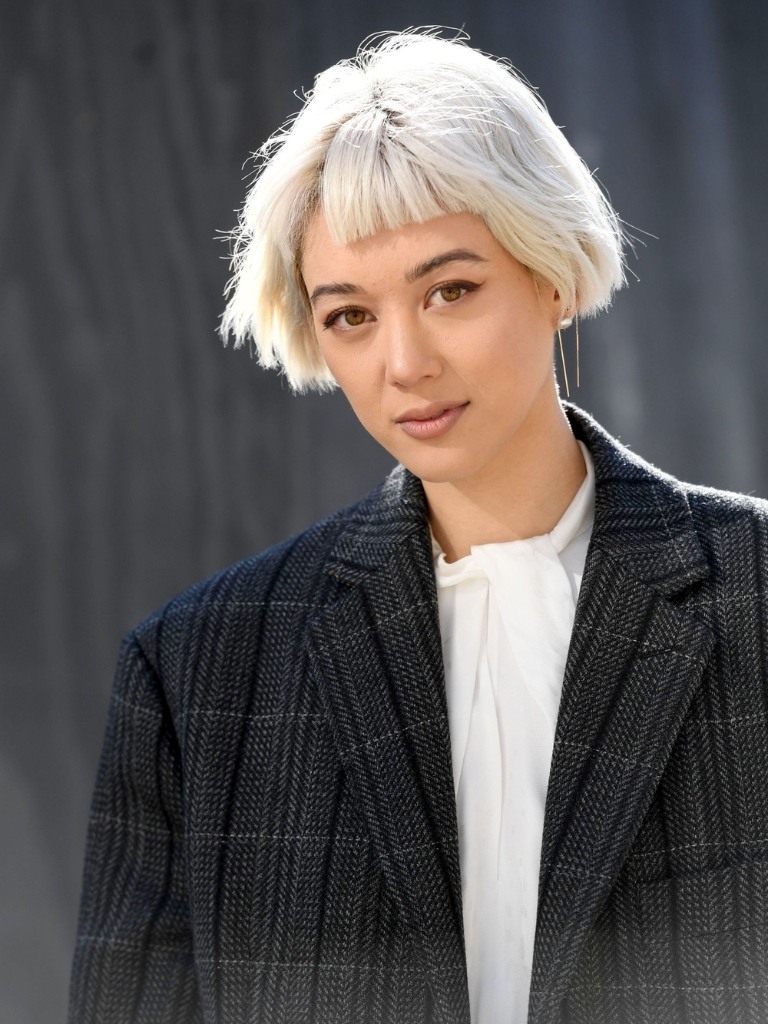 Hop on the micro fringe trend this year with this ashy white bob. This bold look isn't for the fainthearted, either way, there's no arguing how chic it looks.
Buttery Ash Blonde
Attention butter blonde-devotees: ash blonde hair highlights are an understated way to enhance your natural hue. And, one glance at this example will make you want to follow suit.
Sandy Ash Blonde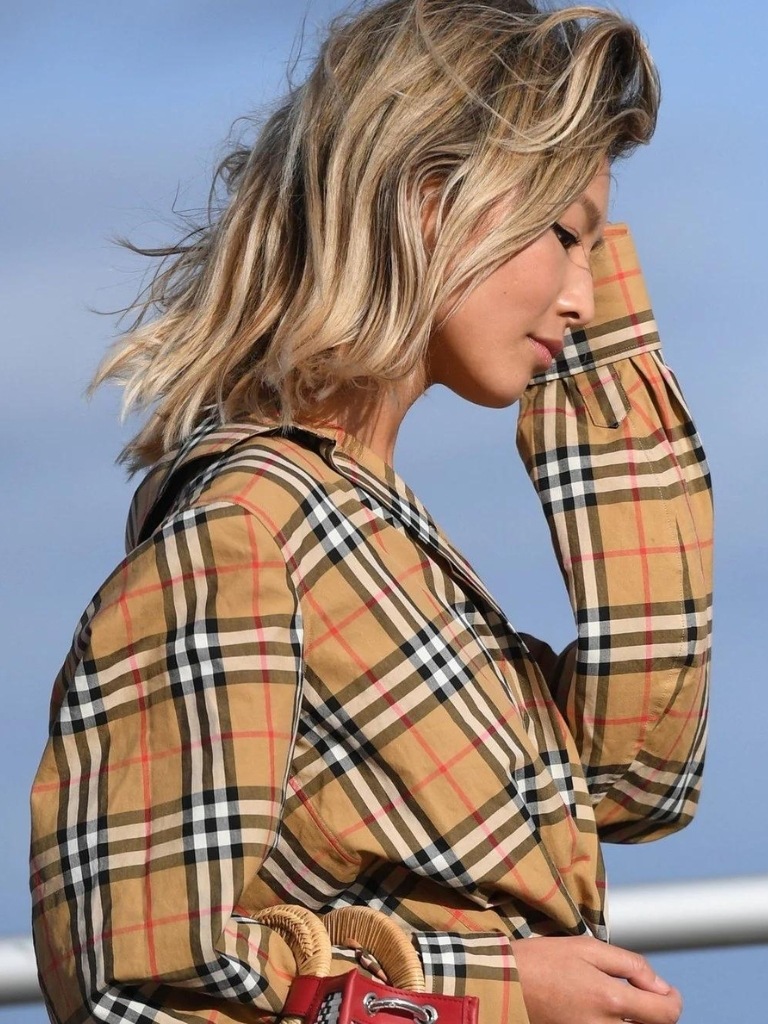 Under the impression you can't mix warm and cool tones together? This tousled sandy, medium ash blonde is here to show us how perfect this combination really can be.
Ashy White Tones
One of the good things about ashy-toned blondes is that they allow you to go ultra-light without it looking as harsh as traditional platinum.
Sandy, Ashy Balayage
Dark roots? Don't be afraid to keep them that way. In fact, getting this sandy, ashy balayage done up high towards your dark roots will give you a more highlighted, sun-kissed look.
Choppy Pixie with Ash Blonde Tones
This combination of choppy, punky layers and a grunge-inspired ash hue gives an edgier twist to the ash blonde look.
Metallic Ash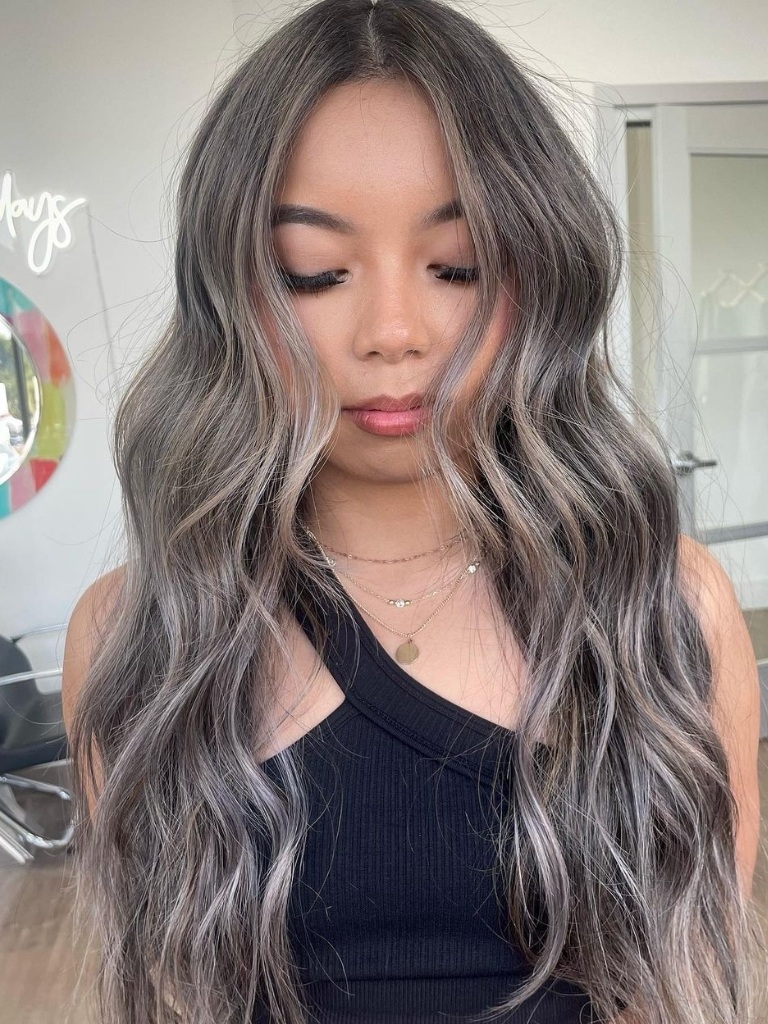 Adventurous blondes: this metallic, dark ash blonde was made for you. With touches of grey, silver and smoky ash, this style is sure to make you stand out.
Nordic Blonde
Is there a hidden rock chick inside you that's just dying to come out? Why not bite the bullet and opt for a super light ashy blonde look?
It will totally transform your tresses and add an edginess to any outfit, meaning you'll be one step closer to living like a rock star.
Platinum Pixie
Thanks to our loyal obsession with all things Scandinavian, ice-white blondes are back in business. Best suited for those with fairer complexions, this pale hue will accentuate blue or green eyes for a striking look.
Golden Ash Blonde
Keep things interesting by getting this ashy golden hue and a brazen A-line haircut. The best way to style it? To sleek perfection, of course, especially if you want to give off runway vibes.
Ash Bronde Bob
There's no need to say goodbye to your favourite bronde hair colour just yet, because ash bronde hair does exist. And guess what? The colour looks double tap-worthy with a textured bob haircut.
Ash Blonde for Warm Hair
Blessed with strawberry blonde hair? If you fancy a bit of a change, try adding a few cooler light ash-blonde highlights through your mid-lengths and ends.
It will give your 'do a fashionable twist, while giving it a natural glow.
Classic Icy Highlights
For a subtle seasonal update, highlights make the perfect addition to any 'do. They'll brighten your current tone and accentuate any layers that you have, plus make your tresses seem more 3-dimensional and full of life.
Take the above look as a prime example: ash-blonde hair looks a million times cooler when teamed with a set of tousled beachy waves.
Pearl Blonde
Ready to make your princess hair dreams become a reality? Upgrade dull or brassy shades by opting for a pearl blonde look with ashy undertones for a 'do that shimmers and shines, but is still subtle enough for everyday wear.
Bright Blonde
We wouldn't blame you for thinking that ash blonde sounds like it looks dull, but in reality, it's one of the most radiant colours around (we hope we're proving that to you!).
Long Pixie with Warm Ash Tones
If you prefer warmer ash tones, let the gradual mix of tints in this long pixie hairstyle wow you. This lovely shade makes your hair perfectly suited for any season – so need to worry about it ever looking dull.
Palm Painted Blonde
Contemplating going light ash blonde but worried you'll struggle with the upkeep? The palm painting technique has already been dubbed the new balayage because the colour is painted in chunky sections and applied free-hand to eradicate any harsh lines, which means your regrowth won't be obvious.
Vanilla Ash Blonde
Fade darker shades into this dreamy, nude vanilla blonde that is awash with bright ash tones, and you'll make your mane seriously conversation-worthy. If you do try this, don't forget to send us a picture.
Ash Babylights
Not sure about getting regular ash blonde highlights? Then we've got the perfect solution: ash babylights.
These super-soft highlights are a subtle way to add depth and dimension to your mane, all with the added bonus of looking natural.
Icy Ash Blonde Melt
Let's face it: colour melts look amazing on sleek strands. This vibrant ashy, grey-blonde is a winner in our book, plus we love the grungy roots coming through.
Iced Latte Hair
This iced latte-inspired hair colour is just another reason to love ash blonde hair. It'll keep you looking cool in the summer and brighten up your complexion in the winter, too.
Loose Braid With Ash Hair
If your go-to look is braids, you have to see this lush, loose plait complete with a gorgeous ashy blonde hair colour. Talk about #hairgoals!
Ash Blonde for Brunettes
While we love classic ash blonde hair, this ombre style proves that it suits darker locks, too! Lighten up deeper tones with hints of dark ash blonde for a soft and flattering effect.
Face-Framing Highlights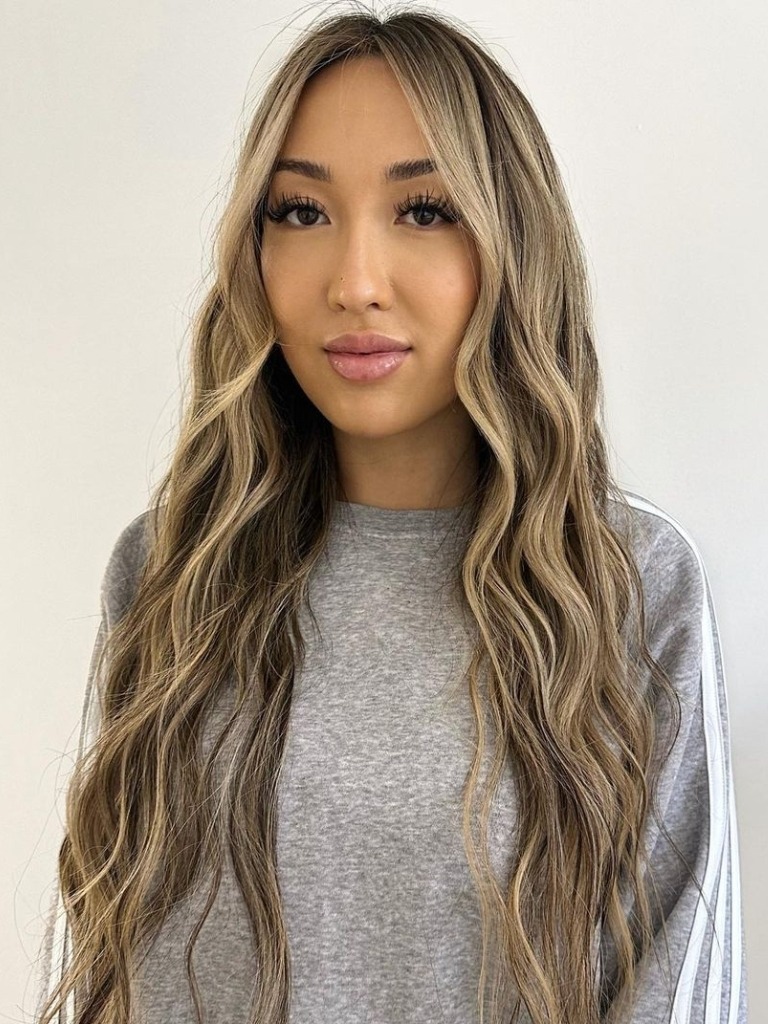 Sometimes less really is more – and this is particularly true when it comes to face-framing highlights. Only applying medium ash blonde colour to the front sections of your locks will work to open up your face and gently accentuate your features like a dream.
Dirty Blonde
Sitting somewhere between medium and light ash blonde on the hair colour spectrum, dirty blonde hues are a great option for those who don't want the faff of maintaining a bleached, platinum look.
Tortoiseshell Blonde
If you're torn between multiple hair colours, know that you don't have to pick just one. Tortoiseshell hair combines a blend of medium ash blonde, caramel and toffee tones to create a multi-dimensional hue that's totally unique to you.
Icy Root Melt
The darker root trend doesn't seem to be going anywhere and it's no wonder as it's such a good low-maintenance option for blondes. Your colourist will paint your root area with a slightly darker hue, making it less obvious when your roots start to grow through.
Ash Blonde Ombre on Dark Hair
Brunettes, you too can ease yourself into the trend with a dark to light ombre hair look.
By doing so you'll completely freshen up your style, without causing as much damage as an allover bleach session. Think light ash blonde hair at the tips and you're ready for your close-up.
Ashy Blonde Hair in a Ponytail
If you can't decide on which ash blonde hair colour to pick, looking at this ash blonde, textured ponytail will get you excited about all the future styling opportunities you'll have with this shade.
Universal Dark Ash Blonde
Want to go lighter but worried it'll clash with your skin tone? Then take inspiration from this Instagrammer's caramel blonde look, complete with ash tones.
Pink Ash
Paired with cool-girl shaggy layers, this pretty pink ash is the hue you need to try if you're a big fan of the rose gold hair trend.
Smoky Ash Sombre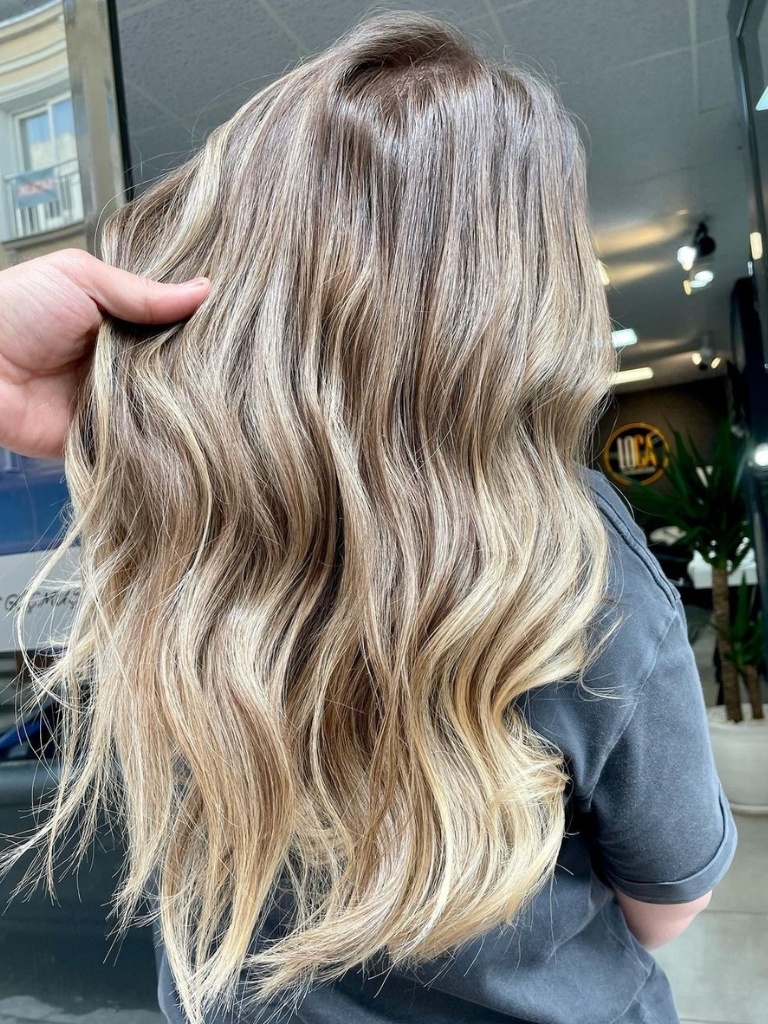 We'll admit, we love ombre, and we love it more when it's done in a subtle way.
Here, this beauty rocks a natural-looking smoky ash sombre hue, that is work-appropriate and so far from boring. Are you ready to do the same?
Ash Grey with Lilac Tones
Fancy doing something a bit different? Grey hair is always cool and opting for an ashy tone will make it easy to pull off in real life, too. Excuse us while we make that salon appointment now.
Mushroom Blonde
If you're currently a brunette, this mushroom-inspired hue could be the perfect entryway to ash blonde.
Root Stretch
Note how the dark roots give this look a more natural and lived-in feel.
Ashy Beige
It's easy to see why this universally-flattering neutral shade is proving so popular.
Balayage Bob
We love how this bright balayage bob has different light and dark ribbons of colour running through it. The contrast helps to give body and interest to this shorter style and proves you don't need long hair for balayage to transform your hair.
Dimensional Blonde
When you want your colour to pop, take it up a notch with these multidimensional grey highlights which will instantly bring life to your look.
Prev Article
Next Article
Gallery
Pink hair ideas: Styles & shades to help you rock the look
'Think pink' seems to be the key phrase in the hair world right now. See how you can rock the look with our round-up of the best celeb looks now. 
See article