41 Cool-Girl Bandana Hairstyles to Try in 2023
We know what you're thinking… you don't often see 'cool girl' and bandana hairstyles in the same sentence, but prepare to have your mind blown. They're experiencing a (much cooler) resurgence in hair world – and you're going to want to get involved. A bandana is a large, printed handkerchief that can be worn around the neck, but it is most commonly used as a hair accessory that you tie around your head, like a headband.
Bandana hairstyles had their heyday in the '40s, as women wore them to protect their hair from getting caught in the machines and equipment they used.
They also became a staple '90s hair accessory, with artists like 2Pac and Aaliyah sporting them. And now, popular celebs, bloggers and Instagram babes are still proving that bandanas the hottest hair accessory to wear in 2023 – and versatile to boot.
To show you how to style and wear bandanas like a cool girl, we've rounded up the best bandana hairstyle ideas to copy, below.
Bandana Headband With Waves
If you're wondering why bandana hairstyles and headbands are so popular at the moment, it's because of their ability to take any look to new stylish heights. And, this wavy hairstyle is a serious case in point.
Bandana Braided Bun
If you prefer braided updos, take a look and see how this ash-blonde beauty styles a bandana with hers. It's perfect for festival season.
Editor's tip: If you like your braids full of volume, you need to make sure to prep your strands with TRESemmé Volume and Lift Mousse. Apply it evenly through damp hair and then blow dry to achieve a plumped style that's ready to be plaited.
Ponytail With a Wrapped Bandana
We just had to include this beautiful little number in our bandana hairstyles round-up! This beachy ponytail wrapped with a bandana is exactly what you need to nail model-off-duty vibes.
High Ponytail With a Bandana
Once summer rolls around, you can mix things up and add a bandana around your favourite high ponytail, just like this.
Bubble Ponytail
Keep things sweet and chic with this bubble ponytail and bandana duo that you can wear to work or play.
French braids With a Bandana Headband
Whether you're hitting the gym, enjoying a walk in the park or running errands, you can make sure you keep cool by wearing a bandana headband.
Bandana Braid
If you're lucky enough to have Rapunzel-worthy tresses, we suggest you make the most out of it with this pretty bandana-weaved braid. Keep any untamed strand away styling with TRESemmé Freeze Hold Hairspray, for a smooth and long-lasting hold.
Bandana Hair Wrap
Short tresses? This simple bandana style is all you need to transform your daily look into a fun and playful one. 
Pineapple Updo With a Bandana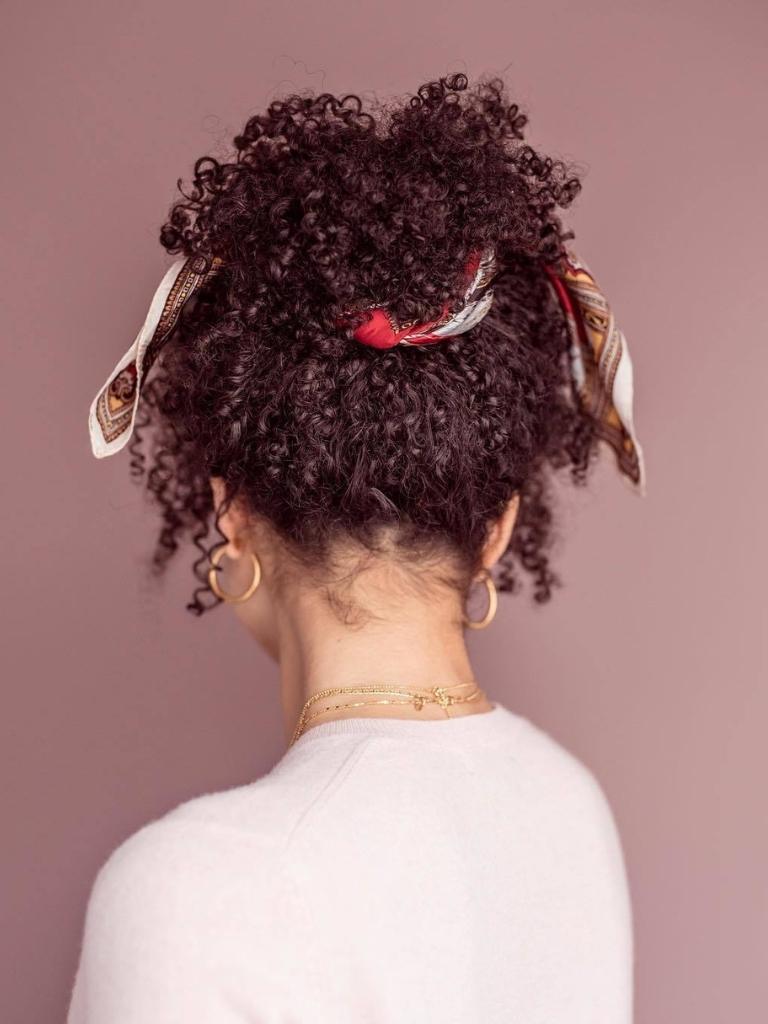 Want to give your gorgeous curls a quick update? Tie your curls up, wrap your bandana around it and you've got yourself cute, low manipulation hairstyle.
Messy Bun With a Bandana Headband
Bandanas are your second-day hair's best friend and are great for adding charm to an otherwise simple hairstyle, like this messy bun updo.
Cool Girl Bun
Want to see more bun and bandana hairstyles? Of course, you do! If you need a bandana look that's more on the polished side, look no further than this lovely low bun.
Half-Up Bun With a Bandana
This one is for the ladies who love half-up, half-down hairstyles.
Bandana Hairstyle for Greasy Hair
If you've got greasy locks you need to disguise, you can easily tie a bandana around your head and channel Audrey Hepburn.
Curly Bandana Hairstyles
Wondering how to wear a bandana with curly hair? Here are four cute hairstyles you can try.
Pigtails With a Bandana
Here's another way you can team a bandana with simple braids. This is the perfect look for lazy days.
Long Curls With a Bandana
Curly cuties, listen up: you'll be a '90s babe in no time with this easy bandana look.
Half-Up Braid With Bandana
The pros of being a plait queen? Being able to wear bandana hairstyles like this one.
Retro Bandana Style
You can't talk about bandana hairstyles without mentioning Pia Mia. She loves wearing her bandana in a retro way, which she proves here with this glam Hollywood look.
Vintage Updo With a Bandana
This bandana hairstyle seriously oozes vintage vibes!
Pin Curl Updo With a Bandana Wrap
Is Grease your fave movie? Have you always wanted to rock those retro hairstyles like The Pink Ladies? Then this pin-up style on singer Neon Hitch is perfect for you retro lovers out there.
Bandana Bonnet
When you need an extra dose of drama and glamour in your life (and a way to weatherproof your mane!), try wearing your bandana like this. Don't forget to finish off the look with sunglasses and a bold red lip.
Logo-Printed Bandana
This stylish '90s look is one that we are more than happy to welcome back.
So what do you have to do to get the look? No fancy frills here, simply wrap a printed bandana around the top of your head and secure it at the back.
Floral Headband
Whether you're the bride or a wedding guest, this romantic headband and braided updo is the perfect hairstyle to wear for spring/summer weddings.
Preppy Headband
Make like the Upper East Siders with this Blair Waldorf-inspired headband hairstyle. Mixing preppy and polished, this will appeal to all you Gossip Girls out there.
Pearl Headband
If you're committed to your ponytail then this simple pearl headband hairstyle is all you need to give your 'do a fresh look.
Belted Headband
Get thrifty this year with a belted headband hairstyle. Spotted on the Saint Laurent runway, models topped off their hairstyles with belted headbands worn across their foreheads for a grunge-filled nod to the '70s bohemian style.
Boho Headband
With curls this good, you'll want to show them off. This is boho headband update is all you need to get in on the trend.
Jewelled Headband
Rita Ora is always our go-to girl for hair inspiration. Never afraid to try out a new style, the singer went for a jewelled style to compliment her sleek, shiny bleach-blonde tresses.
Scarf Braid
We all know that braided styles are aplenty but when you're no braiding pro, simply weaving your favourite scarf through your braid is all you need to do to pretty them up.
Patent Headband
Patent and vinyl fashion have been spotted on all of our favourite trendsetters recently. Not ready to go full Matrix with your style? Add a touch of gloss to your hairstyle with a high-shine black headband and voila!
Velvet Headband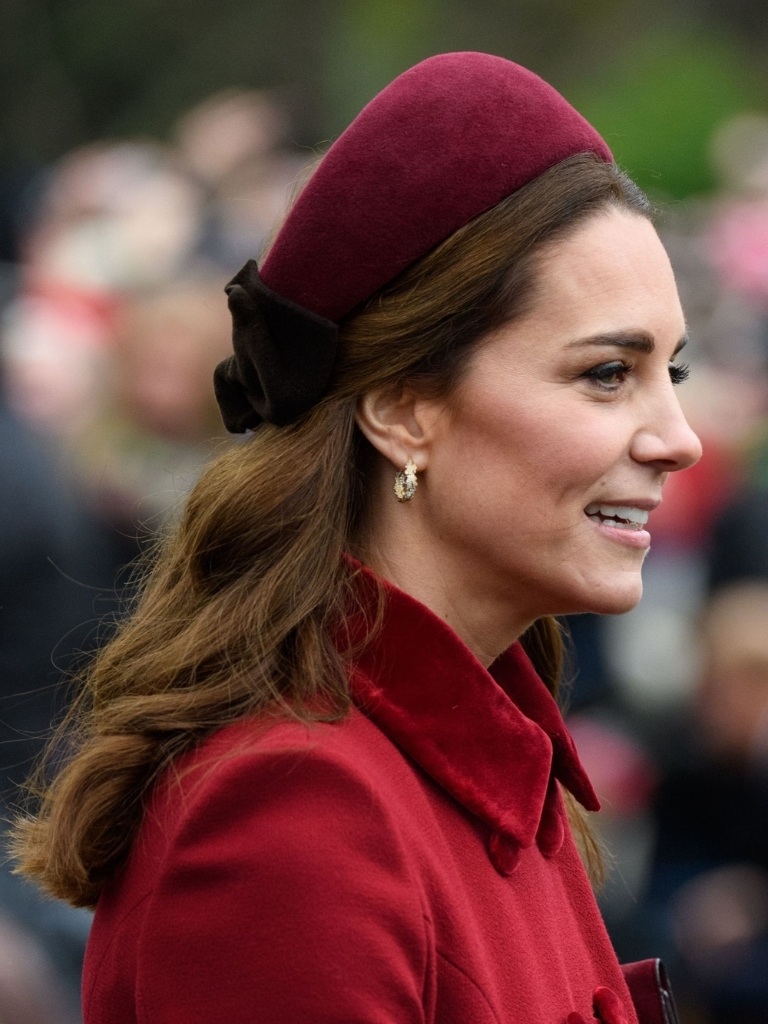 With her flawless blow-dried waves, Kate Middleton always has the most enviable tresses and this plush burgundy headband hairstyle is nothing short of perfect.
Tiara Headband
Princess designs were a huge hit on the runway, so if you want to go OTT this spring/summer, exude opulence like the models on the Dolce & Gabbana runway with a tiara headband hairstyle.
Ballet-Inspired Headband
Simple, stylish and incredibly easy, this headband with a ballerina bun is ticking all our boxes. Wear this look to cover greasy strands at your favourite barre class.
'00s Bandana Hairstyle
This retro look is giving us major '00s Jennifer Lopez vibes mixed with a pinch of stylish biker babe.
Holiday Bandana Headband
Dial up the fun with this flirty headband hairstyle. To give her pixie cut a summer vibe, this model went for a simple knotted headscarf headband.
Diamante Headband
Looking like she has just stepped off the Dolce & Gabbana runway, this stylista wore her golden-brown hair in a simple single braid and topped off her textured 'do with a gold jewelled headband.
Pearl Tiara
If you want a headband hairstyle that shows off your long tresses, turn to actress and singer Hailee Steinfeld who opted for this glamorous 'do for a red carpet event.
Get the look by using a curling iron to create effortless waves, give your tresses a spritz of a shine spray for a silky sheen and complete your look with the crowning glory that is your headband.
Satin Headbands
This sophisticated and elegant hair accessory we spotted at Elie Saab Haute Couture works a charm for long hairstyles. Psst: Hollywood waves are also a great one to try for an ultra-glam look, too! So, if you fancy impressing your date or friends, keep this mesmerising look on your style radar.
Vintage Wrapped Headband
How amazing does Lily Collins look here? The soft loose waves, the minimal make-up, the vintage glam dress, and of course the pièce de résistance: the turban headband. Looking like she has just stepped off a film noir set, this look is giving us Grace Kelly, Hitchcock heroine vibes that we just adore!
Sparkly Headband
With Vogue Editor-in-Chief, Anna Wintour, as her mother, there is no wonder Bee Shaffer looked incredible at the MET Gala. Wearing her brown locks in a chic updo, Bee completed her red carpet look with a simple silver, jewelled headband.
Style tip: We think this elegant style will be perfect for a wedding or prom hairstyle, don't you?
Fitness Headband
Planning on heading to the gym this weekend wearing an army of bobby pins? Reach for a classic black headband instead to keep shorter strands safely tucked away from your face and to tap into the sports luxe trend.
Prev Article
Next Article
Gallery
Floral festival hair: 11 cute ways to wear flowers
Oh, I wish I was a punk rocker with flowers in my hair...
See article