The Bubble Ponytail Is the Only Hairstyle You Need to Know This Summer
The hairstyle of the summer is surprisingly easy.
As much as we love a good ponytail (it's saved our manes more times than we can count), we have to admit that they're not always the most exciting styles in the world. But with the bubble ponytail trend picking up traction, the mane game is set to change…
The classic ponytail's younger, more Instagram-savvy sibling, the best thing about the bubble pony is that it's super simple to DIY, with a million different ways to style it up!
From HIIT-proof gym styles to head-turning evening looks, for inspiration on how to rock the bubble ponytail trend this summer, look no further.
Extreme
Winner of the Brits Rising Star Award, up-and-coming popstar Griff is fast becoming our hair inspiration thanks to her signature bubble pony hairstyles. This Rapunzel-esque look, which she wore on Lorraine, is proof that there's no such thing as "too long" or "too voluminous" when it comes to bubble braids – more is more!
Ribbon Ties
If you've never tried a bubble pony before, start with something simple like this minimal low pony style. To spruce it up a bit, simply trade your regular hair ties for cuter bow ties, to nod to this season's ribbon hair trend – and ta-da: you've got the perfect everyday look! Credit: @sarah.nourse
Workout Wear
Heading to the gym? Then you'll need a durable hairstyle that won't fall out mid-lunge. Ponytails are an easy go-to for gym bunnies, but this bubble pony variation is a more stylish alternative.
It's practical as it keeps your hair back off of your face, but also radiates major fashion vibes, so it'll take you from body pump to brunch in one! Credit: @aglassofice
Wrapped
Find yourself lusting over gorgeous hairstyles on Insta but know you'd never come close to recreating them yourself?
Well, now you can make your hair dreams a reality with this intricate wrapped bubble pony. With wrap details around the base of each bubble, it gives the look a care-free boho air that we just love. Credit: @ashpettyhair
Texture tips: This look actually works best on second day hair, so if yours is freshly washed or lacking in volume, add texture using the TRESemmé Day 2 Volumising Dry Shampoo. Not only will this plump up your locks, but it will also add grit to keep your pony in place.
Double Bubble
Looking for a laid back weekend style to wear with your mom jeans? These cutesy double bubble ponytails have definite '90s vibes about them, with the braided bangs adding a little extra something to the top off the style. Talk about your great hair combos! Credit: @akankshabeniwal
Party Pony
Out to impress? Add a glam, sophisticated edge to your bubble pony with a slicked-back bouffant detail. Adding height at the roots gives a retro vibe while the glossy sheen gives a neat and polished finish. Credit: @sosheargenius
Shine suggestion: Worried about frizz and flyaways taking away from your look? Use the TRESemmé Freeze Hold Hairspray to set your style in place and smooth down any stray strands.
Starry Strands
This star-adorned bubble pony is a perfect fit for any special occasion you have planned, from birthday parties to Christmas get togethers. Credit: @blu.kw
Bubble Braids
This style is essentially a half boxer braid and half bubble pony, with 2 Dutch braids flowing down to the nape of the neck and the lengths tied into fluffy bubbles. How cute! Credit: @hair_byjlowe
Plait prep: Whenever we're doing braids, we like to prep our hair beforehand by spraying it with the TONI&GUY Sea Salt Texturising Spray. This is because sea salt sprays are great for adding texture into the hair, which in turn makes it easier for you to braid.
Pearly Pony
Love the look of bubble ponytails but prefer to wear your hair down? Then experience the best of both worlds with this adorable half-up, half-down style!
With a pearl-embellished bubble pony and curled lower layers, this look would be perfect for bridesmaids all year round. Credit: @sarahs_styling
Prev Article
Next Article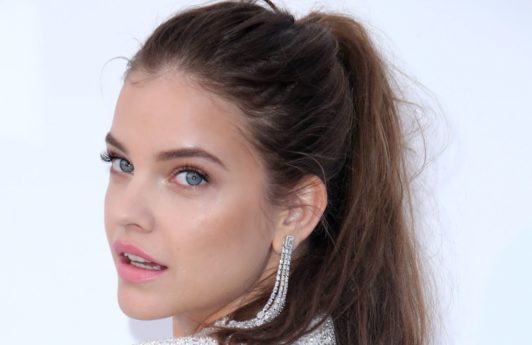 Gallery
9 Last-minute Ponytail Ideas For Any Occasion
These ponytail ideas will make any party outfit look on-point.
See article