The best Harley Quinn hairstyle recreations on Instagram
Let your inner Harley Quinn roam free with these amazing hairstyles.
It's no secret that throughout the action-packed film, Suicide Squad, the All Things Hair team gravitated to Margot Robbie's mesmerising rendition of the super villain, Harley Quinn. Why? Because of her iconic hairstyle, of course! The fictional character is renowned for her blonde pigtails that are ombre pink on one side and blue on the other. We can all agree the Harley Quinn hairstyle is pretty rad, right?
So whether you're after inspiration for Halloween, or it's just a casual Tuesday… we've dedicated a whole Instagram-inspired piece to the famous Harley Quinn look. Keep reading to discover the best recreations we've seen on the 'gram – and get ready to channel your inner two-tone-haired villain – now.
The best Harley Quinn hairstyle recreations from Instagram
Wig love
Now, because her locks are so glossy and vibrant, we're going to guess that this blogger is wearing a custom wig, which has been styled into low, loose pigtails.
Of course one must rock pink and blue to be a true Harley Quinn lookalike, complete with a bold lip and dramatic eye make-up! Credit: @nikkietutorials 
Blonde locks
We have to give it to this one, who channelled her inner Harley Quinn for Halloween. She has opted for a more subtle blue and pink ombre for her Harley Quinn hairstyle, which she paired with fierce red lips and smudged eyeshadow.
A pretty good rendition of the DC Comics character, don't you think? Credit: @lauren_valenti
Editor's tip: If you dye your hair blonde, then make sure you're treating your tresses to a shampoo that will keep your colour looking beautiful, not brassy. We're loving TIGI Bed Head Dumb Blonde Shampoo, which has been especially formulated for chemically treated hair.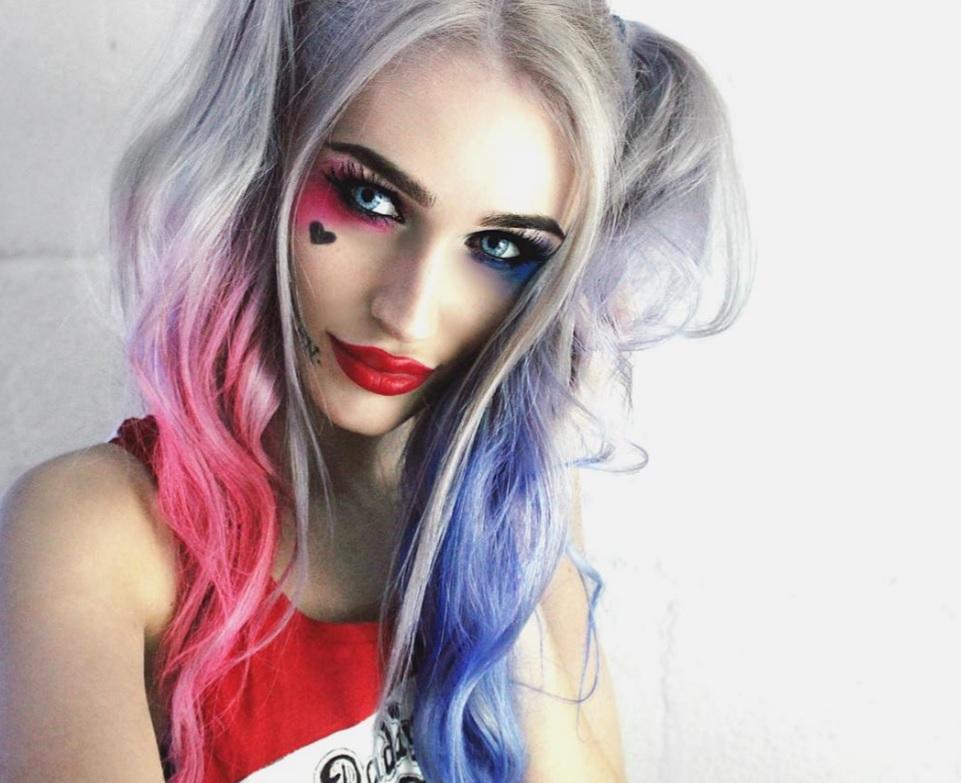 Grey hues
You don't have to have blonde hair to be able to pull off a Harley Quinn hairstyle (although it does help!). If you have icy white or grey hair, then rest assured that you can still totally rock this Suicide Squad look. Just be creative, and don't forget to put on your best pout. Credit: @elinsfxmakeup
Long pinks & blues
If you've got a keen eye for colour, you might have spotted that the pink and blue in this look starts a lot higher on the locks than the original Harley's hairdo.
Still, we're loving the vibrancy of the look. The matching pink and blue hairbands, and the super white hair – now that's how you put your own stamp on it! Credit: @alannakin
Pigtails with volume
This blogger put her own twist on the Harley Quinn hairstyle by opting for straight yet voluminous ponytails, and you know what? We kinda like it! Loving the somewhat subtle pink and blue highlights too. Rockin' it. Credit: @mypaleskinblog
Editor's tip: To give your locks a helping hand in the volume department, reach for the TIGI Bed Head Big Head Volume Boosting Foam that will help work some volume and texture into your tresses – and makes your locks stay that way!
Big bouncy waves
If you're after a look that's a little more *ahem* 'put-together' then why not curl those rebellious pigtails, into big bouncing waves?
We love this look that's also glamorous, a little bit sultry and still so pretty. Keep the make-up a little tidier and you'll look Harley's better behaved twin! Credit: @yourforeverltd
Textured hair
If you would rather just be Harley for the night, rather than committing to the Harley Quinn hairstyle on a full-time basis, why not get out the spray-can hair dyes and go wild? The added benefit of spraying your hair with colour, is the extra texture that it gives to your locks! Credit: @villain_lady 
Hair extensions
If you want to rock this look, but you want to keep it super simple, then why not grab yourself some coloured hair extensions?
Simply create messy pigtails, then clip in your pink and blue hair and you've got yourself some Harley Quinn locks! If you already have platinum blonde hair, this will look fab and be so easy to re-create! Credit: @theldndiaries 
Mix it up
Got dark hair and want to be Harley Quinn for Halloween? We got you girl. As long as you've got the pigtails, the same make-up and a similar outfit, alternative hair colours are just as effective as the blonde Harley Quinn! Credit: @thealelopez
Glam curls
We're loving this incredibly glamorous homage to Harley! Grab your rollers and go for big Hollywood curls that ooze sophistication… in a villain-esque kinda way, of course! 
This look is also perfect if you're not a fan of pigtails and you like to put your own stamp on a look. There is still the classic blue and pink on platinum blonde hair, while the make-up is just perfection! Credit: @unicornartistry
Prev Article
Next Article
Gallery
Alicia Vikander's mane moments: See the newlywed's prettiest hair highlights
No-one does red carpet beauty quite like Alicia.
See article