10 Times We Wanted to Copy Marianne From Normal People's Hair
An ode to Marianne's fringe.
If, like us, your days have consisted mostly of binging Normal People, the BBC3 series based on Sally Rooney's book, then you'll know why there's been so much love for Marianne (played by Daisy Edgar-Jones) and her hair.
From her signature French braid in school to her glow-up waves at Trinity, Marianne's hair evolves through the series, reflecting the different stages in her life. So, we felt it was only right to pay homage to her hairstyles with a round-up of her best looks.
Scroll down to see all of the times we fell in love with her hair – but be warned, because you will want bangs after this.
The French Braid
At the start of the series, Marianne's signature French braid adds an arty, ethereal vibe to her style and sets her apart from the rest of the girls in school. Credit: @hulu
Brush up on your braiding skills with our French plait how-to.
The Messy Bun
Marianne's effortlessly chic messy bun and dungarees combo shows her laidback approach to style.
The Party Curls
Marianne surprised everyone when she turned up to sell raffle tickets for the school dance with her hair in flowing, glamorous curls. Credit: @normalpeoplehulu
The Vintage Curls
Showcasing her evolving style and confidence, when we first see Marianne at university she's cut her hair into a more mature, shoulder-length cut with an angled fringe.
To complement her newfound love for vintage style, she also starts wearing her hair in these Alexa Chung-esque lived-in curls. Credit: @normalpeoplehulu
Editor's tip: Find that your curls always drop too quickly? Create natural-looking waves that last, while also staying touchably soft with the VO5 Flexible Hold Hairspray.
The Holiday Bun
Some of Marianne's best looks feature during her summer trip to Italy, like this wispy, undone bun, which is perfect for the hot weather. Credit: @normalpeoplehulu
The Shag
Less polished than her usual curls, Marianne channelled the Italian hazy summer vibes with this messy, shaggy style for a bike ride with Connell. Credit: @normalpeoplehulu
The Half-Updo
The dinner party may not have gone to plan (sorry, spoilers) but at least her hair looked good in this tousled half-updo. Credit: @mariannes_bangs
The Low Bun
This low chignon style, paired with her iconic fringe, complements Marianne's vintage wardrobe perfectly. Credit: @normalpeoplehulu
Editor's tip: For a neat finish, slick down any flyaways or frizz with a spritz of the TRESemmé Botanique Natural Hold Hairspray.
The Pinned-Up Look
Has anyone else got a sudden urge to cut their hair into a lob and get a fringe cut? If you need more convincing, check out more lob haircut inspiration here.
The NYE Waves
Sparkles and spiral curls helped Marianne bring in the New Year in style. Credit: @normalpeoplehulu
Editor's tip: Our top tip for achieving glossy waves? Smooth a few pumps of serum, like the TONI&GUY Shine Gloss Serum, through the lengths and ends of your hair after styling.
Prev Article
Next Article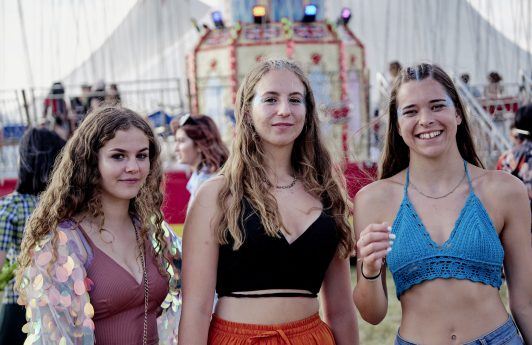 Video
40 Best Festival Hairstyles To Try This Summer
The best festival hairstyles to get you inspired!
See article