22 Long Blonde Hair Looks to Try This Season
Are you one of those lucky ladies with flowing, long blonde hair, but you're struggling with ideas on how to style your locks? It offers so many styling opportunities, so if you're in somewhat of a rut, we have just the answer for you.
With more and more of our favourite style icons opting for long blonde tresses, it's no surprise that so many of us are searching for styling ideas! From retro waves to elegant updos, there are plenty of reasons to try one of these hairstyles we found just for you. Take a look!
1. Loose Waves
Can you ever go wrong with loose waves? We think not. With the ability to be tailored to just about any occasion, this style really proves its worth for long-locked gals!
To get that much-desired lived-in texture, try using a sea salt spray to create effortless beach waves. Alternatively, use a large barrel brush to create a big, wavy blowout for a special occasion.
Editor's tip: When styling your locks, remember to use a heat protector, such as the TRESemmé Keratin Smooth Heat Protect Spray, to give a glossy finish to your look.
2. Hair Slides
We all know that the quickest way to give a hairstyle a fresh new lease of life is to throw on a hair accessory or two! So when Reese Witherspoon stepped out with this 'do, jazzed up with some carefully placed, edgy hair slides, she transformed this style from ordinary to extraordinary!
3. Twisted Bun Updo
Anyone wearing this elegant updo is worthy of more than a few style points. An ideal way to keep your long hair out of your face, this twisted hybrid hairstyle exudes tonnes of messy-chic vibes!
Simply twist the front section of your hair backwards and secure, then work all of your hair into a low bun, leaving a few loose tendrils for an undone finish.
4. Braided Flower
Why wear an ordinary ponytail when you can wear a ponytail with a braided flower? Among the top hairstyles for long blonde hair, this 'do shows off the full creative potential of lengthy locks! And for that extra touch of refinement, create loose curls at the ends of your hair.
Editor's tip: For extra glossy locks, make sure you've used a moisturising conditioner post-shampoo. We love the TRESemmé Nourish Coconut Conditioner that formulated with coconut milk, oil and aloe vera to add loads of shine and hydration to your hair.
5. Undone Waves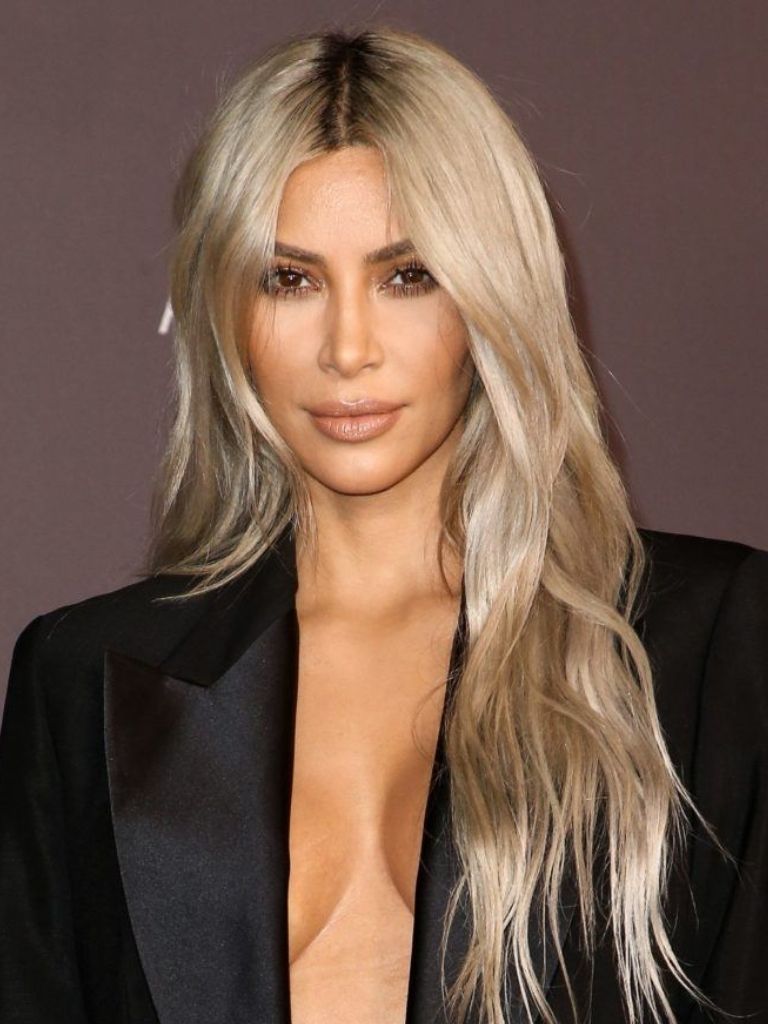 When it comes to hairdos, our girl Kim has never put a foot wrong. Fear not though, you can recreate this look even if you don't have a glam squad on speed dial.
Simply straighten your locks until they're smooth and sleek. Take large sections of your hair and curl with a large heated wand, before brushing your hair until you have just a slight wave remaining. Now this is how you rock undone waves, Hollywood style.
6. Voluminous Ponytail
There's nothing like a high, voluminous ponytail to give your locks instant style points. Start by giving your hair a killer voluminous blowdry, making sure to curl the ends.
Next, sweep your long blonde hair up and off your face, securing your ponytail at the very top of your head. Wrap a small section of hair around your hairband to hide it away and finish off by giving your locks a good spritz of hairspray to keep everything in place.
7. The Low Bun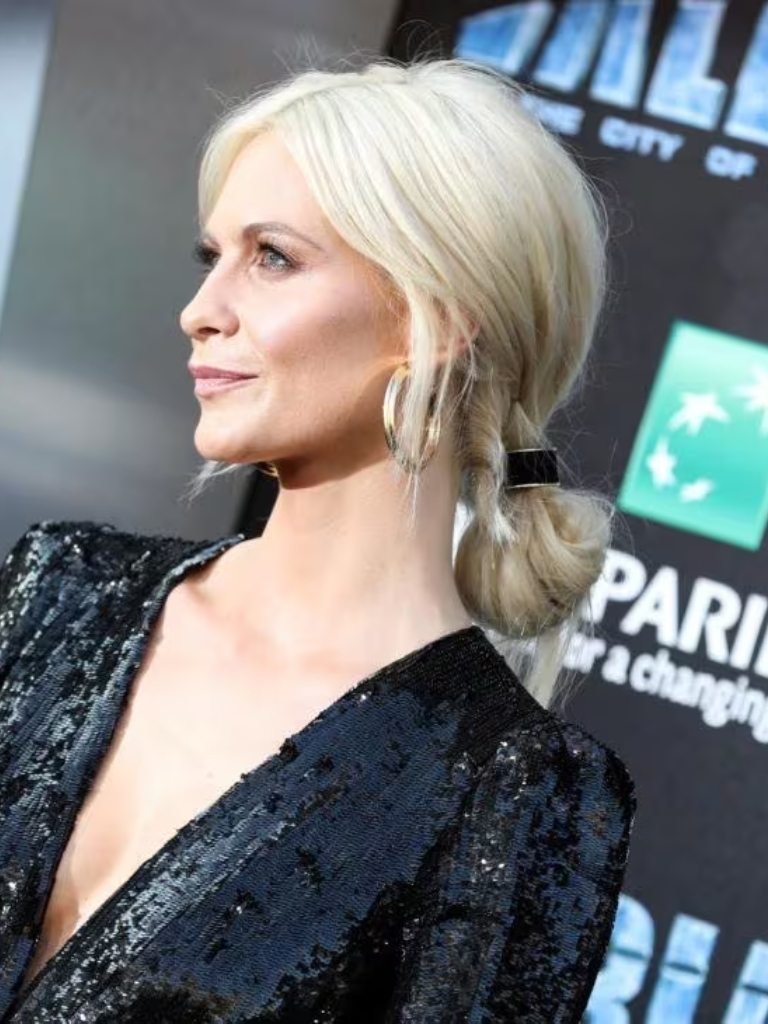 If you want a demure look for your next night out, then take a leaf out of Poppy Delevingne's book and recreate this sweet little number.
Begin with a deep side parting and then sweep your tresses in a loose bun, secured with an ultra chic hair clip, for maximum style credit. Pull down sections of your locks to frame your face et voila: you've got yourself an easy-peasy low bun for all occasions!
8. Half-Up Half-Down
As you may have guessed, we're big fans of a half-up, half-down look, as there are simply so many variations; ranging from glam to everyday 'dos.
We love how Heidi Klum has given the style a fabulous makeover by teaming her dirty blonde tresses, with a high half-ponytail and sleek, voluminous locks. A red carpet-worthy look indeed!
9. Simple Braid
If you're a no thrills kinda gal, but you still want to look as if you've made an effort, then this simple braid is the way to go. It will bring plenty of interest and style to your look, as well as being a practical look for both day and night.
10. French Braid and Curls
Turn heads with one of our favourite and edgier hairstyles for long blonde hair. Part Viking warrior Princess and part rock star, we love the combination of a sleek French braid paired with glamorous, tumbling curls.
11. Headband Braid
Just when we thought our love for braids couldn't grow anymore, we come across this winning look. Here we see smaller braids on either side of the head, which work together to create a headband effect.
This chic way to rock braids gains extra style points thanks to the volume in the crown of the hair and the straight blonde locks. Perfection! 
12. Side Pony
Throw it back to the '90s and give your long blonde hair a dose of old-school style with this low, side ponytail. Keep your strands frizz-free and up the glam factor by creating plenty of movement and texture in the lengths of your hair.
13. One-Sided French Braid
For instant cool, follow in the footsteps of this influencer and rock a French braid that's been tightly plaited against your head, on one side.
Secure the end of your braid with bobby pins, then let the rest of your locks fall tumbling down. Leave the rest of your hair loose, for off-duty glam, you just can't beat.
14. Top Knot
The ultimate go-to hairstyle for everyone, this fail-safe top knot shouldn't be overlooked. Perfect for the gym, a busy day in the office or a casual catch-up with friends, the top knot is also suitable for all hair types!
And lucky for you ladies with thick hair, too, as this 'do will relieve you of that overwhelming bulk. Just team it up with a pair of sunglasses and work your inner off-duty model.
15. Double Dutch Braids
Dutch braids, mini buns and enviable volume – these aren't styles you'd often associate with one another. However, put them together and what you get is this high-impact double Dutch braided hairstyle.
We're a little bit obsessed with braids RN, and being able to choose from gym-friendly boxer braids, intricate 4-strand braids or carefree Dutch braids opens up so many opportunities to play around with different types of braids!
16. Bouffant Ponytail
Want one of the most stunning yet simple hairstyles for your long tresses? Of course, you do. But instead of waking up early to weave your strands into a braid, give this bouffant ponytail a go, which has some seriously hot 1960s vibes mixed into it.
17. Side Fishtail Braid
This hairstyle may look complicated, but trust us, it really isn't! Fishtail braids are growing really popular for those who want something different from a French or Dutch braid. And as hairstyles for long blonde hair go, this one was practically made to show off your stunning locks.
18. Space Buns
Blonde hairstyles and haircuts for lengthy strands can seem a little boring at times, but with this uber cute space buns look, you know you've got the whole package!
Ideal for festivals, raves and other high-energy events, this hairstyle will stay put no matter what you throw at it. And if this look is too subtle for your taste, add some upside-down braids to your 'do or work the glitter root trend to add some sparkle.
19. Bubble Ponytail
Contrary to popular belief, hairstyles for long blonde hair needn't be overly complicated. Check this bubble ponytail, it ticks so many boxes and takes mere minutes to achieve. We suggest using different coloured hairbands to create this look, for a fun and playful touch to your 'do!
20. Milkmaid Braid
Make like Vanessa Hudgens and work the boho trend with a super sweet milkmaid braid hairstyle to crown your head.
21. Retro Waves
Ah, retro waves, how glamorous you are. The vintage style gained notoriety in the 1920s on short flapper hair but has since evolved into a staple hairstyle for long-hair vixens on the red carpet. So let's just take a moment to appreciate how well Tyra Banks rocks long blonde hair with Hollywood waves!
22. Waterfall Braid
Waterfall braids are simply mesmerising and will be sure to stop people in their tracks. And when worn with lengthy blonde tresses, they'll add tonnes of depth and dimension to your look – come on, have you ever seen a braid so pretty?
All these long blonde hairstyles got you lusting for more hot #hairinspo? Then be sure to spend a little time on our Blonde Hair and Long Hairstyles pages, where you can find an almost endless supply of beautiful looks to try.
Prev Article
Next Article
Article
Nicki Minaj rocks really long hair at Paris Fashion Week
Make way for the Queen of Long Locks!!
See article