How To Use a Curling Wand for Beginners
Learn how to create everything from beachy waves to Hollywood glamour curls with our guide to how to use a curling wand.
The great thing about curling wands is that you can create a multitude of hairstyles with just one styling tool, simply by using different techniques. To the uninitiated, it can be hard to get your head around the technique but once you know how to use a curling wand, you'll realise it's actually pretty simple.
Whether you're a fan of tight ringlets, polished bouncy curls or cool-girl loose waves, there are plenty of styling options just waiting to be explored. But before you start playing around with all the different types of wand curls, you first need to know the basics of how to use a curling wand. And to help you get ready, we've enlisted the help of model Jordana.
4 Cool Hairstyles You Can Get With a Curling Wand
Now you've mastered the essentials of how to curl your hair with a wand, why not try creating some of these other amazing hairstyles with your curling wand?
Tight Curls
Use: A wand with a small barrel, as generally the smaller it is, the tighter the curl. Work with 1-2 inch sections of hair if you want lots of tight, little coils.
Apply: The VO5 Curl Defining Mousse to damp hair before using a hairdryer, as this will help to hold the shape of your curls, as well as add volume.
Tip: For spiralled, tight curls, simply twist your hair before wrapping it around the curling wand.
Loose Waves
Use: A hair curling wand with a large barrel. Wrap 2-3 inches of hair around the heated tool to help create the effect of natural, loose curls.
Apply: The VO5 Volume Foam to create air-light volume. Work 2-5 pumps (2 for very fine or short hair) through damp tresses and blowdry.
Tip: To help frame your face, hold the curling wand vertically and twirl away from your face. Remember, to get those effortless waves, don't curl your hair from the root, but from midway down each section.
Voluminous Curls
Use: A medium-sized curling wand and a teasing brush to fluff up your curls at the root, for masses of added volume.
Apply: The TIGI Bed Head Superstar Queen For A Day Thickening Spray onto damp or dry hair, for maximum lift and drama.
Tip: Before you start teasing, tilt your head upside down and lightly shake your hair to help separate the curls.
Beachy Waves
Use: A medium-sized curling iron, starting a few inches away from the root.
Apply: The VO5 Dry Texturising Spray to your finished look, for effortless, undone hair, which gives a tousled effect to layers and waves. It can also be used as a pick me up to rework your style.
Tip: Drag the iron out slowly so that it slightly straightens the tip, making for a softer look.
Different Curling Wand Types to Know About
Currently on the market for a new curling wand? Or never owned one before but looking to invest? Curling irons are specially designed to create all kinds of wand curls and can be used on all hair types – but picking the right one for you is key.
Whether you're shopping in-store or online, finding the perfect tool can be pretty confusing with so much choice out there! But don't worry, we've got you covered.
Cone-Shaped Curling Wand
Recognisable by their thin upper end and a thicker lower end, a cone-shape wand is amazing for creating curls of various shapes and sizes. The larger side can be used to create fuller, larger coils, while the smaller end is perfect for tight ringlets.
Straight Curling Wand
A straight wand creates curls that are equal in shape and size throughout your hair, allowing you to achieve a more uniform look. This type of curling iron is ideal for those with naturally straight hair who want that beach waves look, as it can be used to curl inwards or outwards.
Slim Wands
These tools – usually sized between 13mm and 19mm – are great for producing tighter curls and twists. So, if you're looking to create '80s-inspired corkscrew curls, they're perfect.
While smaller curling tools are great for producing a permed look on longer manes, they're also ideal for shorter hairstyles as they can help add texture and shape.
Medium-Sized Wands
If you want curls that are a little softer, then definitely try out a medium-sized curling wand with a barrel approximately 25mm in width. Amazingly versatile, these wands are fantastic for creating natural-looking waves and curls, working brilliantly for various hair lengths and types, too.
Large Curling Wands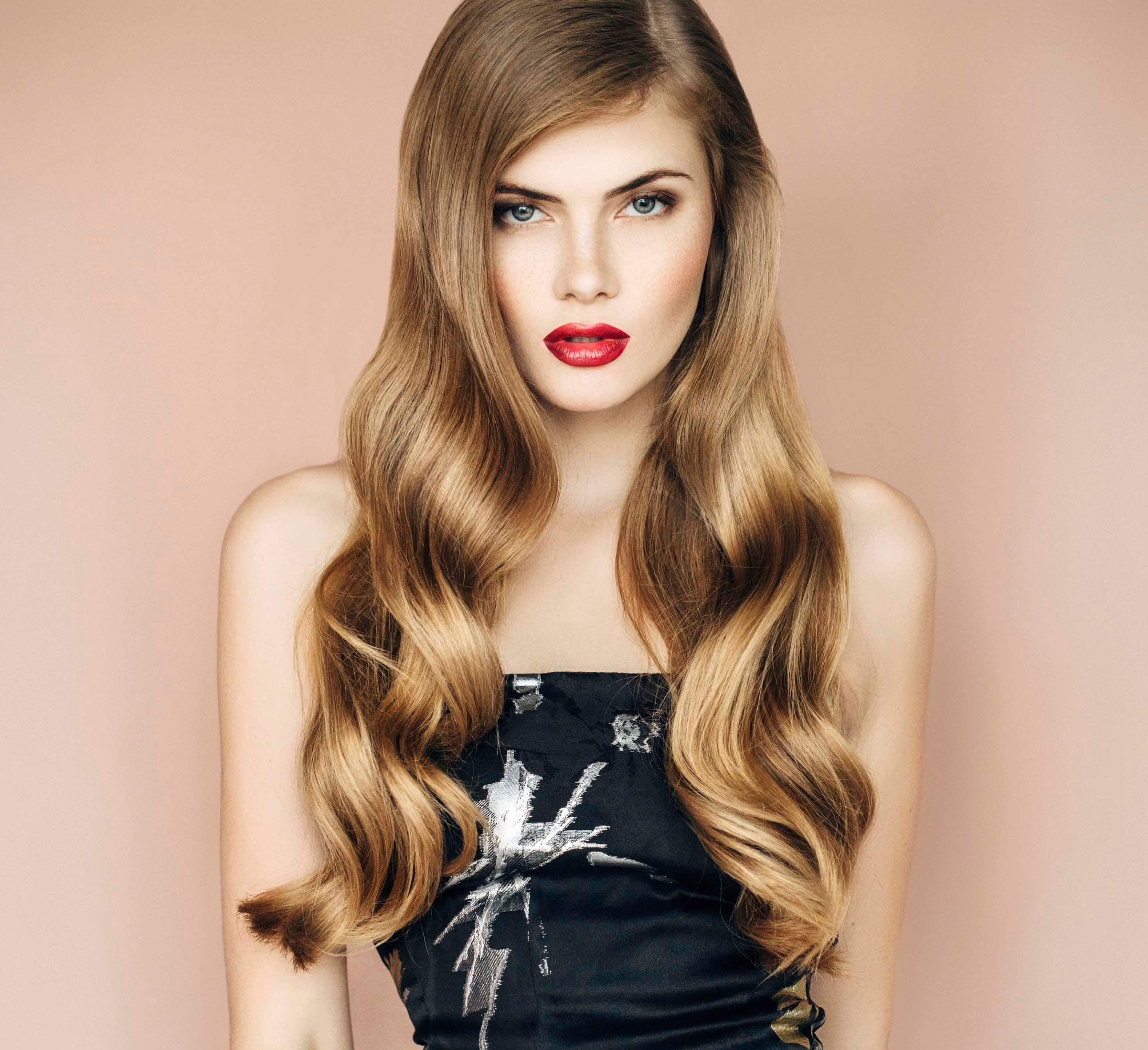 With a much larger barrel size, these curlers can give you a looser and more romantic style. Usually around 32mm in width, bigger curlers are perfect for adding beautiful waves to super-long hair, for a more natural and polished look.
The Best Curling Wand for Fine Hair
When considering how to use a curling wand, it is important to think about your hair type.
For those with thin or fine hair, the best curling wand for you is one that has an adjustable temperature setting so that you can control how much heat is being applied to your delicate strands. You may need to experiment with different temperatures if you find that your fine hair doesn't hold curls well, but that's all part of the process.
The Best Curling Wand for Thick Hair
It can take a while to curl thick or coarse hair, especially when you have a lot of it! Because of this, you'll need a curling wand that can reach high temperatures and that's lightweight. After all, we don't want an arm workout every time we curl our manes!
Prev Article
Next Article
Tutorial
How to achieve picture-perfect vintage curls
Learn all about how to do vintage curls yourself at home with our follow along tutorial.
See article