30 Best Honey Blonde Hair Highlights for Women in 2023
Known as the glossy alternative to platinum blonde, honey blonde is a hair colour with a blend of light brown and sunkissed blonde with warm gold tones pulsing through. With the dual blonde and brunette tones, honey blonde coloured hair can be adapted by making it darker or lighter to suit different skin tones, eye colours and personal styles. With honey blonde celebs spanning from Beyonce to Rosie Huntington-Whiteley, there's a honey hue for everyone. Find your shade below!
Golden Honey Blonde
Golden honey tones are some of the best shades for giving hair a beachy, sunkissed feel – perfect if you're in need of a summer colour refresh. Credit: @thegoodhairwitch
Dark Honey Blonde
For those with a naturally darker base colour or more tanned or olive complexions, darker honey hues are especially flattering. Credit: @malkonyanhair
Editor's tip: Coloured hair need extra care so we recommend using a nourishing shampoo like TRESemmé Nourish Coconut Shampoo to restore and revitalise damaged hair.
Honey Beige Blonde Hair
Currently rocking an ashy blonde but looking to switch things up? Honey beiges work well as they add warmth to icy tones without turning the colour too brassy or yellow. Credit: @hair_by_marinna
Honey Blonde Highlights
For the most indetectable has-she-hasn't-she result, try soft highlights focused around the front rather than a total all-over colour.  Credit: @kinzandco
Editor's tip: Don't forget to try TRESemmé Revitalise Colour Shampoo and Conditioner, a duo designed specifically for coloured hair that will help keep your colour looking vibrant and shiny for up to 12 weeks.
Honey Blonde With Light Blonde Highlights
If you love super light blondes but don't love the maintenance that comes along with it, getting a honey root smudge will help to blend in your natural colour more seamlessly. Credit: @tvonchale
Natural Honey Blonde Hair
Warm tones can wash out those with fair skin. Opting for a more cool-toned honey shade like this one will give you a more natural-looking and flattering result. Credit: @stephdeluca.hair
Auburn Hair With Honey Blonde Highlights
Whether you've always wanted to go red, or you're a natural red head looking to add more dimension, auburn and honey are a dreamy combination. Credit: @hair.artistry.by.amy
Honey Blonde Short Hair
Honey blonde hair works well for all hair lengths, which is good news for our short-haired girls. Give a tired bob a new lease of life with a light-reflecting honey blonde shade. Credit: @oliveecohair
Light Honey Blonde
We love the way this light honey blonde blends cooler tones on the top with warmer, golden tones in the layers underneath. Credit: @anna_cantu
Honey Blonde Balayage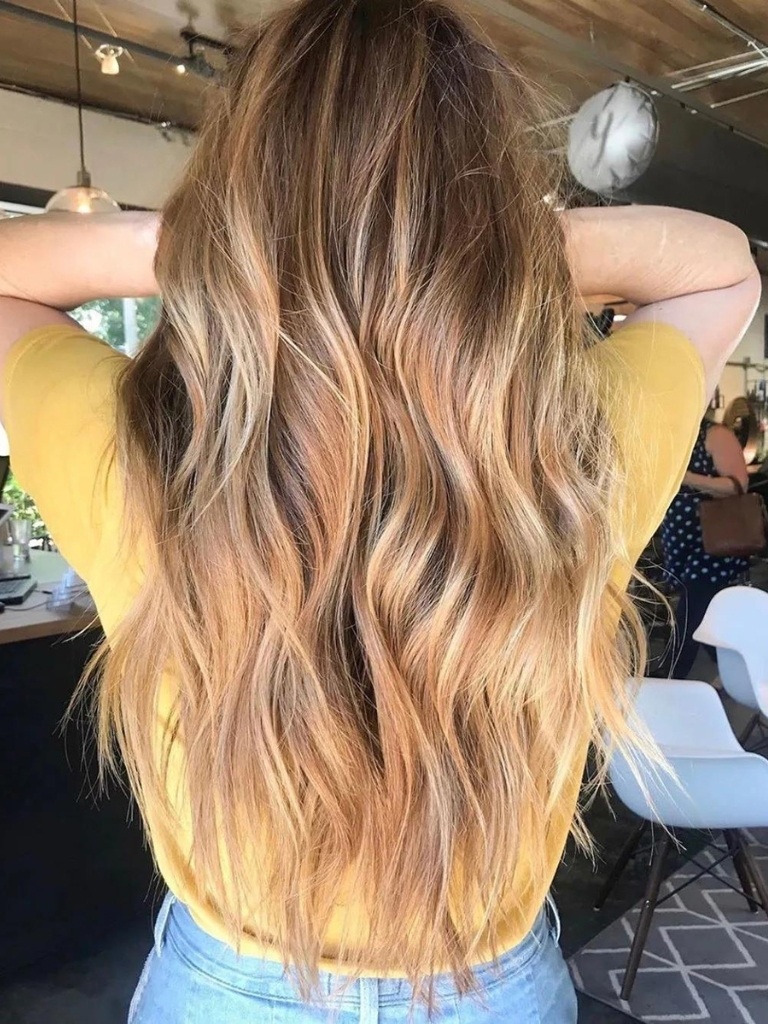 Hate having to go to the hairdresser to have your colour redone all the time? Ask your stylist for balayage instead of traditional highlights – the colour is applied freehand so there's no harsh lines as it grows out and the upkeep is minimal. And don't forget to try SheaMoisture Manuka Honey & Mafura Oil Intensive Hydration Shampoo to hydrate your mane and give it a shiny boost.
Credit: @strawberrysalon
Honey Blonde Highlights On Dark Hair
Colour feeling a little flat? Enrich chocolate and chestnut brunettes with the addition of a few lighter blonde strands. Credit: @hairbyamybee
Honey Red Hair Colour
This look strikes the perfect balance between red and blonde, making it a great choice for natural redheads looking to go blonder. Credit: @lucimono
Honey Blonde Highlights On Black Hair
This pretty foilyage blend proves that dark raven locks and honey blonde are a truly stunning combination. Credit: @cleahairandmakeup
Jennifer Lopez Honey Blonde Hair
Whether she's wearing her hair in a stylish lob or glamorous flowing curls, J Lo's golden honey blonde has become her signature shade. Credit: @jlo
Honey Platinum
Warm up cool platinums and brighten your complexion in one with a golden, buttery blonde. Credit: @beautyluxe.dora
Caramel Honey Hair Highlights
Hair colour combinations don't come sweeter than this rich caramel honey. Credit: @rispellinihair
Honey Chestnut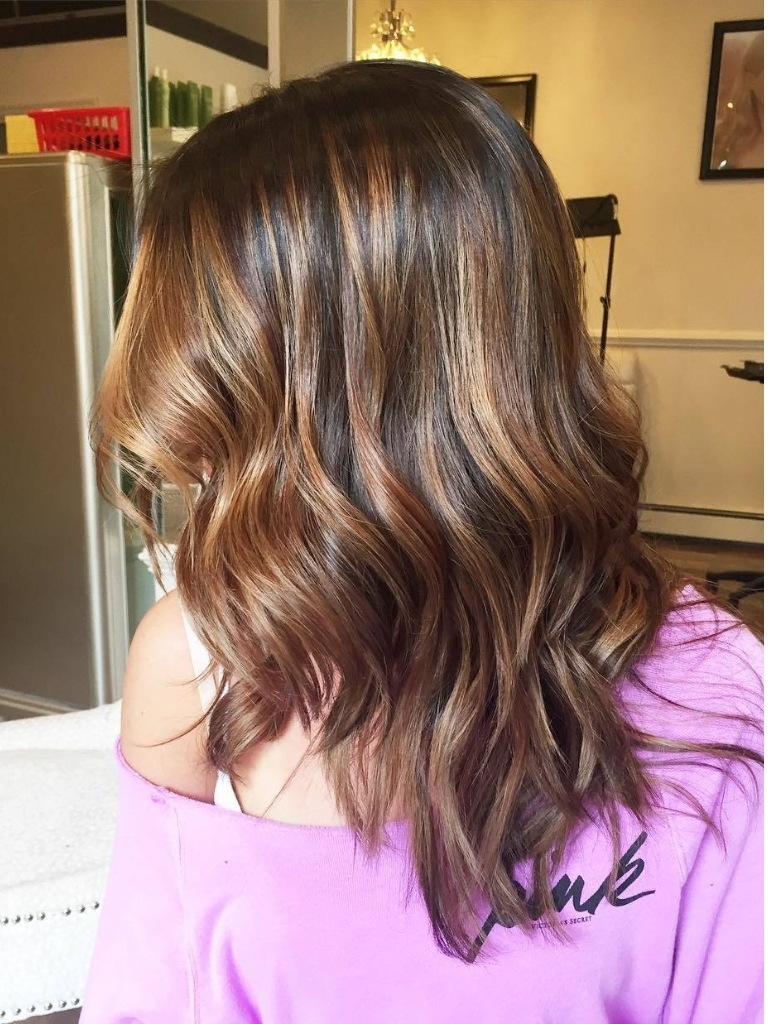 If Autumn were a hair colour, we're pretty sure it would look exactly like this honey and chestnut blend. Credit: @hairbyjules_
Ash Honey Blonde
Part brunette, part blonde, 100% ashy hair goals. Credit: @pixie_glamstudio
Caramel Crush
While cooler blonde shades can sometimes wash you out, adding a touch of warmth to your colour can create softer and more natural-looking results. Try mixing caramel lowlights with your natural base to give your style extra depth.
Strawberry Honey
Mixing in a touch of strawberry blonde with a warm honey shade makes for an ultra-flattering colour for most skin tones, especially if you have pale skin and dark eye colour combo.
Subtle and ever so slightly darker than a classic honey blonde hair colour, this shade brings a hint of pink to blonde hair, creating a truly stunning look.
Honey Hair Colour Base
If your skin has cooler undertones and you want to rock a classic blonde bombshell hairstyle, using a warm honey blonde as a base can be a great way of making this light hair shade work for you.
Ask your stylist to use warmer honey tones and lowlights through your roots, as these will create a nice contrast to brighter blonde shades and really make your hair colour pop!
Sunkissed Brown
If you're a natural brunette and want to brighten up your look, this take on honey blonde hair is the perfect way to try out a lighter shade, without having to go the whole hog. Instead, enjoy a subtle sunkissed look by adding a glimmer of lightness to your brown hair to elevate the tone a little.
Ombre Honey Blonde
Honey blonde hair can look wonderfully sweet and bright. But if you'd like to add a pinch of edginess to the look, then go for a bolder, contrasting hair colour by pairing the lighter hue with darker ombre shades.
Keeping your roots darker and brightening the tips will give a more rock 'n' roll take on this blonde hair colour.
Pale Honey
Give depth to platinum blonde with a gorgeous mid-shade of honey, this will help add a hint of sweetness to those with paler complexions.
But the best thing about this hue? Since it's a more muted version of honey blonde hair colour, it can be more flattering on a range of skin tones, without detracting from the bold platinum base.
Copper Honey
A touch of copper can make honey blonde hair sparkle gloriously, as well as giving you a really refreshing take on blonde hair.
It's also a great way of going blonde without having to worry about excessive maintenance, as this shade works beautifully throughout the cooler seasons, too.
Dark To Light
If you're going to take the plunge from dark tresses to honey blonde hues, rest assured that it will look fantastic when you pick the right shade!
Make sure you choose a stylist with lots of experience and take photos so that there's no confusion about the end result. Your stylist will be able to guide you in the honey blonde shade that's right for you.
Warm Balayage Blonde
Warm-up darker tresses without going honey blonde all over, by using carefully placed balayage highlights.
Your stylist will hand paint different honey hair colours, throughout the mid-lengths and ends of your hair to create a multi-tonal finish. Credit: @hairbyamberjoy
Honey And Warm Reds
We love this stunning shade, which is perfect for transforming your tresses to a gorgeous new autumnal hue.
Mix warm reds, with brunettes and honey tones to create a totally unique finish. It's not blonde, but if you want to dip your toe into the blonde territory, this is a great way to go. Credit: @hairenthusast1284
Bright Honey Blonde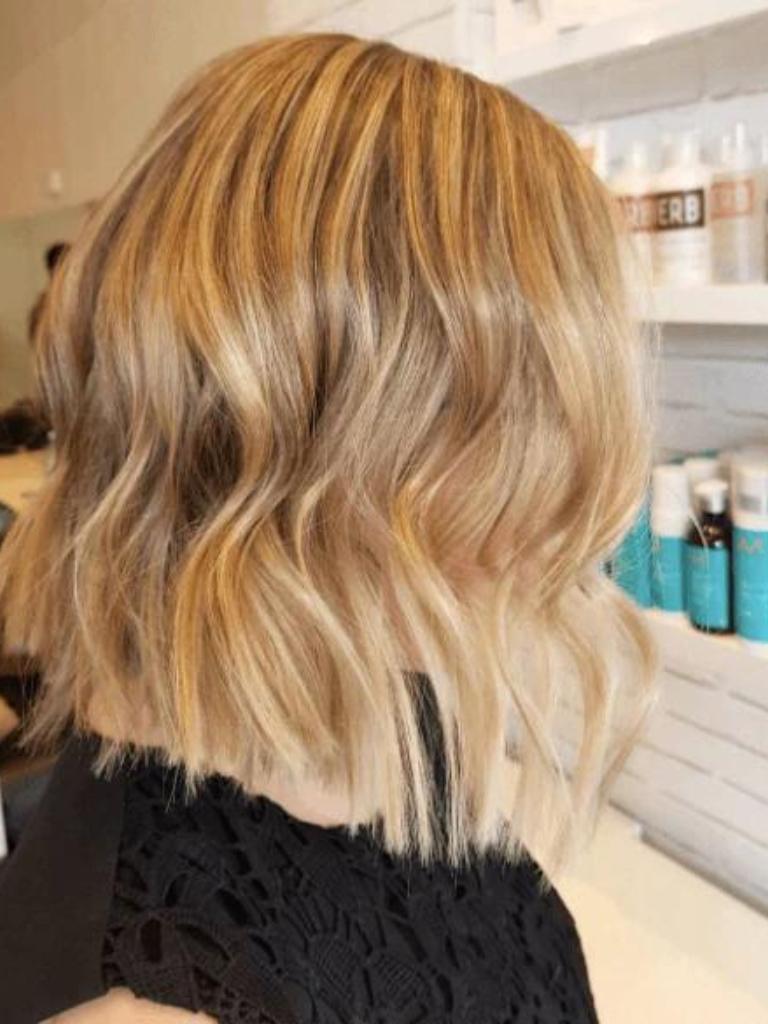 If it's true honey blonde hair you seek, then this bright offering should tick all the right boxes. It's warm, fresh and light, which will give your locks a new lease of life.
This is an ideal shade to rock year-round. Credit: @salonlelu
Honey Bee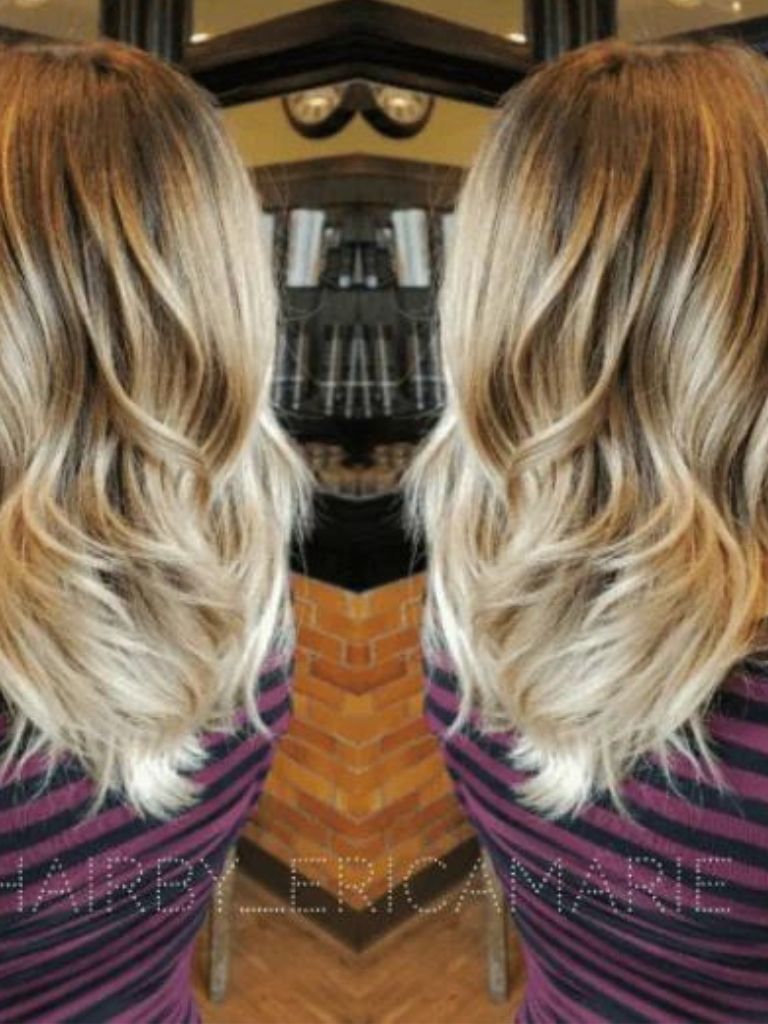 The beautiful thing about honey hair colour is that it looks fantastic teamed with darker hues. Channel your inner honey bee with this gorgeous colour.
The roots are warm and chocolatey, while the mid-lengths and tips transition into bright, creamy shades of honey blonde. This is the stuff hair colour dreams are made of! Credit: @hairby_ericamarie
Prev Article
Next Article
Gallery
Get the celebrity look with these 7 dazzling blonde hair with highlights ideas
Got light or dark blonde hair? With highlights you could amp up your style in an instant – just like these celebs!
See article