30 Protective Hairstyles You'll Seriously Want To Screenshot
Ladies, stylish protective styles for natural hair do exist!
Protective hairstyles, like twists, braids, updos and wigs, allow you to keep your hair safely tucked away, stopping it from being exposed to external manipulation and ultimately minimising hair damage. The reason why they are always being talked about is due to the fact they give natural-haired women a break from their hair routine, in the most stylish way possible.
With so many types of protective styles out there, it's easy to see why A-list stars like Solange Knowles and Issa Rae love them. Most of them require little or no effort to maintain and allow you to look put-together, 24-7.
Ready to get inspired? Scroll on to discover the best short, medium and long protective looks to try in 2020 and beyond.
Long Box Braids
While we know it takes time to get this protective hairstyle done (depending on the size you go for), we can't help thinking of what we'd give to rock ultra-long box braids like this.
Medium Length Braids
Prefer shoulder-length styles? This protective look is perfect for you!
Short Bob Braids
While we adore long box braids, shorter ones equally deserve some attention, too! Take this Instagram beauty, for example, who has gone for some ultra-stylish blue ombre bob braids (swoon). Credit: @leddi_g
Classic Cornrows
Gorgeous, right? Luckily, we've got a cornrow hair tutorial you can watch to learn how to master this timeless look at home.
Editor's tip: Loving all these protective hairstyles for natural hair? Just because your hair is protected, that doesn't mean you won't need a leave-in conditioning spray (like the TRESemmé Botanique Nourish & Replenish Hydrating Mist) in your life.
This must-have product helps give your natural mane a much-needed boost of moisture and will leave your locks smelling like a tropical cocktail. Now, who wouldn't want that?
Cornrow Bun
If you like to keep your hair out of your face, then this elegant and protective bun is perfect for you.
Coloured Braids
If Beyonce is your style icon, you can easily channel her vibes with these gorgeous lemonade braids.
Simple Ponytail
If you find cornrow braids complicated to do, go back to basics with this sleek hairstyle. This protective look is achieved with the help of braiding hair and doesn't require a lot of maintenance once installed.
Bantu Knots
Looking for party-ready protective hairstyles for short natural hair? Well, believe it or not, with just a few inches of hair, you too can achieve this beautiful bantu knot hairstyle.
Need some extra guidance? Just check out our bantu knot step-by-step tutorial, here, to nail the look.
Braided Ponytail
If you're not totally sold on full-blown box braids, here's another beautiful braided protective hairstyle you should give a chance: the cornrow ponytail.
This cornrow style keeps your hair protected while letting you get in on the ever popular high ponytail trend. And what's more, it's perfect for days or nights where you want to exude high-fashion vibes (so basically always!).
Braided Top Knot
A sleek, perfect Fulani braided bun (complete with pretty bead detailing) is sophisticated and destined for any oh-so-luxe or casual events you might be attending this year.
Dealing with shorter natural hair? Using braiding hair extensions, like this beauty has done, will easily help you achieve this glam protective hairstyle. Bye-bye boring buns! Credit:  @naturalbabe10.11_pro
Double Goddess Braids
What's better than a halo braid? A double halo braid, of course. This romantic hairstyle is easy to achieve and seriously photogenic.
Long Twists
Box braids aren't the only protective hairstyles for natural hair you need to know about… In fact, box twists (which this Insta babe totally slays) are equally stunning and super-stylish, too.
We're sure you'll agree that her kinky twists look amazing in this half-up ponytail style, showing off her pretty long lengths to a T, while also keeping her tresses off her face. 
Short Twists
If you wanted to see twists on short natural hair, this look is here to inspire you to take the plunge.
Passion Twists
Passion twists are the next big thing in the protective hair world. And, if anyone is going to convince you to try them, it's this beauty.
Faux Locs
Thanks to a few iconic black celebrities (ahem, Zendaya and Rihanna!), faux locs have fast become the protective hairstyle to rock this season.
So, if you've always loved the look of dreadlocks (but can't picture yourself going through the long process to get them), opting for faux locs is your next best option. And as you can see, they look utterly mesmerising when adorned with different accessories! Credit: @lei_smokahontas
Crochet Braids
Dream of switching up your hairstyle on the regular? Then consider getting crochet braids done. Don't know what they are? Well, they're simply created by crocheting hair extensions into pre-cornrowed hair and can be worked with so many different styles…
From voluminous curls to sleek and smooth hairstyles, with this fast method, you'll be able to live out your mane fantasies (all while protecting your real hair). Yay! Credit: @kiitana
Tree Braids
This lovely Insta-babe and Alicia Keys have something in common: they've both rocked cute and curly tree braids! Unlike crochet hairstyles that conceal cornrow braids, this 'do works to spotlight pretty plait designs.
Medium-Length Wig
While most of us turn to braids for protective styles, let us not forget the wonders that are wigs! In this example, this mega-babe has gone for a chic shoulder-length style that's full of enviable texture. Credit: @crystal_kasper
Long Wavy Wig
What's not to love about this wavy wig? It's the perfect style to try when you want to channel mermaid vibes.
Rapunzel Wigs
Dreaming of flowing Rapunzel hair like Kim K-W or Nicki Minaj? We don't blame you. It can take years to grow your hair out that long though, but if you're impatient there is another option of course – a wig!
Super long wigs have become a favourite of celebs and normal girls alike, the only thing left to decide is how long will you go?! Credit: @yubasorentino
Short Wig
One of our favourite protective looks for short hair natural is this gorgeous, caramel-toned bob.
Weave Hairstyles
Wigs do require more upkeep, and if you can't hack it, a protective weave is your next best option. Just be sure to ask for your stylist to not braid your hair underneath too tight!
Headwrap
While every protective hairstyle is a work of art, you can take a more time-effective approach and consider stylishly wrapping your locks up with a printed head wrap, just like this mega-babe has done.
Not only does this otherwise simple headscarf make the perfect protective hairstyle, but it will also help you exude a tonne of retro vibes. Credit: @glowprincess
Half-Twisted Updo
The best way to add some variety to your styling repertoire is by trying out a new updo. If you've always thought updos are way too complicated for you, you might find a simple twisted version easier to take on.
This simple but effective twisted updo is ideal for protecting your natural hair while still allowing you to show off those stunning curls. Credit: @suite15hair
Ghana Braids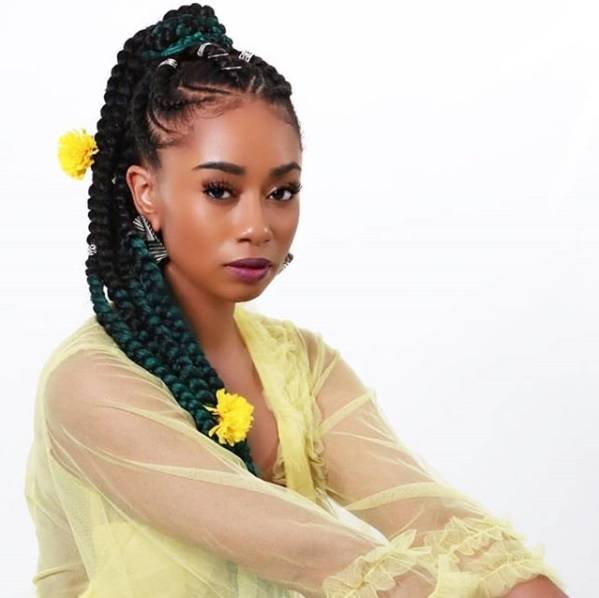 We're all guilty of slipping into a rut sometimes with our hair, so if that's you right now, why not consider this Ghana braided ponytail?
Ticking both the style and convenience boxes, it's a must for the girl-on-the-go. We'll be wearing ours with floral accessories for spring/summer. Credit: @ashleymsparrow_
Editor's tip: Want to tame your baby hairs and make them look on-point? You'll need a gel spray, like the VO5 Mega Hold Gel Spray and an old toothbrush, to help you smooth them down. Easy, right?
Flat Twists
While a lot of protective hairstyles require an expert's touch, there are plenty of braided looks you can do all on your own, flat twists for example.
With a little practice, you'll be able to create all sorts of intricate-looking hairstyles with the basic 2-strand twist method, saving you precious time (not to mention money!) in the salon chair. Credit: @crownedandbrown
Editor's tip: To keep your twists neat, frizz-free and -even more importantly- well-conditioned, apply a small amount of leave-in conditioner to each section before twisting. The TONI&GUY Leave In Conditioner protects tresses against humidity so they look good as new for longer.
Flat Twist Bun
Another flat twist hairstyle you can rock? A simple bun, of course! This cute hairstyle is great for special occasions and will ensure you look the part, no matter the event.
Cuffed Space Buns
Cornrows are just calling out for accessories. Whether it's for a festival or just finding a way to make your everyday braids pop, adorning your mane with metallic cuffs and coloured beads will always look amazing.
Braided Mohawk
If you're looking for a protective 'do full of stylish edge, you'll love this braided mohawk.
Pineapple Updo
You can't talk about protective styles without mentioning this iconic hairstyle: the pineapple. This easy updo will help preserve your curls at night while you sleep, so you can wake up to gorgeous coils.
Prev Article
Next Article
Tutorial
How to blow out natural hair like a pro
All you need is your hairdryer and some heat protectant to nail this perfect natural hair blow out.
See article