Sweat in Style With the Best Gym Hairstyles for Every Type of Exercise
Gym newbie? Don't sweat it! These gym hairstyles for the gym look good and will help you smash those goals.
If you're still sticking to your New Year's resolution of working out more (you go Glen Coco!), you'll be needing some stylish gym hairstyles to help you make those #gains look good.
Whatever your workout style, whether that's spin, boxing or barre, we've put together some of our favourite hairstyles for the gym – all of which have one thing in common: they're sweat-proof, workout-proof and still look cute enough to wear for the rest of the day!
So, grab your new activewear, try out one of these workout hairstyles and smash those goals!
Barre: Ballerina Bun
If there's one thing we love about barre class, it's that you can basically pretend to be a ballerina for an hour. So, twisting your hair into a classic ballerina bun is naturally the way to go.
Just make sure you have plenty of bobby pins to hand to help secure it in place! Then you can penché, plié, and stand en pointe in style.
Editor's tip: Find that your baby hairs are poking out of your bun around your hairline? You can use a little hairspray, such as the VO5 Ultimate Hold Hairspray, to set them down for a neater look.
Zumba: Space Buns
These cute space buns are the perfect gym hair look for upbeat dance workouts, like Zumba.
Especially great for curly or natural haired girls who're looking for ways to keep their curls out of the way, they also have the bonus of being super on-trend right now thanks to their funky '90s vibes. Watch our quick tutorial on this look, below!
HIIT: Side Braid
We love a braid, you need a braid that is stronger than your PT – which is why we suggest trying a tight side braid variation.
Editor's tip: Braids actually work best on unwashed hair, but don't worry if yours is squeaky clean, as a quick spritz of the TONI&GUY Sea Salt Texturising Spray will help to add extra grip.
Boxercise: Boxer Braids
Stars like Bella Hadid and Katy Perry have become huge fans of this boxer braid style, and it's not hard to see why.
Now, it may look difficult to achieve, but don't fret: once you've got the hang of it, you'll be able to whip up this impressive style in under 5 minutes (yes, really!).
Yoga: Twisted Bun
If you've ever made the mistake of forgetting your hair tie for a yoga class, then you'll know how very un-zen it is having your hair all over your face while you're in downward dog.
This simple twisted bun will help you keep your focus and it's pretty enough that you can head straight to brunch afterwards, without the faff of re-styling.
Spin: High Pony
The lights may be off in spin class, but when you start to turn up that resistance, you're going to want workout hairstyles that will have your hair up off of your neck. An Ariana Grande-style high pony is perfect for swishing your way through the class and will help keep you cool.
Looking to create the perfect high ponytail for your gym session? Then follow our simple step-by-step guide and rest assured that your strands will be stylishly tucked away!
Pilates: Low Messy Bun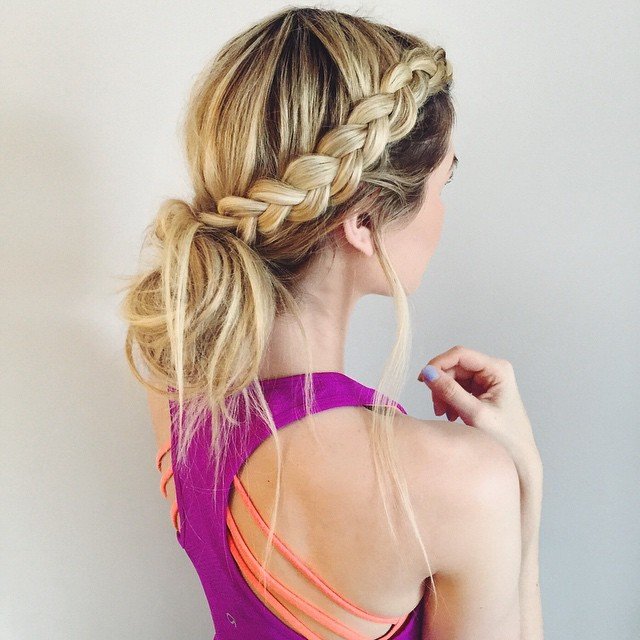 Perfect for not-so-sweaty activities like yoga or pilates, this low messy bun will keep your hair off your face and still look super cute when you finish your workout. Credit: @amberfillerup
Strength Training: Braided Ponytail
You can't talk about gym hairstyles without mentioning a braided ponytail! It's easy to create and exactly what you need when you want to focus all of your efforts on weight training.
Editor's tip: Don't have enough time to wash your hair? After your workout, just spray the VO5 Post Gym Refresh Spray into your roots and brush through hair. It'll give your hair a volume boost and make it look like its freshly-washed.
Cardio: Half-up Ponytail
One of our favourite gym hairstyles for long cardio sessions? The half-up, half-down ponytail, of course. This pretty hairstyle comes together in seconds and is great for all hair types and lengths.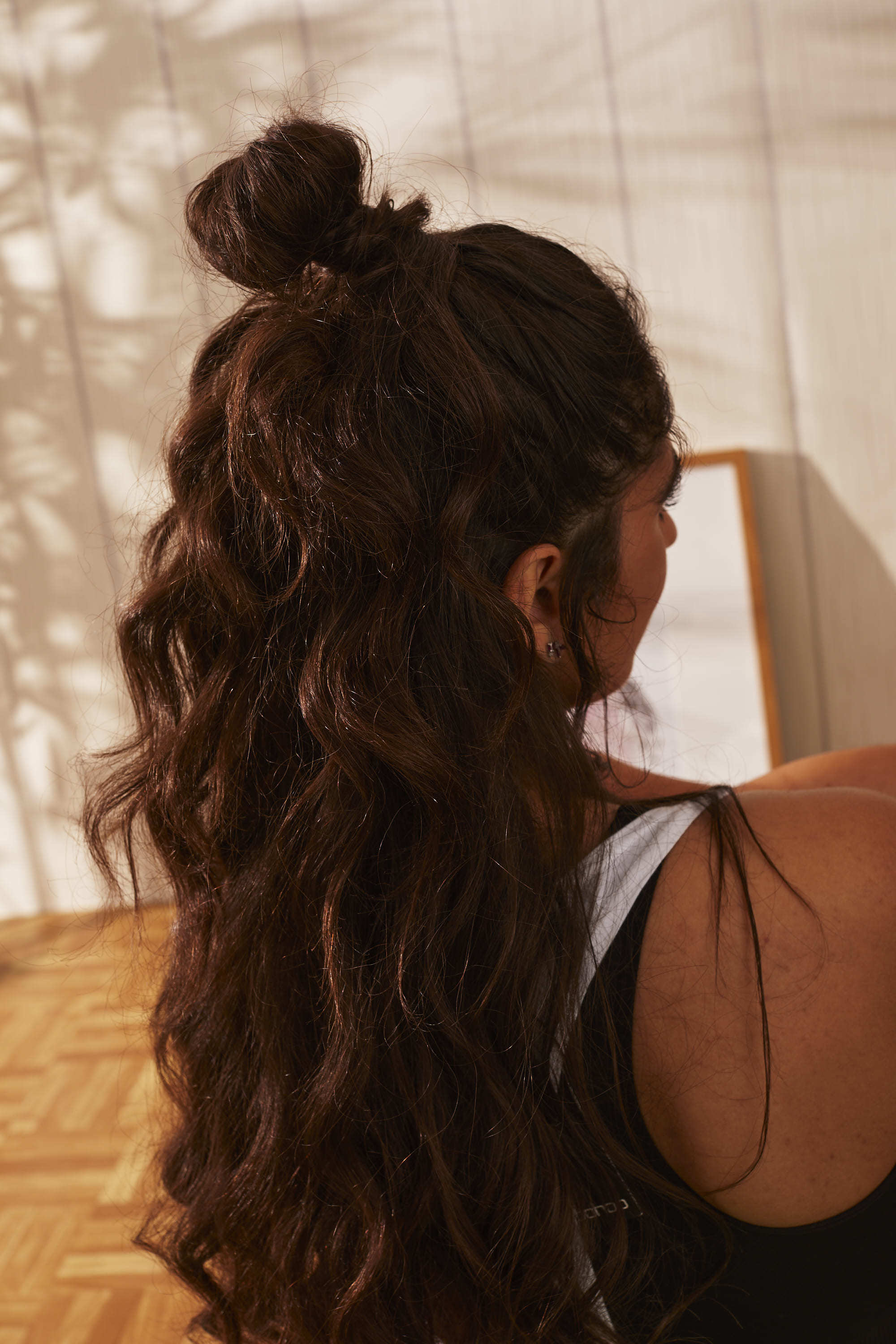 When you get bored, you can always switch things up with a pretty half-up bun.
Total Body: Upside Down Braided Bun
Update your favourite gym top knot with a braid, just like this beauty has done. If you want to learn how to create this workout-ready bun, follow these 5 easy steps.
Prev Article
Next Article
Article
Kylie Jenner debuts new red hair and super cute cornrows!
Kylie Jenner debuts a new 'do to celebrate her 19th birthday.
See article