Curl crew, take note! These are the dreamiest short haircuts for curly hair on Instagram
Hidden on Instagram is a world of short haircuts for curly hair! Who knew?
When you've got curly hair it can be really annoying looking for new haircut inspiration, only to find that none of the looks you like will actually work with your curls. So we set ourselves a mission: to find the best short haircuts for curly hair on Instagram. And, not to toot our own horns, we found some total winners!
If you have issues with a lack of shape, or find that your curls are becoming unmanageable, these curl-specific short hairstyles will help you fall back in love with your natural curls this year.
Curly hair: Short haircuts we're loving from Instagram
Side-parted bob
Find that despite your curls your hair can look flat at the roots? Changing up your parting can have a bigger difference than you'd think.
Use the end of a comb to part your hair to the side, like this Instagrammer, and flip the hair over. It'll make your hair look way more plumped up and luscious! Credit: @awa.f
Editor's tip: To keep your curls looking fresh, make sure they're kept hydrated by using a leave in conditioner.
The TIGI S Factor Papaya Leave-In Moisture Spray is fab for natural-haired ladies, as a quick spritz will add a major moisture boost to your mane whenever it's feeling dry. Just pop it in your bag for on-the-go application!
Curled crop
This is one of the shortest styles for short curly hair that we stumbled across, so if low maintenance is the aim of the game for you, you've met your match.
Longer than a buzz cut to allow you to show off your beautiful curls but still short enough that you won't have to do anything to them in the morning, we've only got good things to say about this style. Credit: @mel_schubert
A-line bob
Finding curly hairstyles for short tresses that can add shape to your curls is really helpful. Anything that's going to add more interesting angles to the look, such as a graduated, A-line look like this one, will prevent your hair looking too fluffy and dishevelled.  Credit: @armstrongmccallofficial
Baby bangs
Both Emma Roberts and Emma Watson have worn short fringes lately, so if there was ever a time to try them out, it's now.
They're the easiest way to give a classic curly bob a more alternative edge and they'll allow you to continue growing out the rest of your hair in the meantime. Credit: @smithanddavissalon
Curly side bangs
We typically think of side fringes as being something tied to straight hair types but they can look just as good on curly textures, too. The proof? These gorgeous curly side bangs!
Side fringes are one of the most flattering styles around, as they pretty much suit everyone and can easily be swept out of the way if you want your hair out of your face. Credit: @quirkycurly_
Editor's tip: To add definition and separate your curls, run an oil or serum, like the TONI&GUY Curl Lock Oil, through damp hair after you've washed it for a smoothing effect.
Shorter sides
Do you have short, natural curly hair that you can't control? Take some of the weight off of the sides with a longer-on-top, shorter-on-the-sides style. Since you'll be taking some of your hair off, it'll actually put more of a focus on your remaining curls.
Finish up with a touch of ombre, like this girl, to really make those curls pop! Credit: @curlygurl.rei
Voluminous pixie
Often when we picture a pixie cut we think of people like Michelle Williams and Ginnifer Goodwin with their sleek, sweeping styles, but you can totally rock a pixie with a head of natural curls.
We can't get over how full and voluminous this curly pixie is, creating a more quiffed-up, edgy vibe than the traditionally sweet style. Credit: @minkedbymoriah
Curly shag
The shag is one of the best hairstyles for curly short hair as it's a look that will work with your natural texture, rather than against it. It's super retro inspired and strikes the perfect balance between sexy and tomboyish. Credit: @guapahairsalon_
Prev Article
Next Article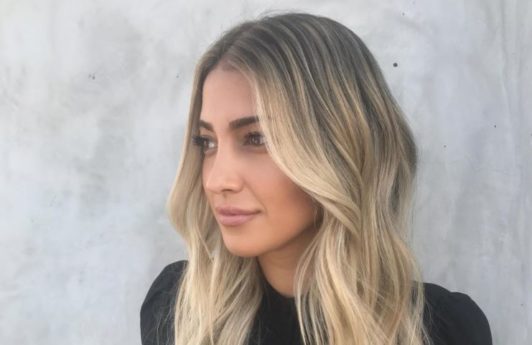 Gallery
The All Things Hair guide to styling for all face shapes
Picking the right hairstyles for face shapes can be tricky – that was until you read this guide.
See article