Khaleesi hair: 13 epic Game of Thrones hairstyles to recreate
A song of style and sass: Recreate our favourite Game of Thrones hairstyles.
The eighth and final season of Game of Thrones is soon to aired which means, first and foremost, we'll finally find out the fate of all of the characters. But also, it means we don't have much time left to appreciate the wonder that is Khaleesi's hair *sobs*.
The best Game of Thrones hair from Instagram
We celebrate the incredible Game of Thrones hairstyles that the show has given us with our favourite Khaleesi-inspired hairstyles and looks from other Westeros favourites.
1. Khaleesi's platinum braids
We'd be lying if we said we didn't dream of having Daenerys Targaryen hair approx 10 times per episode. Ever since season one of GoT, the Mother of Dragons has been wearing her platinum blonde tresses in all kinds of amazing braids.
She might be known as the People's Queen but to us she will always be the Queen of Braids. Credit: @jasminehoffman
Editor's tip: Khaleesi's hair is such a bright blonde that it's practically white. For blondies wanting to emulate her hue, a purple toning shampoo like the TRESemmé Violet Blonde Shine Shampoo is a must.
This violet-tinted shampoo (there's also a conditioner in the range) will cancel out any brassy, yellow tones in your colour, transforming it into the ashy, silvery tone you want.
2. Pastel Khaleesi hair
If you love Khaleesi hair but are after something more standout, this dreamy pastel creation is just what you need to add some colour into your Game of Thrones hairstyles. Oh, and the dragon hair accessory is e-v-e-r-y-thing! Credit: @prettyaudhair
3. Daenerys' impressive braid combinations
One of the things we love most about Daenerys' Game of Thrones hair is that she's rarely rocking just one type of braids. From Dutch and fishtail braids to showstopping 4 strand braids, the key to creating Khaleesi hair is to think outside the box with your braiding methods. Credit: @beyondthebeautyus
4. Braids and waves
Khaleesi has mastered the half-up braids and cascading curls look and it'll always be one of our favourite looks of hers. So if you're hoping to dress as her for Halloween or a cosplay, you can't go wrong with this style. Credit: @b3_nederland
5. Daenerys Targaryen hair on dark hair
Wait, you didn't think having dark hair meant you couldn't take on Daenerys Targaryen hair, did you?
This brunette 'grammer has all the best elements of Khaleesi's look (the flowing lengths, the twists, the intricate braids), all in a rich, warm-tinted brown shade perfect for autumn. Credit: @style.daze
6. Easy, Khaleesi-style pull-through braid
If you've got this far and you're thinking there is no way you'll ever be able to recreate these Game of Thrones braids, don't be put off.
Our pull through braid tutorial shows you how to create amazing braided looks like this one here, all without actually needing to know how to braid. Sounds too good to be true, but it isn't! Credit: @hairbyjoannam
7. Dragon hair
What would the Mother of Dragons be without her dragon babies? This fiery dragon look is perfect for curly girls and the glitter cornrows will transform you into full dragon mode.
Editor's tip: Love hair glitter? Give your mane the Midas touch with a sprinkling of the super sparkly VO5 Galactic Gold Hair Glitter.
Then, if you need any help removing it afterwards, read our glitter removal tips.
8. Cersei Lannister hair
Before she had all of her hair chopped off in season five *spoilers*, as the Queen Cersei Lannister wore some pretty amazing hairstyles too. See more flower braids like this. Credit: @urbanfringesalon
9. Sansa Stark's hair
From the regal braided updo she wore on her wedding through to her more recent carefree styles, Sansa Stark's been on a major hair evolution throughout the show. Credit: @escapades_in_braids
10. Sansa's looped braids
When in the north, Sansa becomes much more of a power player and, in turn, has a hairdo to match. Going for a more mature style, she keeps her hairstyles relatively simple with just a few looped braids securing her fiery mane. Credit: @grange_air
Editor's tip: Another way to make braiding easier? Try applying some of the TONI&GUY Flexible Hold Braid Balm to either damp or dry hair before you start. This will just help to give your strands a bit more grip and texture, so your braids stay in better.
11. The Red Woman's flaming lengths
She may have been sent packing from The Night's Watch for her questionable actions, but we will always remember Melisandre (AKA The Red Woman) for 2 things; her resurrection of Jon Snow and her gorgeous hairstyles.
Melisandre's  long, fiery red tresses, beautifully contrast her fair complexion and add to her air of mystery. Credit: @katie_wizard
12. Missandei's braided 'fro
Khaleesi's right-hand woman and adviser, Missandei always looks stunning on screen and has one of our favourite GoT hairstyles, ever.
With her natural curly mane out in all its glory, Missandei often spruces up her look by adding a headband braid. Wondering how to do it? Click for a how-to.  Credit: @mini_marley
13. Lyanna Mormont's waterfall braid
Sticking to simple styles, Lyanna keeps her brunette tresses straight and long. To pin back her tresses, she uses skinny braids on either side of her middle parting and secures them at the back.
For a more modern version, try trading a traditional braid for the waterfall option above, which we can totally see Lyanna rocking. Credit: @plaitsbyhelen
Take a look at how to create a waterfall braid!
Prev Article
Next Article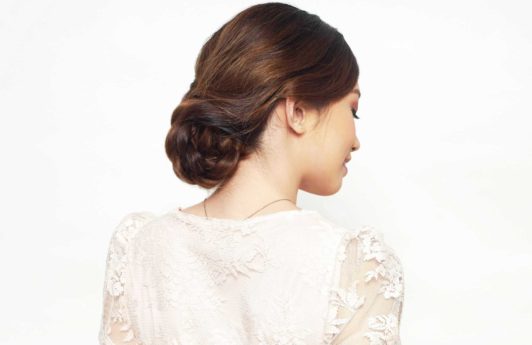 Gallery
18 Cute and Easy Prom Hairstyles for Long Hair
Easy prom hairstyles coming up...
See article