12 Flat Twist Hairstyles From Instagram That You Have to Try
We have breaking news: it's time to ditch the same old styles and take your hair from 'meh' to mesmerising! How, you ask? With flat twist hairstyles, of course, which just so happen to be some of our favourite looks for black hair.
Not only do flat twist styles look absolutely stunning, they also help to protect your tresses in the colder months and are much easier to do than more intricate braiding methods. We know, what's not to love?
So if this sounds like something you want to get in on, click through the gallery above to see some our favourite looks and get ready for your hairstyle overhaul…
12 looks to convince you to try a flat twist hairstyle
1. Flat twist with a low bun
Whenever we get stuck creating a new look, we always turn to social media for a helping hand. And the second we saw this style maven's stunning flat twist low bun, we totally fell in love!
2. Halo twist with a low bun
While it looks complicated, in reality, this flat twist hairstyle is easier than a traditional halo braid, as it's formed with a simple flat twist out rather than a Dutch braid.
Simply take a section of hair from either side of your temples and twist, then wrap each twist around your head to form a halo. Pin them in place and you're all done! 
Editor's tip: Black hair needs extra hydration as the coiled structure of the strands makes it more difficult for oils from the scalp to make their way down the hair. So, it's good to nourish your strands before styling with a good leave-in conditioner.
We recommend the SheaMoisture Miracle Hair Styler Leave-In Treatment as it's in an easy spray bottle format, making it great for on-the-go application!
3. Low buns
Let's go back to basics. Buns are some of the most practical ways of styling natural hair. But if you're bored of ballerina buns and over the space buns trend, why not try creating low pigtail buns?
To get this flat twist hairstyle, section your hair into 4 portions, using clips if necessary. Then create 2 sub sections and begin to twist. As you move along your head, start adding extra hair to the twists (like a French braid), until you reach the nape of your neck. Secure with a hairband.
Repeat this process on the remaining portions of hair, securing each one at the nape of your neck. Now take the remaining hair from 2 of your twists and continually wrap them around one another until you have formed a bun shape.
Do this with the other twists and secure with a headband and pins. Et voila: flat twist out buns to die for!
4. Braided updo
Want to really show off your styling skills? Then take note of this look. This unique flat twist style would look great for everything from a summer wedding to a girls' night out.
Editor's tip: For a super sleek look, give your hair a spritz of the TRESemmé Freeze Hold Hairspray to keep frizz and flyaways at bay.
5. Braided bangs
Whether you're currently rocking an au naturel 'fro, or you've straightened your locks, these flat-twist-style curtain bangs is the perfect way to instantly spruce up your mane.
6. Multi-layered twisted bun
If it's optimum 'wow' factor you seek with flat twist hairstyles, then we think you'll be mighty pleased with this lovely 'do.
It's striking, simple to recreate and the perfect style to take you from desk to dance floor.
7. Halo twist
The halo twist is one of those protective styles you'll want to rock all winter long. Not only will it keep your tresses protected from the harsh winter climate, but it will look amazing – plus it's pretty simple to style!
Create your parting, then start at the top of your head twisting as you go. Repeat on the other side, then secure both sections at the nape of your neck and tuck them under. Simply beautiful!
8. Flat twist ponytail
Thought because you were going to twist your strands that you couldn't also get in on one of this season's hottest trends? Think again! We're big fans of a high ponytail and when you incorporate ot with flat twist hairstyles, they go from super cute, to totally cool.
This 'do is perfect for off-duty days spent at the gym or out for drinks with the girls, and could even be addorned with some glitzy hair rings for some extra style points… just an idea.
9. Flat twist 'faux' hawk
If you've always been wanting to try a mohawk, but can't bring yourself to part with your locks, then the faux-hawk is the answer! This style is all about keep the sides of your hair incredibly sleek and frizz-free.
10. Delicate flat twist
This stunning style involves sections of flat-twisted piled together in the centre of the crown. The hair arranged in a curved pattern that makes it extra pretty!
11. Flat twist bob
This edgy flat twist hairstyle is perfect for lovers of the bob – a classic style that has made a comeback in 2023.
12. Reverse flat twists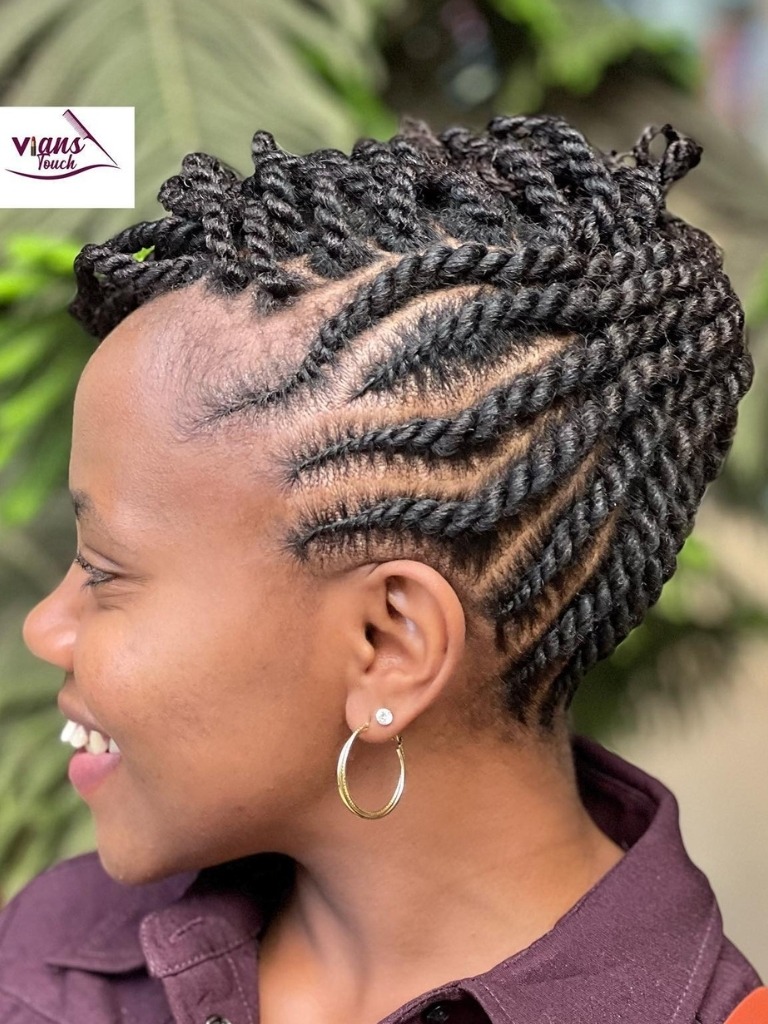 The idea behind reverse flat twists is that they start at the nape of your neck and work upwards in sections, rather than from the top of your head downwards.
This is such a lovely way to mix up your repertoire of flat twist hairstyles, that we think it's definitely worth adding to your list of 'must try styles'.
Did you enjoy this flat twist hairstyles round-up? If you did, click through to our Braids page, where you can try your hand at other woven 'dos, all of which are sure to elevate your mane game!
Prev Article
Next Article
Gallery
Hot braid hairstyles of 2017: The looks we loved and you will too
It's time to look back to our favourite 2017 braid styles!
See article