Silver-Blonde Hair: 29 Ways to Nail it in 2023
Silver-blonde hair is a cool-toned hair colour that marries together blonde hair with silver, creating a unique ashy shade with a brilliant shine. It's perfect for year-round wear, as it'll brighten up your complexion in the winter and make sure you glow all summer long.
Colours range from platinum to ashy blondes and more. If you're thinking of getting a bold hair makeover, let this stunning hue convince you to take the plunge.
Scroll down to see the 29 ways you can pull off silver-blonde hair.
How to Get Silver-Blonde Hair
So, you're thinking about going silver? Before diving straight in and getting your heart set on a particular shade, you'll need to take your base (i.e. current colour) into consideration.
Natural and highlighted blondes may only need a toner to give their strands a silvery tint, while brunettes will require pre-lightening with bleach in order to create a blank canvas for the silver toner.
We recommend booking a consultation with your colourist (these are usually free), to discuss the best course of action to help you achieve your goal colour.
Silver-Blonde Hair Inspiration
With such a variety of silver blonde colours out there, from icy white tones to warm champagne blondes, choosing just one can be a struggle! To help you decide and figure out which hue is best for you, discover some of our top silvery shades for this season, below.
Classic Silver-Blonde Hair
If you're eager to see what true silver blonde hair really looks like, just take a look at how Kim Kardashian wears this hybrid shade with loose waves. To keep your silver crest vibrant, try TRESemmé Revitalise Colour Shampoo, designed to keep coloured hair salon-worthy for weeks.
Ash Silver Blonde
This almost-white, ashy silver blonde hair colour is a modern take on platinum hair and is so fashion-forward – especially when paired with a sleek hairstyle.
Editor's tip: To maintain the vibrancy of a silver blonde hair colour and your mane hydrated, try Dove Daily Moisture Shampoo and Conditioner, designed for all hair types to keep your tresses soft and nourished.
Enriched with pearl extract and violet toning pigment, this mighty duo will help neutralise brassy yellow tones to reveal your gorgeous shade while giving intense nourishment.
Warm Silver-Blonde Hair
Selena Gomez' skin-flattering warm silver-blonde hair colour is great for those who are in need of a summery hue that isn't too bright.
White Silver Blonde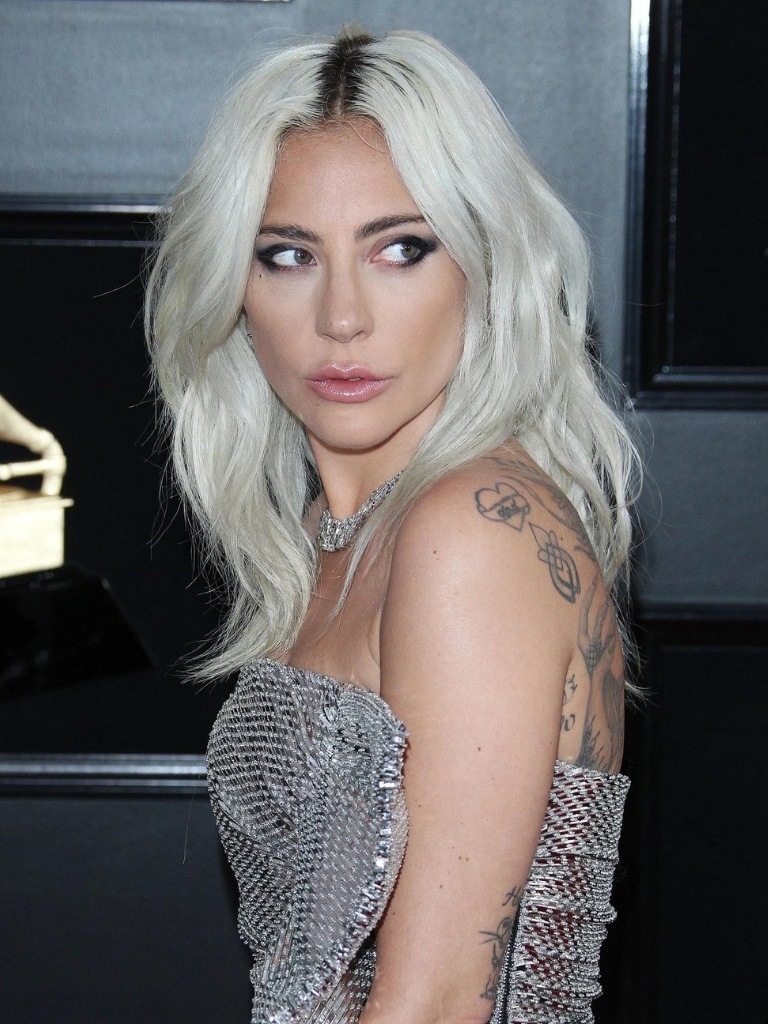 Go for a stand-out look by getting white silver-blonde hair, exactly like Lady Gaga's. Keeping your roots dark will give the look a grungy, rocker-girl feel.
Ice Queen Hair
Calling all aspiring ice queens. If you're aiming for a frosty, shimmering hue, look no further than this Nordic, silver blonde.
Like Lady Gaga's hair colour, this bold shade is destined to make your hair a great topic of conversation. And don't forget to take care of your strands, as dyes like silver can damage and weaken them. Try SheaMoisture Manuka Honey & Mafura Oil Intensive Hydration Shampoo to restore your hair's health and lock in moisture.
Silver-Blonde Pixie
Here's proof that this stunning colour looks great even when it's worn with very short hair. Styled sleek and swept to the side, Andrea Riseborough seriously makes this shade look effortless.
Root Stretch Silver Blonde
Not keen on the Nirvana roots hair trend? Opt for a subtle root stretch for the most glorious colour melt like this silver-blonde babe above.
Metallic Silver Blonde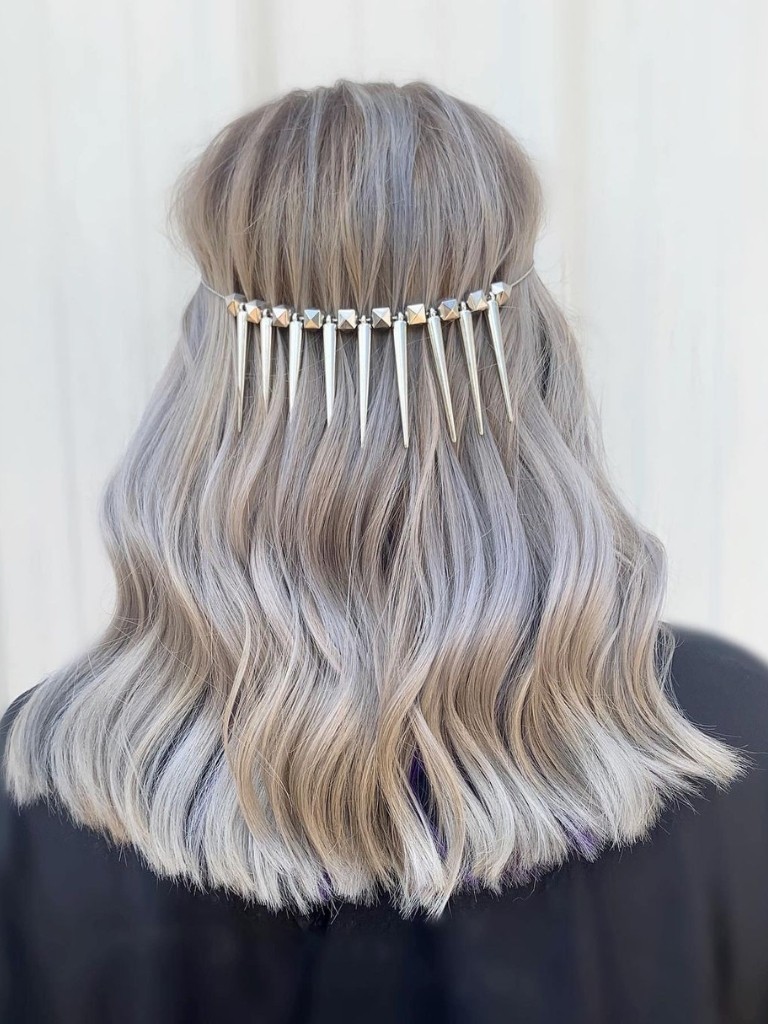 Dark roots, cool metallic tones… we're totally here for it.
Pearl Silver Blonde
Pretty as a pearl, this stunning shade of silver-blonde hair is sure to turn heads wherever you go.
Darker Silver Blonde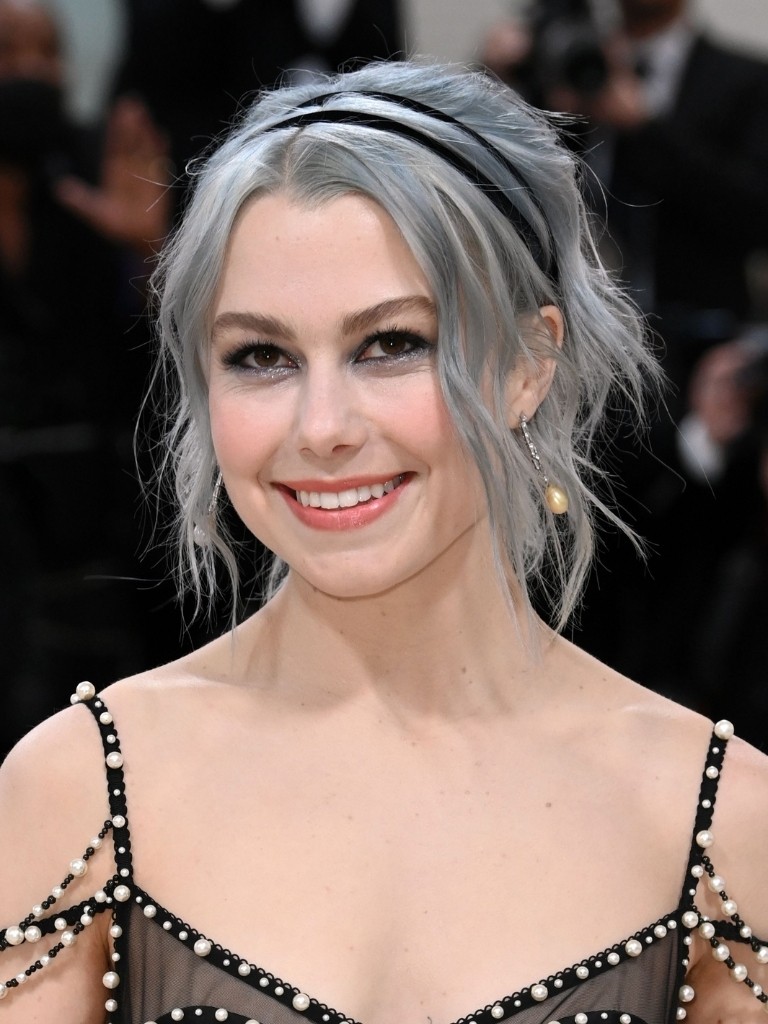 Take a walk on the dark side with this beautiful silver-blonde style.
Blue-Toned Silver Blonde
Feeling blue? This subtly blue-toned silver blonde will sort you right out.
Golden-Silver Hair
Can't shake off your love for golden-tinted hair hues? Then you'll be pleased to know that golden-silver hair does exist.
This trendsetter's mane is the perfect example: we love how her golden-blonde hair has silver tones running through it, and how she's paired the look with loose waves. Credit: @taylor_lamb_hair
Silver-Blonde Boxer Braids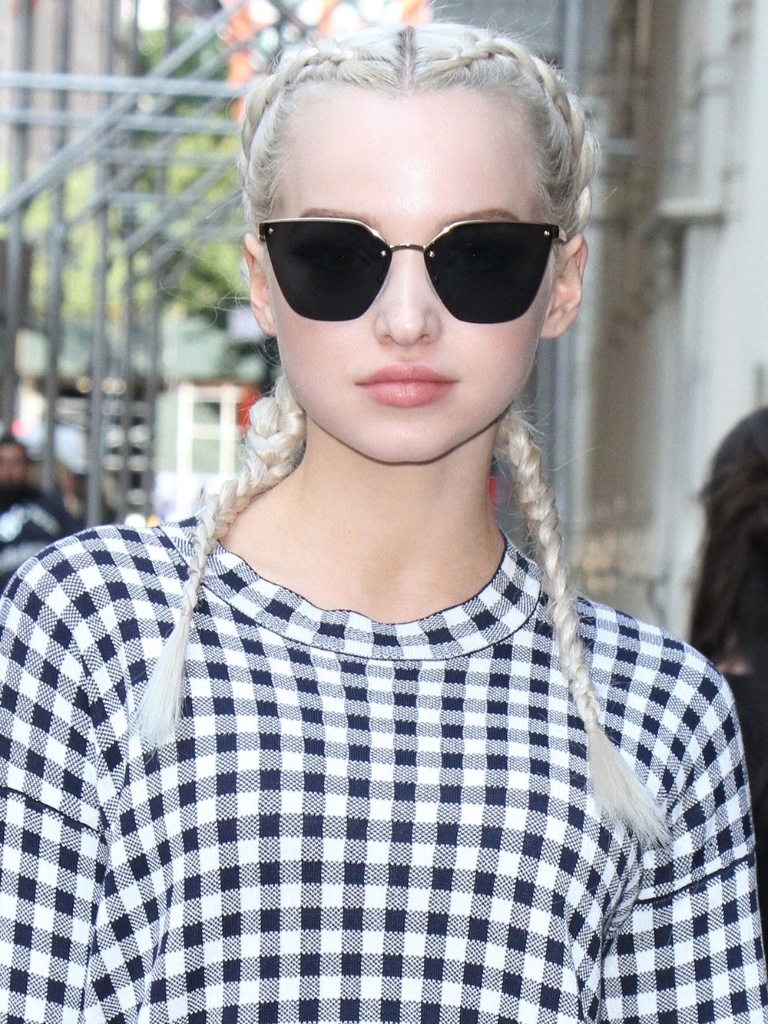 Dove Cameron shows us how fun it is to style silver blonde hair. Here, she's worked her impressive hue into budge-proof boxer braids.
Subtle Silver Blonde
Here's how to make silver blonde hair work for grown-ups! Rather than opting for an all-over bright silver blonde, go for this subtle ashy hue, that's full depth, dimension and sophisticated appeal.
Pewter Pearl Highlights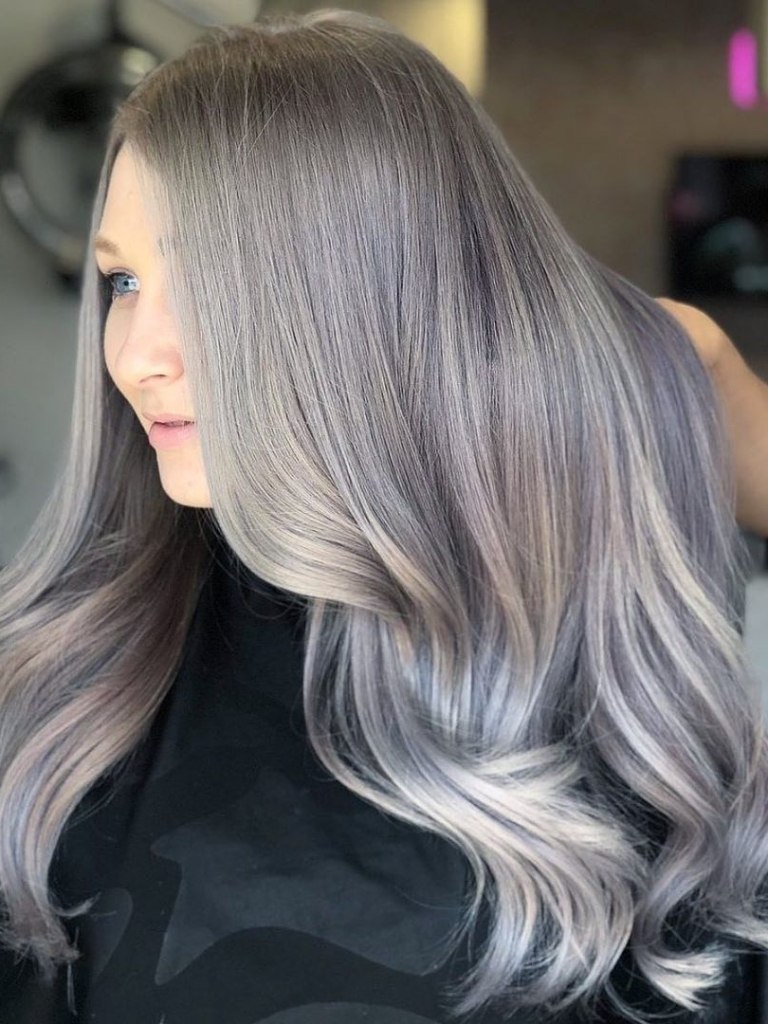 Go all out with this blend of silver, pastel pink and purple for a fun under-the-sea hue that even Ariel would be jealous of.
Silver-Blonde Curls
This Instagrammer proves that silver-blonde hair looks just as good with bouncy, natural curls.
If you look a little closer, you can see playful silver blonde and golden highlights at the tips of her brown hair, making this shade super unique.
Silver Ombre
If you've got dark brown hair, don't be afraid to experiment with silver-blonde ombre. Doing so will zhuzh up your locks and create a stylish, high-impact contrast.
Subtle Silver Foils
The trick to achieving this look? Foilyage (AKA foil highlights + balayage), which will give an outdated bronde 'do a new, modern lease of life and also make your 'do more youthful-looking.
Silver-Blonde Balayage
A gorgeous mix of silver-blonde highlights and balayage creates the perfect lived-in, beachy look.
Ice Cream Blonde
Mixing warm vanilla tones with silver-blonde hair creates the perfect summer shade: ice cream blonde. It'll do a great job of giving dull tresses extra depth and dimension.
Khaleesi Blonde
After a shade that looks warm enough to keep the cold away yet cool enough for a summer in Dorne? Try this! To really emit those Khaleesi vibes, just pair this eye-catching colour with a half-up, half down fishtail braid.
Silver and Lilac Babylights
Combine the right shades of steel and lilac babylights to create a deliciously dark hue that's all kinds of cool.
Steel Silver Blonde
Not-quite-silver, not-quite-blonde, this dazzling hair colour is exactly what you need to keep them guessing. Talk about #hairgoals!
Ice-White Silver Blonde
With hints of violet, this seriously bright silver-blonde dye job helps give this Instagrammer's wavy bob an ethereal, fairy-tale feel. Come festival season, it'll look amazing with glitter.
Silver-Blonde Highlights
Love this hair trend, but don't want to change your blonde locks altogether? Work in some silver-blonde highlights here and there, as Emma Willis has done with her pixie cut.
Sharp Silver-Blonde Hair
A much darker root keeps your silver blonde hair colour looking natural and totally beautiful. But, if you want to give your look extra edge, try teaming this volume-boosting hue (thanks to its placement) with an angled cut and see how you like it.
Silver Ash Blonde Gloss
If you have an ash-blonde shade but want to give your style a seasonal update, transform your look with a silver gloss finish.
Silver-Champagne Blonde
Blend champagne blonde hair with a soft silver tone to achieve this shimmering finish.
Colour-Change Silver Blonde
Silver-blonde hair may have a reputation for being a little cold… until now that is. Look how pretty this soft, romantic colour-change style is – consider us obsessed!
Prev Article
Next Article
Gallery
Dark hair with highlights: 8 Of the best A-list examples
Get ready to steal their celebrity secrets!
See article