15 transitioning hairstyles to help you slay your curl journey
About to embark on your hair journey? Here are some tried-and-tested transitioning hairstyles to help you make the change in style.
Transitioning to natural hair isn't the easiest of choices, not to mention the difficulty of trying to rock two different hair textures at the same time (awkward stages are inevitable!). And, that's why we've put together our favourite transitioning hairstyles from Instagram to help you through this period of hair trial-and-error.
So, scroll down and get inspired – and good luck with your hair journey!
15 easy transitioning hairstyles to make your hair journey a breeze
1. Low bun
Self-conscious about having some really curly strands and other noticeably straighter sections? We've got a good hack for that. Pulling your hair into a bun will bring it all together and conceal any contrasting textures. Sorted! Credit: @terri_ann_xx_
Editor's tip: Think you'd like to give this look a try? If you're wondering how you can get that high-shine, glossy bun look we'd recommend trying out the VO5 Frizz Free Cream.
Working just a small amount of this cream through your hair while styling will completely smooth down any frizz or flyaways and you can also top it up on dry hair during the day for on-the-go smoothing.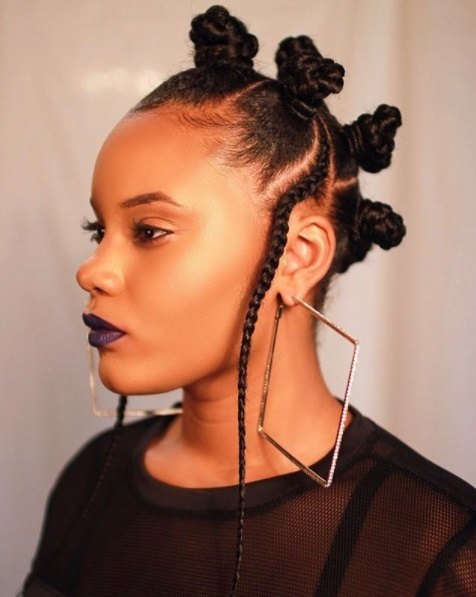 2. Bantu knots
Fun and playful, the protective abilities of bantu knots make them fantastic transitioning hairstyle. These mini twisted knots can be made as big or small as you like, just remember as you're dividing your hair up into sections that the more sections you have, the smaller (and therefore, more) bantu knots you'll have.
Try leaving a small amount of hair out of your knots at the front of your hair, so that you can add in an individual braided detail around your face. Credit: @christyclovere
3. High bun
The path to natural hair never did run smooth and there will probably be times when all you want is to get your hair up and out of your way; in which case, you should make a mental note of the fail safe ballerina bun.
Elegant but practical, it's both work and play appropriate and takes less than a minute to do. Credit: @curlygallal
4. The TWA
Ok, so this one isn't necessarily for the faint of heart, but if you're sick and tired of having to deal with two different hair textures, then you might want to consider going for the big chop and starting all over with a teeny weeny afro (TWA).
The big chop is exactly what you think it is: cutting off your relaxed hair, leaving only your natural hair texture behind to grow out again. Instantly, you'll be a full-on natural. And the best part? It's super low-maintenance too.Credit: @avielleamor
Editor's tip: Going natural is really exciting, but don't forget that natural hair is at higher risk of damage. This is because its coily texture makes it harder for oils to distribute through the lengths. Protect your curls by incorporating a leave-in conditioner into your regime to up the hydration and lower the chance of breakage. We love spray formulas like the TRESemmé Botanique Nourish & Replenish Hydrating Mist as it's super easy to pop in your bag for midday moisture touch-ups!
5. Box braids
On the market for long-term protective transitioning hairstyles that you can keep in for a good few weeks? Beautiful box braids might just be the answer to all your hair prayers.
Plus, they work on pretty much any hair length, and while they take a few hours to put in, once completed they're really versatile and low-maintenance, too. Credit: @breenylee
6. Cornrows
Cornrows, boxer braids (or whatever you like to call them) are one of our favourite transitioning hairstyles as it hides the hair texture change really well. It's a great way to keep your hair looking on point, be it at the gym or just out-and-about in town. Now, all you have to do is decide on how many you want, will you go for just 2 or an all over look like this Instagram stylista? Credit: @jadorebeauty
Become a boxer braid pro with help from our step-by-step tutorial, here.
7. Senegalese twists
Hair boredom is a very real thing, so if you've only ever worn box braids in the past and like how practical they are but want to try something different, why not give twists a try instead?
Senegalese twists (also called rope twists) allow you to try lots of different hairstyles, but can be quicker than box braids to install. Credit: @mariannedacruziam
8. Halo braid
Don't let the intricacy of this style scare you off, as the halo braid is easier to do than you'd think. It's a princess-worthy style that wouldn't look out of place at prom or a wedding, but once you get the knack of it you'll find yourself gravitating towards it all the time as it's such a pretty and practical look.  Credit: @braidsbybobbie
Read next: Halo braid how-to on natural hair.
9. Accessorise!
You don't always need to go to extreme lengths with transitioning hairstyles. To nail this look, all you have to do is distract everyone with your beautiful hair accessories! So grab your prettiest headscarves or headbands, and start wrapping.
You can create beautiful turbans or simply use your headband to hide your growing roots. Credit: @ku.chena 
10. Cute curls
For heat-free curls, try doing a cute twist-out or braid-out early on in the transitioning process. Curls are a great way of disguising the growing difference in your two hair textures and braid-outs and twist-outs will help make your curl pattern more uniform and manageable. Credit: @emazadilan
Editor's tip: To prevent your transitioning hairstyles from becoming frizzy as you take them out of the braids, apply a smoothing oil, like the TRESemmé Keratin Smooth Shine Oil, to your fingertips before you unravel your braids.
This will give your hair some slip while you undo them and give your curls a smoother, shiny finish and stop them becoming undefined.
11. Twisted updo
If you're a bit of a braiding aficionado and want a look that's really going to wow, get creative with a showstopping flat twisted updo that shows off your plaiting prowess. Play around with pomps, side buns or even an ultra edgy braided mohawk, the world's your oyster! Credit: @parlourrva
12. Wig
There's nothing wrong with wanting to have a break from dealing with your natural locks. The best way to do it? By trying out a protective wig of your choice, of course. Credit: @nyane

13. Sade braid
Follow this Instagram star's lead and channel Sade vibes with this easy braided ponytail. Using braiding hair extensions, you can try this easy, sleek hairstyle whenever you want to feel like a #girlboss. Don't forget the bobby pins! Credit: @kersti.pitre
Editor's tip: Transitioning hairstyles like this need hair gel to make them work. So, we suggest you try the Alberto Balsam Wet Look Gel to help you create it. Its long-lasting, non-greasy and will leave your mane with a cool wet-look finish.
14. Pineapple updo
Every naturalista loves a good ol' pineapple hairstyle. They're a great way to preserve your curls after a twist-out during the night, and also double up as a cute wearable look for the day. Credit:  @syanafromparis
15. Perm rods
Craving some serious curl definition? Regardless of whether you're a 4C or a 3B, you can get the beautiful bounce you desire with our easy perm rods tutorial, right now. Credit: @ahfro_baang
Prev Article
Next Article
Article
Black hairstyles: 7 Practical and protective ideas to try now
Who said protective hairstyles were boring?
See article