42 Fringe Haircuts for Everyone's Perfect Look
Bangs are back! In the UK, we call them 'fringes', and there are many styles that suit all tribes and tastes. According to Google, they are also one of the biggest hairstyles, with over 3.6k monthly searches in 2023.  
Typically, fringes fall just above or below the eyebrow, and there are many types of fringe haircuts to try. From classic side fringes to curtain bangs or even French girl ones, your options are endless — but the most important thing is to pick one that can work with your face shape and hair type. 
Here's our edit of the best fringe hair ideas to try. Read on to get inspired and discover our guide to getting bangs, below.
Classic Fringe
This classic style is always on-trend and flattering for all face types.
Curtain Bangs
Curtain bangs parted down the middle give off effortless '70s vibes, especially when teamed with some bedhead waves.
Wispy Fringe
Do you have fine hair? Wispy bangs are destined for your hair type and perfect for fringe newbies. Give your mane an extra help with Dove Intensive Repair Shampoo and Conditioner for stronger and healthier strands.
Piecey Bangs
Want to give your thick hair a refresh? Try getting this choppy fringe haircut done! It'll help you make the most out of your hair texture and garner you some serious compliments.
Straight Fringe
If you live for sleek and glossy looks, this straight fringe style is all you need to refer to. For sleek and straight strands use the TRESemmé Keratin Smooth Marula Oil Shampoo that gives long-lasting shine and smoothness.
Short Hair With Side Fringe
Side bangs feature a side part (hence their name!) and are the most universally flattering fringe haircut you can covet. The good news? They suit all face types, hair lengths and textures, too.
Face-Framing Fringe
Do you want bangs that will instantly add dimension to your face? Ask for a face-framing cut, like this one, and you'll be all set.
Mullet Bangs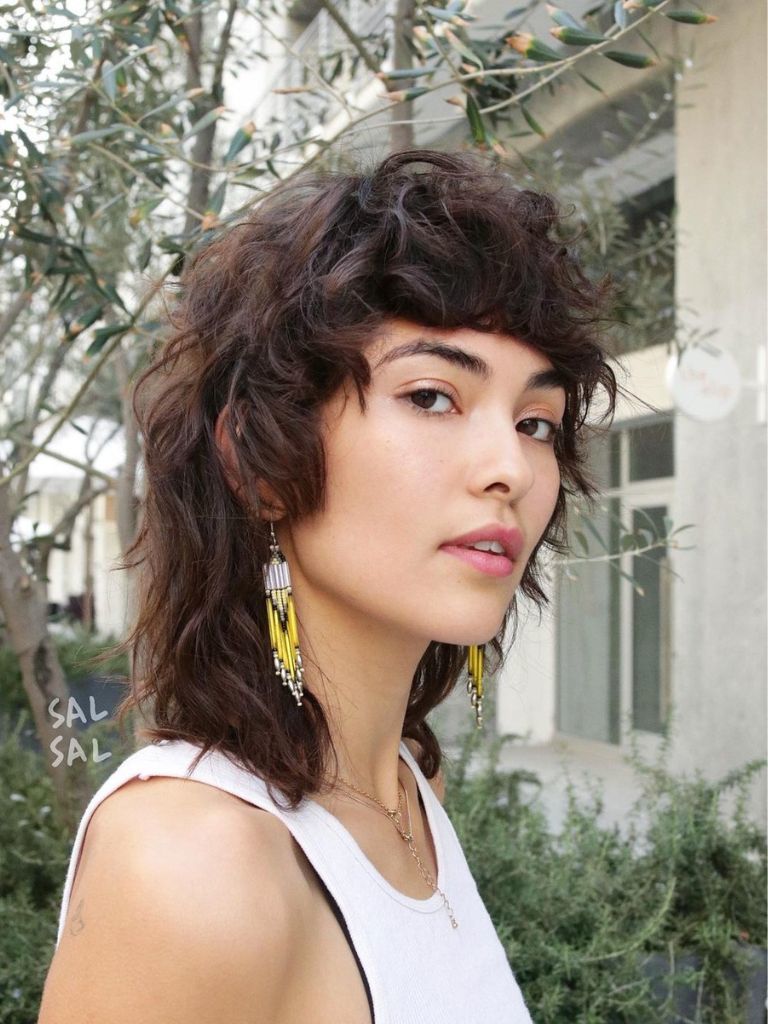 The mullet is making a comeback! If you're feeling brave, you can get one yourself and rock this textured, edgy bangs cut.
Dyed Bangs
Dyed bangs are taking over the internet. Add some colour to your bangs and take your look to the next level. This e-girl-inspired hairstyle is great to set the scene for this modernised social media-inspired look.
Heavy Fringe
It's official, heavy fringes are back and this time, they're not going anywhere. Classic full fringes can totally transform any cut and this street styler's mahogany tips give the look a fresh update.
Fringe on Natural Hair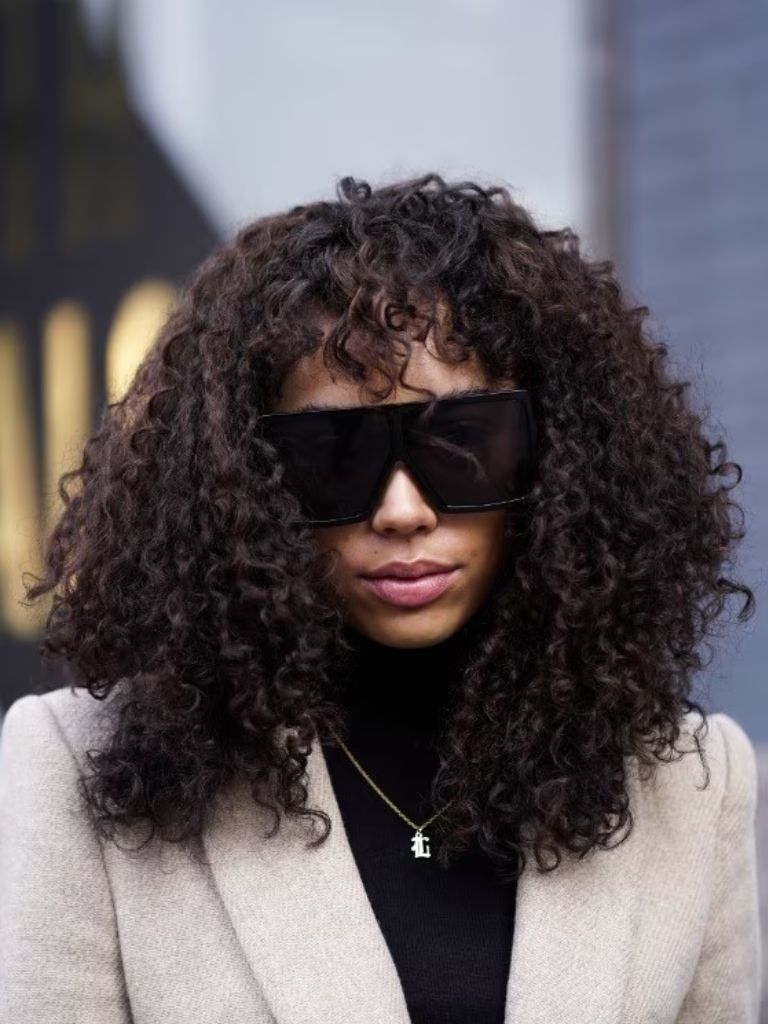 If you thought that hairstyles with bangs were strictly reserved for those with straight hair, think again. Adding a fringe is a flattering way of adding more shape to your coils and taking away some of the weight.
For bouncy and healthy curls, we love SheaMoisture Coconut &Hibiscus Curl Enhancer Smoothie.
Curly Fringe Hairstyle
If you're wondering how to style a curly fringe, just take inspiration from this gorgeous, curly updo with bangs.
Peach Fringe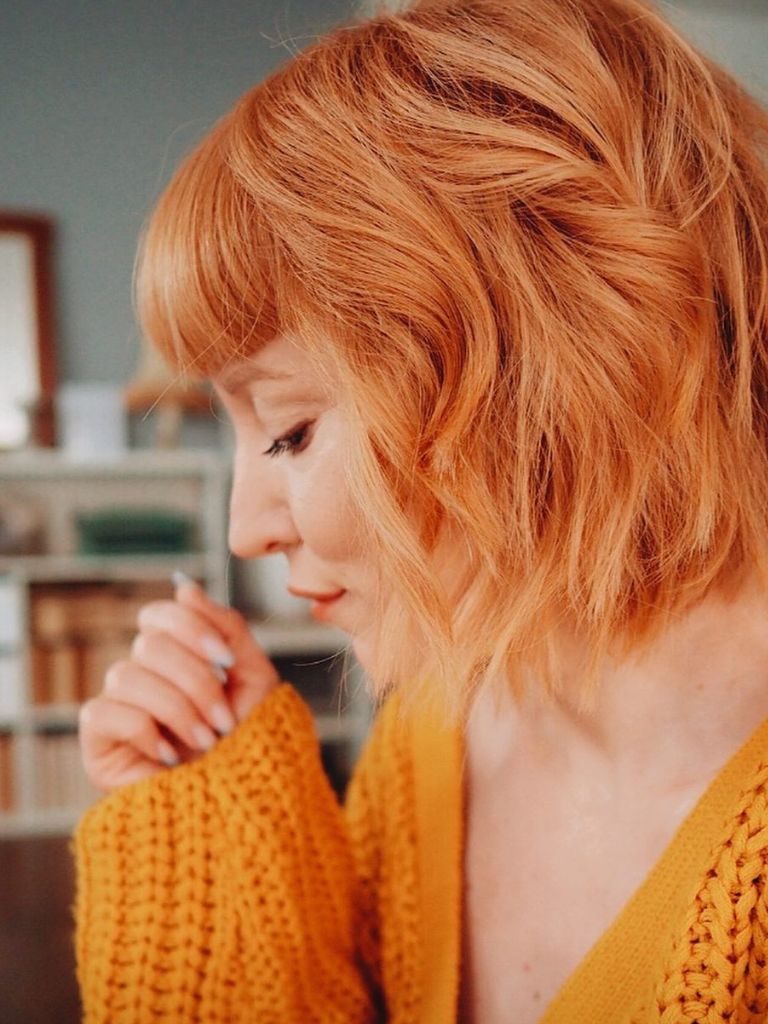 Fringes look good on any hair colour but when there are hues as pretty as this, how could we resist?
Eyelash Skimming Fringe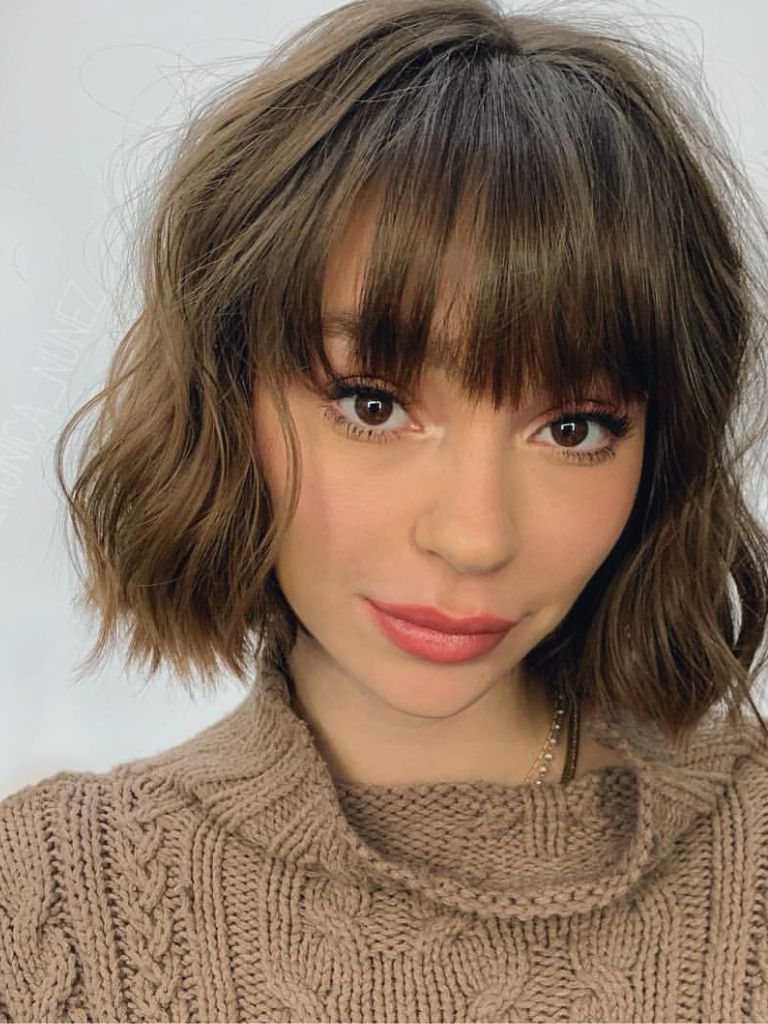 If the fear of going too short is what's putting you off, you can opt for longer, eyelash-skimming fringe styles that you'll be able to pin back if you have a change of heart.
Blunt Cut Bangs
Add a sharp straight-across fringe for an easy statement style for any hair length.
Rounded Fringe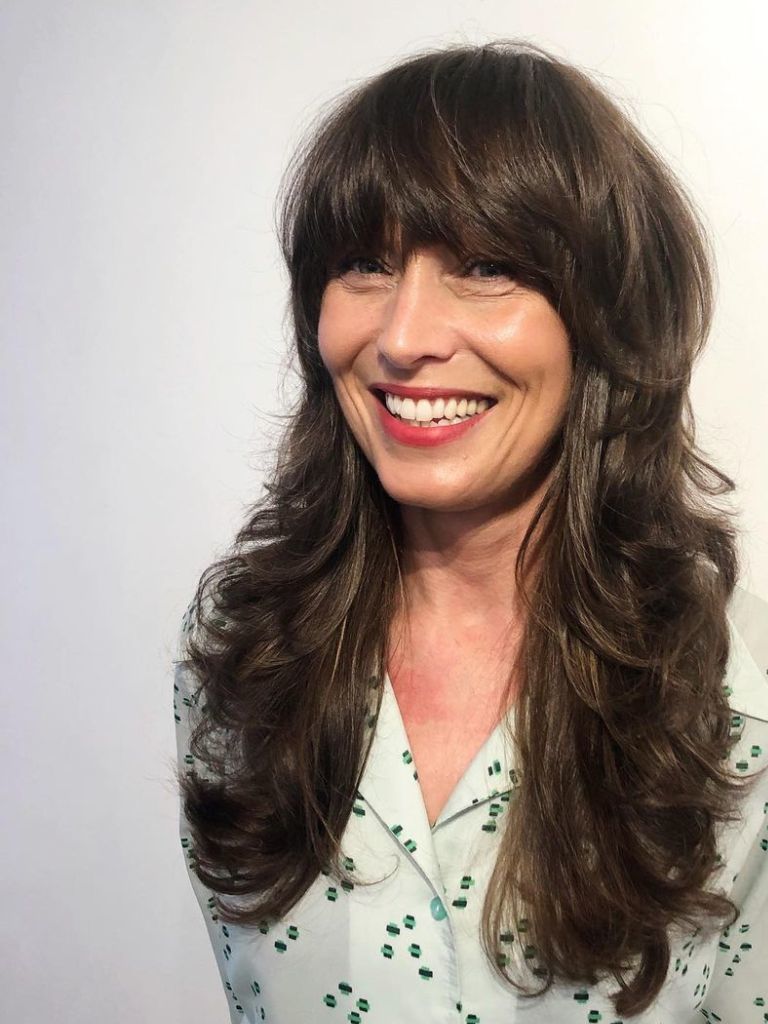 Using a hairdryer and a round brush to style your bangs will make sure there's no chance of your fringe ever looking flat.
'90s Tendrils
Ring ring! The 90s phoned and they're bringing the tendrils back. This face-framing fringe is great for all face shapes and works with a range of hair types and textures. Why don't you give it a try?
Full Fringe
Taylor Swift's signature soft, feathered fringe in a subtle side part with stunning side-swept waves looks absolutely fabulous.
Shaggy Fringe
With its gorgeously messy texture and casual full fringe, it's no wonder the shag cut is having a resurgence.
French Bob With a Fringe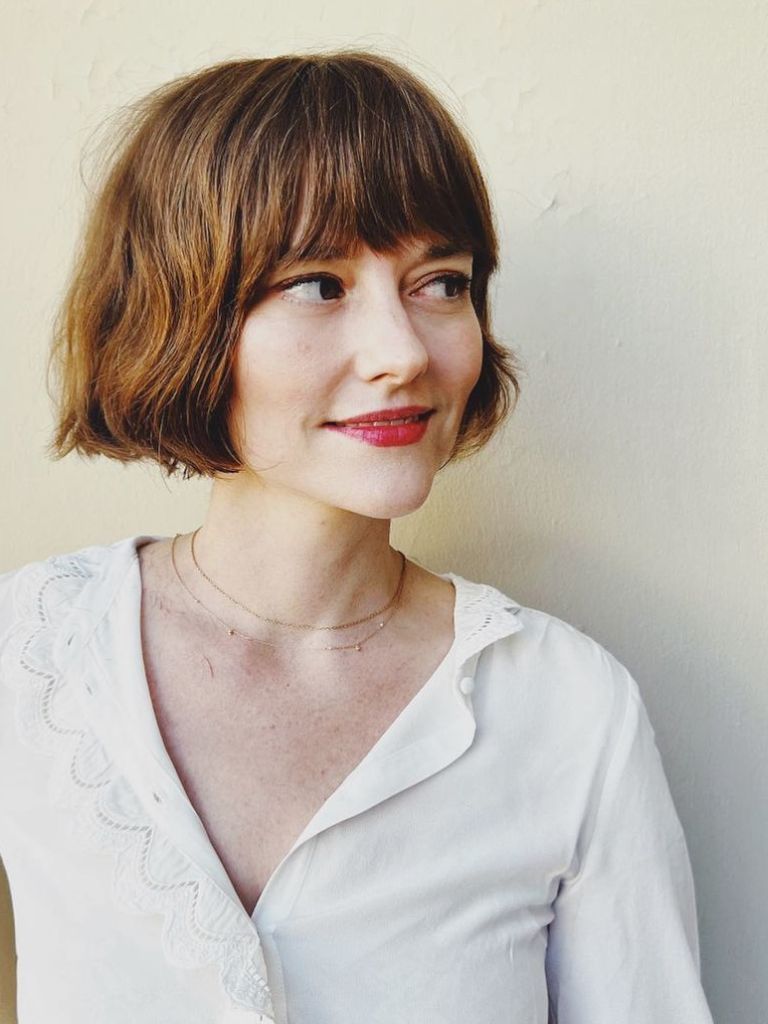 Team a chic, cheek-length bob with a fringe to emulate this classic Parisian style. Of course, deciding to take the plunge and going for short hair and bangs like this French girl-inspired hairstyle is a brave move – but we're confident that this bold, sophisticated and super stylish look will help inspire you.
Bombshell Bangs
Floaty, stylish and wearable, the bombshell bangs are a classic, and this 70s style has made it straight into the noughties.
Tinkerbell Bangs
Pair your top knot with face-framing side-swept bangs and you can easily go from day to night with this fairy-inspired look.
Baby Bangs
Not feeling a longer fringe? Less can be more with a gorgeous cropped fringe cut just above your brow line. The micro fringe (AKA baby bangs) is seriously cool right now, offering an edgy take on the classic full fringe which screams confidence.
Long Fringe
Balance out the look of a longer forehead with a long fringe and layers.
Audrey Hepburn Bangs
A true classic. Soften the look of an edgier short fringe by wearing it parted gently to one side.
Tapered Fringe
A tapered fringe is longer at the sides and shorter in the middle, perfect for heart-shaped faces.
Fringe for Fine Hair
Love the idea of a dramatic full fringe, but don't want the feeling of having most of your face covered all the time? Adding a small twist, like a centre parting, can tone down the harshness of some fringes while bringing a touch of sweetness and femininity to your style.
Long Hair With Fringe
Typically characterised by a strong and wide jaw, those with square face shapes can draw upon the power of bangs hairstyles to softly counteract their powerful features.
Short Hair and Long Fringe
A fringe can make a great addition to short hair and is a way to help you (and your stylist) give you a refreshed look that screams sassy and sexy at the same time.
Medium-Length Hair With Fringe
Editor's tip: Control your fringe but still retain some flex with the TRESemmé Extra Hold Hairspray. It'll give you a brushable finish, as well as ensure that your fringe is looking smooth and frizz-free all day long!
Black Hair With Fringe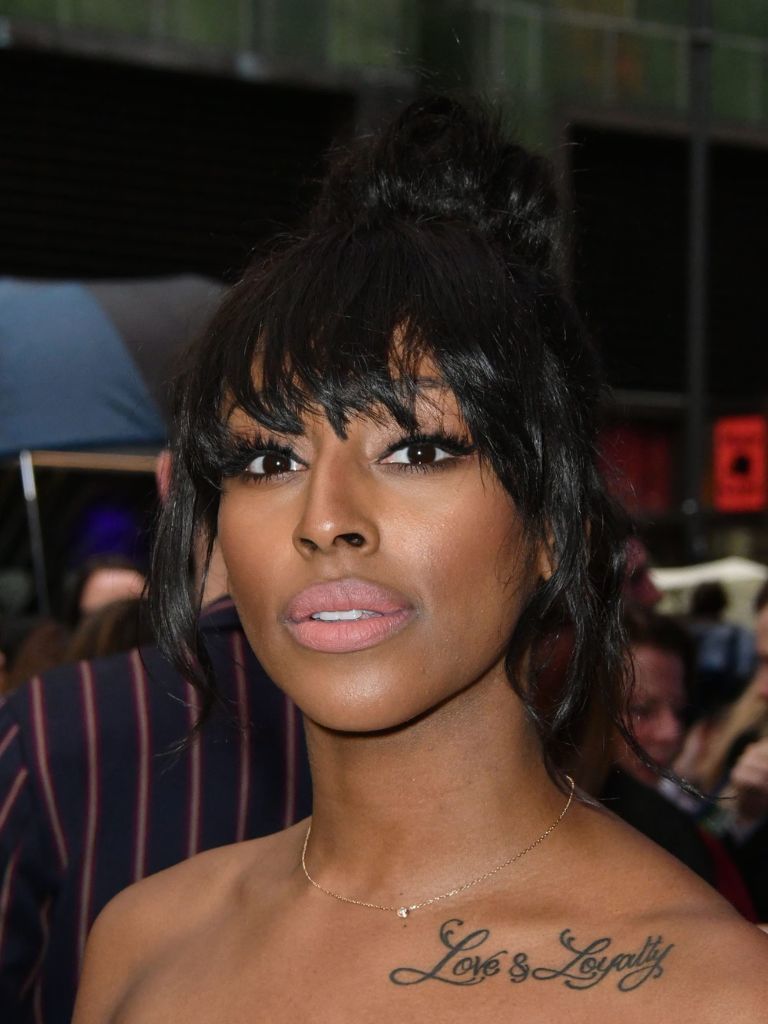 For a low-maintenance way to work hairstyles with bangs, we suggest opting for a length that is just below the brow and asking your stylist to feather in the centre section so that it feels light above your eyes.
Blonde Hair With Fringe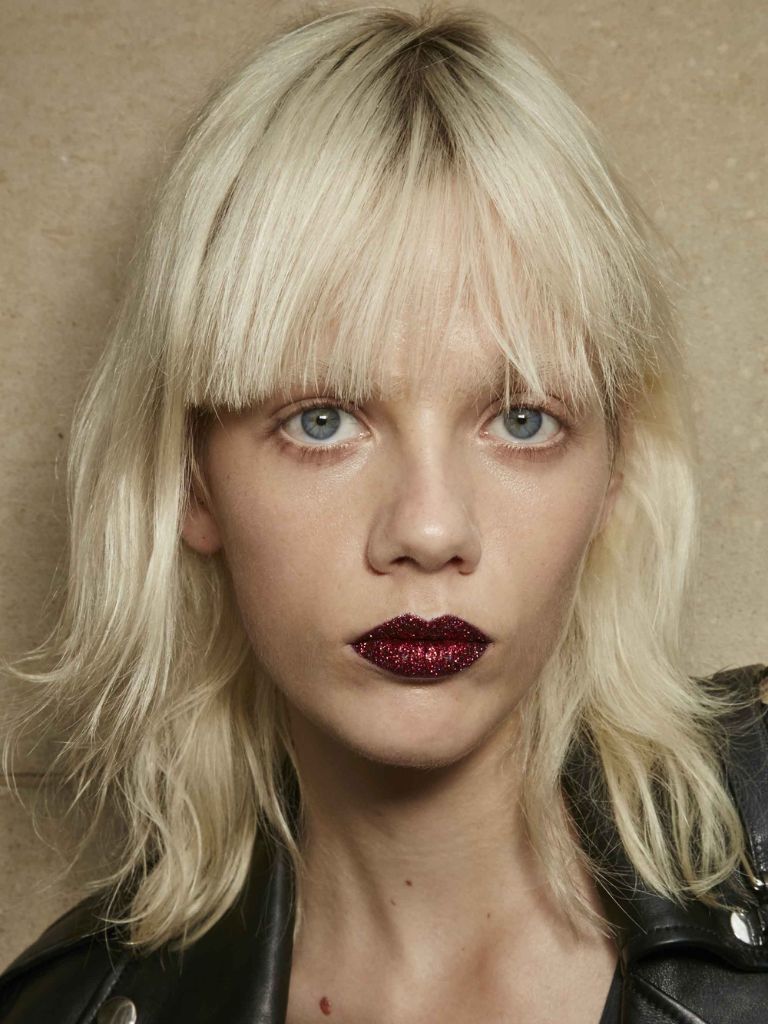 Short hairstyles can look just as good with fringe hair, and this pixie cut – complete with a full blunt fringe – just proves it!
Short Hair With Fringe
The trick to nailing a fringe when you have a round face is to opt for a daring, graphic look. This fringe haircut works especially well for thick hair, as it will appear less wispy and more structured.
Shoulder-Length Hair With Side Fringe
To get a lovely, soft finish to your hair, bangs can be swept to the side for a sultry, yet pretty way to rock the look! This is an elegant and flirty way to experiment with fringes and, if kept long enough, can even clip it back when you want to.
Side Fringe Hair
Psst: A side-swept fringe works amazingly well for all hair lengths, whether you have ultra-lengthy locks, medium tresses or even a cropped pixie!
Long Layered Hair With Fringe
This fringe hair look is often much easier to maintain than a full, blunt fringe, as it doesn't need to be super smooth or sleek to look great!
Full Fringe With Long Hair
If you're blessed with an oval face, you can feel safe knowing that every fringe type will not only freshen your style but will also flatter your face! But why not try opting for a fringe like Lea Michele? Because it hangs just below the brow, you can wear it straight with a middle parting, or swept to the side whenever the mood takes you!
Romantic Side Fringe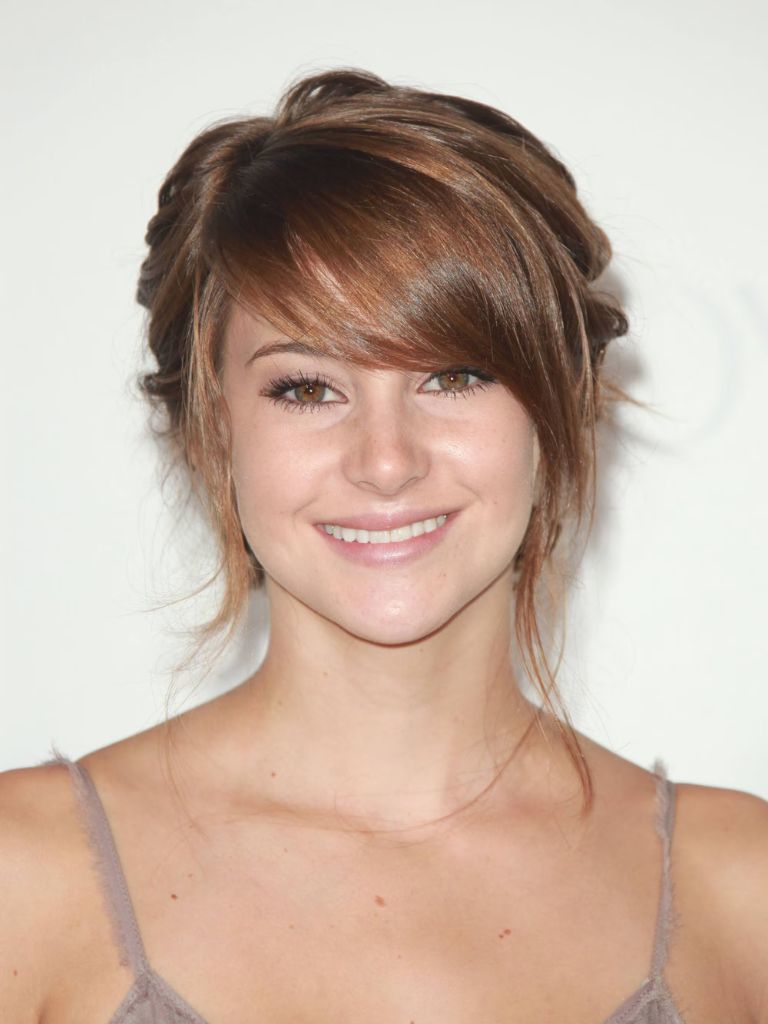 Looking to grow out your fringe or not sure if you're ready for bangs? A feathery, swooping, side fringe is a natural way to transition or to experiment idea of a fringe.
Wavy Hair With Fringe
Whether it's a new fringe you're after or you're battling hair boredom, this long fringe look is sure to shake things up for your style!
Hair Up With Fringe
Messy textures are great for giving off some serious cool girl vibes. It works so well with a cute micro fringe and face-framing tendrils.
Natural Hair With Bangs
Don't be fooled into thinking that natural and curly-haired girls can't rock bangs. Just remember to get a curly hair specialist to cut your hair into a fringe!
Fake Bangs
Loving these fringe ideas? Still not sure if you're willing to part with your hair? Bangs needn't be scary because you can simply fake it 'til you make it with this easy, faux fringe.
Just create a high ponytail and flip your hair forward to create the illusion of a fringe. Then tie a bandana or scarf to finish off the look.
'Can I Pull off Bangs?' and Other Frequently Asked Questions
To fringe or not to fringe… that is the question! Over time, we've all faced many a fringe-hair dilemma; wondering what fringe hairstyle to try and whether or not it will suit us.
Can I Pull Off Bangs?
Of course! The great thing about fringes and bangs is that there are just so many different styles available that almost anyone can pull off bangs.
What Kind of Bangs Should I Get?
Blunt fringes look great with heart-shaped faces, while oval faces can pretty much wear any style of fringe cut (lucky!).
Micro fringes work well with glasses but if you have a fuller face shape you might want to consider a soft wispy fringe or side fringe hairstyle.
How Do You Manage Fringe Hair?
Managing a fringe doesn't have to be difficult. As they're constantly touching our faces, fringes tend to get greasy more quickly, so washing just your fringe will help with this.
Use dry shampoo to refresh your hair in between washes and keep grease at bay.  And finally, blow dry your fringe to give it body and fullness and try using rollers to fight a flat fringe!
How Do You Know If a Fringe Would Suit You?
Try a fake fringe before you take the plunge and cut your hair! It's a great way to figure out if you're ready to cut your hair without actually cutting it.
Prev Article
Next Article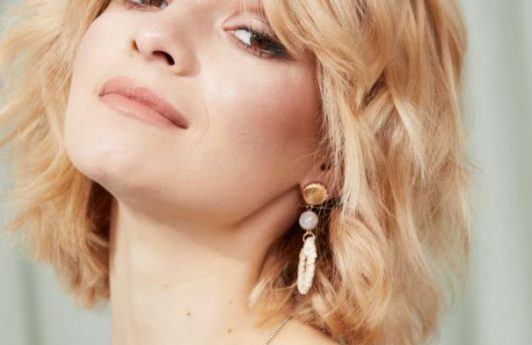 Look Battle
Bobs vs. Bangs
Feeling a bit confused by the different hair terminology? We understand. In a world where there are new styles being created every day, it can get a bit overwhelming. But fret not, as we're here to help clear the air and educate you on the must-know hair terms. Today's lesson: bobs vs. bangs. Bob Hairstyles […]
See article