Heated rollers: A beginner's guide
Ever wondered how to use heated rollers properly? We're here to help!
If you love the look of big, soft curls or glam waves, then it may be worth considering making heated rollers your new best friend! Once considered a bit of a throwback to the age of super hot ceramic irons, these curling tools are actually slowly making their way back into the spotlight as many have come realised how useful they are for creating modern and easy hairstyles. But if you've never used them before, you're probably trying to figure out how they work in order to create looks you've been drooling over. Well, wonder no more: we've put together a quick, comprehensive guide so that you can brush up on your knowledge of heated rollers. Read all about them now, below, and get rolling!
How to use heated rollers like a pro
Choose the right size
There are various sizes of heated rollers out there; from narrow ones, around 20mm in diameter, to chunkier versions that can go up to 60mm or more! As you may have guessed, every size produces different results, as each type of heated roller is designed to help create a very distinct look. Small rollers will form tighter curls that will stay in place longer, while larger rollers will produce bigger, defined waves.
Start from the top
When you start curling your hair with heated rollers, you absolutely do not want to begin with the lowermost strands – although that's what most people tend to reach for, first. Instead, the trick is to work your way down from the top to the sides of your head. Start with the highest sections of hair, near your forehead, using the largest rollers you have. Then work your way around your crown and down the back, in a straight line. Finally, tackle the sides, going down gradually. Remember: the lowest parts of your locks should be done last.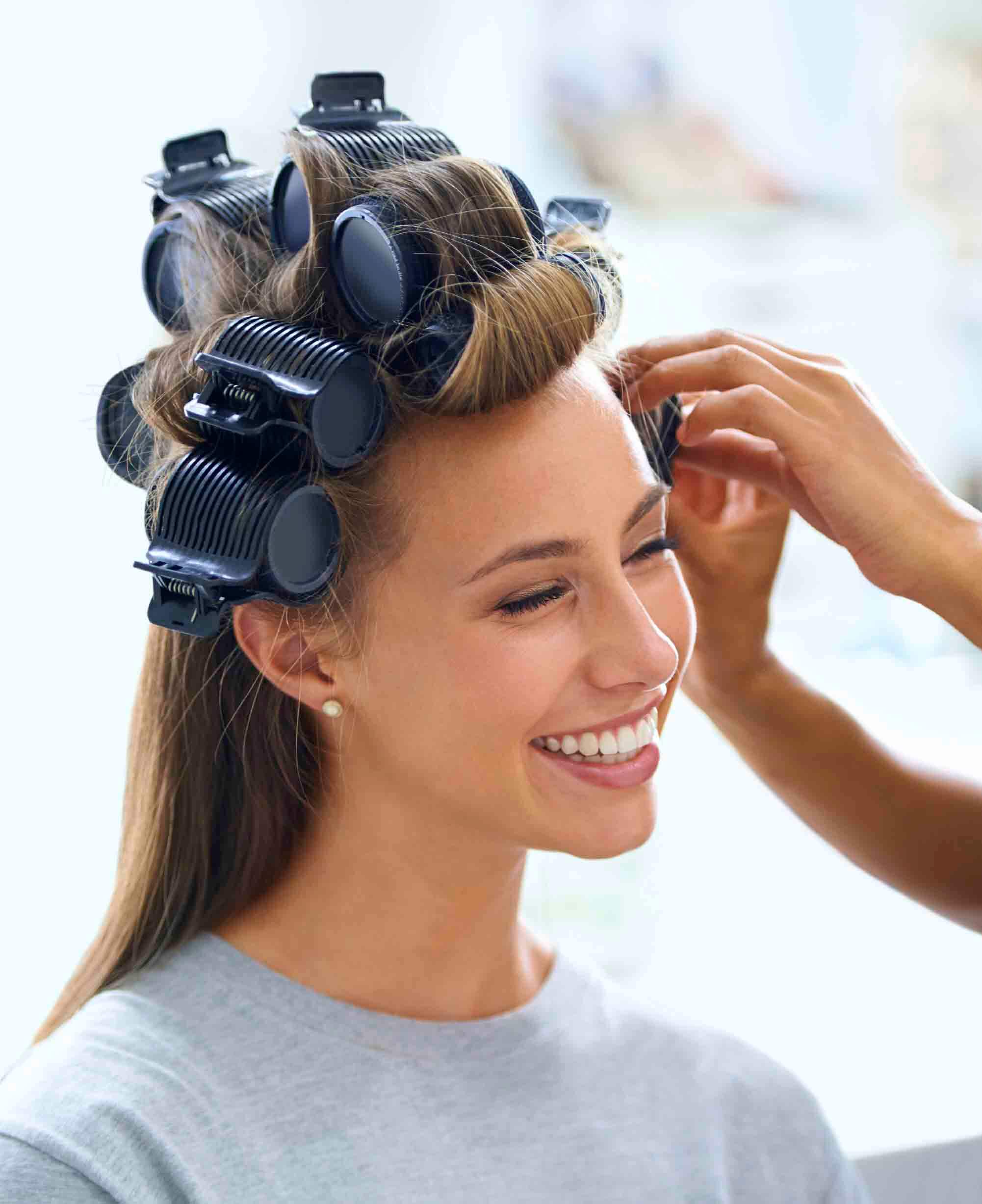 How to roll a roller
Struggling to get your hair around your heated rollers? Here's a simple way to do it: position the roller at the ends of the portion of hair you want to curl, then start rolling upwards until you reach your scalp, before clipping it in place. Just make sure that the rollers on the sides sit horizontally for the most uniform curls. Another tip worth noting, is that if you have heavily layered locks, it might be an idea to give your sections a once over with TRESemmé Runway Collection Get Sleek Creation Hairspray (£5.99*) to help hold those layers together for ease of rolling, while also ensuring those curls you create stay in place for longer, as well.
Use your fingers
Once all your heated rollers have cooled down (this usually takes about 30 minutes), gently remove them and tease out the curls to soften them up and create a more natural, beachy look. Just work through your hair with your fingers, gently breaking up those perfect-set curls, as this will help create the style without loosing that coveted bounce and shape.
Want more info on how to use heated rollers? Then follow our simple step-by-step guide!
*RRPs are Unilever suggested retail prices only, it is at the discretion of the individual retailers to set the actual price.
Prev Article
Next Article
Tutorial
1970s: Paige Joanna's groovy half-up, half-down curls
Get the best of both worlds with this sweet '70s hairstyle!
See article