Video: How to Cut Your Hair
A quick, simple and easy technique to cleaning up those split ends in a pinch.
Now that you've mastered cutting our own bangs, probably next up on your personal lockdown bucket lists is learning how to cut your hair at home. Seeing as we're looking at another few weeks or so of staying at home, knowing how to properly freshen up those ends—whether for general maintenance, economical reasons or because of a gnarly split-ends situation—is key to keeping our overall look fresh and well-groomed.
But before we all go snip-happy with the shears, we're here to level-set a bit: This method is by no means a full-on substitute for a real, professionally done haircut. "There's a reason your stylist went to school and got certified for this kind of thing," Unilever In-House Stylist Bailey Pope asserts. "When your stylist cuts your hair, they're considering a lot of different things, like your hair type and hair density."
Nevertheless, we're all about having these essential grooming skills under our belt, because hey, it can't hurt! Not only will it help you take charge of your own ends in the future (and even save you an otherwise superfluous trip to the salon), but knowing how to cut your hair can also prove invaluable in an emergency hair situation (like, er, now). Scroll on and see as Bailey takes us through the correct way to give ourselves a self-trim in a pinch (and finally see the point-cutting technique in action!):
How to Trim Your Ends, by Bailey Pope as told to All Things Hair
What you need:
A comb
Sharp scissors ("If you don't have hair shears, you're going to want to look for the sharpest pair of scissors that you have," Bailey says)
Clips for sectioning
What to remember:
Clips are important, as they help isolate and organize the hair you're currently working on.
Cut hair after drying and styling as you usually would. Wet hair can shrink up after drying, increasing the risk of going too short.
Step 1: Wash and dry as usual. Ed's note: We love the smoothing benefits we get from Suave Professionals Lavender + Olive Oil Frizz-Calming Shampoo and Lavender + Olive Oil Frizz-Calming Conditioner, a duo that visibly tames frizz and replenishes moisture.
Step 2: Section hair in half, straight down the back of your head.
Step 3: Rope-twist and then clip up two sections, right above the ear, to isolate the nape area (You should end up with something resembling a half-up space buns hairstyle).
Step 4: Comb the loose hair in front of your shoulders, then clamp and drag hair downward between your forefinger and middle finger until ¼ to ½ inch of ends are left.
Step 5: With scissors at a 45-degree angle, create a soft square line using uniform small "point cuts," (Ed's note: or small vertical cuts "into" hair to texturize and lightly remove bulk from the tips) following your current shape, a.k.a. the last shape your stylist created on you, as your reference. See how Bailey does it in the video above!
Step 6: Repeat on the opposite loose section.
Step 7: Depending on your hair density, you might want to extract another small section from your space buns and repeat; otherwise, drop all the hair, and follow the line you just created in Step 5.
Step 8: Comb down and use your fingers to loosen up your lengths to assess.
Step 9: You're done! Finish with a shine spray, like Bed Head by TIGI Headrush Shine Hair Spray, to really make those locks gleamy and healthy-looking.
Good luck with your D.I.Y. haircutting session, and don't forget to tag @allthingshairus in those Instagram selfies!
Prev Article
Next Article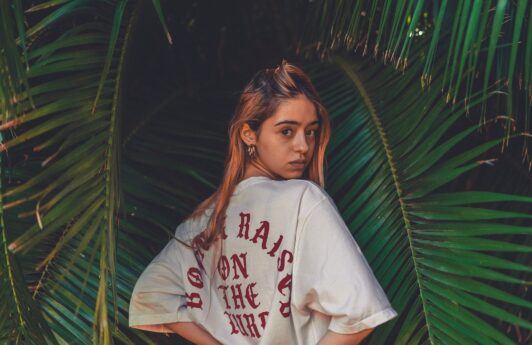 Article
How to Hide Roots Without Dyeing Your Hair
Figuring out how to hide your roots as you grow out your hair can be quite a challenge. Now, grungey grown-out roots are actually pretty on-trend right now, so you could just embrace them, but if that's not your vibe, we're here to let you know how to hide roots. Dyeing your roots at home can be […]
See article
All Things Hair on Instagram