Gary Barlow shocks fans by unveiling new bleached blonde hair!
Could the blonde be back for good?!
Over the past few years, we've got used to seeing Gary Barlow rocking neat, short hair. However, long-time Take That fans will know that the singer hasn't always been quite so clean cut…
We'll Never Forget (ahem) the singer's wacky flat top and punky spikes from his '90s style. But just when we thought the star had put his wild hair days behind him, he's gone and changed up his look completely!
In honour of Take That's current tour, 46-year-old Gary has decided to take fans on a little trip down memory lane, going back to his boyband roots and dyeing his hair a bright PLATINUM blonde! Take a look…
Gary Barlow wows fans by dying his hair bleach blonde
Gary first shared a glimpse of his new 'do with fans on Twitter, posting the above selfie alongside the caption: "Having much more fun with blonde hair!".
As you can see, he's ditched his dark hair and is now rocking a daring bleached blonde hue that subtly contrasts with his light beard. However, it's not just the colour of his hair that's changed, oh no!
The singer has also traded in his signature cut for an edgy, spiked-up mohawk that just screams rockstar! Credit: @GaryBarlow
Gary later shared another snap, giving us a closer look at his new haircut. He's had his mane cut into a trendy faded quiff, with just the top layers of hair bleached, showing off his naturally dark hair on the closely cropped back and sides.
Now, only time will tell whether bright new hairdo is here to stay, or if it's just for the duration of the tour. However, with stars like Kayne West and Orlando Bloom also recently going ice blonde, we might just have a trend on our hands! Credit: @GaryBarlow
Editor's tip: Has Gary's new 'do inspired you to trial a platinum hue this summer? If so, it's worth investing in a colour protection hair care range, to ensure your colour lasts as long as possible. We recommend the TRESemmé Colour Revitalise Vibrance Protection Shampoo and Conditioner, as they work to thoroughly cleanse the hair, while also helping to reduce colour fade.
So, what do you think of Gary's bleached blonde style? Whether you love it or loathe it, let us know over on Twitter @AllThingsHairUK – we love hearing your thoughts!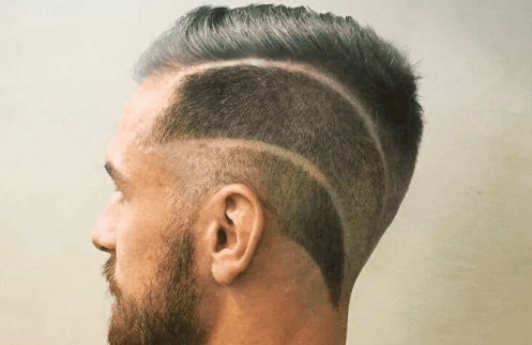 Article
Aaron Ramsey's new silver hair has got everyone talking
The Arsenal footballer takes the grey hair trend to the next level. 
See article