Super sharp fade haircuts for every man
Wondering which fade is the best options for you?
Fade haircuts are, without a doubt, one of the most stylish and on-trend looks right now. And thanks to imaginative barbers who aren't afraid to experiment, no two fade haircuts are ever the same. Question is: how do you know which is the one for you? Read on to discover some of the sharpest versions of the look and get inspired for your next barber visit now.
6 Fade haircuts to inspire
Classic fade
If a neat and timeless look is what you're after, you can never go wrong with a classic fade cut. With the hair tapered to the skin meeting your natural hairline, it's best to keep the top part of your mane to around half an inch or so long.
Tip: style your hair while it's damp using VO5 Groomed Styling Wax (£2.99*) for a cool, polished look that holds. Credit: @mr.navarrobarbearia
Low fade
The low fade – just like many other fade haircuts – gives you the freedom to choose how exactly you want to style it. One of the key characteristics of this hairstyle is that the hair fades on the back and sides to disappear quite naturally an inch or so above the edge of the natural hairline. But apart from that, you can choose how long or short, neat or messy you want to have it. Just don't forget to seek your barber's advice on what might work with your natural textures and desired length. Credit: @edwardklipperhands
Mid fade
Mid fade haircuts have the back and sides shaved extremely close to the skin. And as you have probably already guessed, it's a style that originated in the military. Sharp, precise and extremely clean, the look is now an increasingly popular option for anyone who wants a dapper do that doesn't require much styling or maintenance. However, if a more dramatic, contemporary look is what you're after, why not keep the top section longer and use the Toni&Guy Mens Styling Fibre (£6.99*) to help shape and hold your quiff! Credit: @jenna-herrington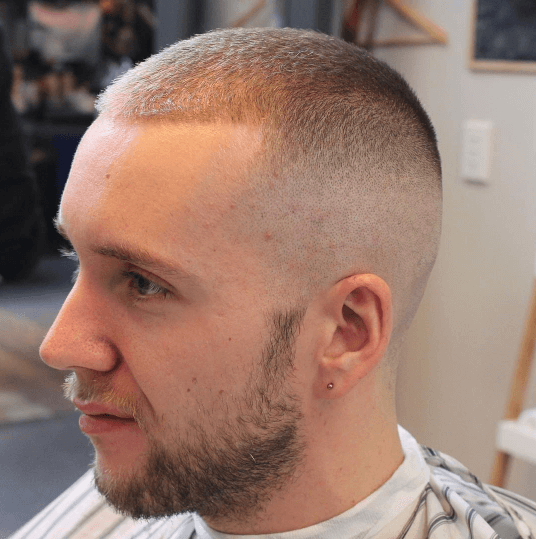 High fade
In search of a bolder and fresher version of a fade haircut? Go for the high fade! To create the cut, keep your hair high and make sure the fade stops around 2 inches below the topmost part of your mane. While it does lend itself for pairing with a super short top, this style actually works really well with textured or curly hair that's been left a tad longer, giving it a polished and sharp look. Credit: @boar_and_blade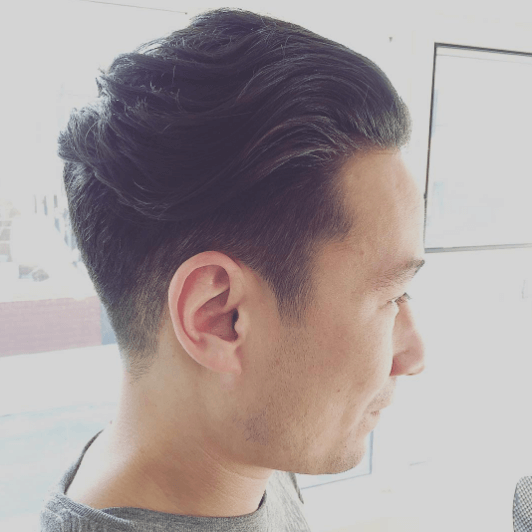 Taper fade
Taking its cue from the ever popular undercut, the taper fade is a much sought after hairstyle. Instead of creating a sharp separation between the upper hairline and the faded areas, getting a taper fade involves cutting the length gradually, and eventually fading into the skin. This haircut is also a versatile choice as you can choose the depth of the taper to create the look you want. Credit: @dnasalon
Scissor fade
Unlike other fade haircuts that are usually created with clippers, the scissor fade is – yep, you guessed it – cut using scissors. As it takes some real skills, you'll want to find an experienced barber who really knows what he's doing. With a longer fade than the others, this fade haircut is best styled with a casual texture – which can be achieved with a bit of TIGI  resulting in a more relaxed, natural overall look. Credit: @amandapowerhair
*RRPs are Unilever suggested retail prices only, it is at the discretion of the individual retailers to set the actual price.
Prev Article
Next Article
Gallery
5 new men's styles to ask for at the barber shop
It's time to pay your barber a visit!
See article