Beard Grooming Tips: How to Maintain a Brilliant Beard
Learn how to grow and maintain a great beard with our essential beard grooming tips and video tutorials. 
The art of growing, maintain and styling facial hair (also known as beard grooming), doesn't need to be a complicated affair.
In fact, with our beard grooming tips, product recommendations, tutorials and videos, looking after your beard, moustache or stubble has never been easier!
1. Wash Your Beard Regularly
Washing your beard regularly will help remove any product build-up and residue. This will also make it easier for your beard oil to penetrate and make styling easier.
2. Master How to Wash Your Beard Effectively
Washing your beard regularly might seem like an easy task, but if not done properly can take your beard game down a notch.
To wash your beard the right way, start by investing in a good beard cleanser.
For short beards, using a foam cleanser like the TONI&GUY Cleansing Beard Foam is great for washing your facial hair while nourishing the skin underneath.
Fuller beards can benefit from using a special beard shampoo like the TONI&GUY Cleansing Beard Shampoo. This product will help you thoroughly wash your beard but without stripping your hair of its natural oils.
Wet your hands with warm water.
Apply a small amount of the beard foam or shampoo to your hands and gently massage into your facial hair.
Once the product has lathered and you have cleansed all of your hair, rinse with warm water.
Pat dry and follow up with the TONI&GUY Nourishing Premium Beard Oil or TONI&GUY Softening Premium Stubble Oil.
3. Understand How to Apply Beard Oil
As the name suggests, beard oil is an oil that you apply to your beard. It's a great way to give your beard some sheen and keep it feeling soft and supple, as well as add moisture to the skin beneath.
If you are not sure how to apply it properly, we have a simple step-by-step you can follow:
The best time to apply your oil is after a shower/bath as your hair will be clean and easily absorb the oil.
Apply 2-3 drops of beard oil in the palm of your hand (you can always add more if you need).
Warm the oil by rubbing your hands together. Make sure you coat your hands evenly.
Work your hands through your beard, brushing the sides of your beard, the front and also your moustache.
Comb your beard to distribute the oil and style your beard.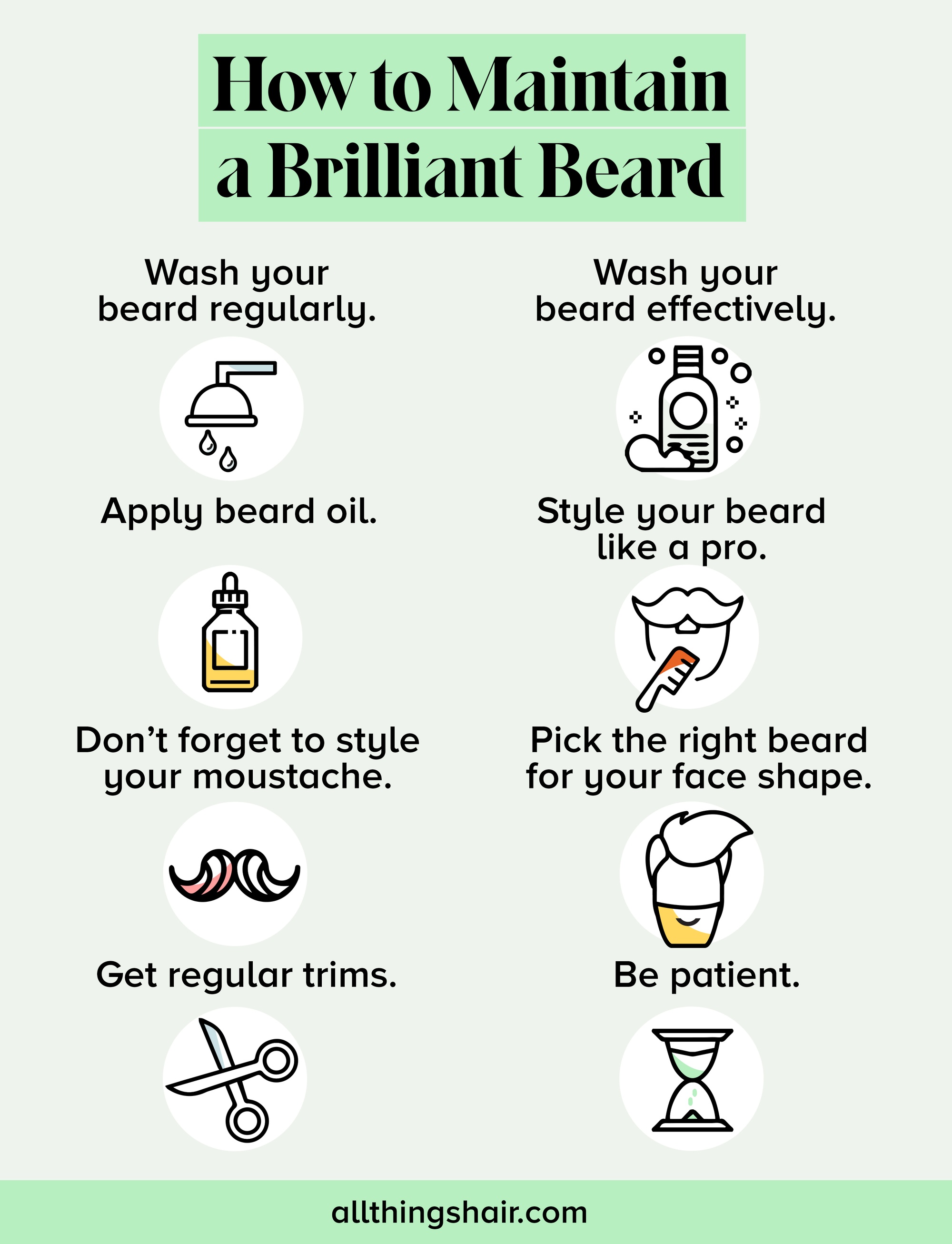 4. Learn How to Style Your Beard like a Pro
To style longer facial hair, use a beard balm for more control. The TONI&GUY Frizz Taming Beard Balm is perfect for adding moisture and will help keep your beard soft and shiny while minimising frizz.
Apply a small amount on your palm.
Warm the product between your hands and apply to your beard.
Scrunch the product in and style using your hands or a comb.
5. Don't Forget to Style Your Moustache
For moustaches, use a wax formulated especially for facial hair like the TONI&GUY Styling Moustache Wax. This fragrance-free wax gives firm yet flexible hold and easily washes off without leaving any residue.
Warm a small amount of the product between your hands gently work through your hair.
Rub a little more product between your thumb and index to further groom your moustache.
Use your fingers to style your hair into sophisticated tapered points.
6. Pick the Right Beard for Your Face Shape
Just like the hair on your head, you need to pick the best beard style for your face shape.
Don't worry about your jawline, there are many different styles out there for you to pick from that'll complement your face and look.
7. Get Regular Trims
Make friends with your local barber and get regular beard trims. Remember: this will help keep your beard look groomed and neat.
8. Be Patient
Growing facial hair (whether it's a beard or a moustache) does take a little bit of time. But be patient and resist the urge to just shave it all off! For more tips on how to grow a beard, consult with our video, above.
Prev Article
Next Article
Gallery
Runway report: 5 showstopping hairstyles from Milan Fashion Week you'll want to try
The runway hairstyles we can't wait to get our hands on!
See article