25 elegant wedding updos for long hair
Make your wedding day extra special by wearing one of these bridal updos for long hair!
Looking for the ultimate wedding updo? Also dealing with Rapunzel-worthy tresses? Luckily for you, we're stepping in to help relieve some of your pre-wedding jitters with these idyllic wedding updos for long hair.
Click through our gallery or scroll below to see all of our beautiful bridal updos for long hair.
25 wedding updos for long hair you can always rely on
1. Rapunzel braid
When it comes to wedding updos for long hair, braids are definitely a top pick for the aisle. Our current fave (and soon to be yours, FYI!)? This ravishing Rapunzel braid. Credit: @chialimengartistry
2. French braided ponytail
You wouldn't call this French braided ponytail basic, would you? With its romantic waves and pretty braid detailing, you'll be ticking all the boxes when it comes to #hairgoals.
Editor's tip: The secret to braided wedding updos for long hair? Texture, of course!
The TONI&GUY Texture Creation Hairspray is all you need to give your mane extra definition and texture, plus it'll give you the grip needed to create the perfect plait.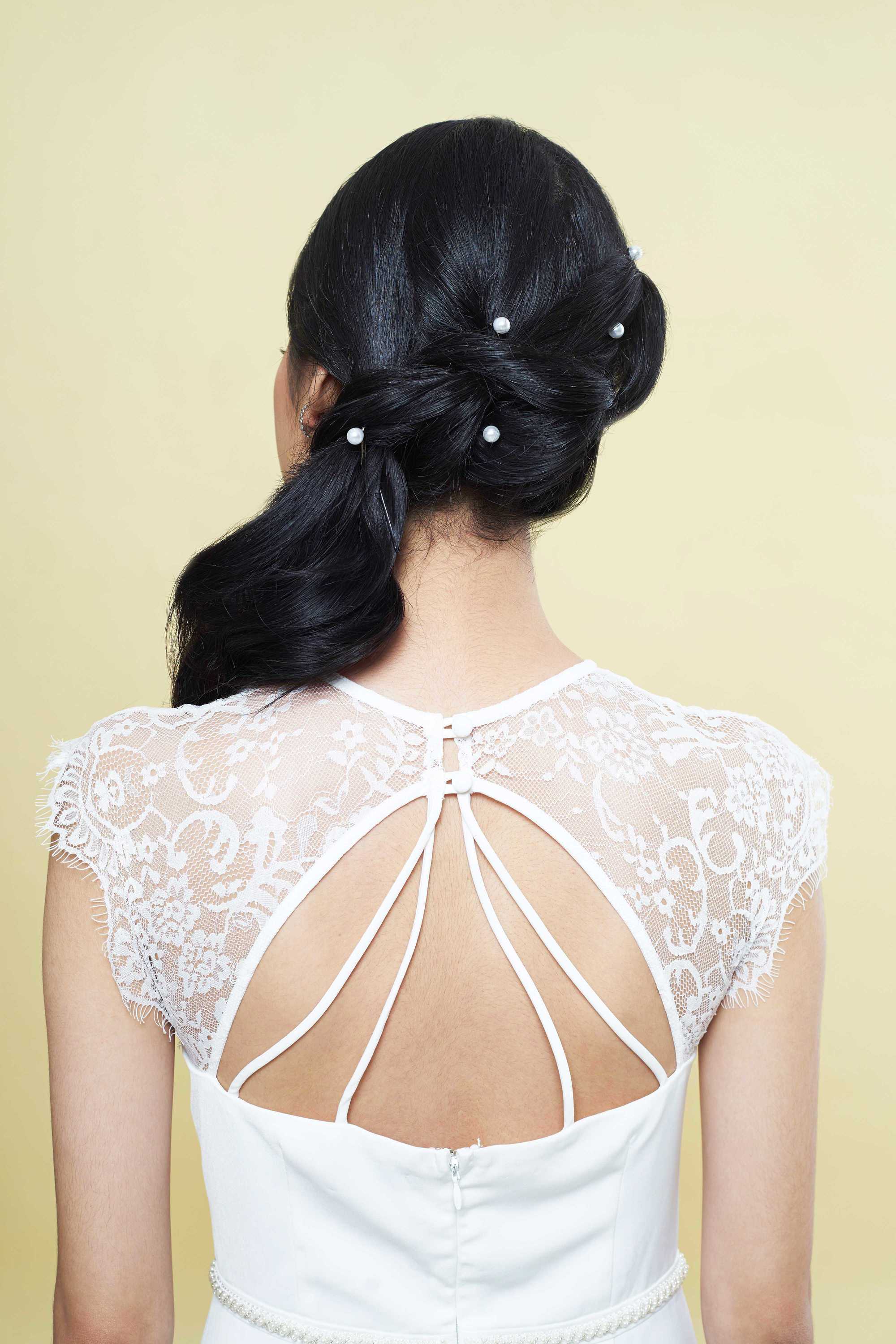 3. Twisted ponytail updo
Can't braid? Don't fret: this elegant, twisted ponytail updo is super easy to DIY and decorate (be it with pearls or flowers).
4. French braid
If you're looking for long hair updos for a wedding and want to match it to the neat detailing on the back of your dress, the French braid is a solid choice.
Classically chic, it'll allow you to make the most of your bridal gown, while also showing off your intricately woven strands. Credit: @aurorabraids
5. Flower braid
Feeling inspired by this season's flower trends? Then you'll be excited to discover that flower braids, like this rose braid, are the latest plait style brides are obsessing over.
Recommended: 10 flower braids to fawn over.
6. Braided bun
Looking for bridal updos for long hair, but don't fancy anything too over the top? This subtle braided bun could be perfect for you!
Simple yet intricate (thanks to the addition of the braided detail), it'll ensure all of the focus is kept on your showstopping gown. Credit: @theupdogirl
7. Upside-down braid
Want wedding updos for long hair that also have a high-fashion edge? Why not try an upside-down braided top knot?
Sleek on top and edgy underneath, you can show your wild side with this 2-in-1 style! Credit: @seletienelatrenza
8. Classic chignon
Ah, the chignon. It's timeless enough that you'll look back at your wedding photos and still love it because chignons are utterly failsafe bridal updos for long hair.
Want to know what the best part is? They can easily be jazzed up with hair accessories of your choice for a more unique effect. Credit: @ave42style
9. Half wrapped bun
Looking for sleek updos for long hair? Wedding hairstyles like this wrapped bun are sure to make church bells chime if you decide to make this 'the one'. And wee don't know about you, but we can't stop staring. Credit: @missysueblog
10. Vintage-inspired updo
This playful look incorporates 1930s pin curls and a twisted bun, making for a fun look that's just perfect for retro-themed weddings. Credit: @dannielle_robeson
Editor's tip: Ready to make this look (or any of the other long hair updos for a wedding mentioned here) truly shine? Try the VO5 Tame & Shine Spray for a glossy, frizz-free finish.
11. Fishtail braid updo
If there's one hairstyle that always gets people talking, it's the fishtail braid. Fishtail braids can be worked into wedding updos for long hair in a number of ways, but our favourite has to be this flawless fishtail bun.
12. Fishtail side braid
You can also breathe life into your tried-and-true side fishtail plait, just like this. Credit:@lily_archontaki_brides
Recommended: 9 celeb looks to inspire you to try side braids.
13. Rolled updo with tiara
Vintage wedding updos? Long hair will seriously look the part when styled into this retro rolled updo, complete with stylish tiara hair accessory. Credit: @allegressewedding
14. Vintage updo with veil
Long hair updos for a wedding (like this glamorous vintage updo) can be easily taken to elegant heights with a traditional veil. Credit: @theveiledbeauty
15. Gibson tuck
The perfect dress deserves the perfect hairstyle, and the Gibson tuck is a seriously strong contender! Although it originally became popular in the Edwardian era, it's still just as much of a crowd-pleaser today and, surprisingly, it's one of the simplest wedding updos for long hair too.
16. Milkmaid braid
Throwing an outdoor wedding? We can't think of a better look to covet than this milkmaid braid. It's fun, feminine and full of woodland charm —  meaning it'll fit in with your theme.
17. Fishtail updo + bangs
Rocking a fringe? You might think that it would get in the way of your perfect updo, but that couldn't be further from the truth!
As you can see from the Instagrammer, bangs can add an undone softness to bridal updos for long hair, giving your look a face-framing, feminine finish. Credit: @brooklyncardenas
18. Halo braid
Why wear a tiara when you can transform your mane into a crown?!
Halo braids are great bridal updos for long hair, as they'll turn your strands into a work of art worthy of everyone's attention. Credit: @tatianakarelinaofficial
19. Bouffant bun
Worried about how to style your fine hair? If you're not blessed with masses of volume, but still want to rock an updo for your big day, try a bouffant bun.
This '60s-inspired style is great for giving your locks extra lift – not to mention it looks super glam. Credit: @aliceportermua
Editor's tip: To create extra volume, prep your strands with the TRESemmé Collagen+ Fullness Thickening Balm. Spread an even amount of this balm through damp lengths before blow drying, to help plump up your strands.
20. Ballerina bun
We can't talk about bridal updos for long hairwithout mentioning this trusty, sophisticated ballerina bun.
Whether you create it with a hair donut or without, is up to you, but one thing's for sure: you'll look picture-perfect.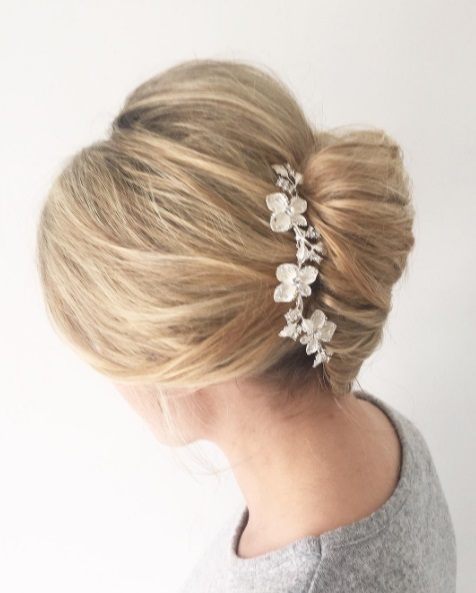 21. French twist
They say that Paris is the city of love and romance, so why not channel the Parisian vibes with a French twist? This classic style won't let you down on your big day. Credit: @ewhairandmakeup
Recommended: 7 ways to rock French girl hair.
22. Messy updo
Go for this understated, swept-back style if it's Meghan Markle vibes you're after. And if you've got naturally wavy tresses, it's a great way to show off your texture. Credit: @chialimengartistry
23. Flower crown
Flowers are a key part of any wedding, but why limit them to just the bouquets? Trust us: flower crowns are a simply stunning way to top off any wedding updos for long hair. Credit: @carolabelleetlatete

24. Braided bangs
Now, we're a fan of braided bangs all year long, so it wouldn't be a true All Things Hair round-up without us mentioning them!
This really is an ingenious way of making it look like you've put loads of effort into a simple bun, yet is easy enough that you can DIY. Anyone planning to do their own hair on their big day should definitely give this one a try. Credit: @ingacuzin

25. Side chignon
Few wedding updos for long hair are as well-loved as the side chignon – and it's not hard to see why! Great for both the bridesmaids and the bride-to-be, this look should be in every bridal party's shortlist. Credit: @akbeautybridal

Prev Article
Next Article
Gallery
Lengthy locks? 11 lovely looks that prove long straight hairstyles will always be stylish
The rise of Rapunzel-like lengths means that everyone is on the hunt for hairstyles for long straight hair. So, flick through our gallery for some instant A-list inspiration!
See article