Wedding hair flowers: 9 picture-perfect ideas
Could one of these blooming wedding hair with flowers styles be the one? ? 
Calling all brides to be! While we may not be able to tackle your wedding venue woes or help you pick who should be maid of honour, what we can do is offer our advice on which hairstyle you should be wearing on your big day.
So, if you are searching for alternative ways to wear your wedding hair, flowers are a great way to jazz up any hairdo and make the style your own!
Wedding hair with flowers: 9 blooming styles to try
1. Floral side braided ponytail
This lovely loose side braid and a few of your favourite blooms are all you need to make you feel like you've just stepped out of a fairy tale.
Just don't forget to pancake your strands (AKA gently pulling apart each section of the braid), as it'll make your plait look thicker.
Editor's tip: Braided bridal hair flowers styles, like this one, look their best when plumped up. So, make sure to get your hands on the TONI&GUY Root Lift Sculpting Powder.
Dusting this over your braid after you've weaved it will give it the plumped up effect this pretty 'do calls for.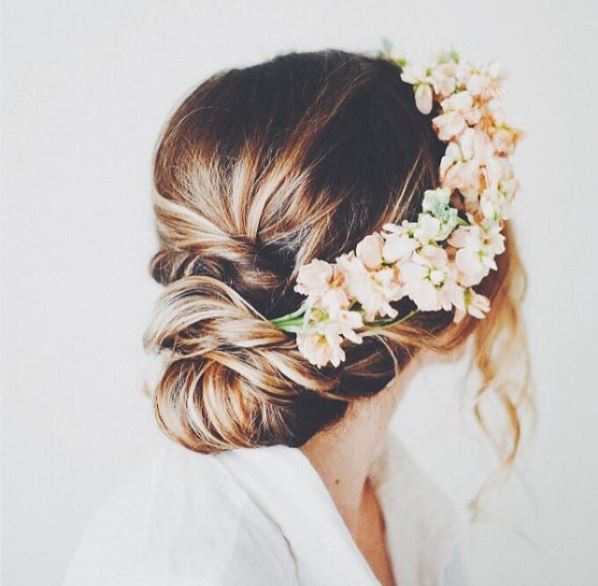 2. Floral chignon
Thanks to their classic appeal, chignon hairstyles have become one of the most popular wedding hairstyles. But to help yours stand out from the crowd, do like this bride and insert a pretty floral arrangement along the side of your hair!
Alternatively, opt for a full crown to give your wedding hair with flowers a fabulous and flawless finish. Credit: @veronica.tucker
Editor's tip: No matter what look you create, generously spritz your final 'do with the TRESemmé Ultimate Hold Hairspray. Not only will this seal your style but it will also leave your locks gleaming!
3. Pinned up waves
Whether you have naturally wavy hair or will be enlisting the help of your trusted curling wand, why not loosely pin up your waves for a soft and romantic style? Trust us, choosing this undone 'do will ensure your picture-perfect hair takes centre stage.
Psst! Adding small intricate flowers (like baby's breath) will make this look extra special. Credit: @ulyana.aster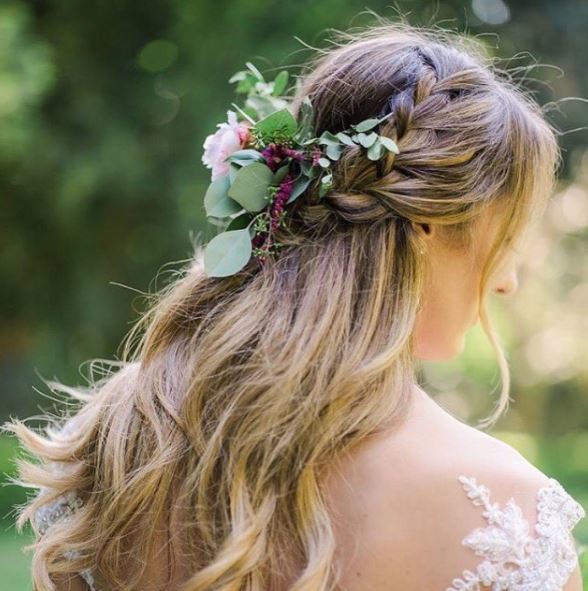 4. Double braids half-up, half-down style
If you are a hair rookie, and are looking for new ways to spruce up your bridal hair, flowers are a great way to jazz up any hairdo.
We love the simplicity of this braided half-up, half-down hairstyle, which is not only super easy to create but will look fantastic at any wedding venue. Credit: @belleoftheball_designs
5. Flower braids
What better way to wear flowers in your hair than by using your own strands to create the ethereal look?!
Your wedding day is the perfect opportunity to go all out with your hair, so make this pretty style your own by adding personal touches to your flower braid. Personally, we think this butterfly and flower combo is bloomin' beautiful! Credit: @la_lonki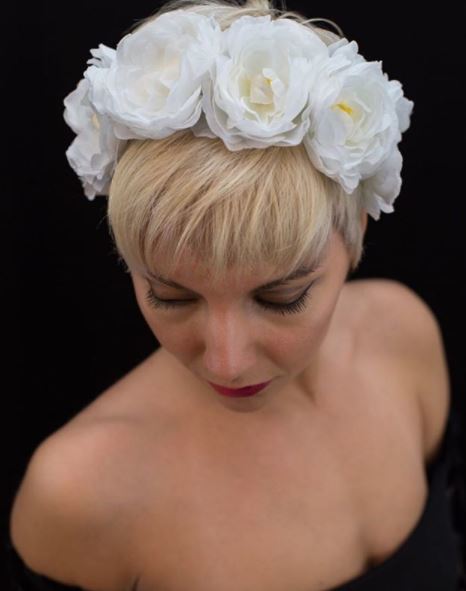 6. Blooming pixie
Headband braids are the easiest way to give your hair a bloomin' makeover and are especially great for short-haired ladies. Simply slip on a floral headband to take your look from ordinary to extraordinary in an instant. Credit: @slavic_aura
7. Flower crown braid
Not only is this one of the most bohemian hairstyles around, but it is also one of the easiest wedding looks to recreate at home! Borrowed from boho-chic festival styles, this 'do is just at home on the aisle as it in the mud pits, giving a delicate, feminine touch to any hairdo. Credit: @stranded.int
8. Bouffant ponytail
If wearing real (or even faux) flowers in your hair doesn't quite fit with your wedding theme, you can always spruce up your look with a glitzy, jewelled floral accessory, like this bride who added a very dazzling touch to her retro bouffant hairstyle. Credit: @heidimariegarrett
Editor's tip: One of our favourite things about this hairstyle, is the voluminous, bouffant detail. To emulate the look, simple spritz the TIGI Bed Head Oh Bee Hive! Dry Shampoo directly into your roots before backcombing, for a noticeable plumped-up effect, instantly creating some extra va-va-voom.
9. Half-up, half-down fishtail with flowers
If you consider yourself a braid pro, then you can totally achieve this adorable half-up, half-down fishtail style. Yep, all you need is a few minutes and some clear elastic bands to rock these boho-inspired bridal hair flowers.
Prev Article
Next Article
Gallery
9 Simple Wedding Hairstyles To Copy From The Bridal Runway
Walk down the aisle like a true model with one of these simple wedding hairstyles, straight from the bridal runway!
See article