15 updos for short hair to play around with
Stuck for ways to wear your short hair? Have more fun with your cropped locks with these short hair updos.
Okay, so you've worn your short hair down, braided it and even rocked some neat accessories, but what now? As you probably know, cropped strands aren't always the easiest to style and you might be doubting whether any updos for short hair even exist? But rest assured, they do.
Need some convincing? We're here to help make you think again and show you that gorgeous up hairstyles for short hair actually come in all shapes and sizes! We've got buns, braids, half-ups and tucks, so you've got plenty of styles to be getting on with. So, let's not waste any more time, scroll down now to see the best looks.
15 short hair updos to revive your love for your lengths
1. Headband updo
Our number 1 summer hair staple here in the ATH office has to be a headband. You can tie it around your tresses to create a number of different updo hairstyles for short hair, like this wrapped headband style.
Plus, with so many bright and colourful printed scarf options around this season, it's just the pop of colour your warm weather outfit is calling out for. Credit: @mama_bird_oil_nerd
2. Twisted updo
Calling all pixie lovers: let us present to you this chic office daytime style.  This twisted 'do is perfect for even super short strands, allowing you to twist and tuck under your ends to conceal them.
As you can see above, it pairs really well with a fringe too, so if you're currently rocking bangs it's a good one to consider. Credit: @shivonn
3. Half-up bun
Is your hair that bit too short to tie up? Half-up buns have been around for a while now- and with good reason. They're one of the simplest easy updos for short hair and unlike full high buns, it doesn't matter if your bun isn't ultra neat as it just adds to the look.
Once you've made your bun, try curling the rest of your hair with a wand to create a soft, undone texture. Credit: @internethillary
4. Dutch braid updo
For the braid addicts out there looking for cute updos for short hair, this double Dutch braid updo is a must-try. Conscious about fine hair? The inverted braids will give your hair a plumped up, thicker appearance (especially if you take time to pancake your braids afterwards). Credit: @melissaclaremakeup
Editor's tip: Add grit to soft hair before braiding with a sea salt spray like the VO5 Texturising Sea Salt Spray. This is ideal for adding texture to the hair, giving you more grip to braid.
5. Braided half updo
A braided half updo is a surefire way to get you compliments. Just create two single braids at the front of your hair and join at the back to create a crown effect. We love this Instagrammer's classy pearl accents, but flowers would work really well for a bridesmaids' style. Credit: @vickimc21
6. Sleek top knot
It's no secret that sleek updos for short hair have been ruling the runways and the red carpet. So, this year, to stay ahead of the curve, take your short mane to stylish new heights with this Kim Kardashian-worthy top knot. Credit: @camilacoelho
Editor's tip: If you love creating preened and polished looks, you'll need to arm yourself with the VO5 Sleek Creation Hairspray. For best results, apply to your strands before straightening and just watch as the magic happens!
7. Bobby pinned updo
If you're not the best at styling your locks, and are hunting for easy updos for short hair, we have just the thing to upgrade your look.
Transforming your morning routine has never been simpler thanks to this quirky, playful bobby pinned updo, which can be achieved in a matter of minutes! So chic is this look, that you'll trick everyone into thinking you spent ages on your 'do (when really you pressed that snooze button). Credit: @milabu.co
8. Knotted bun updo
When it comes to finding fancy updos for short hair, this charming knotted bun is one of our absolute favourites. It has an air of complexity about it when really, it's deceptively easy to create and it has a chic off-duty model feel about it that we just live for. Credit: @rachaliah
9.  Mini space buns
Have a slightly longer bob or lob length? If so, you should definitely think about trying out some adorable mini space buns.
Whether you wear them sleek, curly, straight — or doused with glitter at the roots (#festivalhair) — they always look really cute. Credit: @luanna
10.  Milkmaid braid
Just because you're sporting a bob doesn't mean braids are out of the question. In fact, braids – just like the milkmaid braid for example – are perfectly doable on shorter hair and as a bonus, they'll be much quicker to do too. Perks of short hair, eh? Credit: @xandervintage
Editor's tip: After creating your milkmaid braid, sprinkle a sculpting powder (like the Toni&Guy Root Lifting Sculpting Powder), all over your braids before pancaking. This nifty trick will make your hair instantly appear fuller and give an even more envy-inducing finish.
11. Retro French twist
Contrary to popular belief, a French twist can be achieved in a cropped mane, too. Timeless and super easy to achieve, this look is one of our favourite updo hairstyles for short hair, especially since it works brilliantly with a few strands left loose at the front for a more romantic touch!
However, if you prefer living life on the edge, combining the fierceness of a quiff and the sweetness of this French twist is a great way to channel punky retro vibes. Honestly, your unique, hybrid look will have everyone dancing Elvis-style. Credit: @heychar1ie
12. French braided updo
French girls know exactly how to perfect their short hair updos, so the second we spotted this Instagrammer with a Parisian-perfect updo, we knew we had to try and recreate it.
As intricate as this look is, it's also pretty tough, so we reckon it would work a treat as a pretty-yet-practical gym style. Credit: @fairclothfancy
13. Vintage victory roll
Got short hair and vintage ambitions? Well, if you have a long pixie cut or a bob, get yourself a pin-up bandana and make those rockabilly dreams a reality.
For the ultimate throwback look, curl the top layer of hair and create your roll, before topping it all off with a pretty hair wrap. Throw in a red pout for maximum style points, and there you have it: pin-up perfect hair in less than 60 seconds! Credit: @ela___ela
14. Nikki Phillippi's braided low bun
Whatever the occasion, vlogger Nikki Phillippi's braided low bun is super versatile. So, whether you're having a casual brunch or hosting a summer party, you'll have a hairdo that'll make you the belle of the ball. Thanks Nikki!
15.  The low tuck
Love the look of elegant up hairstyles for short hair, but struggle to recreate them on your own hair? Well, now you can finally master the look!
All you need to ace this low, Downtown Abbey-esque 'do, is to roll and tuck your hair into an elasticated headband. A top trick is to use a hair tie the same colour as your hair as that way it'll keep your hair hack secret.
Prev Article
Next Article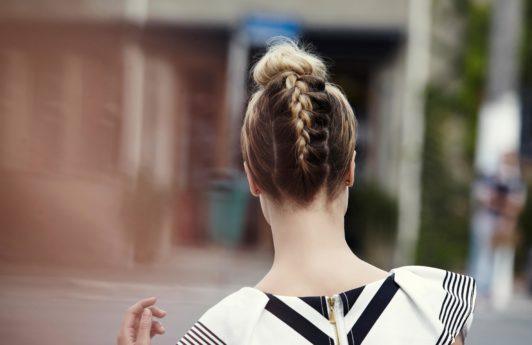 Tutorial
Get an Upside-down French Braid in 5 Easy Steps
It's all 'business in the front, party in the back' with this upside down French braid bun!
See article