14 Best Braided Updos for Long Hair that Will Make You Have Good Hair Days
Ready to ride the braid + updo wave? Here are 14 braided updos for long hair to take note of!
If you love braids and updos (and also happen to have long hair!), we're willing to bet you're looking for easy and on-trend ways to style your lengthy locks. If that's the case, there's hope for you on the hair horizon — below we've found you 14 braided updos for long hair, which will earn you serious style points.
So whether you're after a new look for work, a fancy night out or just want something that'll keep up with your gym gains, scroll on to see the long braided updos from Instagram that you should be copying.
1. Upside down braid + messy bun
Need a style that takes less than five minutes but doesn't look like it? Then this upside down braid + messy top knot combo is destined for you.
Love the idea of an upside down braid but like to keep things polished? Then check out our upside down French braided bun tutorial, here. Whether you pick the messy or neat version is all up to you, but one thing's for sure: your long hair is going to look fab. Credit: @amberfillerup
2. Triple cornrow braided upside down bun
Triple the braid, triple the style points! Show off your plaiting prowess at work with this edgy cornrow braided upside down bun. Its the perfect updo to pair with your favourite blazer and will seriously make you feel like a #girlboss. Credit: @hairbyruslan
3. Fishtail braided high ponytail
One way to elevate your go-to gym high ponytail? By weaving a fancy fishtail braid, of course. Feeling major mane envy? Worry not: here's how you can create this pretty but practical fishtail plait at home. Credit: @missysueblog
Editor's tip: Struggle with weaving your plaits? Next time, try using the TONI&GUY Flexible Hold Braid Balm. It'll help give your hair added grip and structure, making it easier to braid and ensuring they stay in place longer.
4. Boho side braid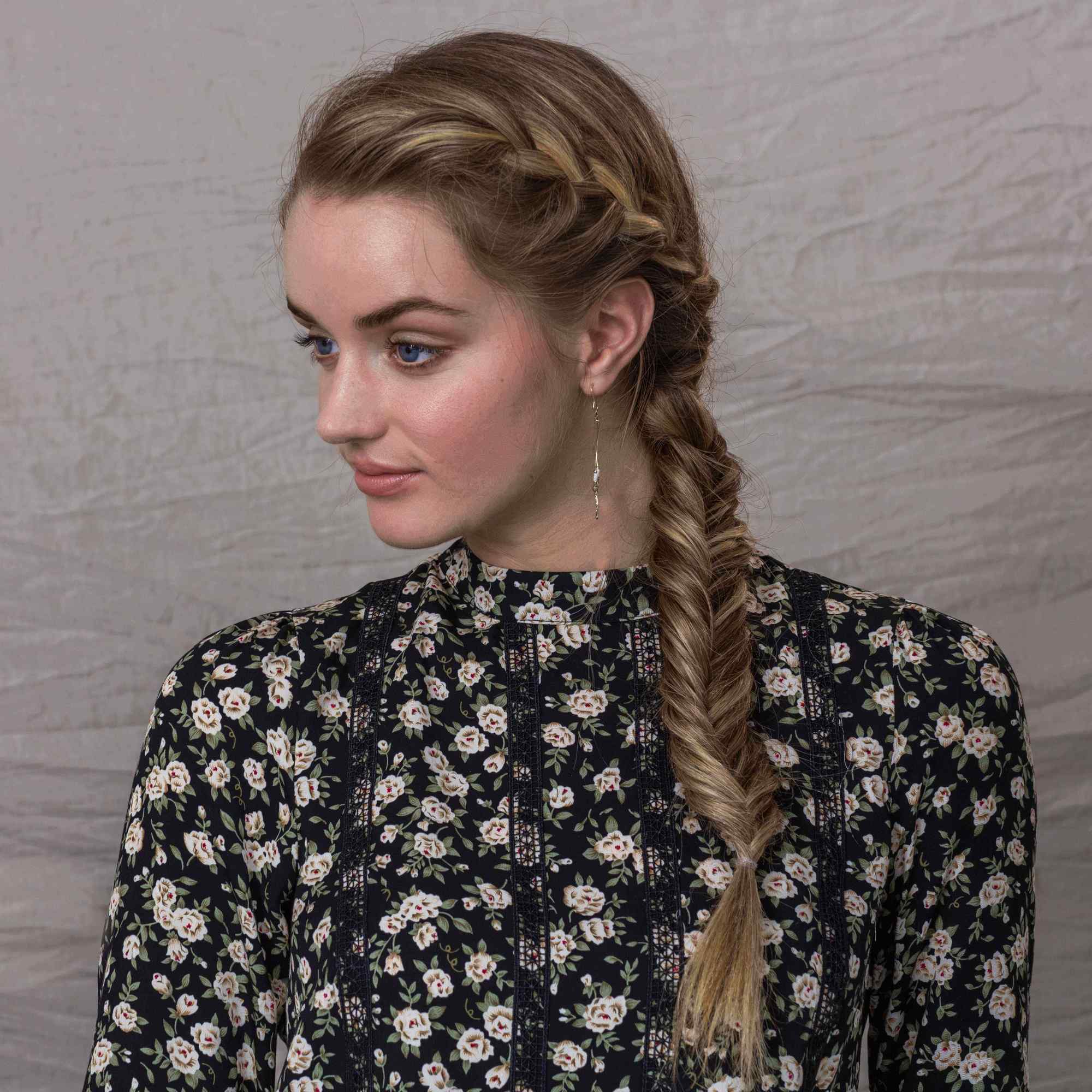 Since you've already had some practice with the fishtail braided updo above, why not try rocking this boho side braid for your next night out?
You can opt to wear it looser to really nail those care-free vibes, or just keep it neat and chic as this beauty has done.
5. Double Dutch braid bun
If you're looking for edgy and girly braided updos for long hair, say hello to your new BFF: the double Dutch braid bun. Looking as cool as it sounds, this fierce 'do has It girl written all over it.
Just watch our video on how to create a double Dutch braid bun and you'll be ready for your Instagram closeup in no time! Credit: @n.starck
6. Low fishtail bun
Not all braided updos for long hair have to be undone, don't you know? And if you've got a fancy soiree to attend (party season is in full swing, after all), we suggest you try out this elegant fishtail braided bun.
But we haven't even disclosed the best part yet, as you can easily jazz up the look with some hair accessories to make your hair stand out even more. Credit: @abigailrosehair
7. Milkmaid braids with a scarf
Just when you think braided updos for long hair couldn't get any more creative, they just did!
Weaving a scarf or ribbon into an otherwise simple milkmaid braid will give it a stylish, new lease of life, and have everyone think you've stepped right of the runway. Erm, it's called fashion – look it up. Credit: @itsyohomegirl
8. Crown braid with flowers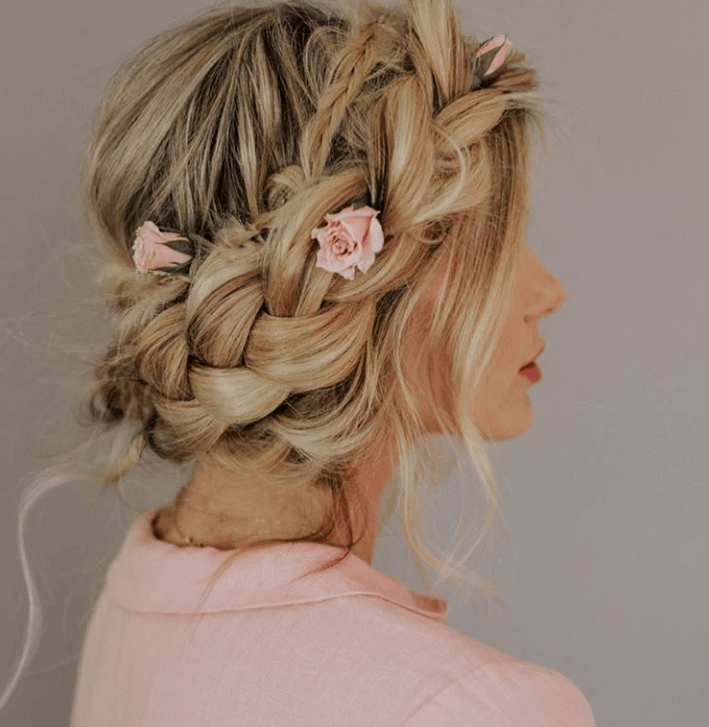 Looking for wedding-ready braided updos for long hair? Whether you're the blushing bride or a special attendee, you'll look the part with this romantic crown braid. Credit:
Credit: @barefootblondehair
Recommended: 25 elegant wedding updos for long hair.
9. Twisted macaron buns
Earlier this season, we saw the resurgence of space buns, but now there's a new set of buns in town making waves: macaron buns. These sweet little buns are a Parisian girl must-have and can even be braided, too.
If you're not confident with your braiding skills but you can twist your hair, this French girl-approved 'do is waiting for you to pull it off. Credit: @jojolimanoli
Editor's tip: Before you attempt to create this on-trend style, apply the VO5 Dry Texturising Spray to your tresses.
This will give your hair a little grip and make creating your braid easier. It's also the perfect product for reviving your hair before you start dry-styling.
10. Accent braid + messy updo
Sure, you can try to emulate the 'dos listed above, but adding a single accent braid to your go-to updo is enough to take your mane game from 0 to 100. Excuse us for a moment, we have a braid to weave… Credit: @hqfemme
11. French braid with a scarf
Giving a classic French braid a fresh twist is super easy — all you have to do is incorporate a pretty hair scarf into the mix, just like this beauty has done.
This long-lasting updo will take you from brunch with the girls to pizza with your partner, all without moving an inch. Credit: @viola_pyak
12. Polished braided pony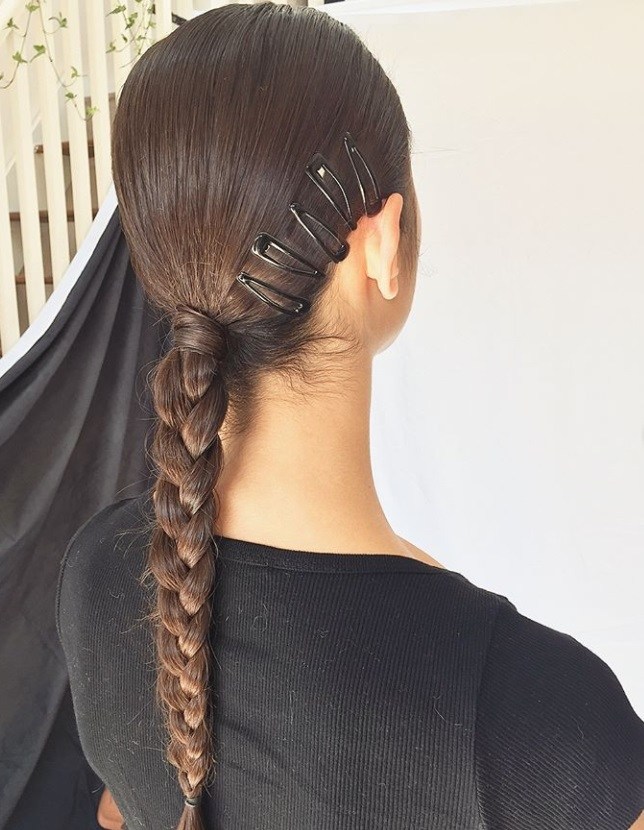 We all know that the glass hair trend isn't going anywhere anytime soon. And, if you want to give it a go, this braided ponytail is exactly what you've been waiting for.
This Sade-inspired hairstyle will make all your going out outfits look extra dazzling, especially if you team it with some statement hair accessories. Credit: @michaelgrayhair
Editor's tip: Want your party hair to shine bright? Set it with the TRESemmé Ultimate Shine Hold Hairspray to get frizz-free, sparkly tresses, right now.
13. Dutch braid with a wavy ponytail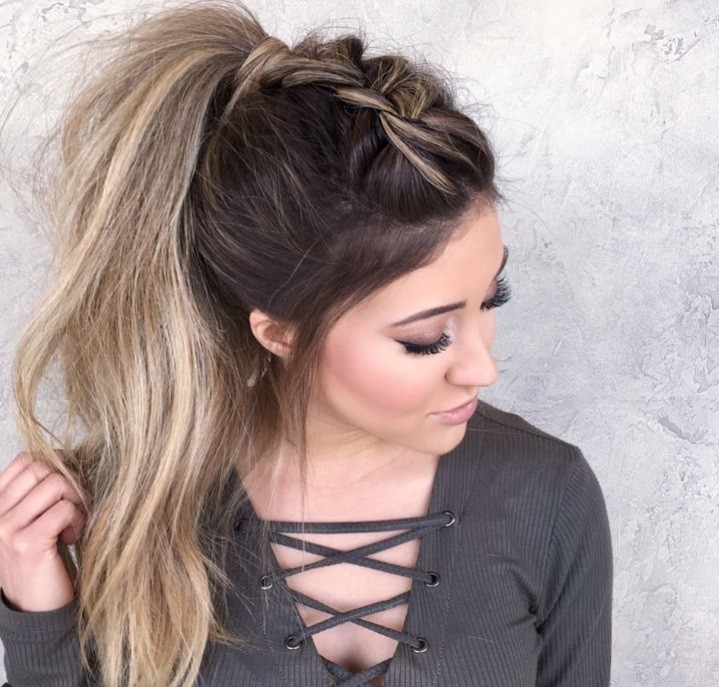 Looking for last minute braided updos for long hair? If you're working on second-day hair, you can whip up this Dutch braid ponytail in a matter of minutes. Bad hair day? Not here. Credit: @hairby_chrissy
14. Pull through braided ponytail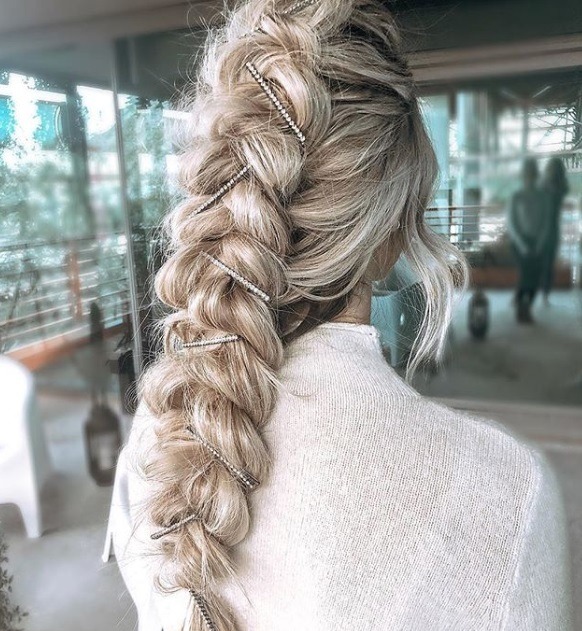 Really want to get everyone talking? Then you'll love creating this party-worthy Pull through braid.
The best part? Depending on the occasion (be it a Christmas party or winter date), you can work in the accessories to match. Those pearl slides are to die for, aren't they? Credit: @blohaute
Prev Article
Next Article
Article
Updos for long hair that are perfect for your next occasion
Looking for occasion-ready updos for long hair? Stop searching for up styles for long hair, and start taking a look at these beauties, instead!
See article