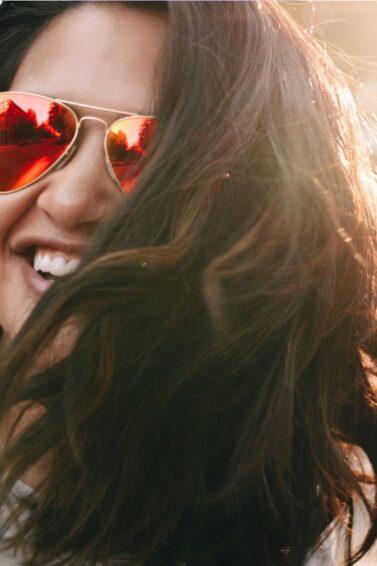 The Hair Colour Wheel: 12 Shades of Hair Colour
All hail the hair colour wheel, here to save the day when it comes to hair dyeing. Put simply, a hair colour wheel is used by hairstylists to help them give you the perfect shade – it shows them which colours counteract and neutralise eachother, as well as what colour to apply to take away unwanted hues.
The wheel features 12 shades, each with a contrasting colour opposite it. These opposing tones actually signify the perfect match when it comes to treating your hair colour, as they harmonise to create a desired shade.
Discover how the hair colour wheel works and colour categories here.
How Does the Hair Colour Wheel Work?
Split straight down the middle, the colours on the hair colour wheel can be categorised as cool or warm toned. When your stylists refers to the wheel, they can decide how to achieve the colour you want by cancelling out certain shades. For example, yellow and violet are opposite eachother, which is why your stylist will use a purple shampoo or violet toner to cancel out unwanted yellow tones in your hair.
Warm Hair Colours
The basics: Featuring a mix of soft yellows, burnt oranges, primary reds and deep purples, these colours are great for adding warmth. Think sunset skies and red velvet hues that can be worn with any base tones or hair texture.
Orange-Yellow
As tertiary colours (a mix of primary and secondary shades), yellow-orange hues are fiery and fierce. You could make full use of the colours by going for an ombre finish, transitioning from a burnt orange at the roots to sunflower yellow tips.
Orange
Orange hair is bright and bold – and we can't get enough of it. A head-turning colour that makes a statement everywhere you go, it seems celebrities are also loving the shade – Megan Fox, Ice Spice and Billie Piper to name a few.
Editor's tip: Keep your hue bright and bold with TRESemmé Revitalise Colour Shampoo , specially design to maintain your colour vibrant for up to 12 weeks!
Red-Orange
Bold and sassy, red-orange hair is definitely having all the fun. It screams no-nonsense and is guaranteed to get all the compliments flooding in when you're out and about.
Red
Red hair hues will always be hugely popular. But did you know they're surprisingly versatile? That's right, if an all-over colour is too daring for you, adding red highlights or ombre can elevate any hair do. Replenish your coloured hair with a nourishing shampoo like Dove Intensive Repair Shampoo that hydrates your strands from the inside while repairing and protecting them from future damage.
Violet-Red
There are so many shade options when it comes to the violet-red hue. From red velvet to burgundy, these colours look incredible on short and long locks alike.
Cool Hair Colours
The basics: This is where vivid purples, oceanic blues, citrus greens and yellows come in. Reminder: it's never too late to be inspired by bright and refreshing hues when it comes to your hair colour.
Violet
Ever considered a violet hair hue? You'll be surprised at how wearable and versatile it is. If you don't want to fully commit to violet, have a look at ash blonde hair with violet highlights or lavender inspired locks.
Blue-Violet
Don't rule our voilet-blue hair just yet. The striking colour combo looks fun and playful as streaks to blonde manes, balayage to dark hair or blended together for an all-over dye.
Blue
Blue has been given the thumbs up by the likes of Helen Mirren, Lady Gaga and Hilary Duff. And we've got to say, it looks iconic. If you're thinking of trying it, remember there are many shade options, like mermaid blue, navy blue and pastel blue.
Blue-Green
Giving you all those aquatic, unicorn and holographic vibes all at once, blue-green hair is the shade you didn't know you needed until now. If you're adventurous enough to try the hue, we'd say it looks equally as fierce coupled with a cropped pixie or lengthy waves.
Green
Ok, so while you may not want to dive straight into dark green hair, you may want to consider pastel green, mint green and icy green shades. Recent celebrities to give green hair a go include Paris Jackson, Avril Lavigne and Billie Eilish.
Yellow-Green
Shades of lemon and lime in your hair? Sounds right up our street. Bring summer and sunshine everywhere you go, courtesy of these bright, happy tones.
Yellow
We're saying yes to yellow! There are so many variations when it comes to this shade – you could go all out and dye your whole mane or choose a quirky yellow fringe for some edge (you can even do this with dark roots). 
Prev Article
Next Article
Gallery
9 side-swept hairstyles to sweep you off your feet
Get swept away with our collection of gorgeous side-swept hairstyles...
See article