This is why the stacked bob hairstyle isn't dying out anytime soon
Instagrammer's love rocking stacked bob haircuts – and so will you!
Just when we thought stacked haircuts were dying out, Instagram's obsession with stacked bob hairstyles keeps reminding us that this trend isn't going anywhere anytime soon.
Yep, the perfect way to add volume or create shape (if your strands are too thick), stacked bob haircuts just so happen to be one of this season's freshest ways to amp up your look. Need more convincing? Here are 6 reasons why should take another look at them for the year ahead.
6 reasons you should try a stacked bob hairstyle in 2018
1. Because they're made for ladies who crave volume
Tired of being personally victimised by your fine strands? Instead of suffering in silence, boost your self-confidence (and your mane game!) by getting a stacked bob haircut.
With seamless and short choppy layers at the nape of the neck, this stacked style is practically made for fine-haired gals. Why? Because it helps add dimension, depth and body to limp locks, making your mane look more voluminous. Bye-bye flat hair! Credit: @headrushdesigns
Editor's tip: What's the secret behind most stacked bob haircuts? Texturising spray, ladies!
So, you really can't go wrong with investing in the VO5 Dry Texturising Spray, as it'll help enhance your stacked layers and give your mane a messy, Cali-girl vibe.
2. The fringe options are endless
One of the easiest ways to make a boring stacked hairstyle look ultra-modern? By getting some on-trend bangs cut in, of course!
Here, this Instagram star has paired her gorgeous chin-length hairstyle with a set of side bangs, and if we could double tap twice, we seriously would. Credit: @domdomhair
6 fringe styles you'll be seeing everywhere in 2018, plus how to style them.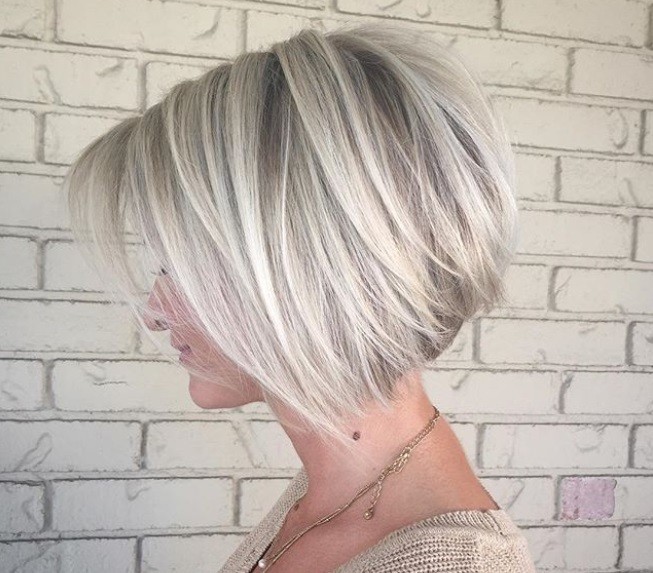 3. And the colour ones, too!
When Kim Kardashian West makes a mane move, we all take note. So, if you're dreaming of taking your stacked bob to glitterati-worthy heights, try opting for this seriously hot silver blonde colour.
Doing so will brighten up your overall hairstyle, accentuating your stacked layers and making your mane look worth a million dollars. Now, who wouldn't want that? Credit: @rochellegoldenhairstylist
4. You can rock it sleek
Everyone knows that stacked bob haircuts look extra gorgeous when styled to sleek perfection. Here, this beauty has given her short hairstyle a high-fashion upgrade by keeping it straight and shiny, and we think you should do the same, too!
Rest assured when you style your mane like this, you'll be giving off serious #girlboss vibes. Credit: @gulevich.vladimir
Editor's tip: Straight stacked bob haircuts, whether natural or the result of heated styling, take serious work to achieve.
So, make sure you've got a heat protecting primer spray, like the TRESemmé Biotin + Repair 7 Primer Spray, in your beauty arsenal to keep your locks looking and feeling their best.
5. And with curly hair, too!
Think having natural curls means you can't get in on the stacked bob hair trend? Well, this curly-haired queen is here to remind that you totally can.
If you're dealing with triangle hair (a common struggle ladies with bouncy coils deal with!), it's usually because your hair is one length, with no angles or shape. The solution? A stacked bob haircut, which will give you shape and lighten the weight of your thick curls! Credit: @meucabelocurto
6. No matter how you wear it, you'll look chic
And last but not least, the biggest reason you should go for a stacked bob haircut is because you'll look effortlessly styled 24-7, offering you the chance to get as creative as you want.
Here, this bold beauty has combined her short stacked haircut with a subtle undercut, giving it a fierce and fabulous feel. So the only question is, how will you wear yours? Credit: @boblovers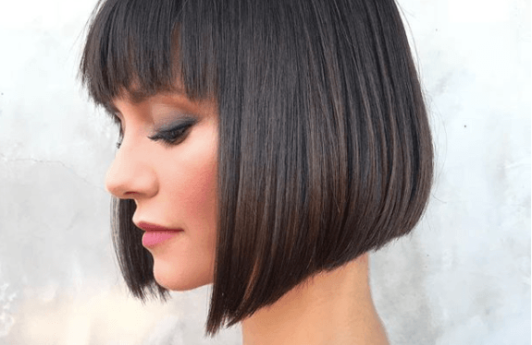 Gallery
Short hairstyles 2017: We look back on the best looks from the past year
Take a peek at the best 2017 short hairstyles that stole our hearts!
See article