Trend-setting copper hair ideas: Hot shades to try now
Need a hue that will shine all year long? Meet the copper hair colours winning our hearts...
Be it amber, auburn, ronze or mahogany, evidently red is the colour that's currently dominating the hair world. Strong, sexy and utterly unique, it's no wonder women with copper hair make for some of our favourite girl crushes of all time (we're looking at you, Emma Stone and Julianne Moore!).
What's also apparent, is that the colours themselves have become much more interesting and sophisticated. No longer are we satisfied with average orange shades; now it's all about richer, more complex saffron and cinnamon tones, that look as delicious as they sound.
16 copper hair colour ideas you need to try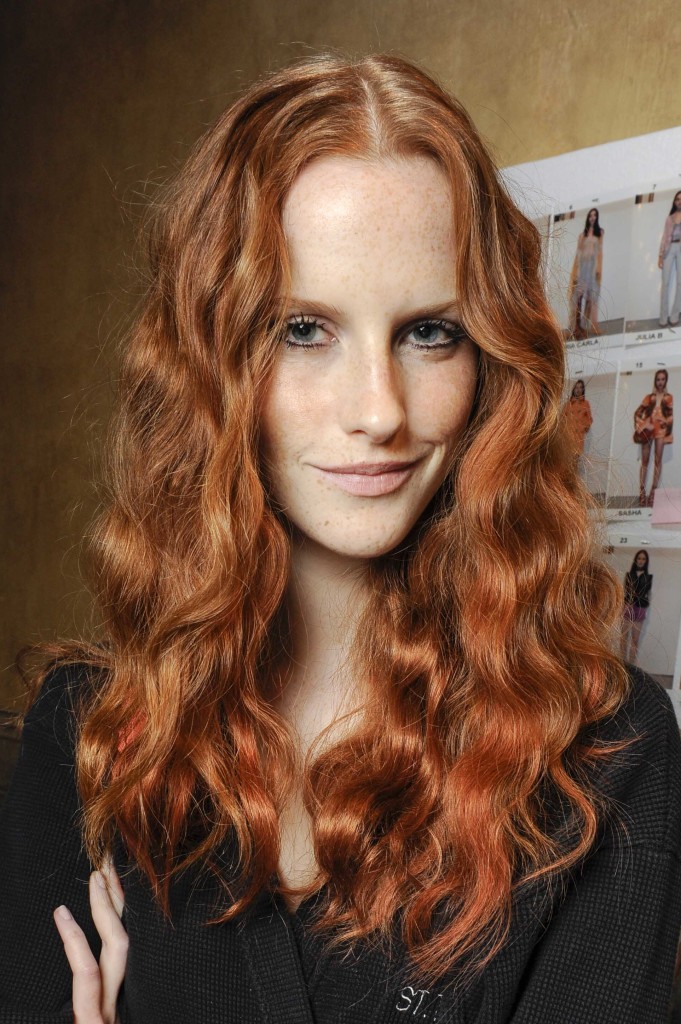 1. Rose-tinted copper
If grown-up sophistication is your goal, then perhaps a warm or golden copper – similar to Debra Messing or Amy Adams' colours – is the perfect match. But if you really want to impress, we suggest topping up your copper hue with some shimmering rose tones. Dazzling, no?
2. Contrasting hues
Ready to step outside the realms of your natural hair colour? Then perhaps a copper ombre is the style for you! Take your cue from this Instagrammer and work your naturally dark mane with shades of warm copper. Then just watch as heads turn wherever you go! Credit: @krystle.blair
3. High-fashion hues
While we love the numerous A-list styles we've seen recently, we can't help but turn to the runways for inspiration.
Take this high-fashion look for example: it works a dark red hue in the top lengths, before melting into a lighter, more vivid orange shade at the tips. The result? An utterly gorgeous ronze finish!
4. Reverse copper ombre
Currently working beautiful blonde strands? Well, if you're not ready to let go of them just yet, you can always opt for a reverse ombre to dip your toes into the trend. See? Copper hair dye doesn't need to be an allover job! Credit: @drewbumm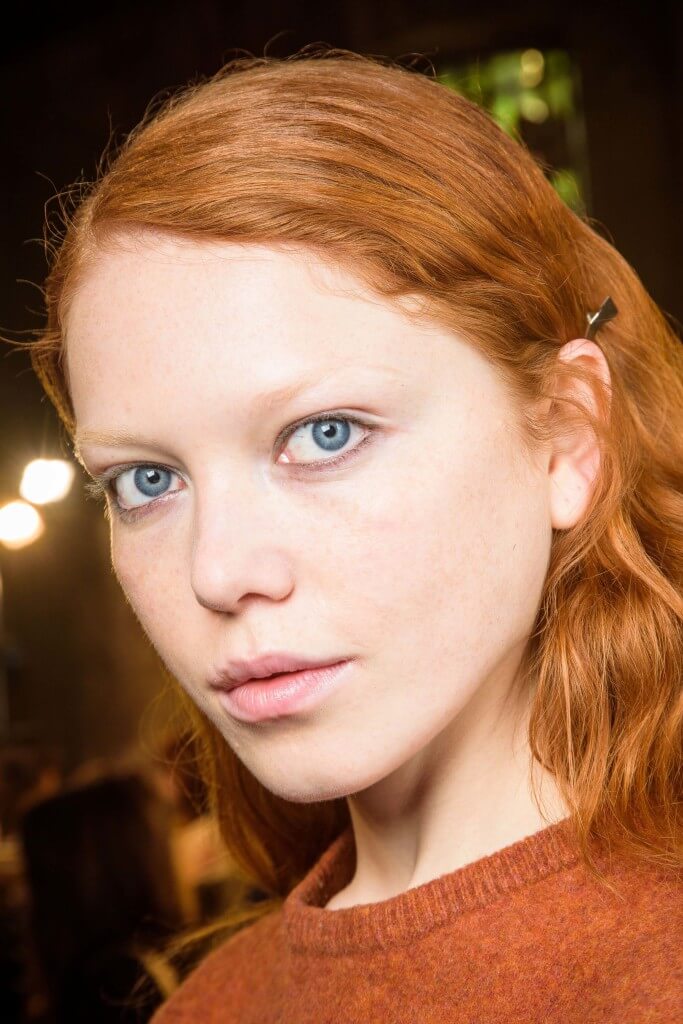 5. Ginger through and through
If you've tested out copper hair colours before, and think your ready for a more drastic change, go for a true ginger shade in your locks.
This hue will work best with paler skin tones, yet can be adapted for deeper complexions. So remember, work out whether you have warm, cold or neutral undertones and consult our red hair guide for help.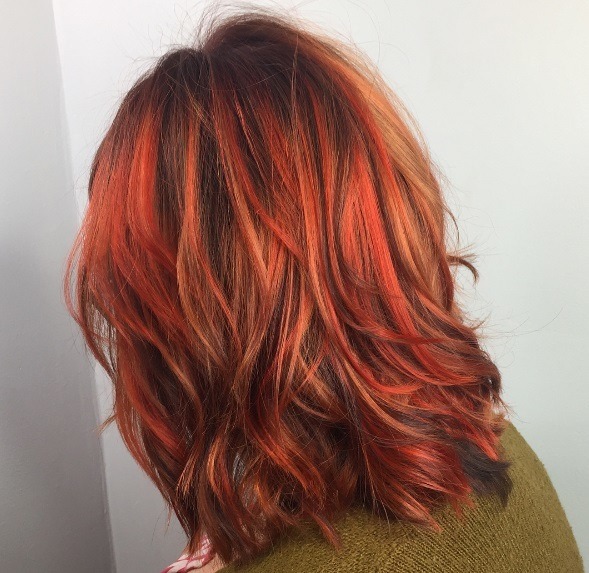 6. Copper red hair
Calling all drama queens: we have the perfect copper colour for you! Instead of working only copper hues throughout your hair, opt for a set of fiery red tones, too, for the hottest locks around. Caution: handle with care. Credit: @twistedscissorschicago
7. Subtle tones
Fallen victim to dull-looking locks? Or perhaps you just want to amp up your brunette mane? Whatever situation your in, a few well-placed copper highlights will have your strands shimmering once again!
8. Copper and curl
If you're unsure whether a copper hair colour will work with your natural texture, fret not. Opting for deep copper tones in curly hair will instantly make every coil pop, ensuring you have a 'do that enhances, not hinders, your mane! Credit: @localhoneybehr
9. Barely-there copper
Okay, we get it: copper hair dye can be a big leap into unknown territory, but it doesn't have to be such a scary prospect. In fact, you can go as subtle as you like and still pack a punch in the style department! Just take a look at this ginger-biscuit hue and you'll know exactly what we're talking about.
10. Red tones
If you didn't already know, long bob haircuts are reigning supreme on the style scene. And having been worked in so many different colour combinations already, it was only a matter of time before copper hues took centre stage in the bob world.
Giving off tonnes of fierce vibes, this Instagrammer's look has not only been upgraded with rich copper tones, but also a neat middle braid to provide extra depth in her 'do! Now that's what we call smart styling. Credit: @nina10rose
11. Muted orange
If you're steering clear of red, and instead want a more natural-looking hue, why not go for a delicate orange shade? It'll work wonders with a range of base tones, as well as make undone waves appear all the more gorgeous. See how well this model pulls it off? Yep, that could be you!
12. Burnt copper
Don't worry naturalistas, we haven't forgotten about you! For any coily-haired gals out there looking to get in on this trend, know that you have plenty of options available.
We suggest sticking to the darker end of the spectrum (unless you want high contrast) and choose a copper-red hair colour that'll compliment your natural texture and tone. Come on, just look how amazing this teeny weeny afro looks with a deep copper hue! Credit: @meetmyriam
13. Shimmering orange tones
Is your mantra 'go bold or go home'? Then let us introduce you to your new hair companion. This warm, burnt-orange shade works a treat with pale skin tones, brightening your complexion and bringing out light-coloured eyes. And when worn poker-straight, you'll have the glossiest strands in the land!
14. Dark and mysterious
Don't let all these orange-tinged hues pressure you into an out-there copper hair colour, because there are just as many understated styles that look equally incredible!
Working a dark brunette base, pink-toned copper highlights and a set of luscious waves, this Insagrammer is leading the way for copper hair newbies everywhere. Credit: @mksbella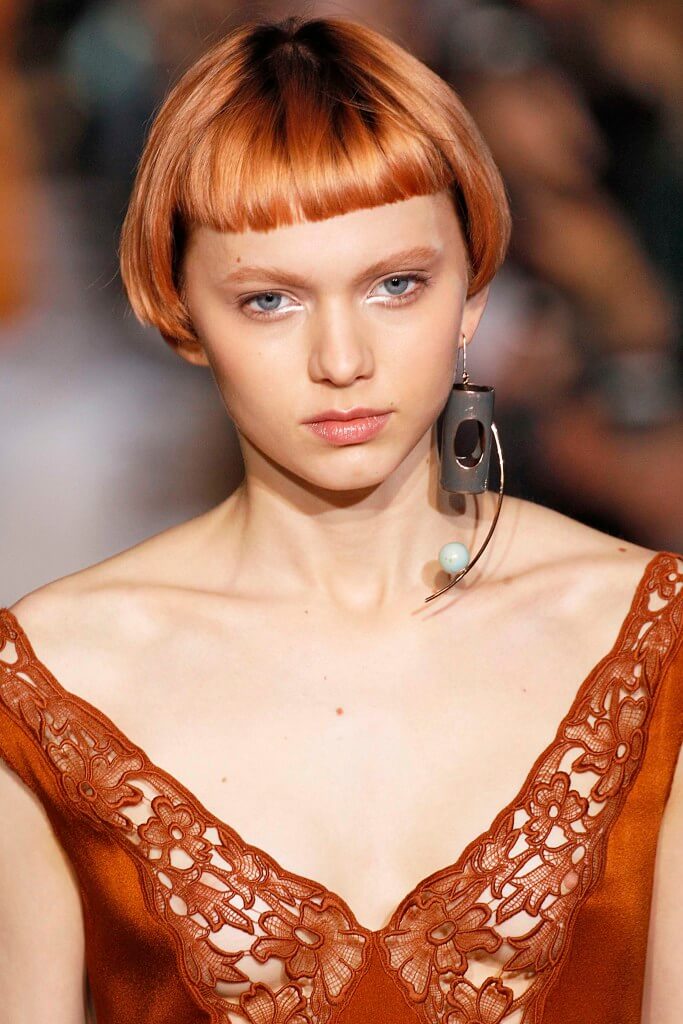 15. Rose gold
Looking as rich as it sounds, this rose gold hue ticks all the right boxes. It incorporates subtle pink tones to a golden blonde base, shines brighter than a new penny and looks absolutely sublime in this directional bob and micro bangs combo!
16. Delicate copper tones
When in doubt, start out soft. If this is your first venture into the copper hair world, it's better to give yourself a taste of what copper tones can offer you. If you like what you see, you can always go deeper and more dramatic! Credit: @anthonyvincenttt
Editor's tip: Copper hair, like any other dye job, requires constant care – but we think it's definitely worth it. To help keep your hue vibrant, use a shampoo and conditioner specially formulated for colour-treated hair, like the TRESemmé Colour Revitalise Colour Vibrance Protection Shampoo and Conditioner.
So, are you ready to join the red hair camp? We thought so. But if this introduction to copper hair has left you lusting after more on-trend hues, get yourself over to our Hair Colour Ideas page now, where you can stay up to date on the beauty world's latest colour creations!
Prev Article
Next Article
Article
Kylie Jenner debuts new red hair and super cute cornrows!
Kylie Jenner debuts a new 'do to celebrate her 19th birthday.
See article