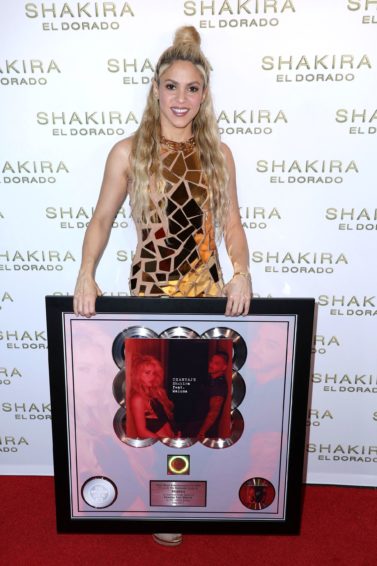 Bye-bye blonde: Shakira is now a redhead & life as we know it has changed forever
Her new hair colour is lit – literally! ?
Just when you think you know someone, they go and do something utterly shocking – just like Shakira did with her hair. Despite actually being a natural brunette, the Colombian popstar has rocked long, curly blonde hair for as long as we can remember, from her Whenever, Wherever days, right up until last week!
So, when the star posted a behind-the-scenes shot from the set of her latest music video, she also revealed that she has traded in her butter-blonde strands for a fiery red shade. Yet to see this She Wolf's new 'do? Then what are you waiting for?!
Shakira just debuted a seriously hot new red hair colour
The 40-year-old (yes, 40, we couldn't believe it either!) first gave fans a glimpse of her new look on Instagram over the weekend. She reposted a photo from singer/songwriter Nicky Jam, who she collaborated with for her upcoming Spanish single, Perro Fiel, captioning the pic: "Redheads have more fun."
As you can see, her sunkissed blonde locks are nowhere to be seen, having been dyed a fiery copper hue with shimmering, multi-tonal highlights running through her lengths.
True fans might remember that, actually, this isn't the first time that the singer has experimented with red hair, having rocked a bold cherry hue on the cover of her 2002 greatest hits album, Grandes Éxitos. 
However, this time around her red is a much more flattering, darker shade, rather than the poppy neon hue she rocked back in the noughties.
Editor's tip: Ready to fire up your strands with a red hue like Shakira's? Annoyingly, red hair colours tend to fade quicker than other colours due to the rich pigment, but don't worry, there is a way around it!
Using colour protection products, like the TRESemmé Colour Revitalise Vibrance Protection Shampoo and Conditioner, will help to keep your colour looking vibrant for as long as possible, meaning you can leave it longer between salon visits – phew.
Giving fans a better look at her new hair, Shakira later posted yet another photo from the set, which showed off her waist-length tresses in all their glory.
Her Rapunzel-length locks appear to be the same length as she has been rocked these past few months, leading us to think that she may have actually taken the plunge and dyed her tresses for real – instead of just donning a wig!
Could this mark the end of her blonde days?! Only time will tell… but one thing's for sure, she's looking hot, hot, hot!
In love with Shakira's fiery new hue? Continue your red hair hunt now with the 16 copper hair colour ideas you need to try!