10 Trendy Red and Purple Hair Colour Ideas to Try
What is better than fiery red locks? Red and purple hair, of course. Thanks to Riverdale and Handmaid's Tale stars Madelaine Petsch and Madeline Brewer and their gorgeous red hair, the world's interest in red hair has soared.
If you're a red hair fan but want to try something a bit less 'done' than the usual copper, mahogany, or strawberry blonde shades scroll down! We've rounded up bright, vibrant and fun red and purple hair looks, just for you. Have a look at our edit and see if any of these dual-tone hues tickle your fancy.
1. Ruby Red
This jewel-toned ruby red and purple hair colour immediately caught our eye. It's glossy, sophisticated and expensive looking and because it's such a classy look we can see it working really well on women of all different ages.
Editor's tip: Red hair colours are known for being the hardest to maintain, so colour-specific wash and care are essential. Try the TRESemmé Revitalise Colour Shampoo and TRESemmé Revitalise Colour Conditioner, which are formulated to prolong the vibrancy of your colour but also add shine, for hair that looks as good as it did when you first left the salon.
2. Red And Purple Colour Melt
You'll probably have heard of balayage, the more natural take on highlights, but did you also know you can take it a step further with a colour melt?
Best suited to brunettes (for the best contrast), your stylist will focus on adding a fade at the roots to recreate the natural rootsy look without any stark, obvious lines.
3. Dark Ombré
Before you go ahead and ask for purple red hair all over, you might want to consider the maintenance. If you're not prepared to keep up with the regular root touch-ups, you might find it easier to get your stylist to leave a few inches of your roots colour-free or even opt for an ombré instead.
This way, you won't have to worry about regrowth being a big concern as you're already holding on to some of your natural colour at the roots.
Editor's tip: Curling your hair is a great way to show off this look, but remember to prep your hair with a heat protectant like the TRESemmé Keratin Smooth Heat Protect Spray. This hair essential helps to protect strands from heat and is formulated with Keratin and Marula oil, which means bye-bye frizz*.
4. Deep Red And Purple Tint
After a look that's going to get people talking? Feast your eyes on this gorgeous hue. You wouldn't think it, but this style actually comes with a hidden party trick.
When the light hits just right, this seemingly normal deep mahogany transforms, reflecting the hidden shimmering purple tones that give the colour a whole new lease of life.
5. Neapolitan Colour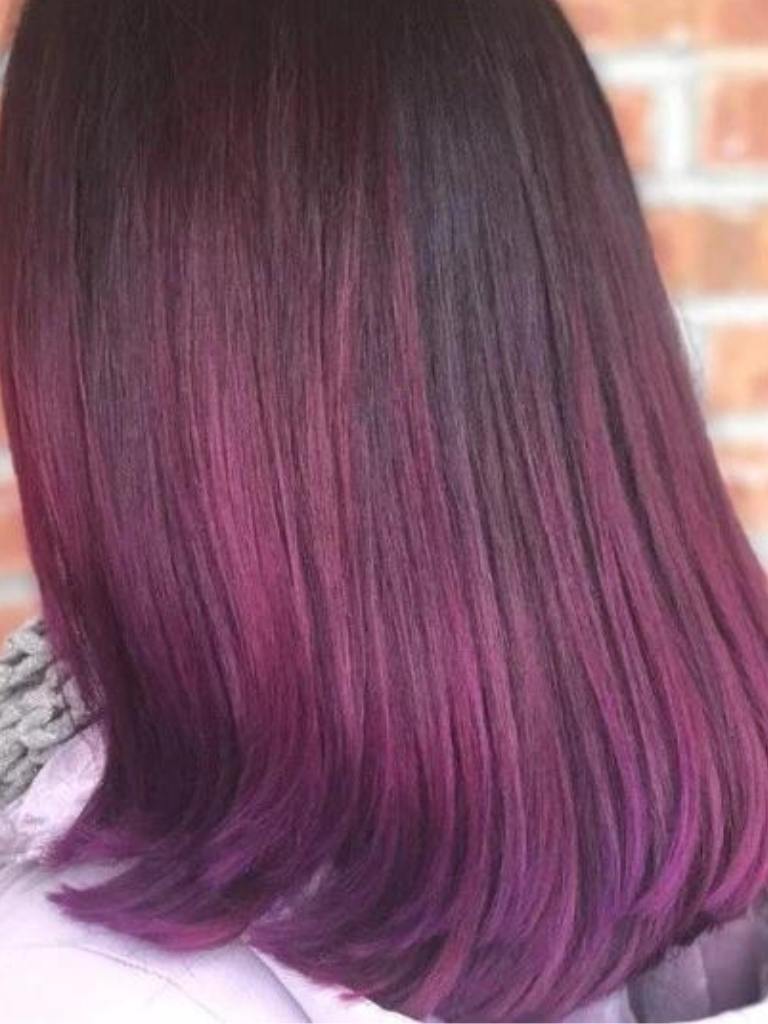 Are you looking for hues on the wilder end of the spectrum? For a look that's so fun that people literally won't be able to help but stop and stare at the wonder that is your hair, look no further than this Neapolitan ice cream-inspired look.
With 3 contrasting but complementary shades of red and purple hair, this Instagrammer's look should be in a museum because it's basically a work of art.
6. Dark Plum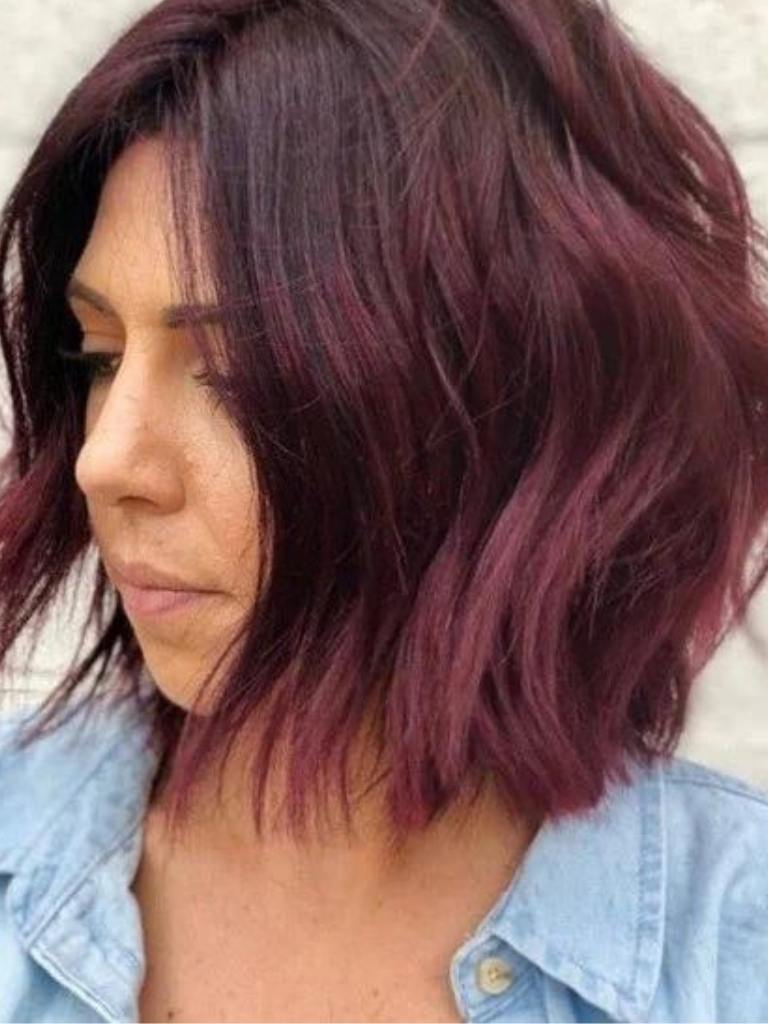 If purple red hair feels like it's a bit too far out of your comfort zone, just try a darker plum shade that's closer to your current hue, so that the contrast isn't so overwhelming. This way, you can get a taste of the style without fully committing.
7. Purple Into Red Ombré
You heard it here first: brights are the new pastels! If you're not afraid of really committing to vivid colour, you can channel the bright rainbow vibes with this gorgeous look.
8. Ultraviolet
Ultraviolet hair can liven up any look, and it is such a gorgeous shade that we think you should try this hue immediately.
9. Sunkissed Ends
Did you wear red hair right the way through autumn/winter and are now looking for a way to revive it for spring? The tips of our hair have been growing for the longest, so naturally, they have been more exposed to sunlight and are often lighter than the rest of our hair.
Recreate this natural sun-lightened look with lighter blonde tips for an ombré effect that looks like you've been sunning it up on the beach somewhere exotic, instead of hiding from the cold for 6 months.
10. Vivid Tips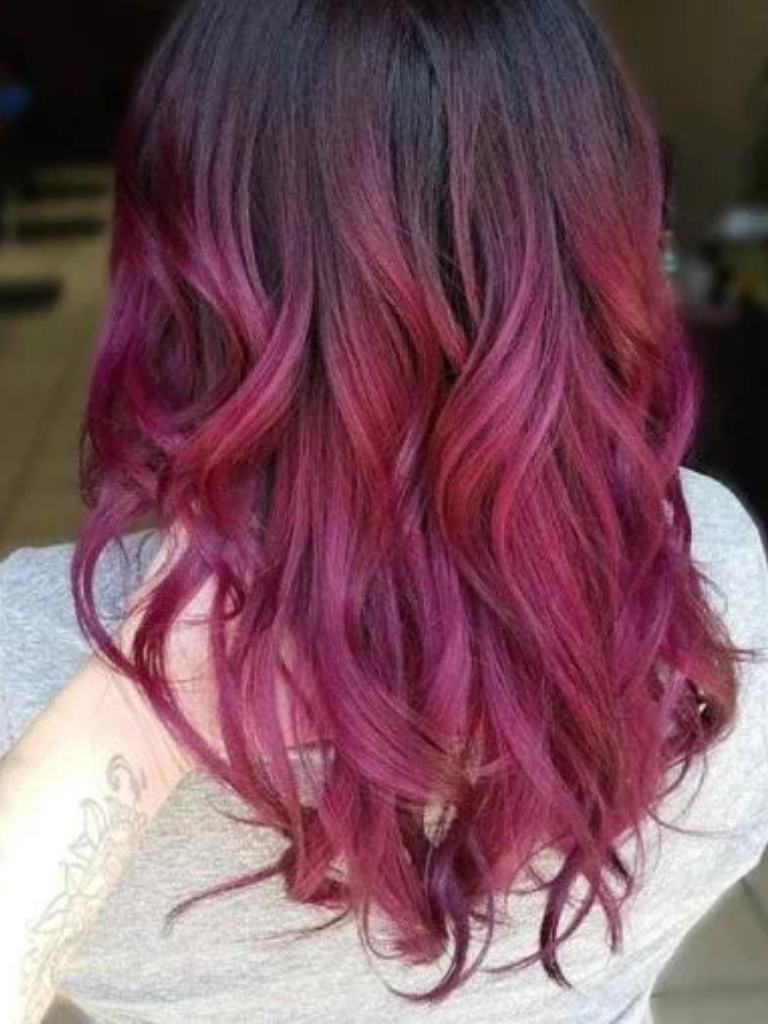 Celebs like Ariel Winter and Demi Lovato have both played around with neon dip-dye in their dark hair and it always adds an undeniably festival feel.
Remember that if your hair is naturally dark your stylist may tell you that you need to lighten your hair first with bleach to achieve the colour you really want, so if you're concerned about damage do bear this in mind.
*Formulated with Keratin and Marula oil; you can enjoy up to 72 hours of frizz control. System of Keratin Smooth Shampoo and Conditioner vs non-conditioning shampoo.
Prev Article
Next Article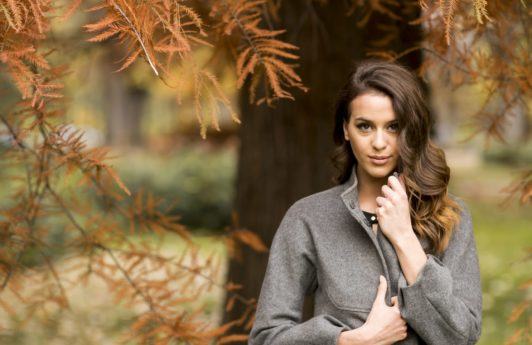 Gallery
Subtle highlights for dark brown hair: 4 Autumn hair ideas
Autumn #hairspiration is only a click away... 
See article