5 Things to Know About Recycling Your Beauty Products
Find out how to dispose of your beauty empties responsibly.
For most of us, recycling our food packaging in the kitchen is second nature by now. But for some reason, when it comes to our empty shampoo and conditioner bottles, many people just aren't making the same connection. This can, at least partly, be blamed on the confusion around a lack of labelling, but also that beauty products tend to be trickier to recycle.
Recycling company TerraCycle explained that beauty "brands and manufacturers try to make (their products) stand out which means they often use a variety of materials for a single packaging which makes it complex to recycle." If you're trying to be more eco-friendly and want to start recycling your used beauty packaging but don't know where to start, hopefully, we can help shed some clarity.
Continue reading to find out which of your beauty products can and can't be recycled and what to do if you're not sure if something is recyclable.
1.  Check Your Local Authority's Recycling Guidelines
Different local authorities have different guidelines when it comes to what can and can't be recycled, so while the general rules will be the same across different areas, some places do have slightly different rules on what they'll collect.
Enter your postcode to see what the restrictions are for your area.
2. 10 Things You Can Recycle In Your Bathroom
The best way to find out whether something is recyclable or not is to look at the back of the label. We don't currently have one universal labelling system, so there are a few different clues you can look out for. The most common is the Mobius Loop triangular arrow symbol, which indicates that an item can be recycled. You should also look out for labels like "Widely Recycled", "Check Locally" or "Not Yet Recycled".
Getting used to checking each label to find out if something is recyclable will take some time, so here are 10 commonly-recycled bathroom items to help get you started:
Shampoo bottles
Conditioner bottles
Shower gel and bubble bath bottles
Cardboard boxes e.g. toothpaste or soap boxes
Toilet roll tubes
Bathroom cleaner and bleach bottles
Deodorants
Shaving foam
Hand soap bottles
Moisturiser bottles
Source: RecycleNow
3. Keep a Separate Recycling Bin in the Bathroom
The easier it is for us to recycle, the more likely we are to do it. So, with that in mind, one way to make it easier for you to recycle your beauty products is to keep a dedicated recycling bin in your bathroom, either alongside your regular waste bin or tucked away under the sink if you prefer.
This saves you from having to walk to the main kitchen recycling each time and once it's full, you can simply empty it into your main recycling bin.
4. If You're Not Sure, Put It in Your Regular Bin
If you're not sure whether a product is recyclable or not, it's tempting to just put it in the recycling anyway just in case to avoid unnecessary waste. But actually, putting a non-recyclable item in your recycling bin can contaminate the system and slow down the sorting process. Plus, they'll probably just end up being sent to landfill anyway, so it's best to just throw them in your normal bin to streamline the process.
5. And If It Can't Be Recycled…Upcycle!
We're of the belief that we can all do our bit by being more eco-conscious about our beauty purchases but if you do have an item that can't be recycled, there are still ways to give it a new lease of life. Upcycling (that is, repurposing something old into something useful, like storage – see the shampoo bottle vases above!) is becoming more and more popular and it can be fun, too! Check out our upcycling ideas for inspiration.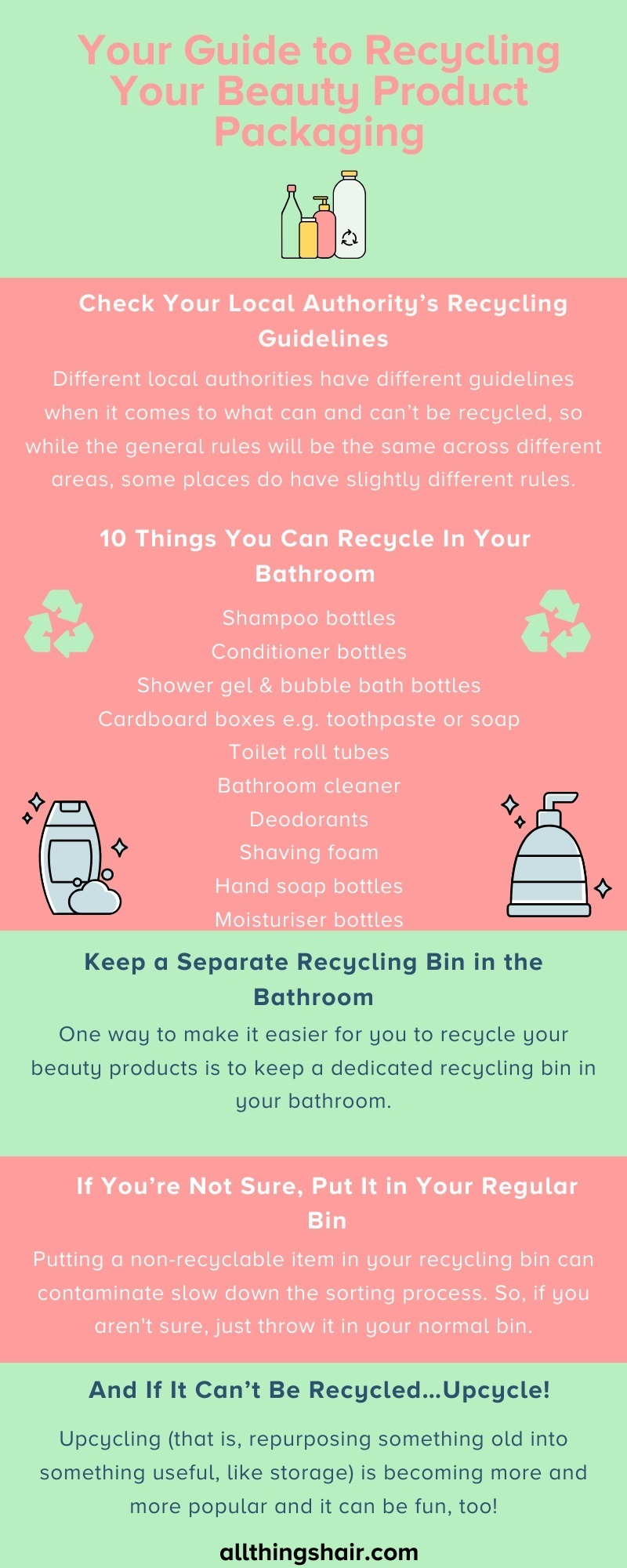 Prev Article
Next Article
Article
Working It: How I Manage My Hair with My Hectic Fitness Schedule
We spoke to WGSN's Senior Beauty Editor (and part-time fitness instructor) Theresa Yee all about her best post-gym hair care tips and the importance of #SelfCareSunday.
See article