29 Gorgeous Prom Updos for 2019
These prom updos will transform you into a prom princess. 
Heading to prom? Finding the perfect outfit is obviously key, but you can't forget about the true pièce de résistance — your hair! And if you're thinking about wearing your hair up, we've got just the thing: prom updos inspired by some of your favourite A-list ladies.
We've looked to the stars to find you some dazzling prom updo hairstyles from the likes of Hailey Baldwin, Lili Reinhart and Rosie Huntington-Whiteley. Whether you're aiming for cute, classic or sexy vibes, these eye-catching prom updo hairstyles won't disappoint.
1. Coiffed prom hair
Keep your hair as high as your heels with teased coiffed hair like Lili Reinhart. It's simple enough that it'll go with any dress or make-up look, plus it's great for boosting the look of finer hair.
Editor's tip: For volumised prom updo hairstyles, we'd recommend working the TRESemmé Collagen+ Fullness Thickening Balm into damp hair first, before blow drying. This volume-boosting balm will give your hair the lift it needs for a plump updo.
2. Cute ballerina bun
If you're planning on going for a dramatic makeup look, like a smokey eye or a bold lip like Hilary Duff's, consider more simple prom hair updos, like the high bun.
Sweeping all of your hair up and out of your face will really put the emphasis on your features and make you look ultra classy in the process.
3. Quick top knot
Make the most out of second-day hair texture by working your hair into this quick top knot. The fun doesn't have to stop there! Secure your updo with a golden hair cuff to take this simple hairstyle up a few notches.
4. Elegant bun
If anyone can do a good bun, it's Rosie Huntington-Whiteley, and this side bun style is giving us major prom vibes. The ideal accompaniment for a strapless or one-shouldered gown as it draws attention to your collarbones, it's a more unique take on the classic chignon.
Not going to prom? We think that this one would work really well for other occasions, as well as brides and bridesmaids, too.
5. Slick bun
Slick hair with a defined side parting is a popular A-list look, seen on everyone from Selena Gomez to Miss Universe herself, Olivia Culpo. The style screams sophistication and with just a comb and a bit of gel, it's definitely one of the prom hair updos you could easily do yourself.
6. Braided chignon
Do we have any braids lovers out there? Join the club! Braids have the power to make any style look infinitely more intricate and that's why we love them.
For example, Nicky Hilton Rothschild's braided chignon is doing a killer job at showing off those showstopper earrings, wouldn't you agree?
7.  Braided headband
Start with a headband braid and don't stop. Once you've finished weaving it, top the look off with some pretty floral clips.
8. Twisted bangs
Not great at braiding and wish there was an easier way? Avoid any prep stress with twisted prom updo hairstyles instead.
Lily James' updo isn't overly complicated but the way she's twisted her bangs back and clipped them into her bun almost gives a braid-like effect – without actually having to braid. You can thank us later.
9. Knot bun
Love your go-to messy bun but want to jazz it up and make it a bit fancier for prom? Try a knot bun!
Twisted hair knots are a regular feature on the runway at fashion week and with our girl crush Jasmine Sanders also a fan, we're sold.
10. French braided updo
When you see photos of elaborate prom updos on Pinterest, you probably think they're all way too difficult, right? But here we've got a look that you can probably already do – you just don't know it yet!
Instead of simply finishing your regular French braid with a hair tie, take the end of your braid and twist it around on itself to form a bun, secure, et voila – you've got yourself a French braided updo.
Want to see it in action? You can follow along with our video tutorial.
Editor's tip: Finding it hard to braid? It could be that your hair is too silky, in which case try giving it a quick spritz of sea salt spray.
Sea salt sprays (like the TONI&GUY Sea Salt Texturising Spray) give the hair a more tousled, beachy texture, which works better with braids and gives them more hold.
11. Milkmaid braid
Okay, so we're almost tempted to keep this one to ourselves as it's a bit of a secret hair hack of ours, but we're nice so we will share it with you. Like the look of Alicia Silverstone's boho, whimsical updo? Well, it is, in fact, a milkmaid braid which just so happens to be one of the easiest prom hair updos to DIY ever.
Take a look at our step-by-step how-to – you'll be shocked at how straightforward it actually is!
12. French twist
If you're eager to add something different to your mane, we suggest you give this classic French twist hairstyle we saw on Jessica Chastain a chance.
While this elegant updo may look impossible to recreate, it isn't! Don't believe us? Just follow our simple tutorial on how to do a French twist. Trust us, you'll be channelling your inner French girl in no time!
13. Braided bun
When British actress Lily Collins rocked up to the Golden Globes with this incredible braided updo, we knew this Disney-worthy hairstyle would be destined for prom. And before you get major envy, you can read our tutorial on how to get a braided updo at home.
14. Messy updo
Looking for prom updos that are stylishly modern? Then prepare to fall in love with this romantic messy updo we spotted Abbey Lee Kershaw sporting – isn't it gorgeous?
With lush tumbling curls and a few wispy tendrils at the front, this easy-breezy style is basically every lazy girl's dream come true (we can all relate!).
15. Messy low bun with flowers
Who said you can't look to the bridal runway for prom updos inspiration? A delicately tousled low bun with a bunch of flowers won't fail to impress.
16. Metallic updo
Head to prom perfectly on-trend with a sophisticated,  low-slung bun, just like Draya Michele did for this exclusive event. Try pairing the look with metallic specks for some major high-fashion vibes.
The best thing about this surreal look? It works a treat on ladies with short and long locks, and on all hair types, too – yay!
Editor's tip: Can't figure out how to get your glitter foil to stay? The VO5 Fixing Spray For Glitter will do just the trick! Just spray directly onto the areas you've applied the foil and it'll keep your style in place – without making it sticky.
17. Triple box braided updo
Currently rocking box braids? Strike the perfect balance between edgy and stylish by working your braids into an elegant triple-twisted updo.
18. Romantic curly ponytail
Trends may come and go, but ponytail hairstyles will never go out of style. Now we know what you're thinking: a high ponytail? Yawn, right? Well, not if you add in some romantic loose curls as Rihanna has done.
Sometimes in the world of prom updo hairstyles, it's the simplest of looks that are the most beautiful.
19. Sleek high ponytail
Not all ponytail prom hair updos have to be textured! You can keep things classic with this polished high ponytail and cute velvet bow combo.
20. Bow updo
Yes, you can wear velvet hair bows with every updo hairstyle and hair type. And, if you've got bangs, we suggest you take note of this cute look.
21. Double Dutch braid bun
Now, if there are two things we can't live without, it's double Dutch braids and buns. And while we're so often torn between which look to rock, Amanda Seyfried shows us how to combine them in the most elegant way possible!
The second we saw her red carpet look we fell completely and utterly in love. And luckily for you, you can DIY this 'do at home by following our lovely double dutch braided bun tutorial.
22. Twisted floral updo
We've said it before and we'll say it again: hair accessories are the quickest way to jazz up any prom hairstyles and updos.
Whether you decide to pair your updo with flowers (like Kate Bosworth has done, here) or some pretty pearls is all up to you, but one thing's for sure: you'll be tressed to impress!
23. Fishtail plait
Have you mastered the fishtail plait? There's no better time than prom to put your styling skills to test by copying this ethereal fishtail braid updo as seen on Once Upon A Time star Jennifer Morrison, here.
24.  Curly updo
Show off your naturally curly hair texture with this cute updo. Make sure to pull out strands of your curls from the front for a fun, flirty effect.
Editor's tip:  Starting with damp hair? If you plan on wearing this prom updo hairstyle, we suggest you apply 2-3 pumps of the TRESemmé Botanique Air Dry Curl Cream to your hair.
This nourishing formula is great for controlling frizz, defining curls and giving them a natural shine. The best bit? There's no need to reach for a diffuser, you can let your locks air dry and still get fab fluffy curls.
25. Bubble ponytail
Tired of your go-to ponytail? Make it feel new again for prom by incorporating a bubble effect into it like this.
26. Cornrow updo
Black prom hair updos don't get dreamier than this! For a fun way to make cornrows shine, try weaving through some golden thread to give your look a Midas touch.
27. Retro bouffant
If Breakfast at Tiffany's is your fave film, you'll be happy to know that you can rock a style similar to Audrey Hepburn's for prom. Our easy beehive tutorial is all you need to help you nail the look!
28. Low braided updo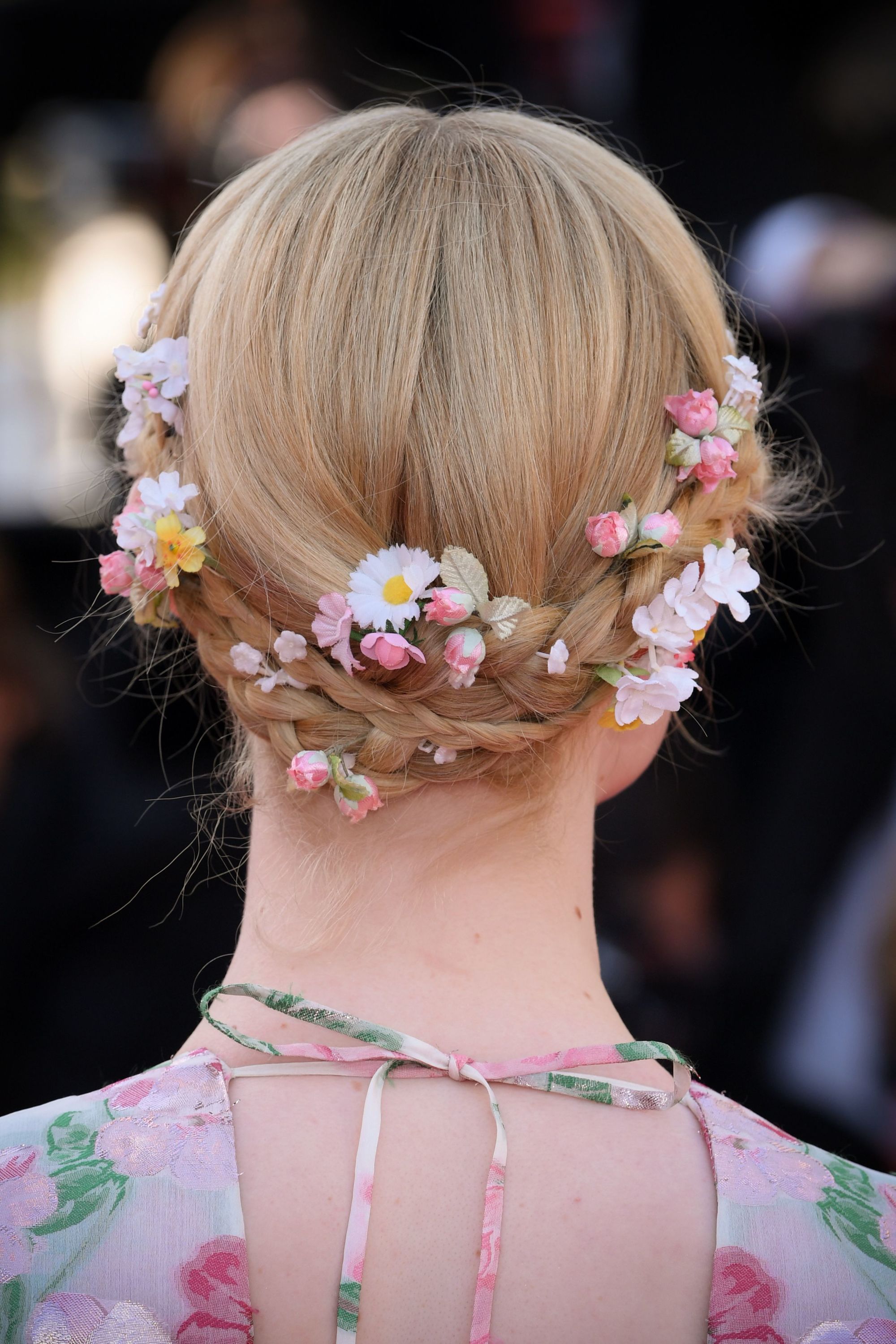 Try teaming a double low braided updo with spring blossoms for a delicate look that's positively breathtaking.
29. Headband hairstyle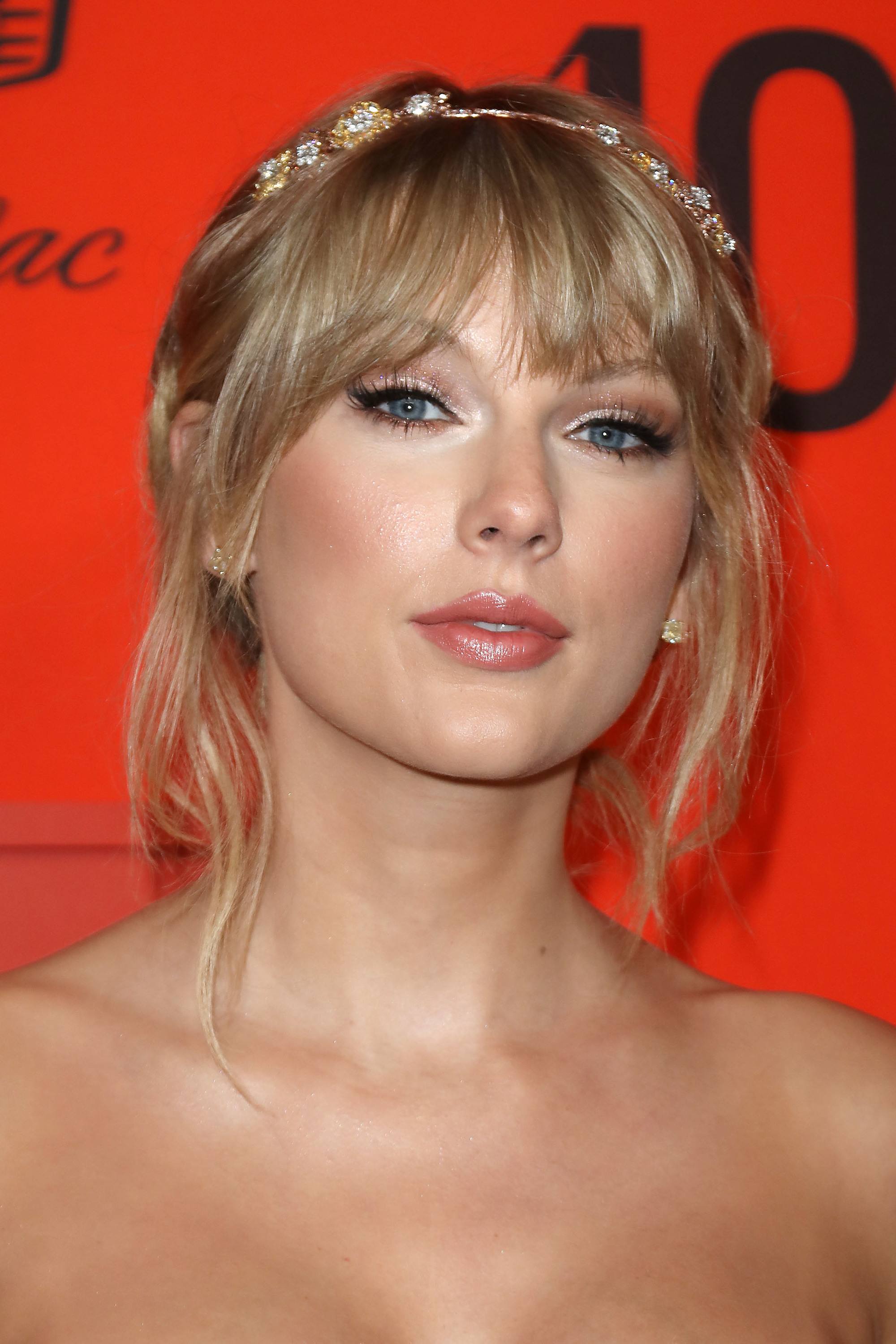 A simple updo makes a great canvas for sparkly headbands. Whether it's a sleek look or one that's more undone, like Taylor Swift's, you'll look great.
Prev Article
Next Article
Article
Updos for long hair that are perfect for your next occasion
Looking for occasion-ready updos for long hair? Stop searching for up styles for long hair, and start taking a look at these beauties, instead!
See article