The E-Girl Hairstyle: Are You Brave Enough to Try TikTok's Latest Hair Trend?
E-girl hairstyles are characterised by soft pastel shades and signature '90s streaks in contrasting hues. Originating with online girl gamers, the E-girl look resembles the "scene" trend we saw in the early 2000s, complete with winged eyeliner and striped tops, mixed with a more modern aesthetic that's often amped up through social media.
They're experimental and fearless, and thanks to TikTok, they've become the biggest subculture online. With style icons like Britanny Xavier and Dua Lipa recently spotted wearing popular E-girl hairstyles, we predict this trend will be huge throughout the year.
So, whether you're inspired by your fave anime character or love a nostalgic '90s trend, we've shortlisted the best E-girl hairstyles below.
Chunky Highlights
The chunky highlight look is achieved by bleaching the front section of your hair to create a contrasting look against the rest of your strands. Credit: @annvmariv
Barbie Pink Streaks
Even if you're already a blonde, pre-lightening your hair before applying your chosen colour will really help to make the colour pop. Credit: @kateelisabethxo
Editor's tip: Keep your coloured hair looking vibrant for longer with the TRESemmé Revitalise Colour Shampoo and Conditioner.
Dainty Streaks
Dainty streaks are also just as effective when paired with dark brown hair. Credit: @sydneydlcruz
Billie Eilish Style
From bobs to pixies, everyone can get the E-girl look! So why not channel your inner Billie Ellish with neon green highlights? Credit: @cakefacedcutie
Ginger Spice Vibes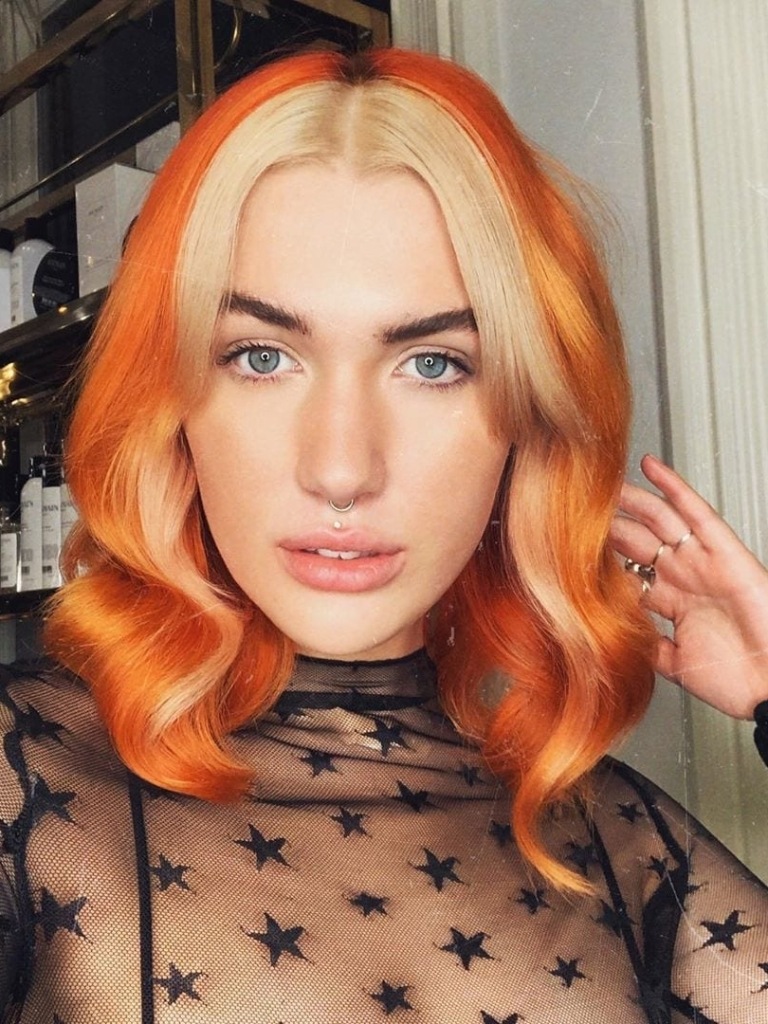 This is giving us serious '90s Geri Halliwell vibes, we loved it then and we love it even more now! Want to recreate these curls? Then try TRESemmé Curl Definition Mousse, for sleek and long-lasting styling.
Credit: rosie.bellx
Two-Tone Pastel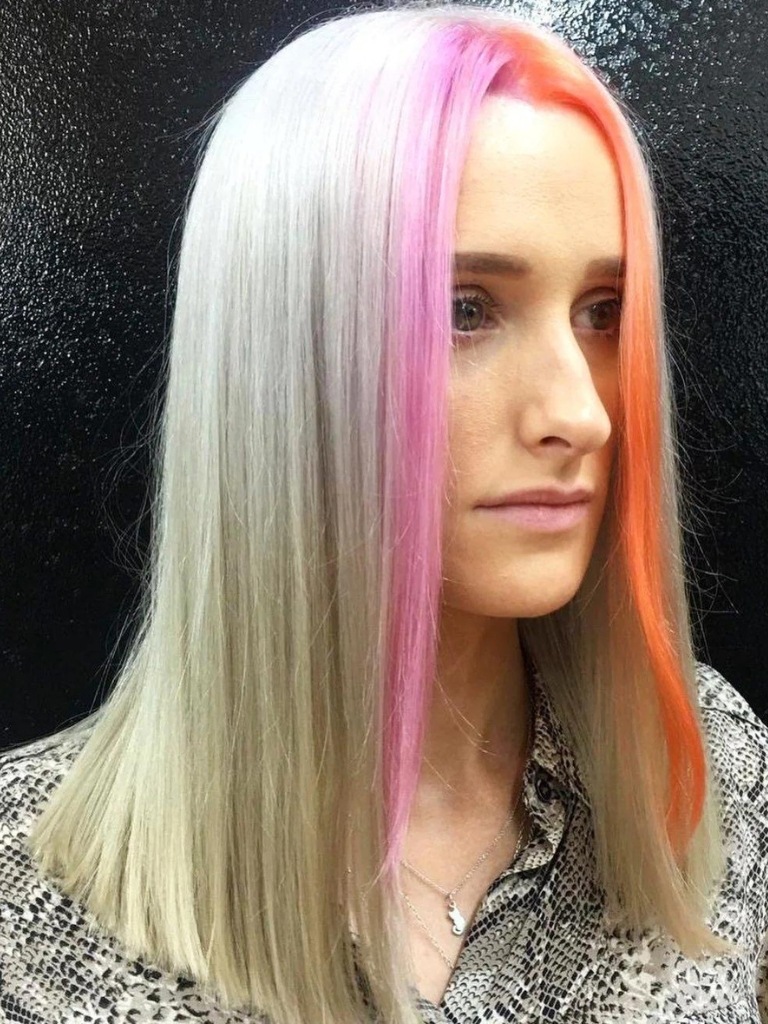 Making a statement is key to this colour trend so if one shade isn't enough, try two! Credit: @nosebleedsaresexy 
Coloured Curtains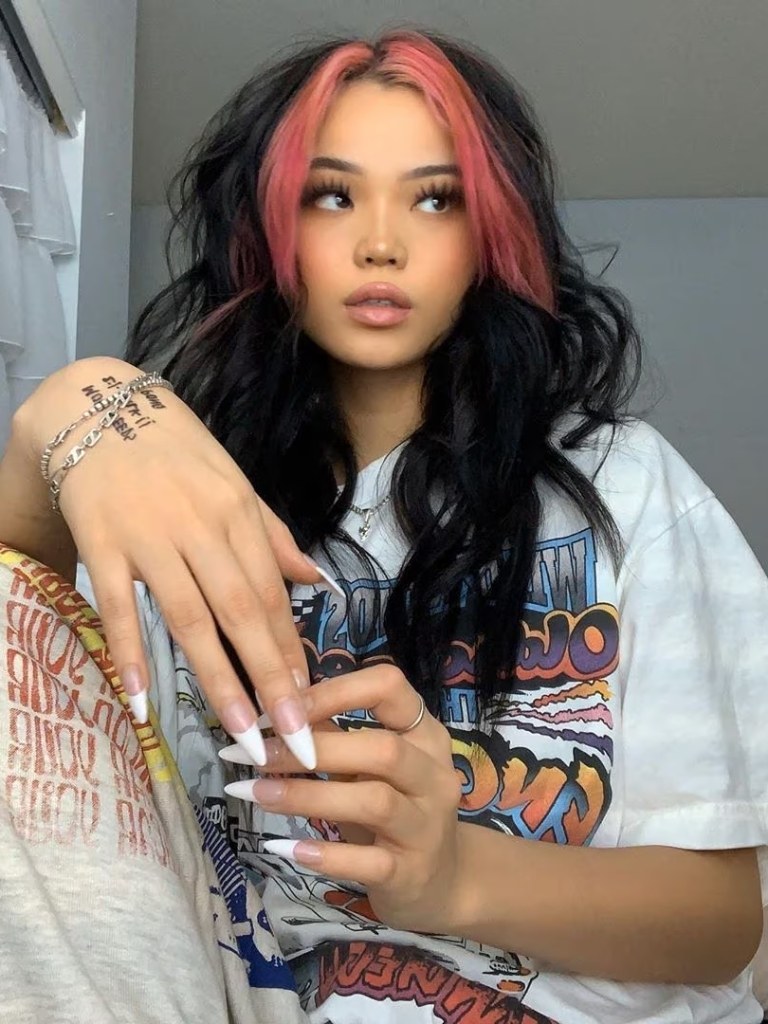 Hit two trends at once with this coloured curtains hairstyle. Credit: @hanakanazu
Coloured Bangs
Don't forget your bangs! Credit: @faketeeth 
Pretty in Pink
For extra E-girl points, try colouring the front of your hair a bright pink shade. Credit: @zalimelverton
Butterfly Clips
Pigtails
No E-girl look is complete without bold colourful makeup and the signature moody aesthetic. Keep your pigtails styled for longer with TRESemmé Freeze Hold Hairspray.
Credit: @aestdolls
Two-tone Hair
You can't talk about e-girl hairstyles without mentioning two-tone hair. When you can't pick which pastel hair colour to go for, you can get the best of both worlds with this hair colour method. Credit: @kidjess
Braided E-girl Hair
The best thing about chunky, e-girl highlights? You can easily plait them, just like this. Credit: @allie.xcx
Ash Blonde Streaks
To amp up the drama, go for this edgy, ashy half-dyed look that we spotted on this beauty. Credit: @yottiwilkinson
Half-up E-girl Hair
Just look at how cool this half-up hairstyle is! Credit:@funkynutmeg
Long E-girl Hair
Forever the go-to for e-girl hair inspiration, Tik Tok queen, Yvie Scarlet, styles her long hair with cute butterfly clips. Credit: @yviescarlet
Cerise Pink Streaks
Everything about the contrast between the brunette and cerise pink tones in this example is so right. Credit: @jocmill
Blue E-girl Streaks
Prefer blue shades? You'll love this look! Credit: @nava_beautyyy_
Face-framing Highlights
This cool face-framing look is totally trending for 2021. This is more of a fashion-forward take on e-girl hair.  Credit: @angel.iica
Subtle E-girl Hair
We love this soft take on chunky front highlights. Credit: @oliviaalexandra_styles
Single Streaks
This single e-girl streak provides the perfect compromise for those that want to dip their toe into this trend. Credit: @sandrabulldock
Bella Hadid's E-Girl Hair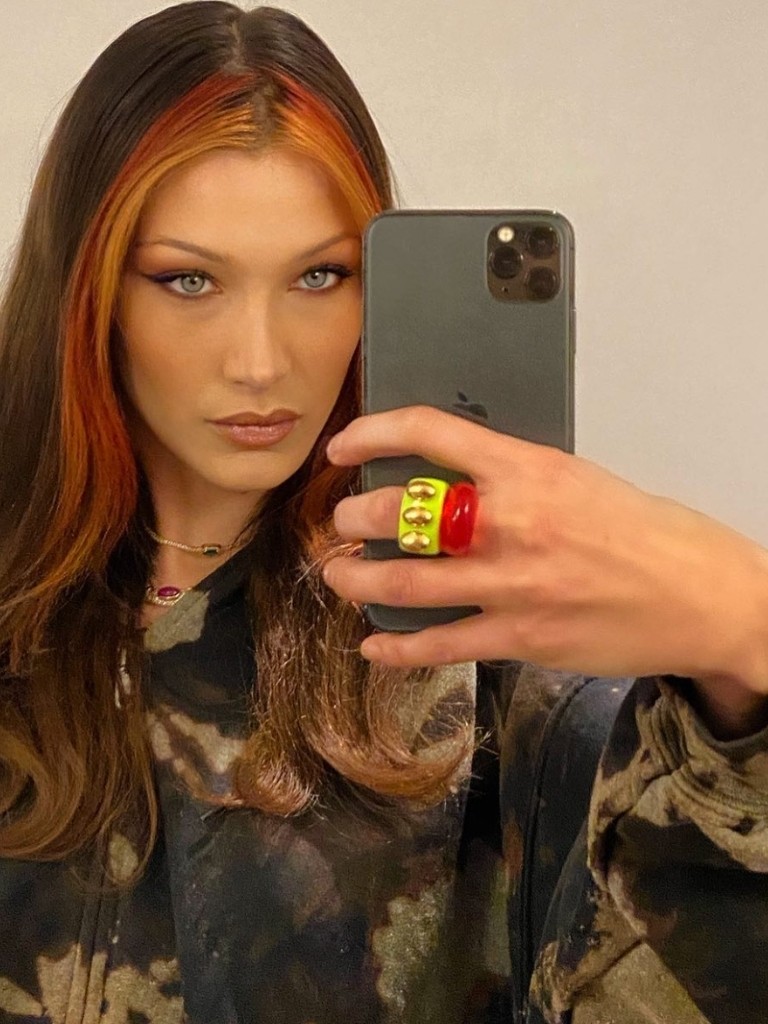 Bella Hadid's new e-girl hair is proof that this hairstyle isn't going anywhere in 2021.
Playful Peekaboo Highlights
Trust us, these blue and purple peekaboo streaks are all you need to make your hair pop. Plus, if e-girl queen Charli D'Amelio is rocking them, you really can't go wrong.
Peekaboo Blonde
This colour combo is perfect for those wanting to channel '90s vibes.
Ronze E-Girl Highlights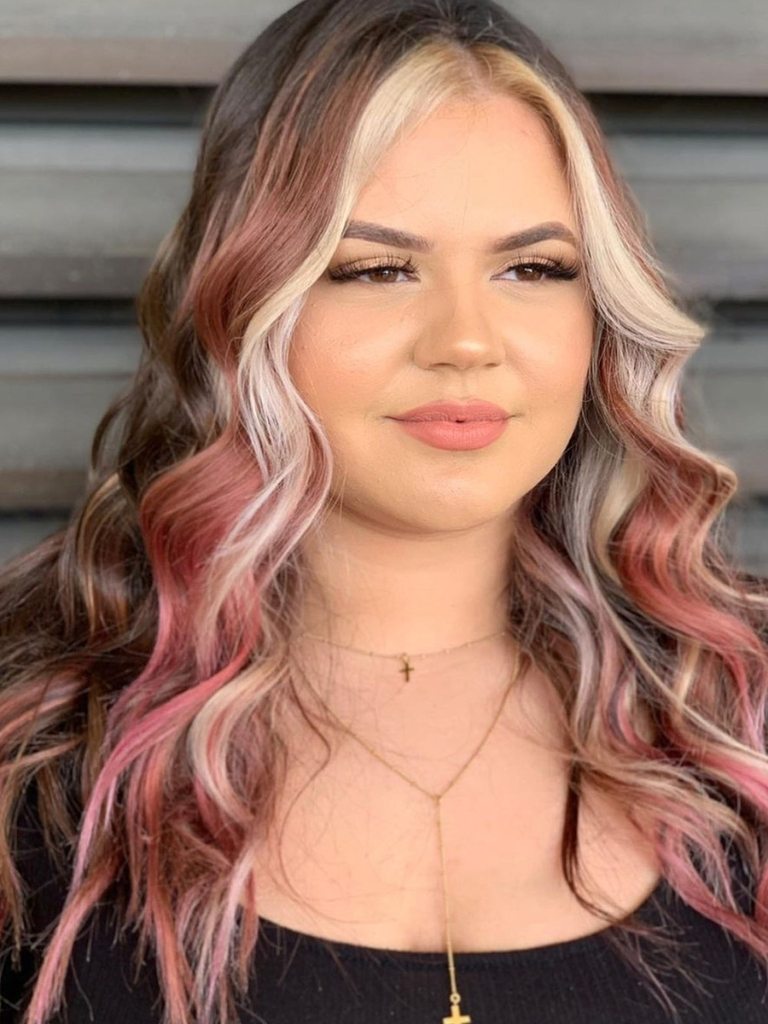 Even hair as dark as this can benefit from two ronze streaks at the front.
Pink Bob
Bobs are so on-trend now, and so are these pink e-girl highlights.
Lime Green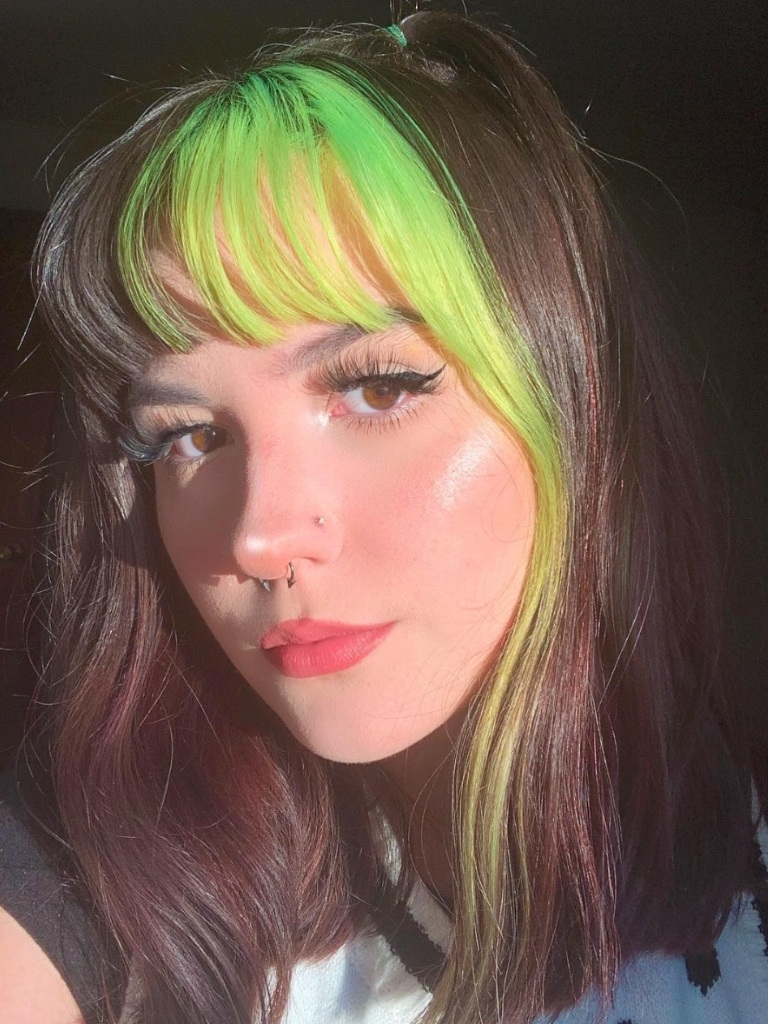 For a look that will turn heads, focus your fave hue on part of your bangs and front layers.
Nirvana Vibes
Not e-girls have to be soft, you can have an edgier vibe with hair like this.
'90s Hair
The best thing about e-girl highlights? When done right, they can totally look grown-up, too.
Peach Streaks at the Front
Peach streaks at the front will instantly give your look a summery feel.
Soft Streaks
Add this gorgeous e-girl hairstyle to your must-try list, ASAP!
Chunky Two-Tone Streaks
Why go for one colour, when you can rock two?
Glam E-Girl
For days you want to try something new, master the TikTok dressing gown hack and rock these effortless curls.
Money Piece
If you go slightly less chunky with your highlights, you'll be hitting the money piece and e-girl all in one.
Prev Article
Next Article
Gallery
Ocean hair is the latest colour trend making waves on Instagram
Look what we found 'surfing' the internet! Yes, ocean-inspired hair is the summer trend that'll wash you away! 
See article