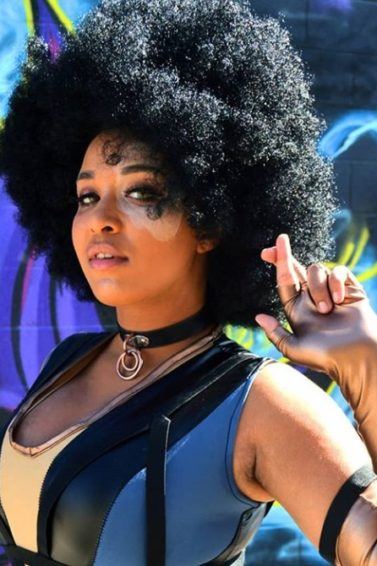 13 Fun Halloween Hair Ideas for Black Hair
Looking for Halloween ideas for black hair? With All Hallow's Eve fast approaching, we know that most of you will be on the hunt for loads of fun and quirky 'dos to slay this October.
So, we've scoured Instagram to help find you the best black Halloween hairstyles in town. Keep scrolling to see the 13 looks we're obsessing over (and you will be, too)…
Mother of Dragons Hair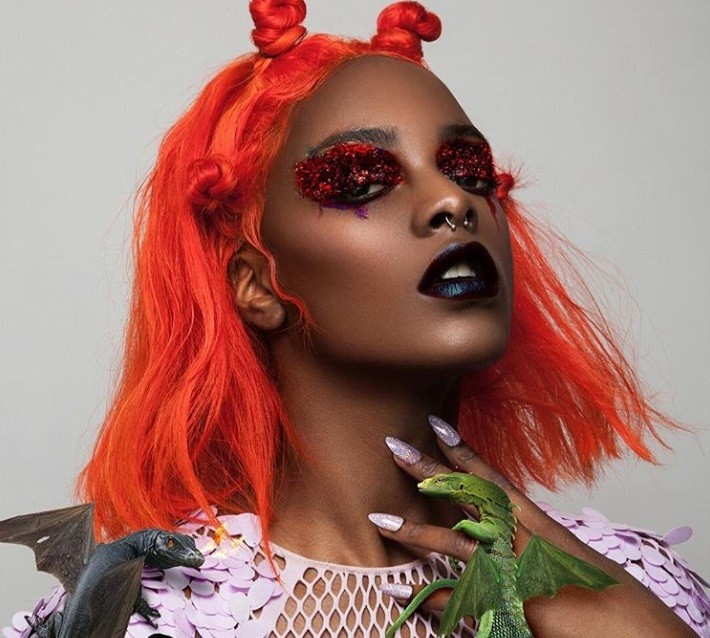 Of course, a love of dragons and Games of Thrones is an essential part of pulling off this edgy, bantu knot hairstyle. Credit: @3rd_eyechakra
Domino Afro
Easily our favourite costume and the most effortless one to put together, this big and fluffy Domino-inspired look is destined for afro babes who want to proudly flaunt their mane. Credit: @cheyennejazwiseofficial
Editor's tip: Natural hair looks its best when it is nourished and frizz-free! So, you really can't go wrong with applying the TONI&GUY Leave In Conditioner to your coils.
Wakanda Ponytail
Pay homage to the princess of Wakanda by dressing up as Shuri this Halloween.
In this example, this naturalista has styled her mane into a cornrow ponytail and completed the look with a golden thread hair accessory. Credit: @cutiepiesensei
Mermaid Hair
Dreaming of being a mermaid? Then this undone, yet romantic updo is all you need to look at for mane inspiration.
What makes this hairstyle great is the fact it plays on the wet look trend with cute curls, instead of straighter tresses. The secret? Hair gel, of course! Credit: @brownsugarfairies
Flapper Bob
Vintage-lovers, rejoice! This 1920s-inspired finger waves hairstyle will make you feel like you've stepped out of an old film and fits right in with Halloween, too. Credit: @makidarko
Vampire
Dressing up as a vampire this year? Then you're going to need some seriously big hair to enchant your victims.
All you have to do is create a beautiful blow out and do your very best impression of Angela Bassett (circa Vampire in Brooklyn). Credit: @nvte_blvck
Editor's tip: Before blow drying your tresses, remember to prep and protect them with a nourishing heat protectant cream, like the TRESemmé Biotin+ Repair 7 Primer Cream.
Medusa Halloween Hair
Whether you've got dreadlocks or box braids, we think that this Medusa updo is exactly what you need to add a spooky flair to your protective style. Credit: @discocurls
Female Joker
If you want to channel Joker vibes this Halloween, you should deffo take style tips from this beauty.
Don't want to permanently dye your tresses green? There are plenty of bright wigs and hair chalks that will do the trick. Credit: @brihallofficial
Black Harley Quinn Hair
Prefer Harley Quinn? Lucky for you we've found you 12 examples of black Harley Quinn hairstyles, here. Credit: @little_body
Storm Halloween Hair
You can't talk about black hair ideas for Halloween without mentioning Storm's icy look from X-Men.
To get yourself ready for your new role this Halloween, we suggest watching all of the X-Men films back to back – you'll be looking and thinking like Halle Berry in no time. Credit: @heirofglee
Egyptian Goddess
Keep your hair sleek to nail this stunning, Egyptian look. Remember: it's all about understated hair because your chosen Egyptian hair accessory should do all the talking. Credit: @tetamaria
Mad Max-inspired
Slay your post-apocalypse hair by drawing inspiration from the Mad Max films. Think shaggy, 80s-inspired hairstyles and metal, retro-futuristic hair accessories.
Trust us, follow this advice and we're sure that Charlize Theron would be mega proud! Credit: @mayasworld
Lion Hair
When you've got a head full of beautiful, bouncy curls, why not show them off?  Whether you've got short or long natural curls, this gorgeous lioness look is sure to get the crowd talking. Credit: @curlbox
Editor's tip: Nourished curls are the best! To revive your curls and make them shine on Halloween night, try working in a few drops of the VO5 Invisibly Light Hair Oil.
Prev Article
Next Article
Article
Jessica Alba is bringing bandanas back – and we're totally with her
Consider your weekend #hairinspiration sorted.
See article