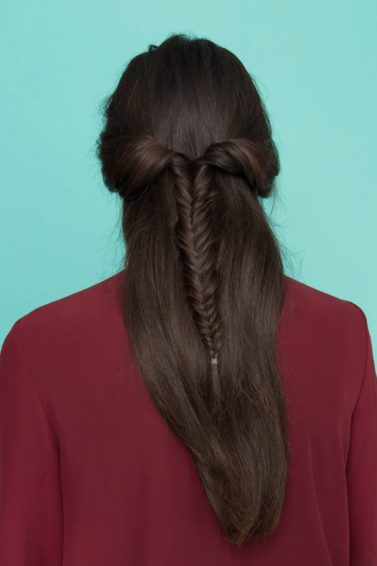 The 12 'Dos Of Christmas: Half-up, half-down fishtail plait
Hybrid hairstyles are the way forward!
Have you been searching high and low for a chic new look to flaunt on Christmas Day? Well, your hair quest is about to come to an end, because we're gifting you with a gorgeous fishtail plait, that's been incorporated it into a charming half-up, half-down hairstyle. Perfect for those of you with medium to long-length locks, this dainty 'do will be your new BFF during the festive holidays, thanks to the fact that it's uber easy to achieve!
Okay, we can see that you need a little more convincing on this one. So, to prove to you just how stunning this hybrid hairstyle really is, take a look at our simple step-by-step tutorial below, and get ready to create the next look in our The 12 'Dos Of Christmas series!
Half-up, half-down fishtail plait tutorial
Now, if you've only ever rocked a standard 3-strand plait in your locks, and are feeling a little nervous about attempting this fishtail variation, don't be: because the All Things Hair team is here to help. The 6 simple steps that we've crafted are tried and tested, so that even braiding rookies can nail this 'do!
How to get this look:
1. This hairstyle is best shown off when your tresses are ultra glossy! So, begin by washing your hair with a shine-enhancing shampoo and conditioner, like the TIGI S Factor Diamond Dreams Shampoo and Conditioner, before blow-drying your hair straight.
2. Then, brush through your strands to remove any knots and tangles.
3. Next, take a 3-inch wide section of hair from both the left and right sides of your face, twist each of the sections twice and bring them to meet at the back of your head.
4. Now it's time to create your half-up, half-down fishtail plait! Take a thin piece of hair from the outer edge of the right section, and pull it over to the left section – make sure to cross the hair in front, not behind. Then, repeat the same technique on the left section of your hair: take a thin section from the outer edge, pulling it over and across to the right section. Ensure that you are holding your tresses tightly while you braid, so your plait doesn't come loose.
5. Continue this weaving motion until you have braided the full length of your hair, securing your finished fishtail plait with a clear hair elastic.
6. For the final touch, you'll want to give your strands an extra gloss boost, so spritz it with some Toni&Guy Finishing Shine Spray. And that's really all there is to it – see, we told you it was easy!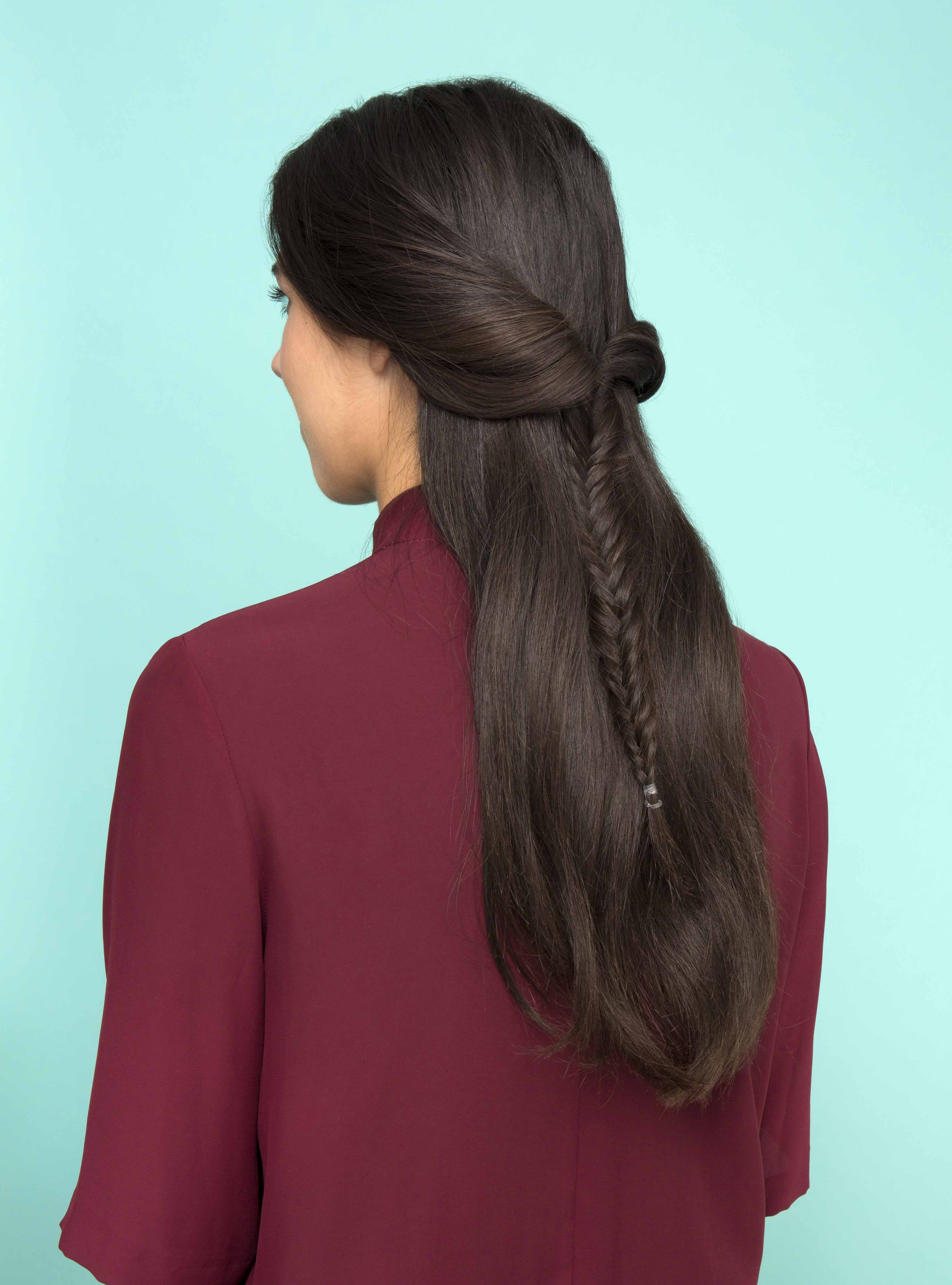 If you're still struggling to master this look, but love the idea of wearing your hair up this holiday season, take a peek at the lovely loose bun we created for Day 8 of our The 12 'Dos Of Christmas series. Spoiler: it even comes complete with a glitzy accessory!
Prev Article
Next Article
Tutorial
How to do a unicorn braid ponytail: A step-by-step tutorial
Add a fairytale flair to your hair with this unicorn braid tutorial!
See article