Full vs Partial Highlights: All You Need To Know
You may have heard the term 'partial highlights' thrown about or seen them advertised at your local salon, but what sets them apart from regular highlights? Well, unlike 'full' highlights which are applied all over, with partial highlights foils are applied only to certain sections of the hair, usually around the front and on the top layers.
Partial highlights are great for a quick colour change without the hassle or commitment of allover highlights, so read on to learn more about them and find out if it's the right service for you.
What are full highlights?
When you book in for a full head of highlights, your colourist will apply foils all over your hair (including the underneath layers), for maximum lightening results. So, if you're looking to go significantly lighter, full highlights will help get you there. While partial highlights are great for a subtle lightening effect, if you're hoping for a more dramatic colour transformation such as going from brunette to blonde, we'd recommend full highlights.
What are partial highlights?
Different salons have different names for the same services, so you might also hear partial highlights referred to as a 'half head' of highlights. They are generally placed around the top half of the hair, focusing on the front sections and mohawk section of hair around your face and parting. These are the areas where our hair would naturally lighten in the sun, so by isolating these areas and spot-colouring here, you're able to get a sunkissed look without having to commit to an allover colour.
One thing to note is that when your hair is tied up, your natural colour will still be on show underneath as this section won't have been touched, so if you like to wear your hair up in a ponytail or a half-up half-down, full highlights might be a better option.
Editor's tip: Whether you go for full or partial highlights, you'll want to keep them looking salon-fresh for as long as possible with a specialist colour protect shampoo and conditioner.
We love the TRESemmé Revitalise Colour Shampoo for keeping colour vibrant and shiny between colour appointments.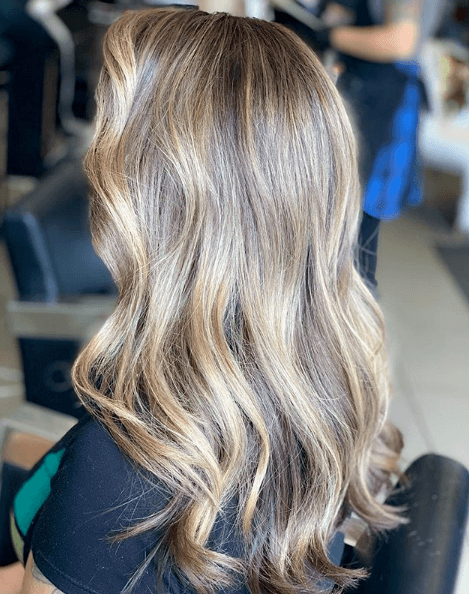 The pros of partial highlights
1. They're quicker
No matter how many magazines and cups of tea you have, who really wants to spend 3+ hours of their lives in the salon chair? One of the most appealing benefits of opting for partial highlights is that they're much quicker, as your colourist will pick out which sections to apply colour to, rather than having to methodically go through the hair section by section.
2. They're cheaper
Maintaining highlights isn't cheap but partial highlights are a much more economical way to change your hair colour. Less time in the salon chair means it costs less in comparison to full highlights as you'll be taking up less of your colourist's time.
3. Less commitment
If you want to keep up your colour you'll need to visit the salon for touch-ups. However, because your base colour won't be changing as your highlights grow out your roots won't be so obvious, so you can leave it longer between appointments. Or, alternatively, you could just decide to let them totally grow out if you wanted to and be left with a soft ombre effect.
4. More natural results
Never dyed your hair before or worried about doing something too dramatic? Not only are partial highlights a more subtle option but they can also be used alongside other techniques like balayage and foilyage to create a truly natural-looking colour.
Prev Article
Next Article
Gallery
12 Trending Tiger Eye Hair Colours Ideas
Hair inspired by semi-precious stones? Yes, please!
See article