Ombre hair: Everything you have ever wanted to know about the hair colour trend
See how you can join the ombre squad in our guide...
Ombre hair is undoubtedly one of the most popular hair colour techniques out there, but pinpointing what exactly is an ombre and whether it's the right style for you isn't always easy. Which is why we have made it our mission to gather all the need-to-know info (and inspo) about this hair colour trend.
So if you're thinking about trying out an ombre colour for the year ahead, this is the perfect chance to brush up on your knowledge before heading to the stylists chair. Come on in and learn all about it!
All you need to know about ombre hair and why we love it
So, what is ombre?
Essentially, ombre is a shading technique used to seamlessly blend dark and light hair, normally starting darker at the roots and gradually fading into a much lighter shade towards the tips.
Applied using traditional foiling or freehand methods, ombre is a much subtler, more elegant take on dip-dyeing – a colouring trend that was all the rage with celebrities like Kylie Jenner and Iggy Azalea last year.
Reasons to love the trend
The trend is much-loved for many reasons, but mostly for its low maintenance appeal. If you already colour your hair, you will know the biggest challenge is maintaining your hue for as long as possible. But with an ombre you don't need to fret over dreaded root regrowth (jackpot!).
Now, if you have already scanned through our gallery of ombre hairstyles, you will already have discovered that you can go as bold or as subtle as you would like. Whether you want to upgrade your current look with a natural finish or a striking bold hue, there is so much you can do with an ombre.
Ombre hair colour ideas: The A-list looks we are lusting over
Drew Barrymore
Actress Drew Barrymore was one of the first to wear her hair in an ombre. The trend-setter and boundary pusher that she is, many others flocked to the salon to get the 'Drew Barrymore look' – and we don't blame them, we were one of them!
Lily Aldridge
We often turn to Victoria's Secret model Lily Aldridge for hair inspiration since her lengthy locks are the thing of dreams. But to update her raven hue, Lily often adds golden brown ombre highlights for a seasonal makeover.
Ashley Benson
Not just for dark hair, blondes can get in on the ombre fun, too. From Lauren Conrad to Ashley Benson, we're loving the way blonde girls are colouring their tresses with an ombre finish.
Foxes
If you are currently slaying one of the bangs trends (Birkin, Bardot, micro – there are so many to choose from), and are questioning how you can work the ombre hair trend, we suggest looking to singer Foxes for inspiration.
Vanessa Hudgens
Not just for lengthy locks, getting an ombre hair colour is for everyone and is just as requested on short hair as it is long (just another reason to love the trend). Turn to Vanessa Hudgens and Halle Berry for inspiration on how to give bob-length tresses an ombre update.
Olivia Wilde
Before chopping off her long locks for a dip-dye coloured bob, Olivia Wilde was all over the hair ombre trend. Giving her medium brown tresses a lift, Olivia added multi-toned highlights through the lengths of her hair that looked utterly stunning worn in glamorous curls
Emma Stone
As long as you keep to the colour formula of darker roots and lighter tips, you can try any colour combination. And if you're natural redhead, adding an ombre highlights will really add depth and dimension to your fiery hue.
Mary Charteris
From fantasy colours to pick 'n' mix hair, it seems like every day there is a new hair hue that we want to try. But the thought of going all in with a bold hue can be a little daunting, which is why we are loving this pastel ombre colour on Mary Charteris.
Angel Haze
If you want to shake up your everyday hair colour with an exciting new shade, Angel Haze has one of the best ombre hairstyles out there. Her dark tresses seamlessly graduate into an ashy grey/blonde hue that solidify her cool girl credentials!
How to get ombre hair
What to ask your stylist for?
There are no hard and fast rules when it comes to ombre, like most dye jobs, it's purely a matter of taste. Ultimately, it's about the desired effects and how much upkeep you're willing to do.
For those new to coloured hair, a soft ombre (AKA sombre) is a brilliant way to test the waters, as the end result is less dramatic and the maintenance minimal. Using more shades and tones – several darker and several lighter than your natural colour – a sombre creates natural-looking depth and texture.
As for how to ensure you get what you want from your stylist? Bring in picture references: lots of them! Be articulate and clear when communicating what kind of results you're after, and be open to advice and suggestions from a stylist you trust.
Not every ombre example you love will necessarily work in relation to your hair, but remember: it's all bespoke, so a seasoned colourist will be able to help figure out the best solution for you.
Post-salon care
Now before you go dashing off to the salon, remember when colouring your hair, you will need to make a few adjustments to your hair care routine.
Start by switching your wash and care system with the TRESemmé Colour Revitalise Shampoo and Conditioner, as this duo will help maintain your colour vibrancy.
Then add a weekly treat to your hair routine by using the TONI&GUY Nourish Reconstruction Mask to help inject any lost moisture into your strands. Trust us, your hair will thank you for it!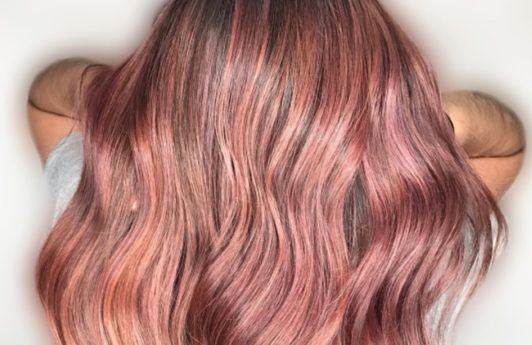 Gallery
Pink champagne hair is the prettiest colour trend we're fawning over!
Why just drink it when you can be it? ?
See article