Dip-dyed hair ideas: A-list styles to inspire your next look
Ready to dip your toes into this striking colour trend? Here's some dip-dyed hair inspo from the celebs doing it best. 
Whether it be pretty pastels, natural sun-kissed blondes or intense rainbow hues, dip-dyed hair comes in many forms. But deciding on the right combination can be a daunting experience. That's why we've made life a little easier for you with our gallery of celebrity muses to inspire your next trip to see the colourist.
So, if you're looking for encouragement or just want visual references of A-listers that are nailing this popular colour trend, we've got your back with a star-studded, dip-dyed hair library.
9 of our favourite dip-dyed hair looks
1. Abbey Lee Kershaw
The model's light mint green ombre paired with dirty blonde layers made for a subtly punky and surprisingly sophisticated take on the dip-dyed hair trend. Well, you certainly won extra sartorial points from us, Abbey!
2. Iggy Azalea
Understated isn't a trait that we'd associate with rapper Iggy Azalea, so it's no surprise that her dip-dye choice follows suit. The singer opted for a dramatic shade of pink along the bottom of her blonde hair, which perfectly complements her long bob cut.
Editor's tip: Thinking of trying out an ombre hue this season? Be sure to invest in a wash and care system formulated with coloured tresses in mind.
We suggest going for the Dove Colour Care Shampoo and Conditioner for its unique colour lock technology which helps to keep your coloured hair looking vibrant for longer.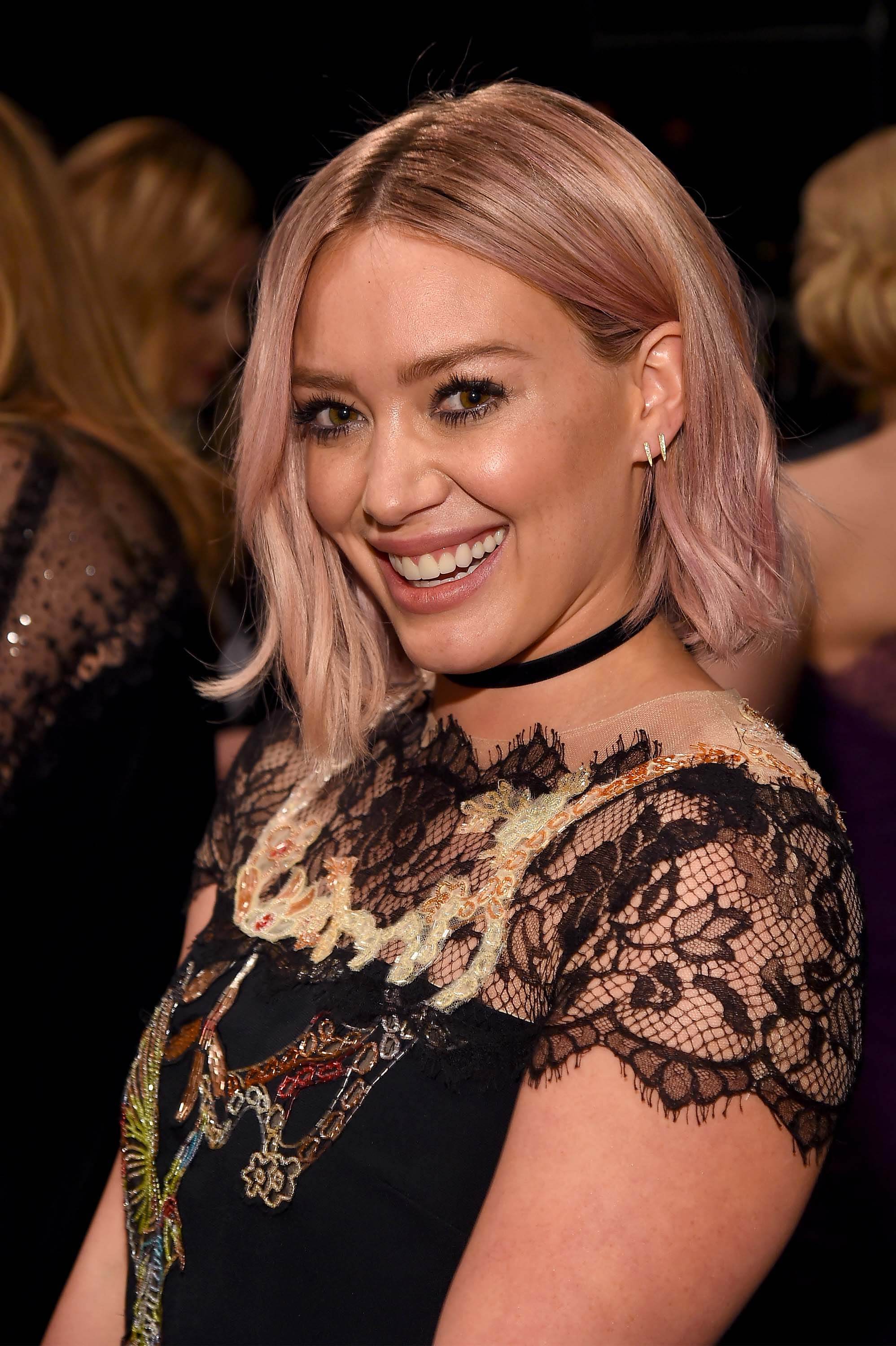 3. Hilary Duff
Let's be honest, lilac hair isn't really for the faint-hearted, but Hilary Duff's violet tresses completely dispel this notion. After seeing this pic, you might want to consider working light lavender tones with flaxen locks for a soft romantic look.
4. Alexa Chung
Want to change things up without anything too extreme? Then copy Alexa Chung. The English model is the best at delicately changing her classic style with ombre, working light blonde underneath and at the bottom of her mahogany mane.
5. Caroline Flack
Adding golden tones to dark hair can perfectly frame and slim a fuller face shape, and presenter Caroline Flack shows off a brilliant example of how this is done.
Editor's tip: Request for lighter shades to be worked into your layers to help brighten up your complexion.
6. Rita Ora
Rita Ora is another fearless dip-dyer. Over time the pop singer has played with pink, blue, and green. But her edgy rainbow experimentation with vivid purple, turquoise and saturated marigold yellow back in 2014 has to be one of our favourites.
Editor's tip: If you want to show off your new hue with a silky smooth finish like pop star Rita Ora, then we suggest using TRESemmé Keratin Smooth Colour Smoothing Serum.
Formulated with Moroccan argan oil and keratin protein, this wardrobe must-have is designed to infuse the hair with shine, vibrancy and softness.
7. Lily Allen
Dip-dye devotee, Lily Allen has changed her hair more times than we can remember! Ok, we know it's been a while, but her sunset-inspired hair really caught our attention. She even managed to dip-dye her fringe! Now that's what we call dedication!
8. Kylie Jenner
If pastels aren't quite your bag, then you might want to draw some hair-spiration from Kylie Jenner. Never one to shy away from a statement, she's successfully rocked an intense emerald dip-dye with her dark bob.
9. Nicki Minaj
This is another fun option if you don't want to actually dye your hair. Take a leaf out of Nicki Minaj's book and experiment with dip-dyed wigs, instead. Candy-inspired stripes, rainbow hues and other quirky patterns can all be yours without having to undergo a gruelling colouring process – win, win, right?
Prev Article
Next Article
Article
20 Best Purple Ombre Hair Colour Ideas to Try This Year
Discover the best purple hues for your hair type.
See article