Black hair with ombre: How to pull off the look with success
Don't be left out of the ombre game!
Want to try out a fresh new hair colour in your mane, but worried your black hair will hold you back? We get it: managing to make bold hair hues stick to your dark locks can be rather tricky, but there are still loads of ways to work a stunning colour for the season ahead! Enter: black hair with ombre, the style that is sure to up your mane game.
Now, we can tell we've tempted you into opting for some chic ombre tones in your tresses – but before you rush off to the salon, there are a few things you need to know first. Luckily, the All Things Hair team have put their heads together to come up with some expert advice for your transition to light side! Take a look…
Black hair with ombre: Tips that'll help you nail the look
Regrowth? What regrowth?
If you have naturally dark or black hair, you'll probably already know that your colouring options are best suited to the deeper end of the spectrum, as these will blend best with your natural hue. However, if you want to opt for something brighter, rest assured you'll also be able to transition to hues such as pastels, reds, and blondes!
And guess what? If you do decide to opt for bold ombre tones, you won't have to worry about the regrowth process, as your dark roots will already be part of your on-trend style. Pretty neat, right? Credit: @em.viprino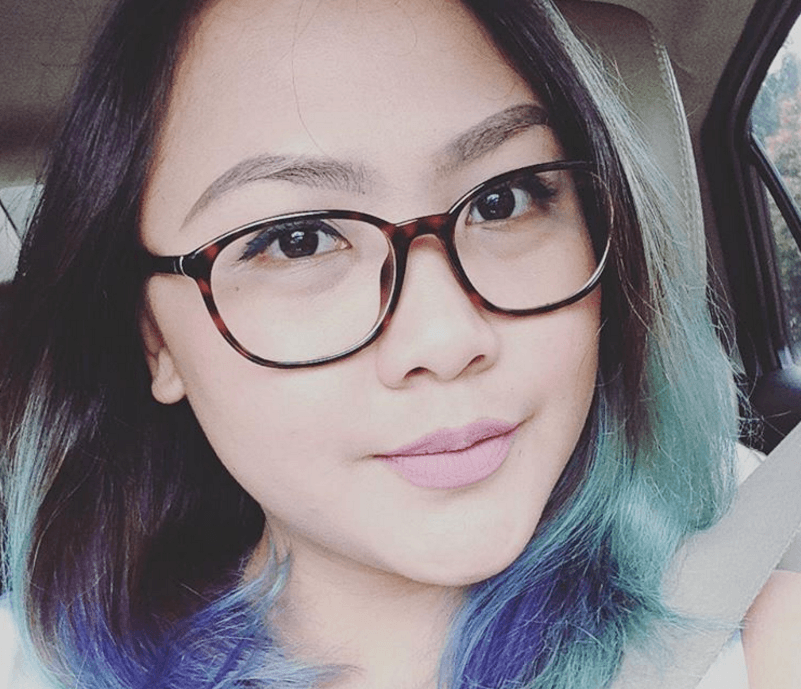 Pick the right shade
When you think of ombre, you might be guilty of visualising a hardcore transition from black to blonde, rainbow and everything in between, which is perfectly okay. But if you really want to nail this trend, you should know that the key lies in your skin tone, so consult your stylist first to see which hues will work best!
As a rule of thumb, those with darker complexions should try out deep reds, shades of ash and bright caramel tones; whereas those with lighter skin should consider working with light blonde, warming ash tones and softened gold hues. Credit: @mpokgaga
Experiment with silver
Jumping on the grey or silver hair trend requires a big commitment, but if you're not ready for a root to tip dye job, you can easily lessen the blow by choosing grey ombre, instead. Black hair provides a brilliant base for the grey hair transition, because, unlike lighter base tones, it takes on a vibrant, steely blue hue, which has an utterly striking finish! Credit: @bangtsikitsiki
Yes, you can afro ombre
If you have black afro hair, you might think that the ombre trend is one you have to sit out. But we're here to tell you otherwise: black curly hair actually works incredibly well with the ombre technique, since the transition (or line) between the shades is hidden by your curls, giving you a far more natural look! You'll also be pleased to know, that it will provide an overall brightening effect for your look, helping highlighting your facial features, too. Credit: @laurendouglin
Adopt a new mantra: Red hair, don't care
If you're blessed with black locks, it's almost an open invitation to flirt with red hues in a way that your blondie peers will never be able to. We won't lie: red dye (especially applied onto a black base) takes some looking after to stop colour fade, but thankfully, all is not lost!
To help stop your tresses from losing their lustre, stock up on our favourite hair care duo, the TRESemmé Colour Revitalise Vibrance Protection Shampoo and Conditioner, which will help keep your coloured tresses vibrant for longer. Credit: @thassia.martins
TLC is a must
If you want to go uber light on the ends, then bleach is a must for those with dark hair. However, the bleaching process is very severe on your tresses, so it's important that they are in optimum condition. If you need motivation, then know that the better taken care of your locks are, the better the colour will lift.
Editor's tip: Before you undertake your ombre style, start a ritual of bestowing a little extra TLC on your hard working mane. We suggest opting for a weekly deep conditioning treatment, like the TRESemmé Platinum Strength Deep Conditioning Treatment, to keep your strands strong and healthy-looking.
Inspired by our black ombre hair tips? Well, before you jump in the stylist chair, read our top tips on going ombre, here, and rest assure that you're guaranteed to have the ombre hue you've been dreaming of!
Prev Article
Next Article
Article
20 Best Purple Ombre Hair Colour Ideas to Try This Year
Discover the best purple hues for your hair type.
See article