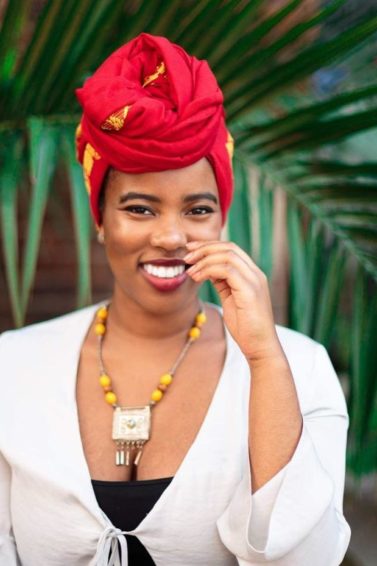 Working It: The Day I Went Natural
We speak to a junior doctor about how she came to came to accept her natural hair.
Hi, nice to meet you… Tell us about yourself?
I'm Dr Alexandra Oti and I'm a doctor, currently working in an acute medical unit which is always busy. I am the kind of person who dances on the streets and shares videos of myself doing Cardi B impressions.
What is your hair story?
When I was 10, I had curly blonde box braids but I started relaxing my hair in my teens. I felt pressured into it by the hairstylist. When I was about 20, I read an article that talked about the pressure black women are put under to meet European standards of beauty and I realised I needed to make my own decision to stop. Around the same time period, I decided to cut my hair myself.
The pressure on black women to straighten or relax is still so strong. Natural hair is rarely positively represented in the media. If it is shown in a more appealing way, it's always a looser curl pattern, rather than kinkier hair textures like mine.
How did people react when you went natural?
When I first cut my hair, people were generally very unsupportive; telling me I'd look better with weaves or with my hair straightened. It took me ages to wear my hair natural on the wards because I didn't see any other black female doctors wearing their hair out, which made me feel like it was unprofessional.
But then an amazing, hardworking senior doctor, a black female, who was leading our teaching group wore her afro one day and it inspired so much. I went home and told my mum about it, then decided I'd do the same. This was a turning point for me, as I realised my hair choices shouldn't affect my work as a professional doctor.
What do you love most about being a doctor?
I am a people person and I love working with different people of all ages, all backgrounds and it's hard to get bored when you're constantly surrounded by such diversity.
What do you think is a big threat to women's mental health?
Alcohol. I'm very into the booze-free movement. I also used to be a big party animal, but it was affecting my health and happiness. So, I decided to stop and co-created an Instagram account  (@nobooze.london) to motivate me and others to enjoy sobriety and see that you can have fun without being drunk.
What else are you passionate about?
I see climate change as an extension of my passion for global health because what we do to the environment has a big impact on our own health and the world's health, too. Everything works in a circle.
Any eco-friendly beauty tips?
If you can, buy glass bottles instead of plastic as they are better for the environment and more sustainable. You can also try upcycling any plastic bottles you have and use them to store makeup brushes.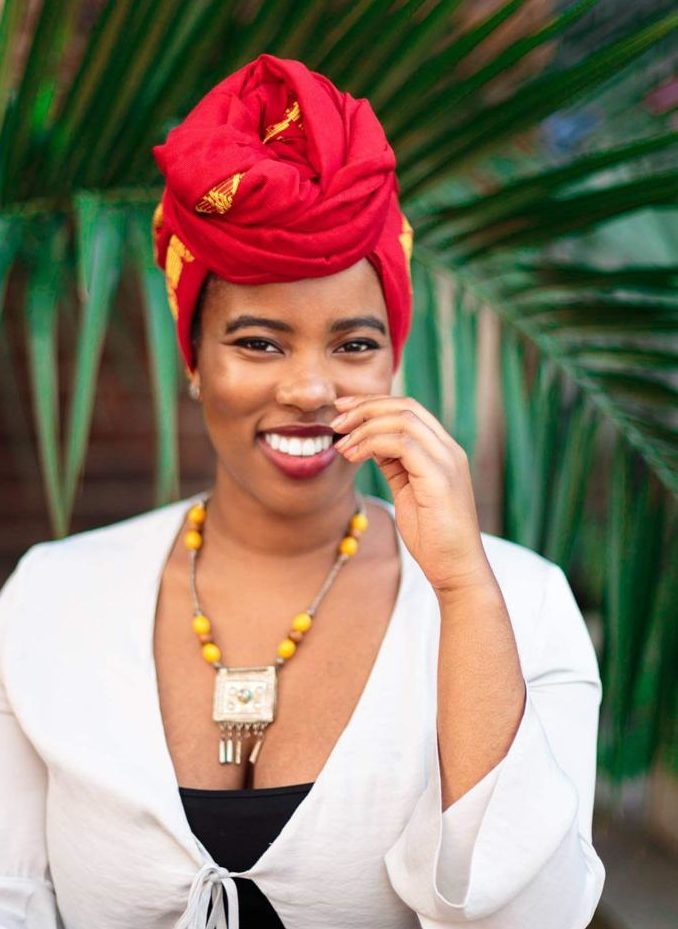 As a doctor, I bet you don't have much time, so what are your quick get-ready tips?
In the evening, I wet my hair and apply cream and some oil to it to give my hair a moisture boost. If I am being good, I'll twist it or put into big braids, before wrapping it up. If I am not good (most of the time!) I just wear my hair in an afro puff and call it a day.
In the morning, if I haven't prepped my hair the night before, I do a quick DIY job and use some leave-in conditioner and some shea butter to help define my curls, then put it into two French-plaits, which is my go-to hairstyle. For day-to-day, I wear a protective headwrap or my afro in a bun or out.
I am half Ethiopian and half Nigerian, and I've always felt connected to the identity of Panafricanism. I think headwraps are a celebration of this. My favourites are ones by Paola Mathé, @fanmdjanm.
There is a medical emergency and, erm, you have to leave the house fast. Name three hair products you would take with you….
A leave-in conditioner for curls, cocoa butter (it makes your hair smell like chocolate mousse!), and moisturising hair cream.
Any hair advice to share?
The most liberating thing you can do is accept your hair as it is, as there is no point fighting your texture or your length. Don't feel self-conscious about it or let anyone or society tell you how to wear it.
Our Top Picks For Natural Hair
TRESemmé Botanique Nourish & Replenish Hydrating Mist
If you're looking for a leave-in conditioning spray to add into your natural hair routine, try the TRESemmé Botanique Nourish & Replenish Hydrating Mist. It'll give your tresses the moisture it needs to look and feel its best. Plus, it smells of coconuts — bonus!
VO5 Frizz Free Cream
The best product for creating sleek hairstyles? The VO5 Frizz Free Cream, of course. Whether you're smoothing down your baby hairs or styling your hair into a bun, this product will help control frizz and make your mane easier to style.
Love Beauty And Planet Hope & Repair 2 Minute Magic Masque
Make sure to give your natural locks weekly TLC with the Love Beauty And Planet Hope & Repair 2 Minute Magic Masque. Infused with nourishing coconut oil, this is your ticket to healthier and shiner-looking tresses.
Sign up for the Presence MasterClass™ starting in May 2019 and receive exclusive content.
Read Next: 
Working It: Playing a Girl's Game in a Boy's World
Why Cutting Off All My Hair Was The Most Liberating Decision I've Ever Made
Prev Article
Next Article
Article
Working It: How I Manage My Hair with My Hectic Fitness Schedule
We spoke to WGSN's Senior Beauty Editor (and part-time fitness instructor) Theresa Yee all about her best post-gym hair care tips and the importance of #SelfCareSunday.
See article