Our editors spill their autumn hair rituals & secrets
Find out how (and why) team ATH are changing up their hair routines for autumn.
Beth
|
September 20, 2018
In case your pumpkin-filled Instagram feeds aren't enough of a giveaway, autumn is here. And this season, it's not just our wardrobes that are going through a transitional shake-up.
At certain times of the year, much like our skin, our hair needs more of some things (mainly moisture) and less of others to keep it looking healthy. So, for this reason, it makes sense to change up the products we're using in our manes.
Whether you've noticed your hair isn't coping as well with the colder weather, or you're just plain nosy and want to see what we're using on our hair right now (DW, us too!), keep reading.
Our editors share their transitional autumn hair care rituals
Jeanette Nkwate, Chief Content Officer UK
"The change of weather means that my 'fro gets drier quicker. To help my hair retain moisture and feel soft, I like to use a heavier oil (like castor oil) to 'seal' my ends after applying my leave-in conditioner. It's perfect for defining my curls and keeping them from drying out."
Beth Strong, Junior Beauty Editor
"For the past few months I've just been using an oil on my hair after washing it, but now I've had to up the ante – particularly as I've just had my hair coloured again.
I haven't abandoned my trusty oil, but I'm now mixing it with a richer leave-in conditioner before applying it through my lengths. I find this stops it from becoming straw-like and tangled, and just seems to make my hair more manageable in general."
Editor's tip: Whenever someone asks us for dry hair product recommendations, we steer them in the direction of the TONI&GUY Leave In Conditioner. As well as nourishing the hair with its creamy formula, it also helps to combat the frizziness which often comes along with having dry ends.
Leona English, Junior Beauty Editor
"Like most people, my hair tends to become drier and more susceptible to breakage when it's cold. So, to give my hair that extra boost, I turn to none other than good old coconut oil. Known for preventing hair breakage and split ends (2 of my biggest hair woes), using coconut oil leaves my hair feeling silky and shiny, too."
Tip: "I use mine at night after shampooing and rinse it out in the morning, for an intense overnight treatment!"
Amra Markic, Junior Beauty Editor
"Though I love autumn (pumpkin spice latte anyone?), I do find it harder to take care of my natural hair. So, to make things easier for me, I've decided to get box braids done to protect my hair against the weather and cut down on maintenance time.
While my hair is in braids, I like to keep a leave-in conditioning spray on me to help keep my protective style looking fresh and smelling gorgeous throughout the day."
Editor's tip: On the market for a new leave-in conditioner? The TRESemmé Botanique Nourish & Replenish Hydrating Mist is ideal if you've got braided strands, as you can use it to add extra moisture and shine whenever your hair is feeling a bit lacklustre.
Steven Westgate, Global Editor
"Since I have short hair, you might think that transitioning my style is moot, but even guys with short hair need to shake up their routines once in a while. I was using a light-hold hairspray before to keep my pushed-back hair in place but now that the winds are picking up speed, I've switched that out for a more heavy-duty texturing paste.
This helps add some body and lift to my finer hair, while also giving it a textured finish. This allows me to play around with my style throughout the day, and helps me rework any unwanted 'windswept and interesting' strands I may have accumulated on my commute!"
Editor's tip: If fine hair is a concern, the VO5 Lifting Paste is just what you need. This styling saviour will help you create your desired look and protect it from the elements, all while helping to make your 'do look a little fuller. Remember: less is more for those with fine hair!
Prev Article
Next Article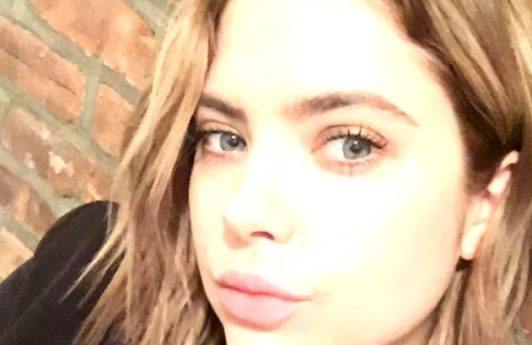 Article
Only Ashley Benson could debut a bronde hair colour and short haircut this cool
She can't step away from the scissors!
See article