6 standout hair trends from the LFW catwalks
Because inspiring fashion and great hair always go hand-in-hand.
Beth
|
September 17, 2018
London Fashion Week has been taking place all across the capital this week, with massive designers like Bora Aksu, Molly Goddard and Ryan Lo showcasing their SS19 collections for next year.
But as much as fashion week is about the clothes, the backstage beauty is just as inspiring. Seeing which hairstyles are set to come through next season is one of our favourite aspects of fashion week, as even if we can't afford the clothes, we can (for the most part, anyway!) try our hand at the hair.
Click through our gallery above to see the hairstyles that caught our attention this season and read on for a breakdown of each look.
From Chinese Tang dynasty hair to the return of Spice mania: The best hairstyles from LFW SS19
1. Floral braids at Bora Aksu
At Bora Aksu, the collection was full of lace, tulle and ruffles and the hair mirrored this myriad of textures. Styled in whimsical, winsdwept-looking braids and topped off with embroidered floral headpieces, spring was definitely in the air for this runway.
Editor's tip: Rather than looking really neat, Bora Aksu's braids looked lived-in and full of texture. To give your hair more of a messy braided look, try applying the TONI&GUY Flexible Hold Braid Balm to your locks before braiding – it'll give them more structure and make the look last longer.
2. Tang dynasty hairstyles at Simone Rocha
Simone Rocha's show saw the designer exploring her Chinese background, in particular taking inspiration from the women of the Tang dynasty in 16th Century China. They were famed for their ornamental updos and grand accessories.
3. Troll doll hair at Ashley Williams
SS19 saw the return of Ashley Williams' tongue-in-cheek statement slides (see last season's report, further down), with this season's selection of statements inspired by hate comments from online trolls, with "CRAZY" WITCH" and "DAMAGED WOMAN" among the line-up.
Poking further fun at the troll theme, models hair was manipulated into gravity-defying Troll Doll-inspired ponytails, which stuck out in all directions.
4. Sixties beehives at Halpern
Paying homage to his grandmother, Michael Halpern's show was an ode to the swinging '60s with high hemlines and even higher hair!
The beehives were backcombed and exaggerated for maximum impact and shock factor from all angles as the models walked the runway.
Editor's tip: A beehive wouldn't be a beehive without volume. So, prep your hair with the VO5 Volume Creation Hairspray this body-boosting product helps to build height from the roots providing an 'anti-gravity' effect.
5. Fairytale hair at Ryan Lo
Ryan Lo's show had all the greatest elements of a good fairytale, with Little Red Riding Hood vibes mixed with gothic undertones. Glittery hair bows and bold bobs added to the childlike theme of the show – and proved that hair ribbons are still a runway favourite.
Runway to reality: See what happened when the ATH editors took on the ribbon hair trend.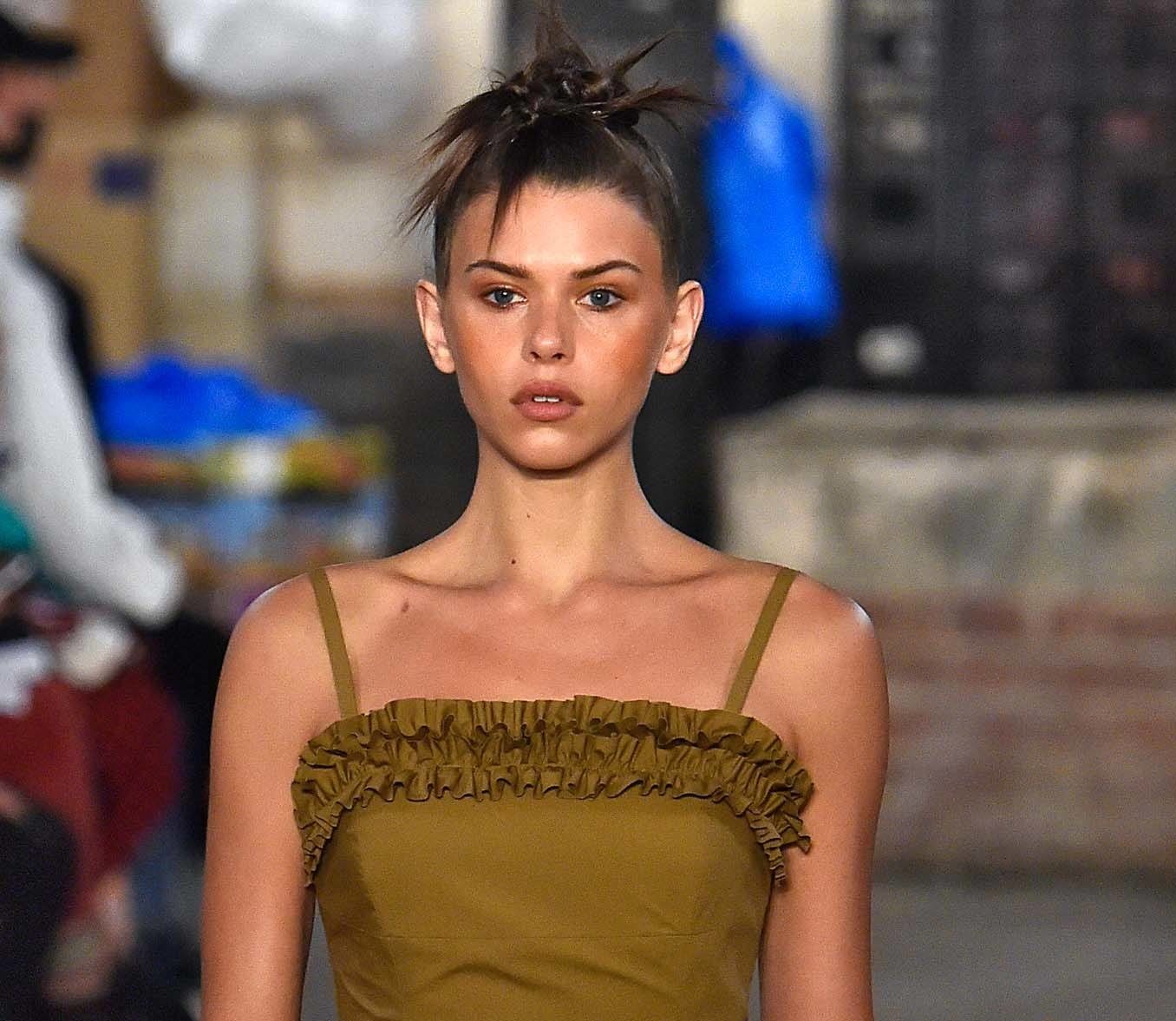 6. '90s punk hair at Molly Goddard
Spice mania and '90s punk culture shaped the hair at Molly Goddard with spiky mini buns formed to create an edgy faux mohawk. We've never been so excited for a comeback!
Keep reading to see the looks we loved from LFW AW18…
Last season throwback: London Fashion Week AW18 runway hair
Sixties sirens at Ashish
Luckily for any retro lovers, '60s style is set to stay – but this time around it's more than just the bangs.
Full on Bardot vibes were spotted at Ashish, where models hit the runway rocking big, rounded afros and, of course, the classic half-updo. And if you really want to nail the finer details, don't forget to curl your ends up for a flicked-out finish!
Exaggerated ponies at Sadie Williams
Dolly Parton famously remarked "The higher the hair, the closer to God" and never has a truer word been spoken. However, Sadie Williams' show hair proved it's not always about creating height when it comes to big hair…
The models' massive, backcombed ponytails combined with sleek roots made for a contrast in texture, giving a high-impact finish to each look. And let's face it, anything that lets us whip out our crimper is always a yes in our books.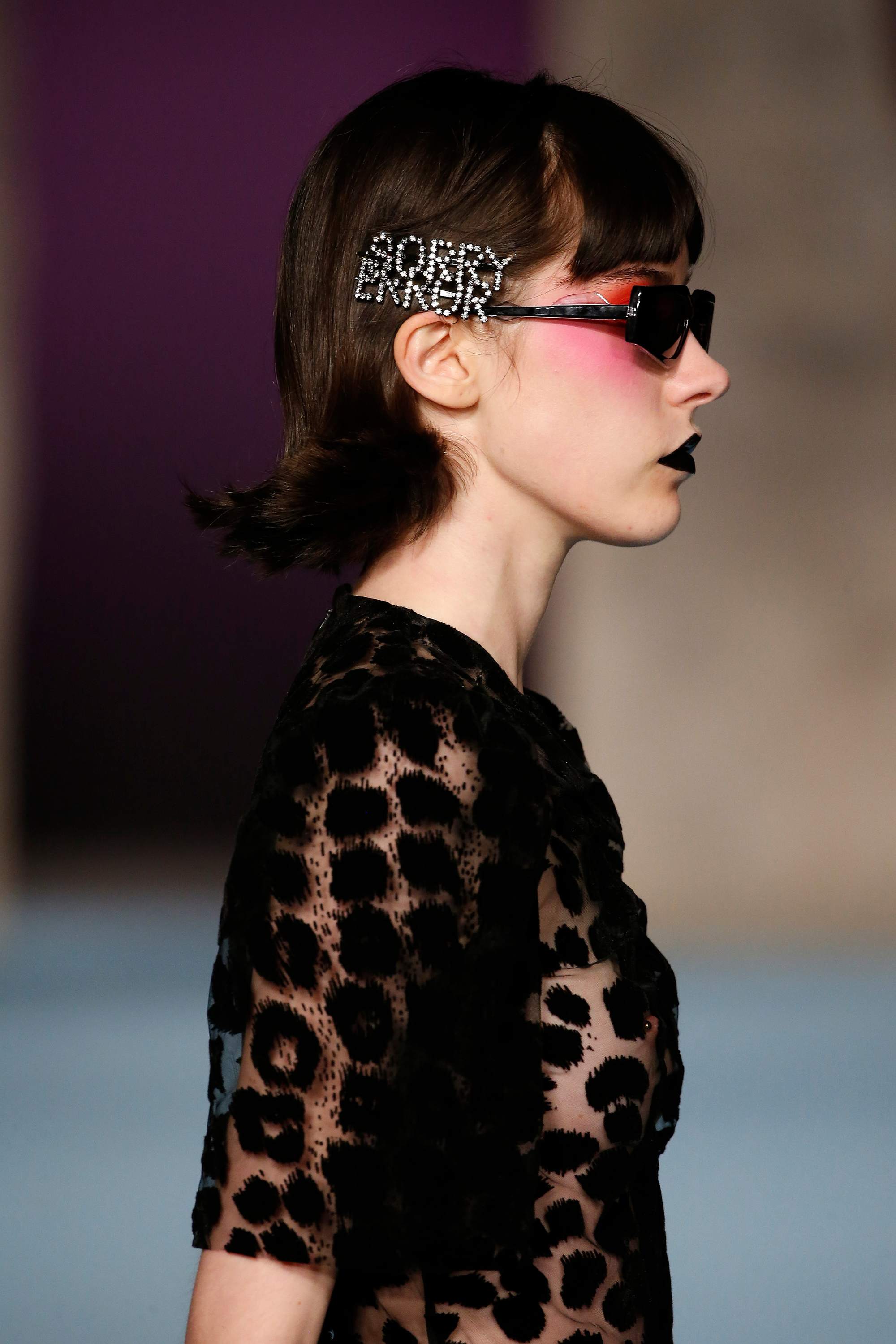 Statement slides at Ashley Williams
Fashion week hair isn't always the most wearable, but here's a trend train we can all get on board with.
Ashley Williams presented these slogan slides, which reminded us of Alexander Wang's SS18 party headbands. Why bother talking to anyone when you can let your hair do it for you, right?
Vintage waves at Erdem
As classic as they are, unless it's on the red carpet, the only time that '20s finger waves really come into their own is at Great Gatsby-inspired parties.
However, thanks to Erdem's modern finger waves, which they made more casual by pairing with a sleek low pony, the flapper girl look just got a whole lot more wearable.
Editor's tip: Confused about how to get the wet-look effect? The VO5 Wet Look Styling Gel makes recreating this style an absolute breeze.
It's a high-shine formula which gives you that slick finish without you needing to dip your head under the shower!
Knot braids at Simone Rocha
It wouldn't be LFW without braids now, would it? From past seasons we know that the hair at Simone Rocha would be worth following and these pretty, knotted braids ticked all the right boxes.
Tied with a satin ribbon for that extra touch of femininity, if you looked up romantic hair in the dictionary this style would appear.
Editor's tip: To give your braids that perfectly undone look, prep the hair with the beachy TONI&GUY Sea Salt Texturising Spray. This will give your strands more of a raw, gritty texture, which will help you as you're braiding.
Prev Article
Next Article
Gallery
9 Knot Bun Hairstyles to Try Next
Make a knot bun hairstyle your new must-have accessory.
See article