Plant lovers will love this succulent hair trend!
Hair inspiration often comes from the most random of places (pick 'n' mix hair, say no more), but if you're one of the many with an obsession for cacti and plants, then this is the trend you've been waiting for. Forget green fingers, this season it's all about the green succulent hair!
Cactus lovers and gardening enthusiasts will love Instagram's newest beauty craze. With blends of leafy greens, terracotta reds and plum hair colours, the look is inspired by everyone's favourite prickly plants and yes, it's just as amazing as it sounds.
Succulent hair: Instagram's most photogenic trend yet
1. Festival succulents
If you're not down with your cactus varieties, succulent hair is inspired by the plants' recognisable leafy green tones, with splashes of rich botanical purples, and even pops of paler turquoises added in, too. The result: a totally unique and stunning 'do that, much like real life cacti, always looks different. Credit: @kristinaraesaylor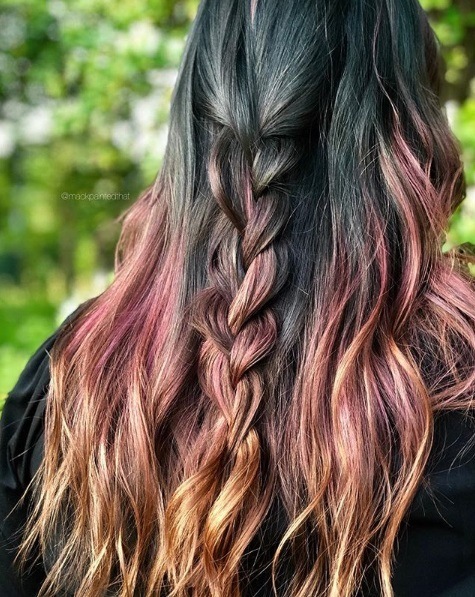 2. Cactus colour melt
When it comes to achieving the succulent hair look yourself, you'll most likely need to make use of free-hand colouring techniques like balayage and ombre.
Traditional foil highlights are unlikely to give you the beautiful gradations that this trend calls for, plus you'll be able to get around the root regrowth issue if you don't have one block colour. Credit: @mackpaintedthat
Editor's tip: If you do decide to give this succulent hair trend a try, we'd recommend investing in a colour care line like the Dove Advanced Hair Series Colour Care Shampoo and Conditioner.
These products have been specifically designed to add gloss to coloured hair while prolonging the vibrancey of your new colour.
3. Short succulent hair
Any of our short-haired girls out there getting FOMO? Make your cropped cut pop with a mesmerising dual-tone style like the one above. This Instagrammer proves you don't have to have flowing lengths to rock this Mother Nature-approved hue. Credit: @pinupsalonseattle
4. Succulent pastel hair
Not sure bright swamp green is really your style? Pastels are always a good idea, especially when there's a blend of different tones for a multicoloured rainbow effect.
Another benefit of muted tones? They're already by nature less saturated, so colour fade won't be as much of an issue. It'll look intentional! Credit: @erin.mane.maven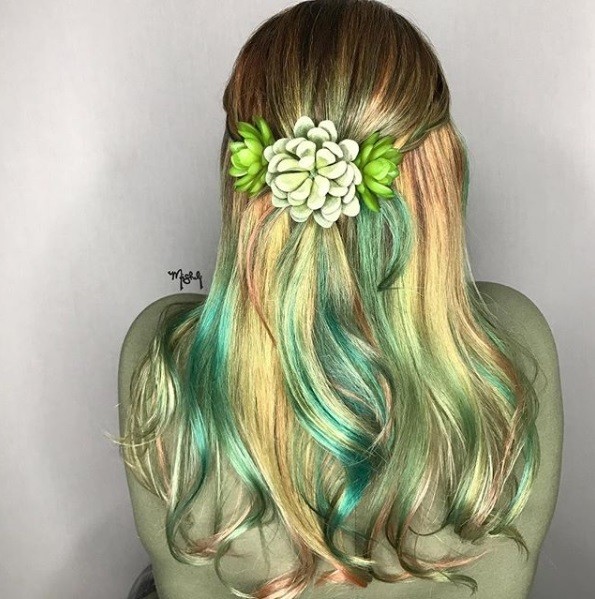 5. Succulent-inspired hair accessories
Going green is pretty major, but thankfully the succulent aesthetic goes beyond the realms of just hair colouring. Yep, this quirky trend has reached out to inspire hair accessories, as demonstrated above.
We're sure you'll agree that this chic half-up, half-down hairstyle is taken to dreamy heights with the addition of pretty succulents. Credit: @misheledimariadesigns
6. Wedding inspiration
Wearing flowers in your hair is perfectly normal for brides and bridesmaid, right? But if you really want to make an unforgettable entrance, we suggest you incorporate aloe vera or jade plants into you and your girl squad's hair.
Whether you tuck them into a chignon or wear them half-up is all up to you, but one thing's for sure: you'll have a picture-perfect 'do.
Prev Article
Next Article
Gallery
5 beautiful hairstyles to wear for Chinese New Year
Celebrate Chinese New Year in style with one of these top hairstyles!
See article