The September celebrity hair transformations that have made our mane list
This month, there's been no shortage of celebrity hair inspiration!
Amra
|
September 28, 2017
September (AKA Fashion Month) is officially coming to end – and boy-oh-boy have we seen some incredible hair transformations happen. Haven't had the chance to keep up? Fret not, mane lovers, because we're back with another gallery-packed edit of the best celebrity hair moments of the month, so you don't have to miss out.
Simply flick through our gallery, above, or keep on scrolling to see all the looks that made our mane list. Who knows, you might just find a style that'll inspire your next trip to the salon!
September's hair transformations: The A-list looks everyone was talking about
Kim Kardashian West is back to platinum blonde (again!)
Fashion week may be sister Kendall Jenner's territory, but Kim Kardashian West managed to steal the mane spotlight by debuting a shimmering, silver blonde hair colour. And while we all believed it was a wig, it turns out it's the real deal!
Having trialled shade of blonde for Paris Fashion Week once before, Kim has found a frosty hue that suits her complexion so much better. We'd be lying if we didn't say it: this is one of her best looks to date!
Editor's tip: You'll probably already know going blonde can be quite damaging to your mane. But don't fret: you can help to improve the look and feel of coloured hair by investing in the Nexxus Emergencée Restoring Masque!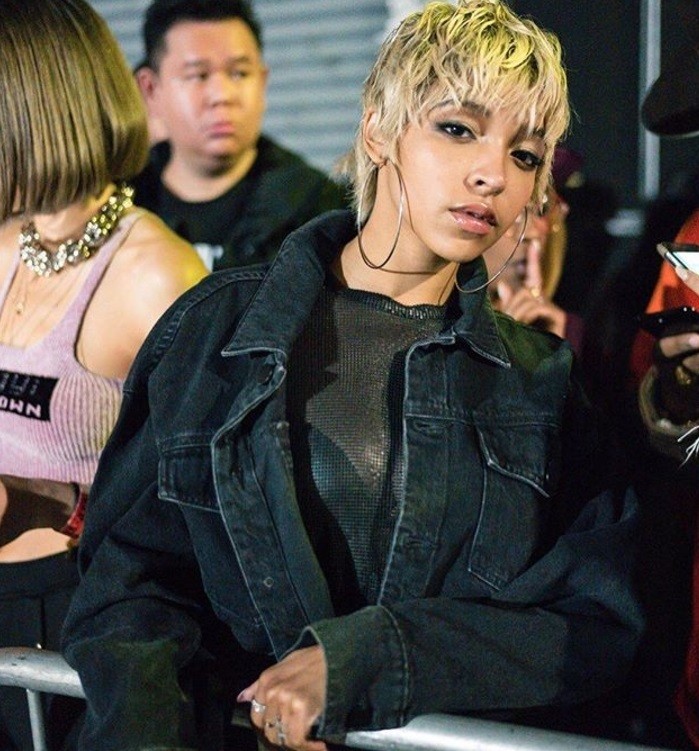 Tinashe got majorly scissor happy
We're so used to seeing Tinashe out and about with lush, long beachy waves that when we saw her with an edgy, textured pixie haircut at Alexander Wang's spring/summer 2018 show, we almost did a triple take!
Well, we called it and it came true: 2017 is officially the year of the pixie cut — isn't that right, Tinashe? Credit: @tinashenow
Solange Knowles tried her most daring colour yet
Seeing as platinum blonde hair was taking over New York Fashion Week, Solange Knowles (AKA one of our biggest natural hair heroes!) decided to share her own take on the trend.
As you can see, the 'Don't Touch My Hair' singer has dyed her afro a beautiful, buttery blonde — and doesn't it look utterly gorgeous? We knew you'd agree! Credit: @saintrecords
Iggy Azalea proved millennial pink is here to stay
Australian/American rapper Iggy Azalea is known for her flawless, long bleach blonde hair. And while most of us were sad that the British summer was coming to an end, Iggy was busy soaking up the sun with the dreamiest colour ever: millennial pink.
The best thing about her pretty pastel hue? It's striking yet beautifully subtle, meaning you could totally get away with rocking it to work. Thanks for inspo, Iggy! Credit: @thenewclassic
Mel B spiced up her life with this hair colour
We found it very hard to keep up with the stunning array of colourful hairstyles ex-Spice Girls member, Mel B, has been rocking this month. One of our favourites? Her glitter rainbow hairstyle, of course!
Not only does this bold look work for her, but it just goes to show how much fun having short hair can be! You'll notice that she's also slicked-back her bright 'do, pulling off 2 trends at once. Anyone else getting major mermaid vibes?
Emily Ratajkowski got bangin' bangs
From boxer braids to ribbon braids, American model and actress Emily Ratajkowski is constantly trying out new things with her hair. So, when we saw her sporting romantic, feathery eyebrow-skimming bangs at Marc Jacobs' SS18 frow, we were mesmerised!
Now although this isn't the first time Emily has played around with bangs, one things for sure: we're already contemplating trying the look out for ourselves.
Editor's tip: Want to make your fringe look as good as Emily's? Try using the VO5 Dry Texturising Spray. This multi-purpose pick-me-up will revive limp fringes and leave you with a tousled, sexy style. Ooh la la!
Emilia Clarke went Khaleesi blonde
When we discovered that Emilia Clarke (AKA Daenerys Targaryen, Khaleesi, Breaker of Chains, the Mother of Dragons etc. etc.) wasn't actually blonde, we couldn't believe it!
But this month, after 7 seasons of wearing wigs for her role, she finally took the plunge and proved that the colour works just as well off the screen. We're living for Emilia's latest look and just need Sansa (AKA Sophie Turner) to dye her blonde hair red, to complete our lives! Credit: @emilia_clarke
Marion Cotillard also went blonde
Confession time: we have an unhealthy obsession with French girl hairstyles! And French actress and environmentalist Marion Cotillard's mane is certainly no exception.
So, you can imagine our shock (and delight!) when we saw her with freshly dyed blonde locks at Milan Fashion Week! When a French girl rocks a trend, you know it's true: platinum blonde hair is the colour of September. Credit: @whyred
Editor's tip: Feeling daring enough to give blonde a go? If you do, we recommend investing in a purple shampoo to help maintain your colour. The TIGI Bed Head Dumb Blonde Purple Toning Shampoo is violet-tinted to neutralise any yellowing and ensure your shade stays ice-cool.
Loved our September hair round-up? Then you should check which A-list hairstyles made our list for August and July, too! There's really nothing quite like a celebrity-approved hairstyle, after all.
Prev Article
Next Article
Article
Jessica Alba is bringing bandanas back – and we're totally with her
Consider your weekend #hairinspiration sorted.
See article