11 rose gold hair colour ideas to try now that summer is officially on its way
Life just got a whole lot rosier. 
Don't get us wrong, we're total advocates for pink hair. Whether it's pink champagne manes or salmon sushi strands, we just love pink. But there's one pink hue, in particular, that's totally stolen our hearts: the rose gold hair colour.
The rose gold jewellery and interiors craze has been around for a while now, so it was only a matter of time before the dreamy metallic hue transformed into a trend for our tresses, too. So make your life (and your hair) a little rosier with these pretty-in-pink styles.
Metallic rose gold hair colour is the coolest way to go pink
Wondering how the rose gold hair colour trend has actually come about? You just need to take a look inside your jewellery box to find the answer!
The trend has been inspired by the rising popularity of rose gold jewellery, which – fun fact – is also sometimes referred to as pink gold, hence the love for pinky hair hues. Credit: @sadiejcre8s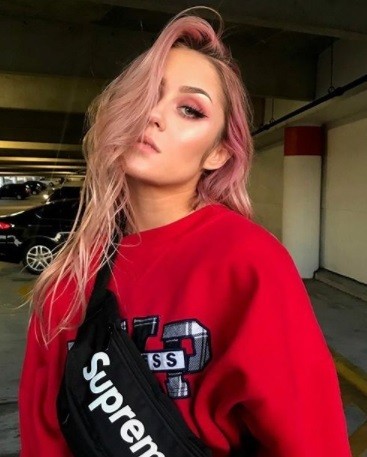 Blonde hair takes particularly well to the colour as it's already so light, so if your hair is fair (or pre-lightened), it'll act as a blank canvas for the colour and make it really pop! Credit: @iam_ktg
If you've wanted to try pink in the past, but haven't because you're worried it's too crazy or difficult to pull off, give rose gold a try.
The hint of pink is enough to satisfy your pink hair dreams, while still being professional enough that it won't be an issue with your boss. Credit: @lovelylocksbyriley
How your final look turns out will depend on whether you already have any existing highlights or balayage running through your hair. This means that not only can it look darker or lighter in different lighting, you'll also have a more bespoke colour, so no-one will have exactly have the same look as you. Credit: @sjottley
Editor's tip: Most red and pink tones tend to fade pretty quickly, so make sure to enjoy it while it lasts! You can also help to protect the colour by switching to a colour care combo, like the Dove Colour Care Shampoo and Conditioner.
Specifically formulated for dyed hair, this duo helps to keep hair colours vibrant for up to 8 weeks, ensuring your rosy locks stay radiant.
Regardless of whether your hair is naturally poker straight or super curly, all textures and hair types can play around with rose gold hair colour.
This Instagrammer shows how easy it is to rock pink hair with natural curls, giving the look a beautifully unique finish that's totally 'grammable. Credit: @toritours
Like to show your hairdresser a photo of how you want your look to turn out when you go to the salon? Literally everyone from Kim K to Bella Hadid, Hailey Baldwin and Sienna Miller have all toyed with rose gold hair in the past, so you'll be able to show your stylist exactly what kind of shade you'd like to recreate.
Whether you choose a light and pearlescent hue or a deeper, mahogany-like shade, you're sure to step out of the chair with a dazzling new look. Credit: @jgrajedastyles
We're of the opinion that everyone should experience dyeing their hair a crazy colour at least once, even if it's not for real.
You can get the look with a regular dye of course, but as a less scary route in you could always try a wash-out colour or even hair chalks. Credit: @lofgrens_salong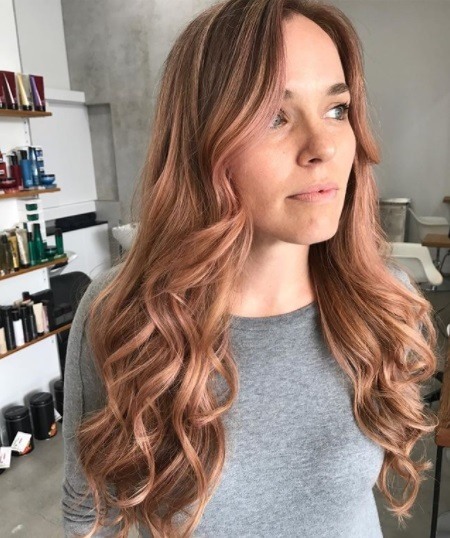 Whether you go full on pink or just stick to some subtle highlights, a little pink can go a long way…
Just look at this Instagrammer's barely-there hue for example. Understated yet still eye-catching, it's a great minimalist take on the look du jour. Credit: @thesocietyforhair
If the idea of maintenance is putting you off trying out rose gold locks, you might be pleasantly surprised to hear it's rather easy to deal with.
As the look is more of a wash of colour over your existing current hue than a full-on block colour, any regrowth should blend in pretty seamlessly – meaning you can afford to be a little less disciplined with your root touch-ups!
And if you're really anxious about it, know that grown-out roots are actually in this year anyway. Credit: @hairbykatefrost
Not prepared to commit just yet? Whether you just want to try out something fun over the summer festival season or you want to test the waters first to see how it suits you, ombre is always a good idea.
Just think of it as a way to 'try before you buy' – yet still getting all the mane benefits! We would also recommend curling your hair so that you can show off how your colour flows gorgeously from one hue to another. Credit: @juelsbeauty
Brunettes shouldn't cast this trend aside, as even those medium-dark brown hair can go rosy, too! So no FOMO here.
Just bear in mind that on darker tones it'll create more of a rose brown than a true, vivid pink as seen on your blonde-haired counterparts. Credit: @selines.soler
Prev Article
Next Article
Article
Working It: How I Manage My Hair with My Hectic Fitness Schedule
We spoke to WGSN's Senior Beauty Editor (and part-time fitness instructor) Theresa Yee all about her best post-gym hair care tips and the importance of #SelfCareSunday.
See article