A First-Timer's Guide to Pride
Tips for surviving your first Pride festival.
The buzz is already building around Pride and this year is set to be even bigger than ever. But for anyone that hasn't been before and doesn't really know what it's all about, it can all be a bit confusing. What is it? Why is it so important? And can I go even if I'm not gay?
Whether you're a Pride veteran or you're thinking of attending for the first time this year, we've answered some common Pride-related questions, from why we celebrate it to the biggest question of all: what to wear?! in our beginner's guide to Pride.
What is Pride?
Gay Pride is a line-up of events that take place all over the world from June-August to bring together and celebrate the LGBTQ+ (lesbian, gay, bisexual, transgender and queer) community.
Most people will have heard of or seen photos from the Pride parades, which draw in massive crowds every year. But in many cities Pride has evolved into a whole weekend of events, including music festivals, talks and performances – so even if you're not a big partyer, there's something for everyone.
How did Pride come about?
Pride might just seem like one big party (and it kind of is!) but it's important to know the history behind it. In New York in 1969, demonstrations (known as the Stonewall Riots) were carried out by the gay community in response to a police raid on a gay bar, protesting for gay rights and paving the way for the Pride we know today. 2019 marks the 50th anniversary of the riots, so this year is especially poignant.
Who can attend?
However you identify personally, Pride is an opportunity to turn up and show your support for the LGBTQ+ community. Children love the excitement of the parade and there are plenty of picnics and family-friendly activities to get involved with.
What to wear to pride
Not sure what to wear to Pride and need some inspiration? You should wear whatever makes you feel best, whether that's dressing up in your most extra Coachella-style outfit or your favourite rainbow t-shirt. The general consensus, however, seems to be glitter, glitter and more glitter! Glitter in your hair, glitter make-up, body glitter – you can never have too much in our opinion.
If you're feeling particularly bold, you could even dye your hair rainbow-coloured to match the Pride flag! Why not show your support with one of these Pride hairstyles?
Glitter roots
Would it really be Pride without glitter? We think not. If you're looking for a simple hairstyle or you just want to make sure all of the attention is on your killer outfit, this glitter parting is an easy and fun option. Learn how to recreate this fun festival look with our glitter roots how-to.
Don't forget to check out our guide to removing glitter – you'll thank us later.
Editor's tip: The VO5 hair glitters come in so many different colours, and they make it easy to jazz up any hairstyle. Plus, all of the VO5 glitters are made from biodegradable plant cellulose, so you can go wild with the glitter without worrying about hurting the environment.
Side-swept glitter
Bring the party vibes with this sparkly side-swept glitter look and you'll be turning heads wherever you go.
Worried you'll be leaving a trail of glitter behind you? After applying the glitter to your hair with your fingers or a paint brush, spray the area where you've applied it with the VO5 Fixing Spray. This festival must-have is perfect for using with glitter as it keeps it in place without leaving any sticky residue on your hair.
Dutch braid ponytail
Want a hairstyle that will last the whole of Pride weekend? Check out our how to Dutch braid tutorial for help and remember to finish with a spritz of the VO5 Invisible Ultimate Hold Hairspray – Pride Edition to hold the look in place.
Unicorn braid
Unicorns do exist and no-one can tell us otherwise! Share your love for the mythical creatures and add a little edge to your look with a statement unicorn braid, as seen on the likes of Nina Dobrev and Gigi Hadid.
Glitter quiff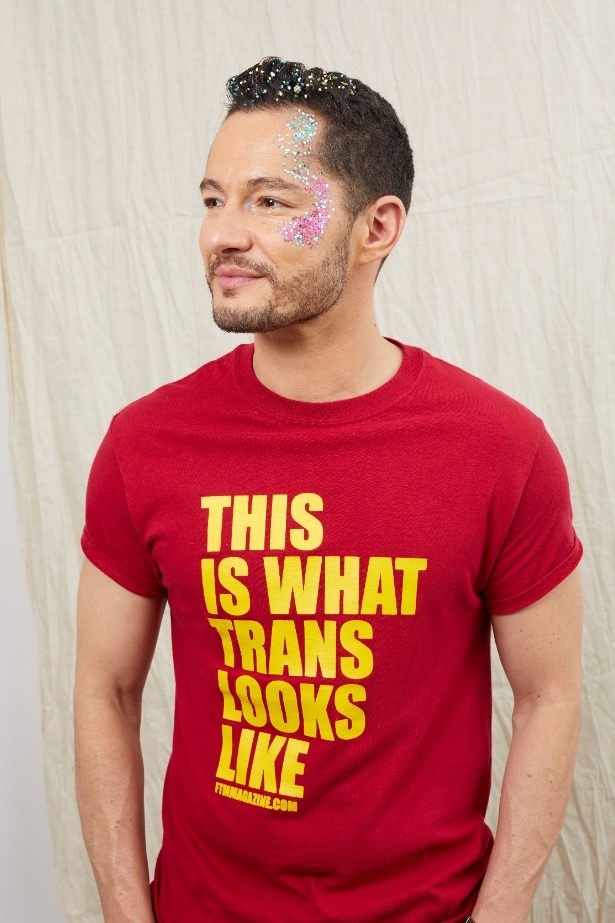 Sorry guys, you didn't think you could escape the glitter, did you?
Coloured buzz cut
Thought your hair was too short to do anything with? Well, this guy's statement sky blue buzz cut proves otherwise!
What to bring to Pride
You'll probably be outside for most of the day, so remember to bring suncream and a bottle of water to keep you hydrated (especially if you're drinking).
Key dates for your diary
There are Pride events happening up and down the country! Find your nearest event here:
22nd June 2019 – Edinburgh Pride – www.prideedinburgh.org.uk
6th July 2019 – London Pride – www.prideinlondon.org
13th July 2019 – Bristol Pride – www.bristolpride.co.uk
20th July 2019 – Newcastle Pride – www.northern-pride.com
3rd August 2019 – Brighton Pride – www.brighton-pride.org
17th August 2019 – Glasgow Pride – www.prideglasgow.com
24 August 2019 – Manchester Pride – www.manchesterpride.com
Happy Pride!
Read next
Jake and Hannah Graf: Navigating beauty ideals as a trans couple
Shaving My Hair Helped Me Take Back Control
Prev Article
Next Article
Gallery
Gwen Stefani's mane moments will No Doubt leave you in awe
From Don't Speak to Hollaback Girl, Gwen Stefani is the ultimate queen of avant-garde hairstyles! ?
See article